Mini Crochet, Micro Crochet – Tiny Works of Art
Have you ever seen such teeny-tiny crochet pieces? I can assure you that the more you look at it, the more you'll want to try it! Mini crochet may be challenging, but it's definitely one of the most stunning techniques.
In this post, you will learn what is mini crochet and how to do it. As usual, the second part of this article features beautiful examples of this technique.
What is miniature crochet?
As the name suggests, it's crochet but downsized. What exactly does it mean? First, you need a smaller crochet hook (most certainly a steel one!) and much lighter yarn or thread.
What you will need for micro crochet
embroidery thread or floss
scissors
good lighting
magnifying glass (optional)
Designers often use mini crochet as jewelry elements, doll house accessories, amulets, or simply beautiful tiny decor.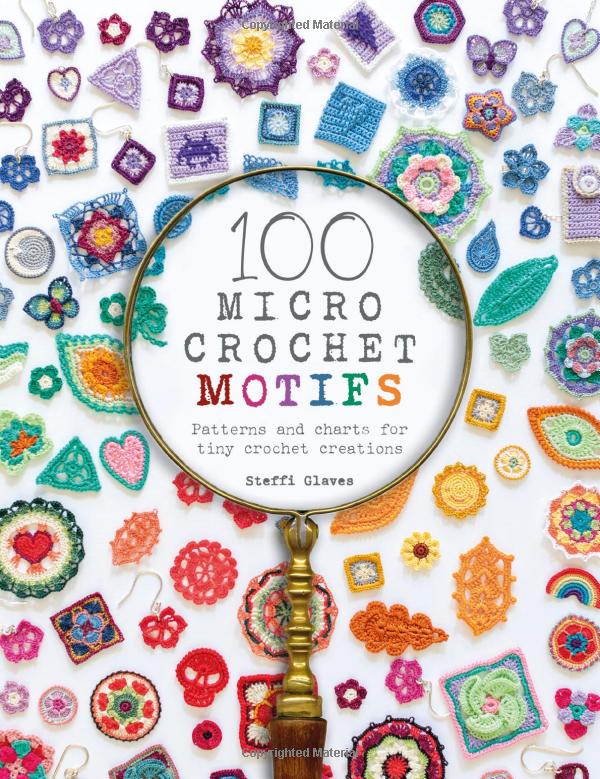 This is a book by Steffi Glaves, which you can buy on amazon.com
Can you miniaturize any crochet pattern?
Yes, we can, at least in theory. We know that the size of the hook and yarn impacts the size of the project, right? So, following this path, simply by using very small tools and materials, your project will get smaller as well.
The best choices for miniaturization are flat projects worked in rows or in the round. You can also downsize amigurumi toys. However, the complexity of joining the elements and adding details may rise.
Remember that this type of crochet requires a small hook size and crochet thread, so plan ahead.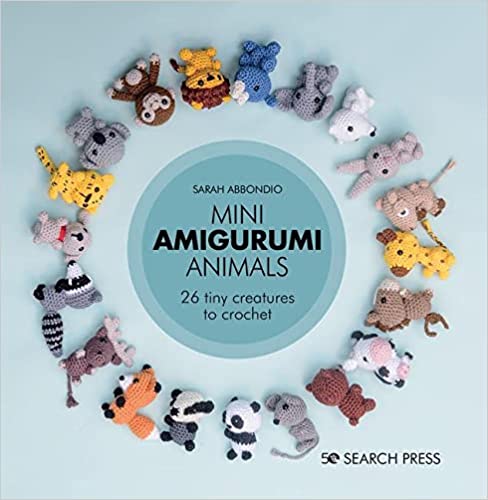 This is a book by Sarah Abbondio, which you can buy on amazon.com
Is it hard to create tiny crochet?
Yes, it's hard, because you'll be working with much smaller tools and materials. Precision and patience will be absolutely necessary! Your coordination, as well as your eyesight, will play a crucial role in the process, so keep it in mind.
No, it's not hard, because that's still your good old crocheting. There's nothing new you'll need to learn, but working on a much smaller scale. You don't really even need any new crochet patterns, because you can miniaturize what you already did in its original size.
Is miniature crochet for me?
It is for you, if… You like challenges, have patience, and have good manual skills. Working with thread doesn't require much space, and it's definitely one of a kind!
It's not for you, if… You tend to get frustrated quickly, have bad eyesight, or have trouble working with little elements.
Crochet Roundup
So many amazing projects feature this technique, and crocheters come up with new ideas every day. These examples show how versatile mini crochet is, and how many beautiful things you can do with it.
In this post, you will find both paid and free micro crochet patterns. They include crochet amigurumi patterns for stuffed animals or flowers right from the fairy garden.
◉
Mini Crochet Flowers
Miniature Crochet Flower by Yun Wang
To achieve truly spectacular results, combine micro crochet with wires because it will make all the difference. As you can see in the photos, Yun's flower has it all. Strategically placed colors, detailed elements, and a beautifully sculpted wire spine. This way her crochet piece looks almost real!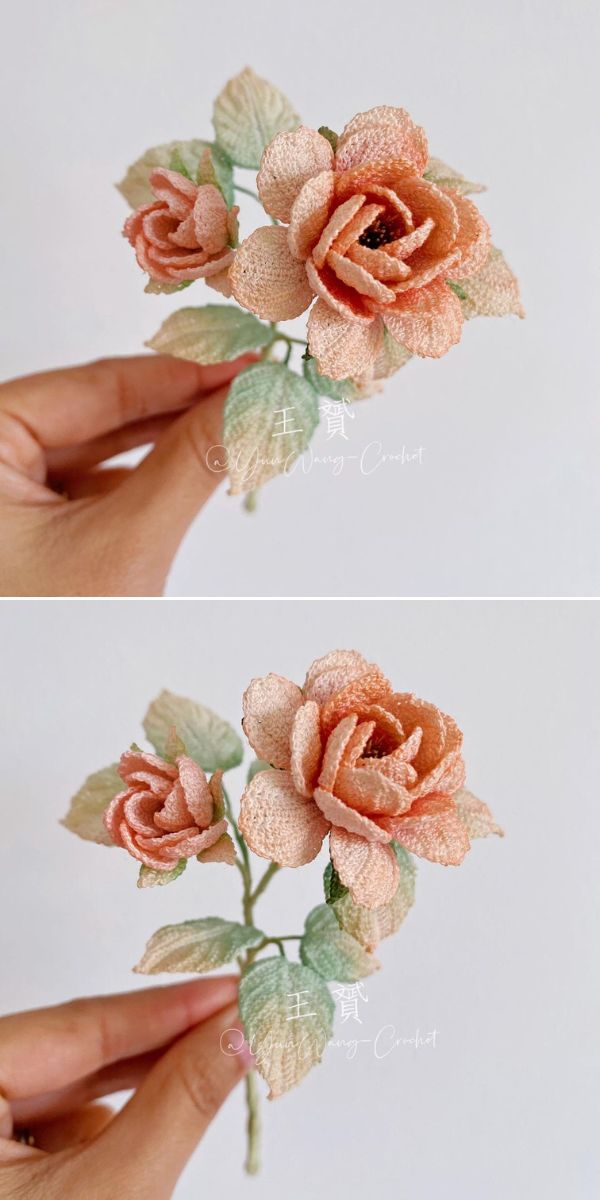 photos by @yunwang_crochet on Instagram: source
◉
Miniature Crochet Flowers by mnm.maka
What makes the flowers so beautiful? The uniqueness of each petal and its coloring. In this aspect, handmade crochet pieces resemble nature because they are always a little bit imperfect.
The crocheter behind mnm.maka thought about every detail. Look at the top photo and see the tiny pearls in the center of each flower.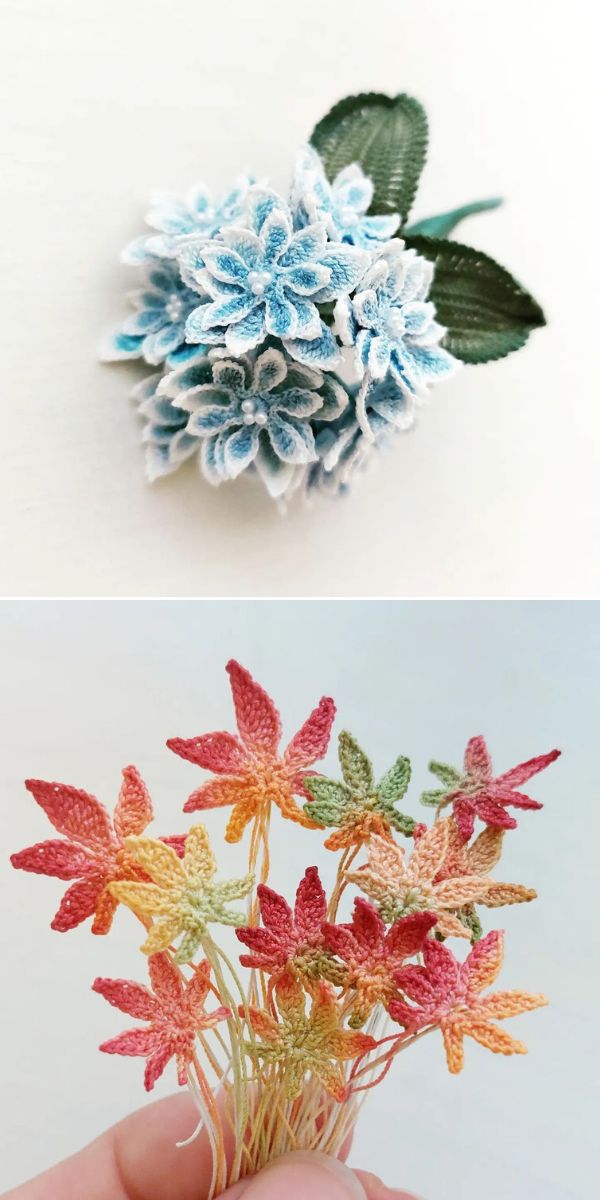 photos by @mnm.maka on Instagram: top, bottom
◉
Miniature Crochet Jewellery
Tiny Flowers Bouquet Brooch by NYU.NYU
Is there anything more spring-inspired than a tiny handmade bouquet? Nyu Nyu's brooch keeps the freshness of nature close to the heart (quite literally!), so remember that you can make such accessories yourself. Take notice of the cute mustard ribbon wrapped around the flowers because I think it adds a lot of charm!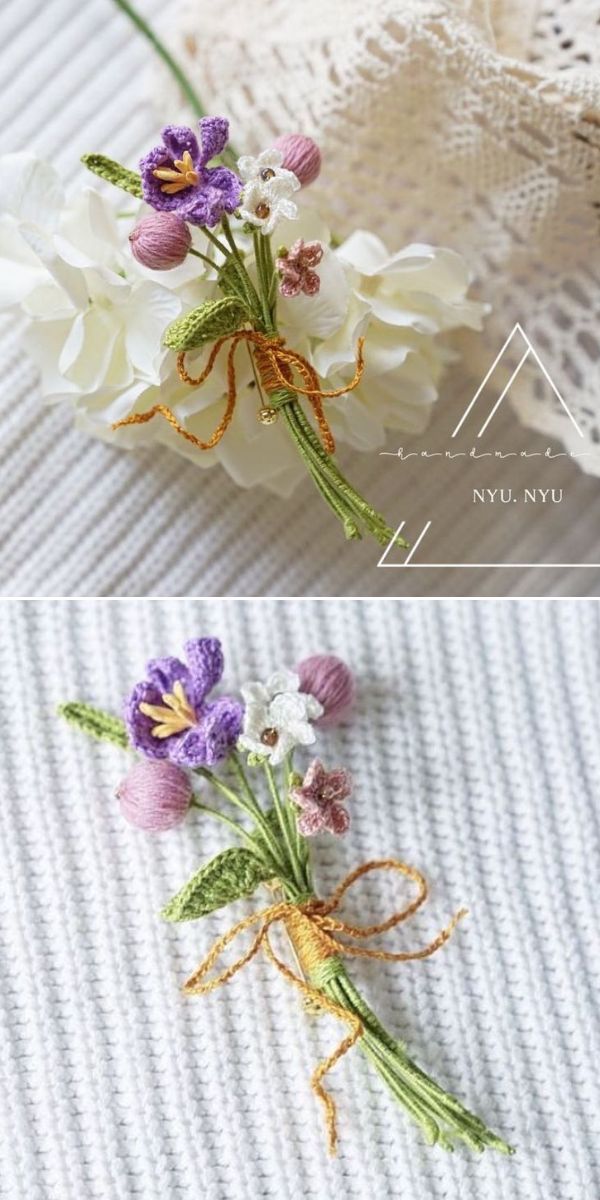 photos by @nyu_nyuhandmade on Instagram: source
To make a similar project, you can try a free crochet pattern called Tiny Flowers Bouquet by Abby Sy. It is available on ollieholly.com and ravelry.com.
◉
Floral Butterfly by Lunarheavenly
Brooches, pendants, earrings… It's all within your reach if you choose micro crochet! Crocheter behind Lunar Heavenly created a truly unique piece of art in the shape of a butterfly. In the bottom photo, you can see tiny cherry blossoms on a branch, so that you always have the spring within arm's reach!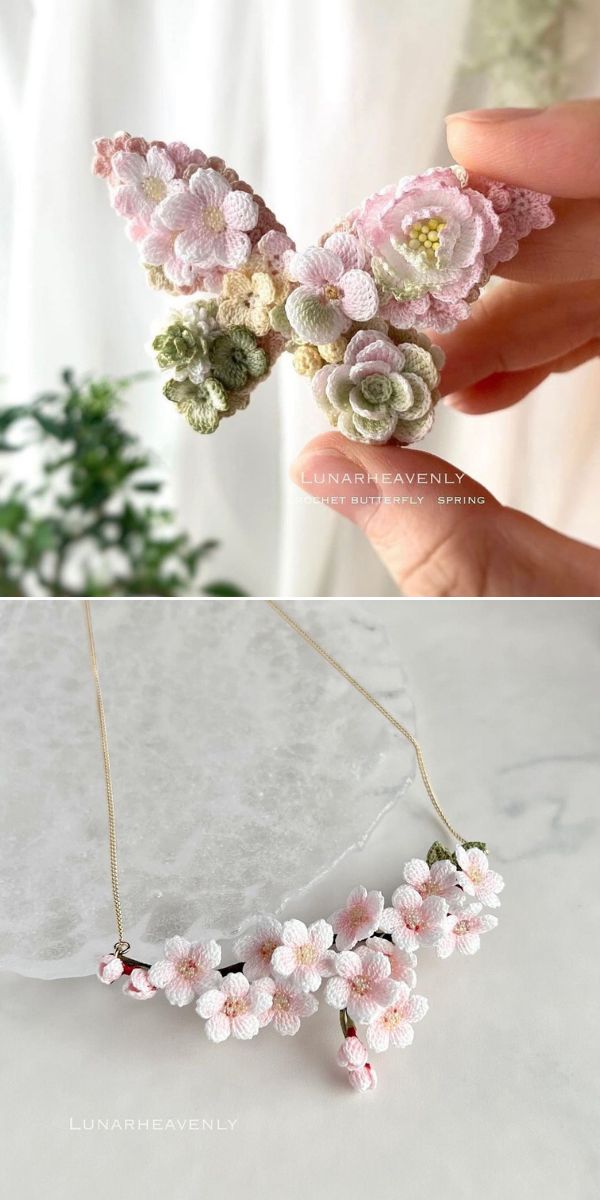 photos by @lunarheavenly on Instagram: top, bottom
To make a similar project, you can try a free crochet pattern called 1:6th Scale Daisy by Lala Nguyen, which is available on ravelry.com.
◉
Micro Granny Square Earrings by cup.of.coffee.crochet
When I mentioned that you can downsize every crochet motif, I was obviously including granny squares, so just look at them!
Jemima used colorful thread to crochet these adorable elements and then joined them together to create dangly earrings.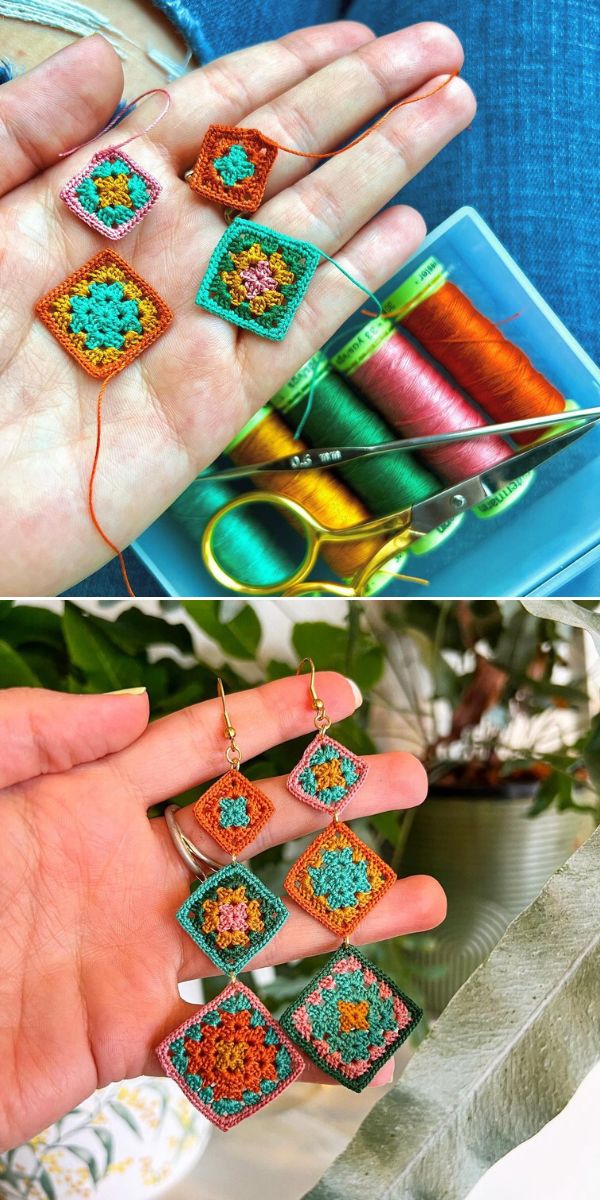 photos by @cup.of.coffee.crochet on Instagram: top, bottom
Use any granny square crochet pattern of choice, but change up regular yarn for thread and a small steel crochet hook.
◉
Micro Crochet Animals
Micro Cat and Dog by Fedenko Natalia
Natalia's menagerie of furry friends will fit right in your pocket! I couldn't believe how detailed her amigurumi dogs and cats are, but here you can see them in the photos. Working with furry yarn is hard by itself, but doing it downsized scale must be a true challenge.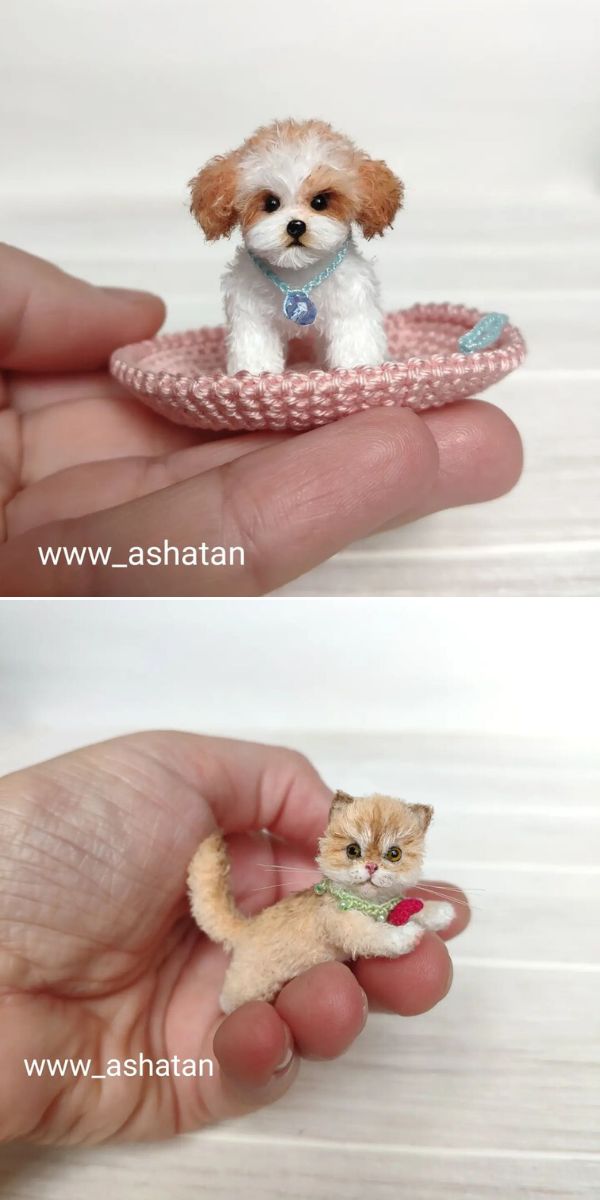 photos by @www_ashatan on Instagram: top, bottom
◉
Miniature Crochet Bear by Giovanna Guerrero
I love work-in-progress pictures because it gives me an idea of what the process looks like. Here you can see Giovanna's bears in various stadiums of readiness. The tiny paws, noses, and loose threads are still here, but the final stage is sewing it all together.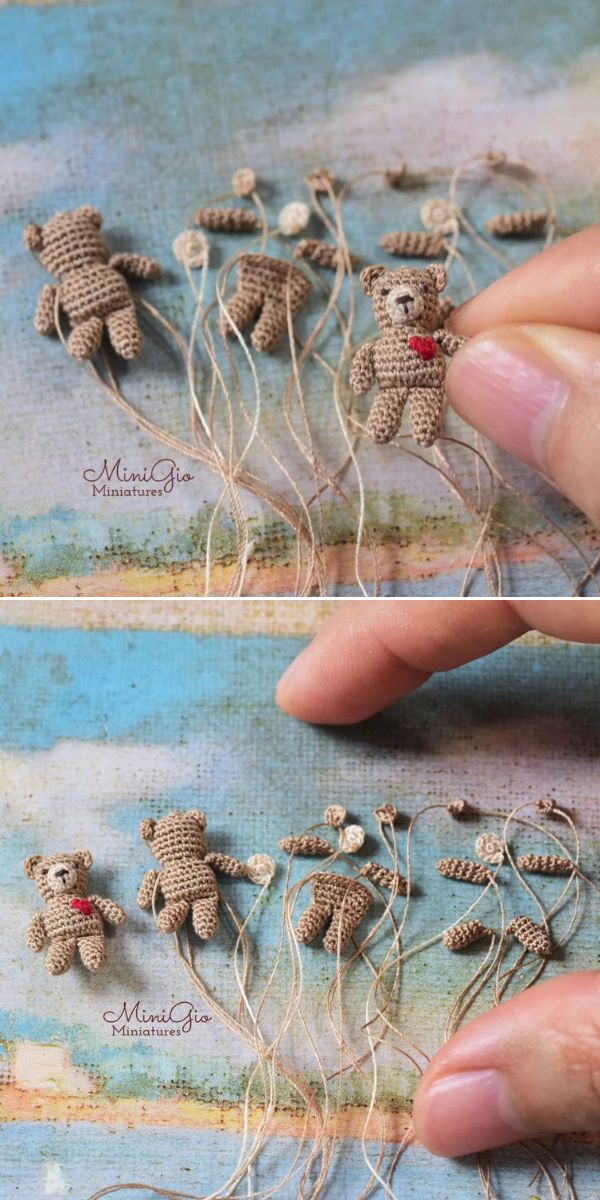 photos by @minigio.miniatures on Instagram: source
To make a similar project, try a free crochet pattern called Tiny Teddy Bear by Erica Dietz, which is available on 5littlemonsters.com and ravelry.com.
◉
Miniature Crochet Animals by tinyrabbithole
If you want to try mini crochet, but don't know where to start, choose simple shapes. Angie's animals all have egg shapes. It is one of the easiest to crochet and you can easily customize it to create various animals. Such tiny creatures can then become charms, keychains, or personalized decor.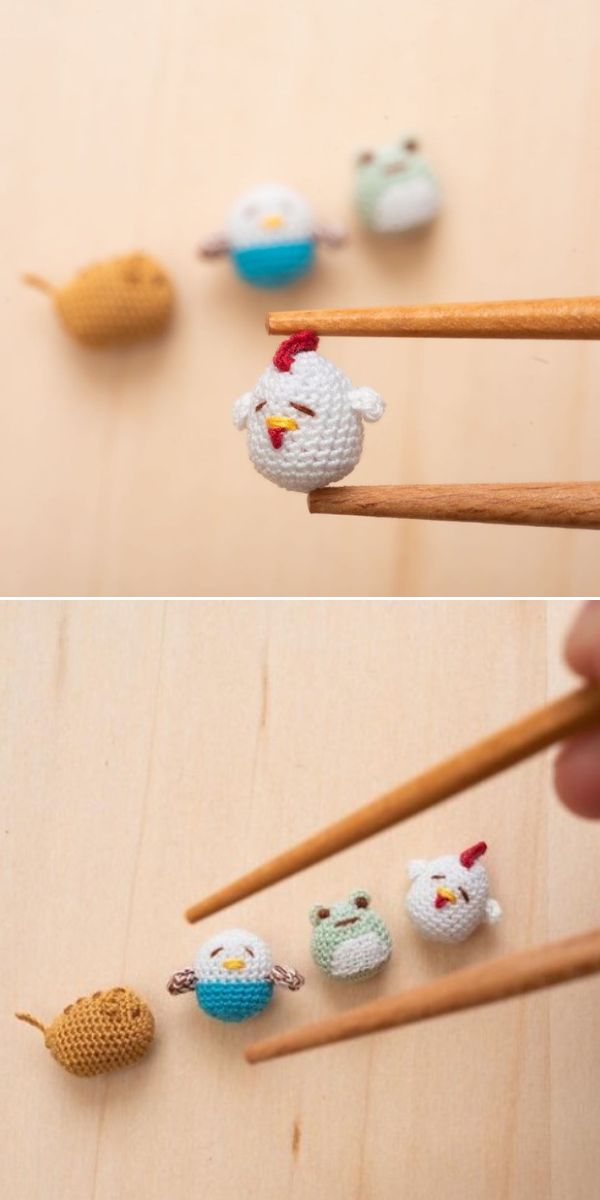 photos by @tinyrabbithole on Instagram: top, bottom
To make a similar project, try a free crochet pattern called Eggy – The Cute Chick by Ami Amour, which is available on amiamour.com and ravelry.com.
◉
Mini Crochet Dolls by sekizyumak
Seda's dolls have so many details it's mind-blowing. In the top photo you can see tiny Annes of Green Gables, and the bottom photo showcases Pippi Longstocking among other characters. You can either buy the finished product or try following the crochet pattern.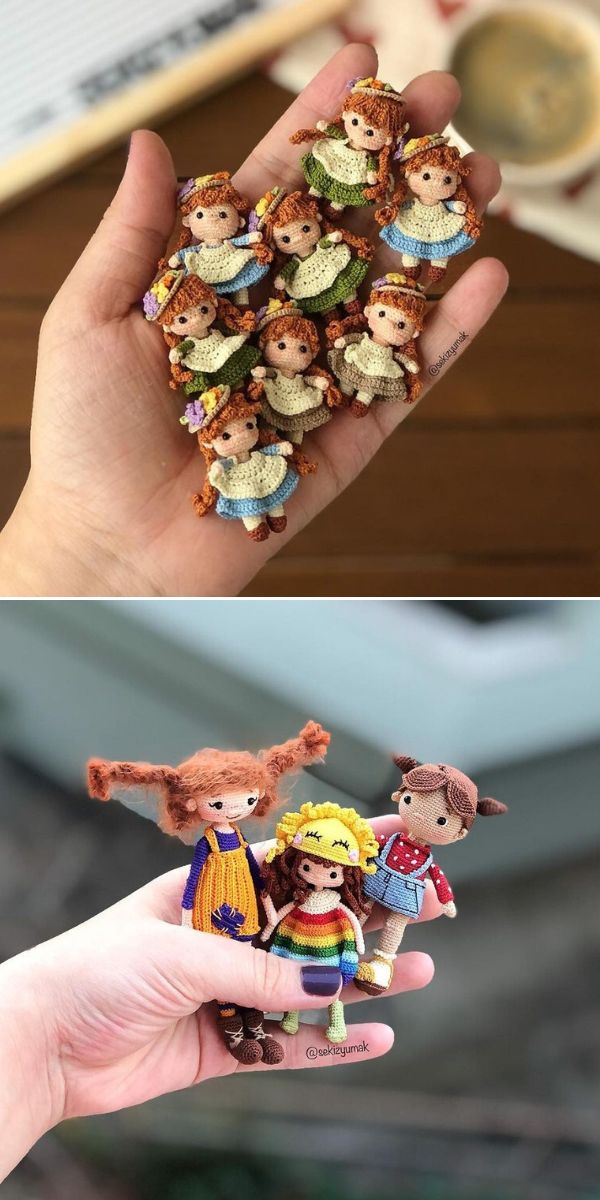 photos by @sekizyumak on Instagram: top, bottom
You can buy finished dolls and crochet patterns in Seda's Etsy shop.
◉
Micro Crochet Doll House Accessories
Miniature Crochet Bags by Giovanna Guerrero
Handmade dolls require handmade accessories, and these bags are the cutest ever! Animal faces and tiny handles will fit right into the tiny wardrobe. Giovanna's works present a stunning amount of details, as it's her specialty. Scale 1:12 is one of the most common when downsizing, so keep it in mind when working on your projects.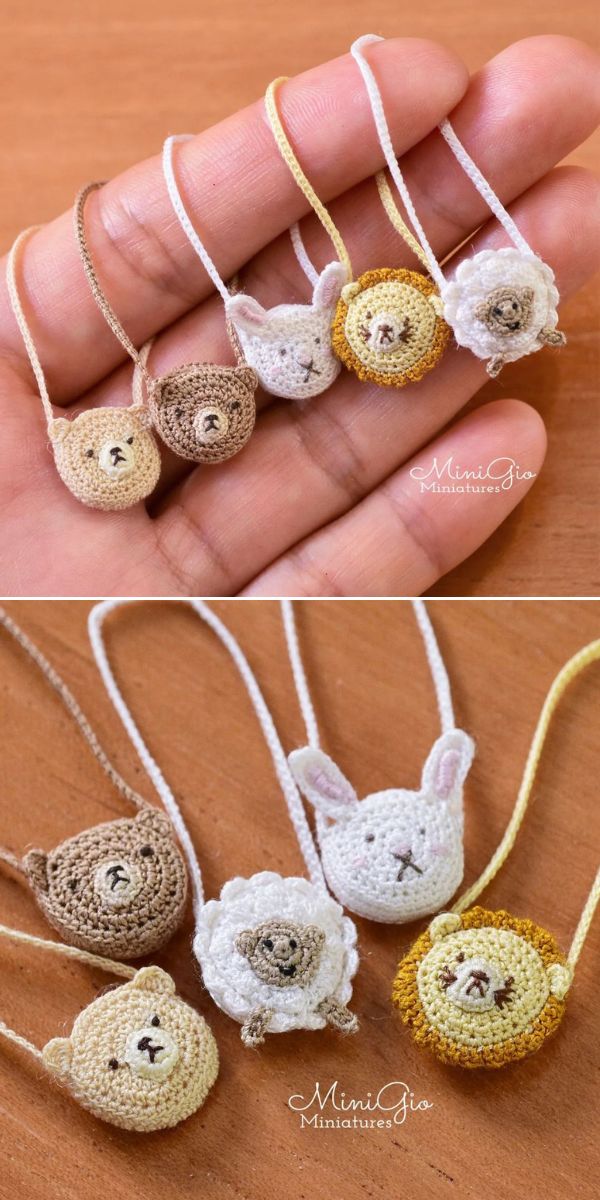 photos by @minigio.miniatures on Instagram: source
To make a similar project you can downsize any circular bag and add details.
◉
Miniature Crochet Blankets by Giovanna Guerrero
Mini-blankets are so adorable. As a crochet designer and avid researcher, I've seen and written about A LOT of blankets.
Now let's look at the photos below and ask ourselves – is there any stitch that you couldn't miniaturize? Granny square, ripple stitch, hexagons, detailed afghans… Even throw pillows!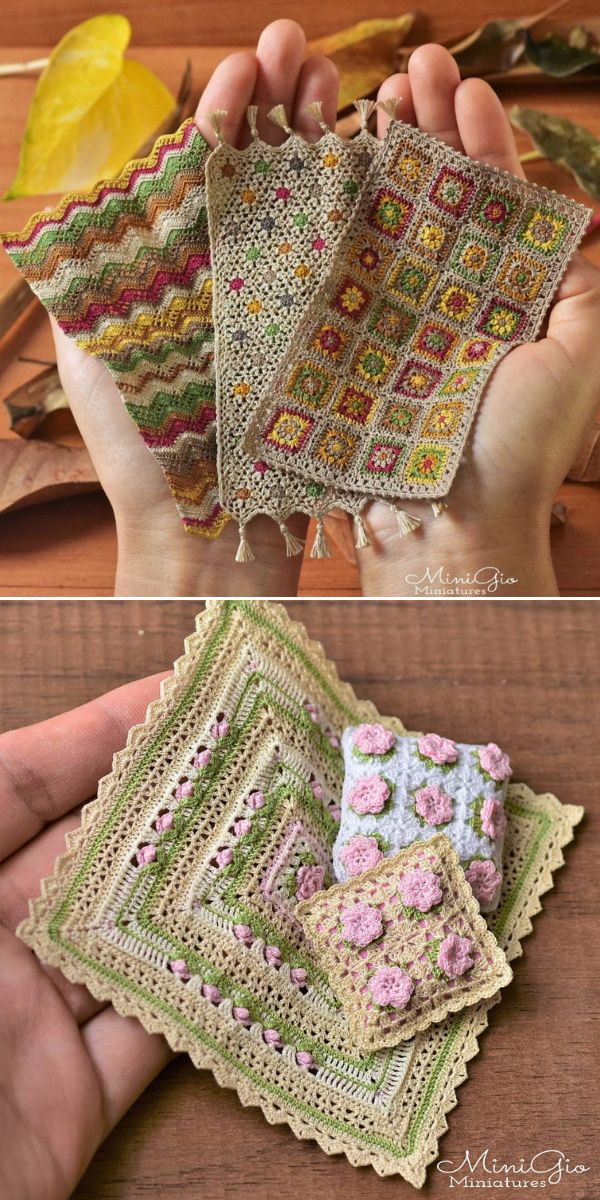 photos by @minigio.miniatures on Instagram: top, bottom
Explore my articles about ripple stitch, granny squares, Fruit Garden CAL, Anna's Tales CAL, or Nature's Walk CAL, and see if you'd like to downsize any of these projects.
◉
Micro Sophie CAL by Geneva-Kae
An idea for this article first came to me when I included this project in my article about Sophie's Universe pattern. You can see it in the photos below in all its glory – the meticulous stitching is stunning. It looks exactly like the original, despite being so much smaller.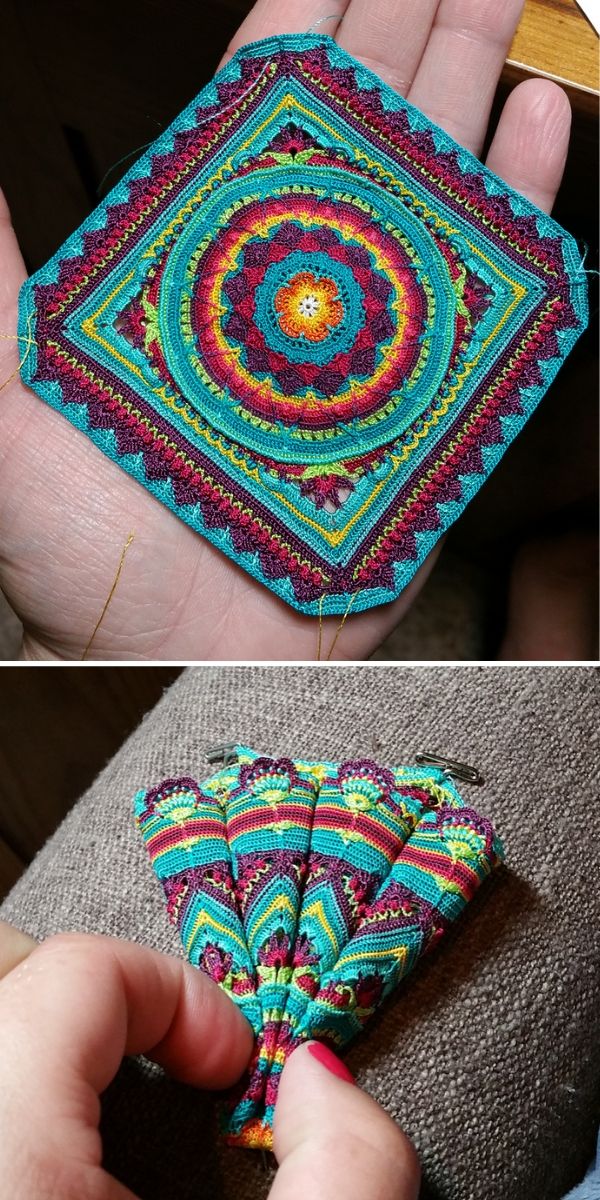 photos by Genevareclaimed from ravelry.com
Sophie's Universe CAL is one of the crochet free patterns.
◉
You may also like: How to Crochet Block Stitch + Video