Hello, friends!
I've got exciting news today, because I was invited to contribute to the first issue of Your Crochet Magazine. It was a long time in the making, but it's finally here, and I love the final result! I hope you'll love it as well 🙂
◉
What is Your Crochet Magazine?
It's the first issue of the magazine for all crocheters – beginners and advanced! I personally think that the selection of patterns will suit many of you, because they are ranging from amigurumi to accessories, to blankets.
I'm so happy to have my project featured beside such big names as Projectarian, Sweet Softies, or Christine Bateman!
11 premium crochet patterns, articles, and tutorials
Your Crochet Magazine is a digital publication, which you will receive to your inbox in a PDF format. It will be delivered right after you complete your payment.

Can you tell more about Magnolia Lace Shawl pattern?
Yes! My project is a lacy and elegant crochet shawl that will look great in many different color combinations. My version features light pink ombre, but there's a lot of room for experiments!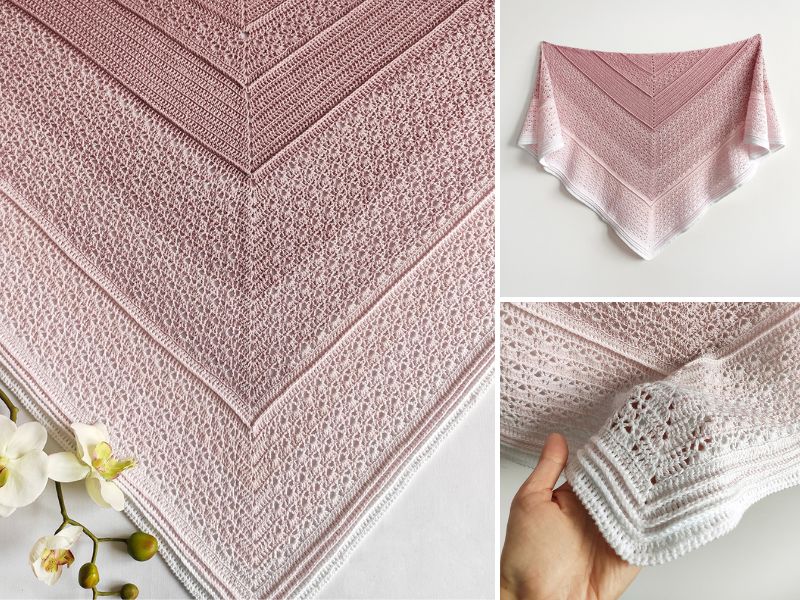 It's a pattern for intermediate crocheters or ambitious beginners, because it uses basic stitches in unusual combinations and requires some focus.
In addition to the pattern I created a simple tutorial for working this lacy stitch in rows, so you can use it in other projects!
How can I buy Your Crochet Magazine?
The easiest way is to click this link 🙂
◉
That's all for today, but I'll be back with much more inspiring projects and free patterns. Like, share, and subscribe if you like what you see. If you want to learn more, read my articles, check out my Recommendation Series, or try my Free Crochet Patterns and Stitch Tutorials!
↔
You may also like: Sapphire Puff Shawl – Free Crochet Pattern