Loops in Loops Stitch – Crochet Tutorial
Our first stitch tutorial on Crochetpedia is here! This loopy stitch was one of the first I've tried when learning how to crochet, so it's near and dear to my heart. This easy stitch is very decorative and will look great in many different projects. If you use thin yarn or thread, we will get delicate and airy crochet, which is great for summer blouses or light shawls. Thicker wool or cotton yarn will make it more structural and dense, but still keeping the lightness thanks to lovely openwork.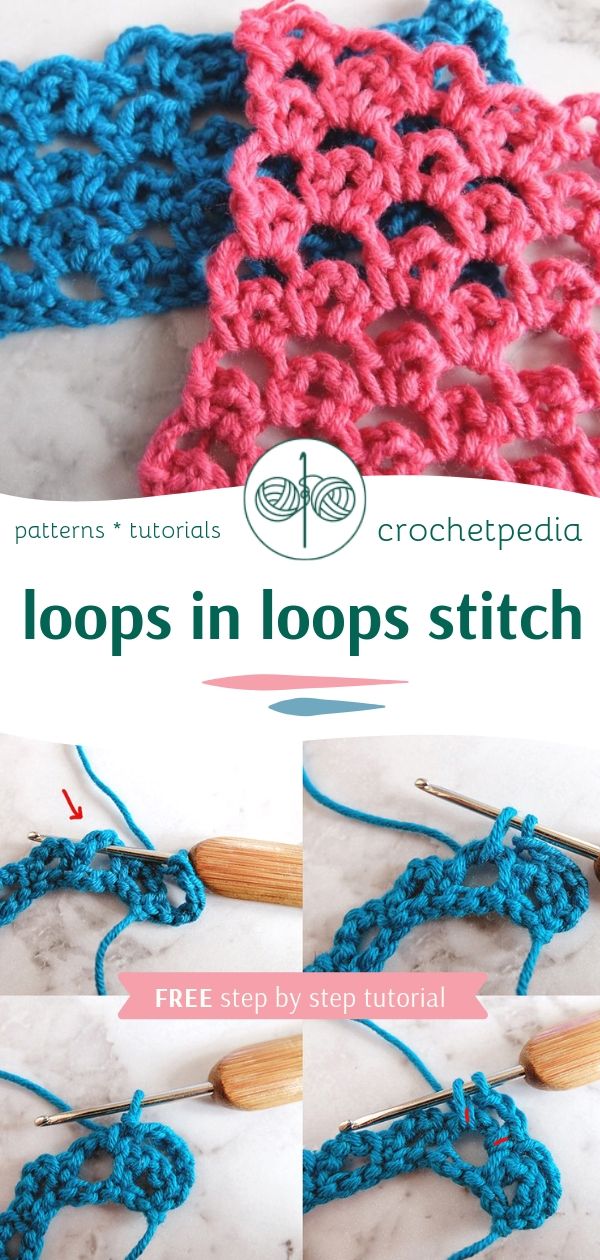 Loops in Loops Stitch is simple and very easy to learn – it uses basic stitches and you will be able to repeat it from memory after couple of rows. It's made mostly with chains, which are joined together to create a kind of big picot enclosed in a loop. This stitch is great for beginners!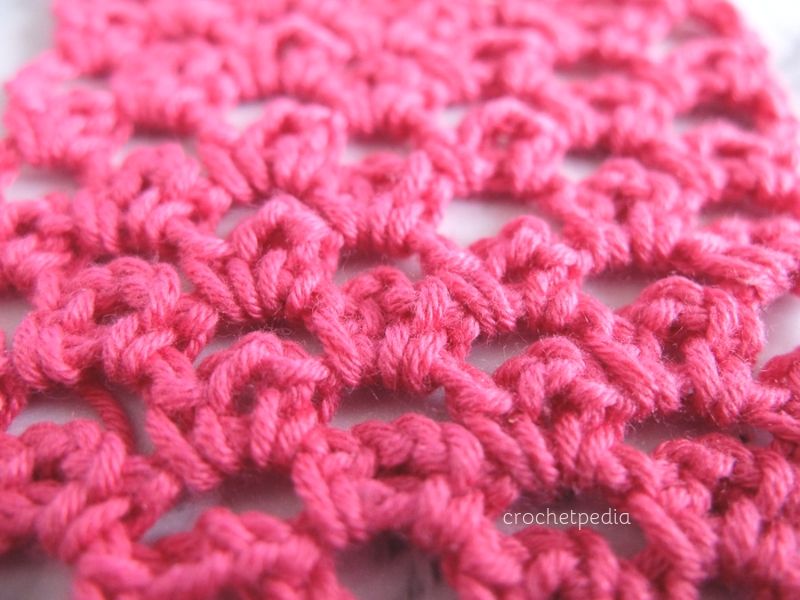 PATTERN NOTES:
You can use any yarn or thread for this stitch.
Use the size of hook recommended by yarn producer.
this pattern is written in standard

US terms

instructions in brackets () – main module to repeat until the end of the row.

ch = chain

sc = single crochet (US)
dc = double crochet (US)

sk = skip

s. loop = small loop (chain over 1 skipped stitch)

b. loop = big loop (chain over 2 skipped stitches)

rep. = repeat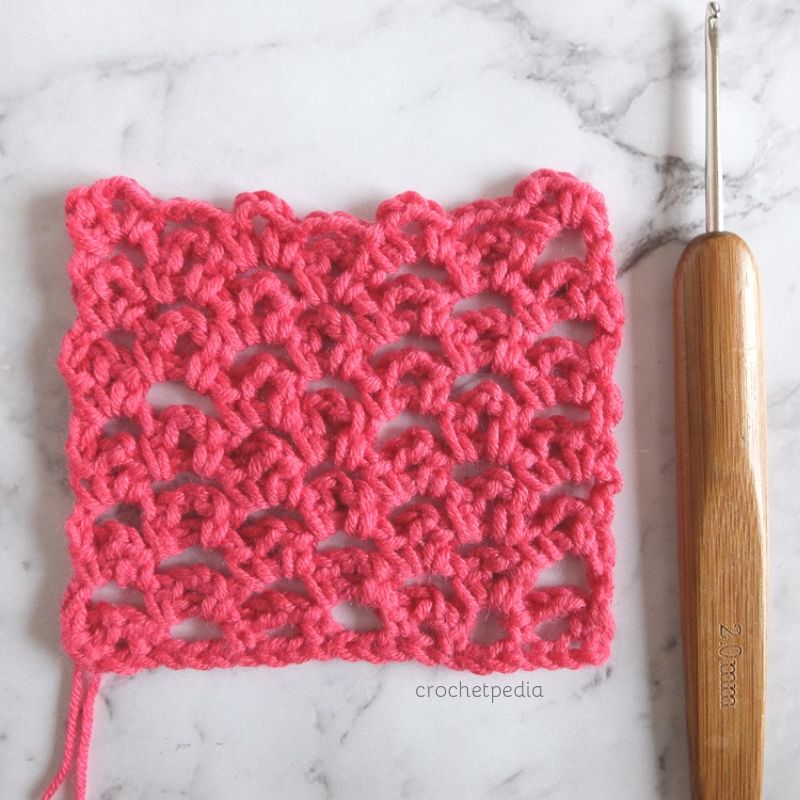 written pattern simplified
If you are experienced crocheter or need a quick look, try simplified version of the pattern below. It's condensed into easy to follow recipe!
start: chain multiple of 5, +3
row I: 1ch, 1sc (3ch, 1sc in second ch, 3ch, 1sc in third ch), 5ch
row II: sk s. loop, 1sc in b. loop, 3ch, sk s. loop, 1sc in the same b. loop (3ch, sk s. loop, 1sc in b. loop, 3ch, sk s. loop, 1sc in the same b. loop), 1dc.
rep. rows I-II until desired size
diagram
Diagram is a visual representation of the stitch. It may help you understand it better than written pattern. Share it with your friends or save to Pinterest!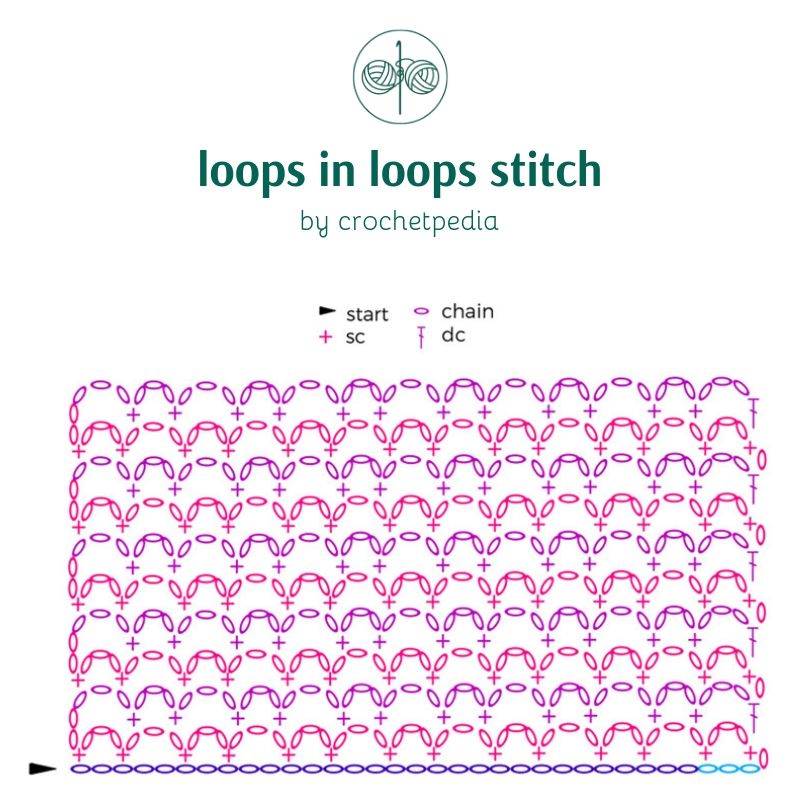 step by step tutorial
Photo tutorial is full of very specific instructions on how to work this stitch. If you are a beginner, this is one of the best ways to learn!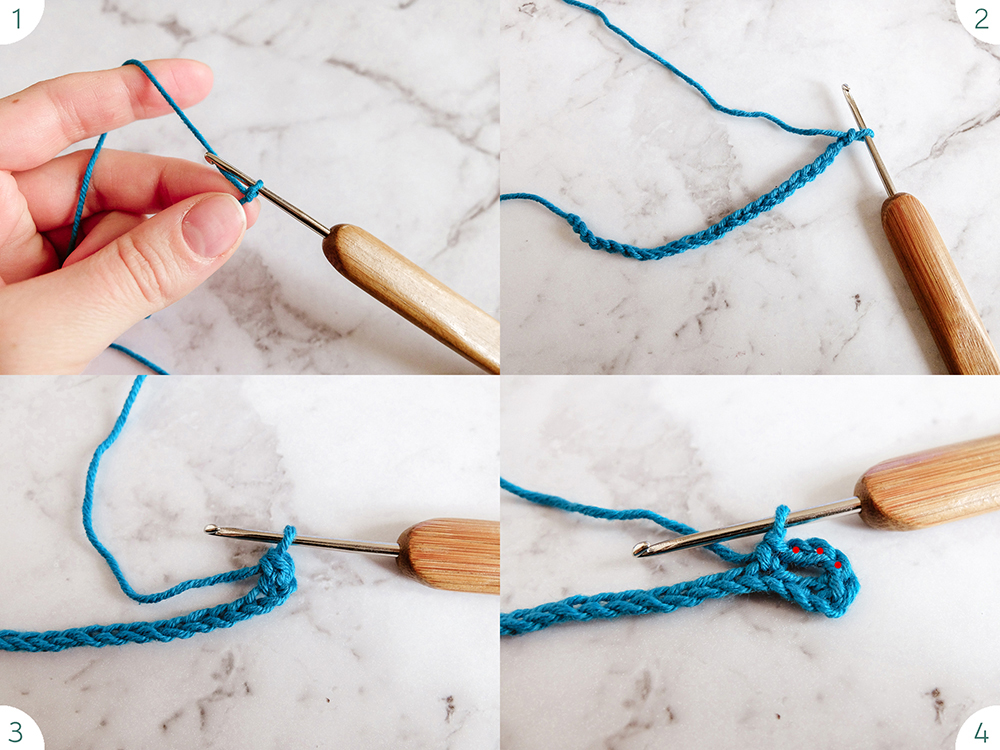 1. Make slip knot

2. Chain multiple of 5, +3

3. Start of Row I: Chain 1, 1sc.

4. Chain 3, skip 1 stitch, 1sc in second stitch.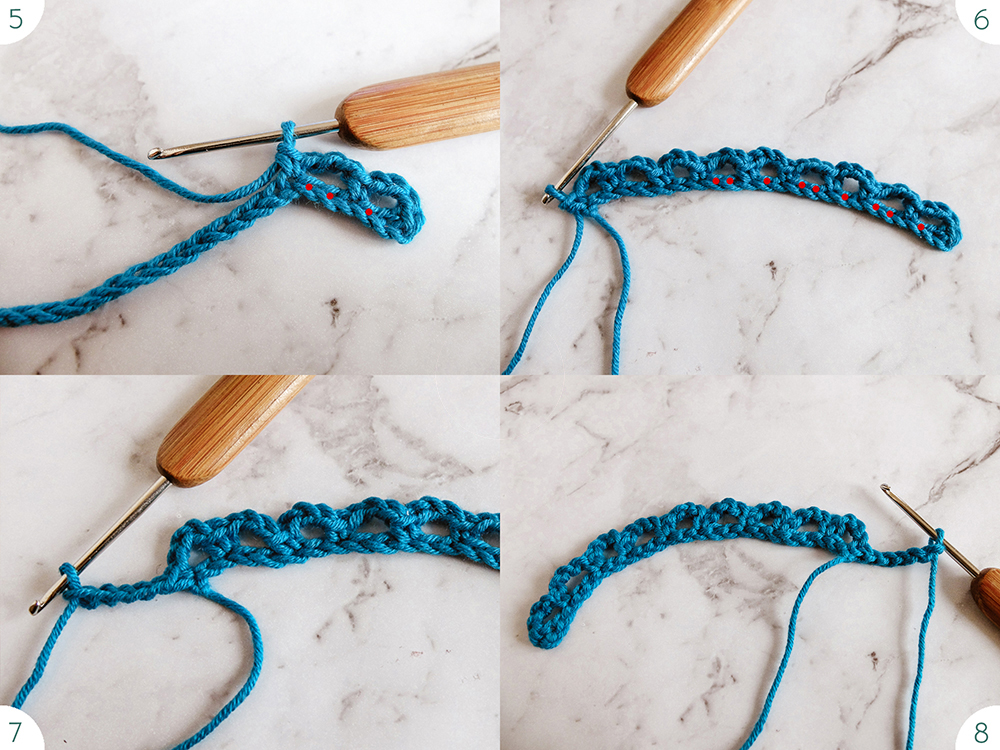 5. Chain 3, skip 2 stitches, 1sc in third stitch. 

6. Continue to the end of the row, skipping consecutively 1 and 2 stitches. 

7. End the row with 5 ch (2 instead of dc, and 3 for the small loop of next row)

8. Turn your work over.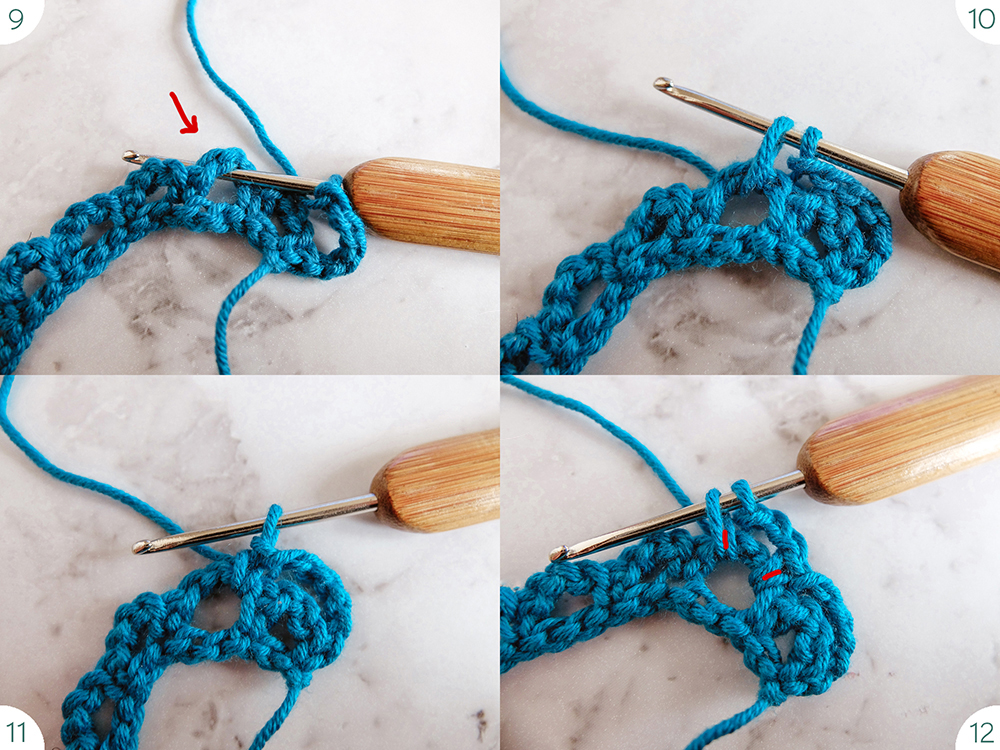 9-11.

Skip small loop, insert hook in the middle of big loop, 1 sc. 

12. Chain 3, insert hook in the same big loop, 1sc.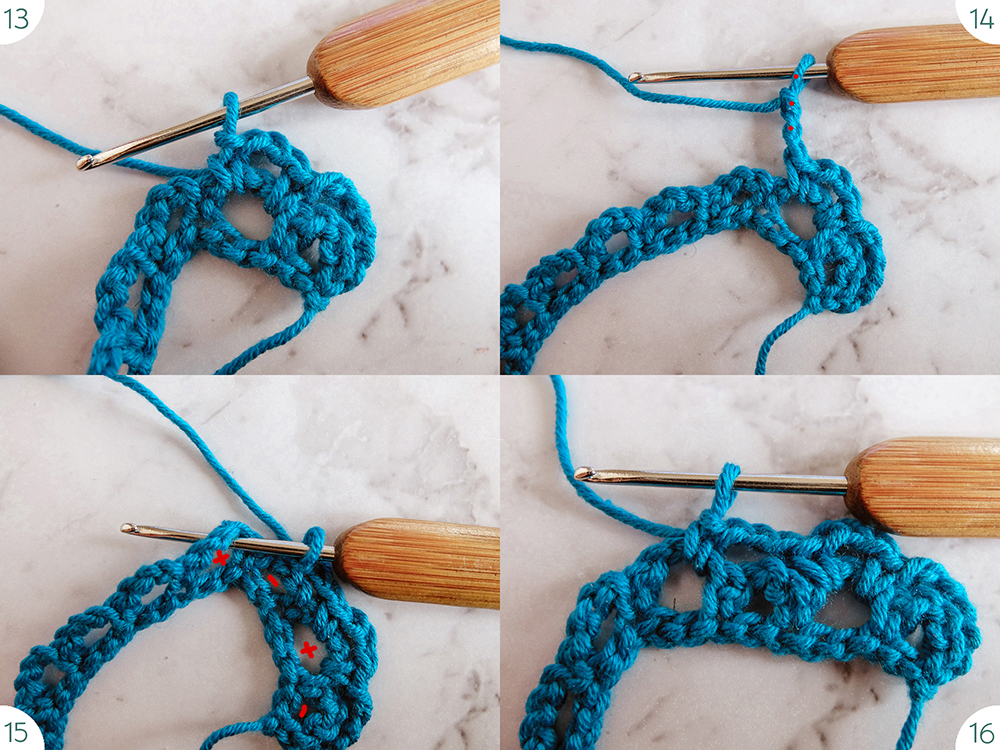 13. Both sc are in the same loop.

14. Chain 3.

15-16. Skip small loop, 1 sc into next bigger loop.
17-20. Continue to the end of the row, end with: 3 chain, last stitch 1 dc.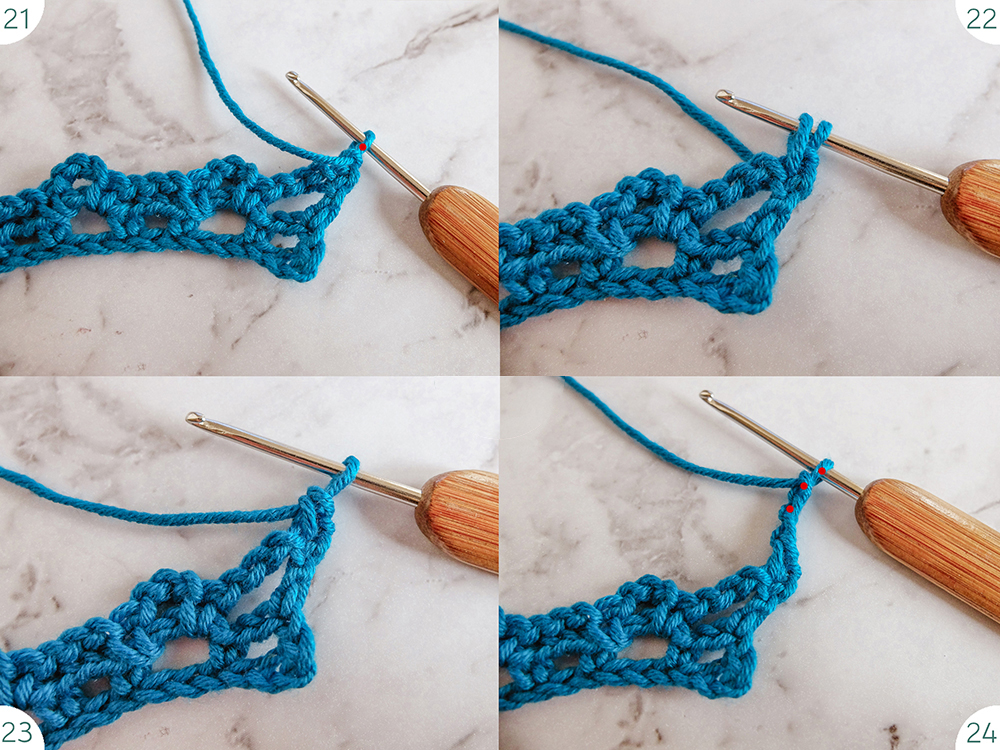 21-24. Repeat row I: chain 1, 1 sc, chain 3, continue as earlier with 1sc – 3ch – 1sc module in bigger loops and skipping small loops. 
25. Continue until the end of the row.

26-27. End the row with 1 sc into big loop. Continue repeating rows.

28. Swatches 🙂
share, like, subscribe!
If you happen to make this project, I would love to see it, so don't hesitate to contact me! Please feel free to share the results with us in the comments or on social media. Of course, if you find any mistakes in the pattern or find it hard to understand, please let me know, so I can learn and improve!
Sharing is caring, so if you liked this project, be sure to share it with your friends and spread the word, because I really appreciate it! For more free tutorials, patterns and interesting articles – follow my social media pages and allow notifications to get a pop-up whenever new post is published.
◉
FOLLOW ME ON PINTEREST AND INSTAGRAM