Last Minute Crochet Sock Ornament | Free Pattern
Little crochet sock ornament may be exactly what you need to elevate your Christmas decor. These super easy and quick crochet sock uses the most basic crochet stitches, so it's perfect for beginners!
◉
SAVE IT IN FAVORITES ON RAVELRY
or follow me on PINTEREST and INSTAGRAM
◉
Video tutorial coming soon!
In the meantime you can try my other super easy project – if you make Star-Shaped Flower in white or gold, it will become another lovely last-minute adornment! You can add it to the gifts, or make a garland.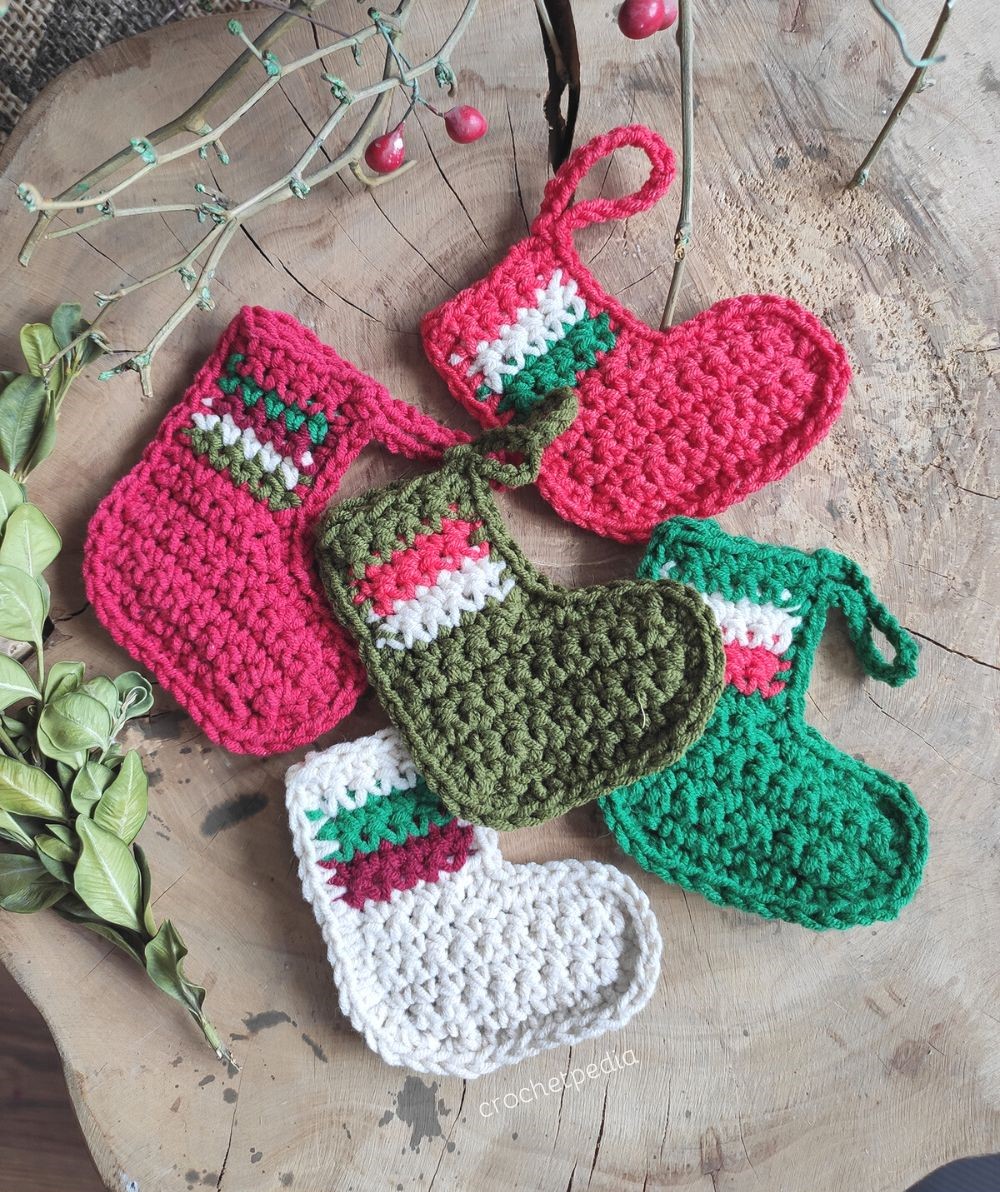 ◉
Psst… This project is fun, too. I promise!
If you like this, be sure to try out my other patterns, because they are great for beginners, too! For example, Crochet Bauble is a great Christmas project, and it's available for free!
→ Christmas Crochet Baubles | Free Pattern + Video! ←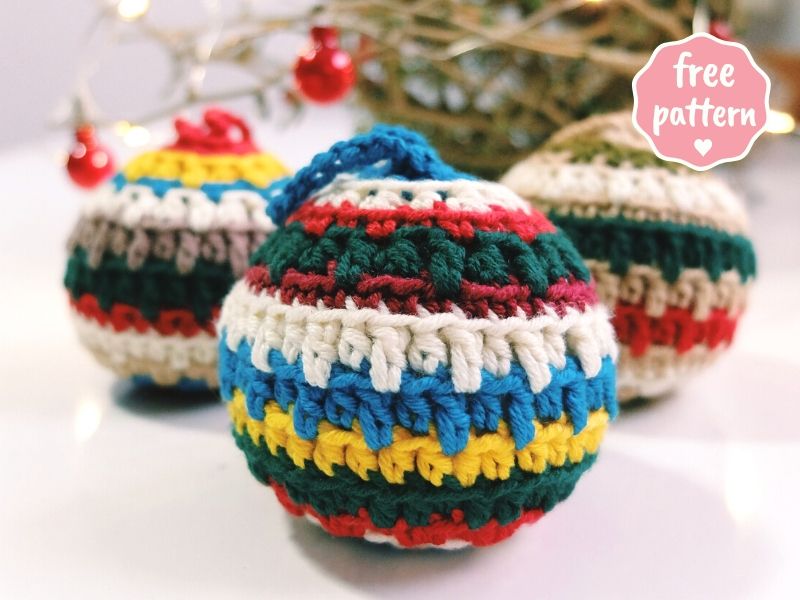 ◉
Check out my Mini CAL, because it's full of free patterns for crochet snowflakes!
→ Crochet Snowflakes Mini CAL | Patterns and Videos ←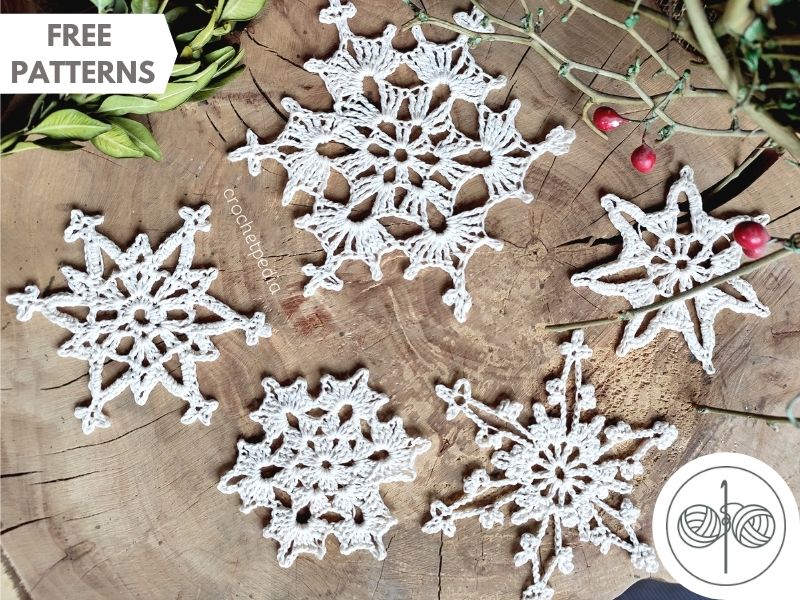 ◉
Get to work!
It's a fantastic project to use up any leftover yarn ends that you have laying around. That's what I did – I mixed and matched the colors!
You may want to know how to change colors, too – check out my article on How to Change Colors in Crochet for more info. If you like, use Standing Stitch to start out each new row, instead of turning chain!
Let's start!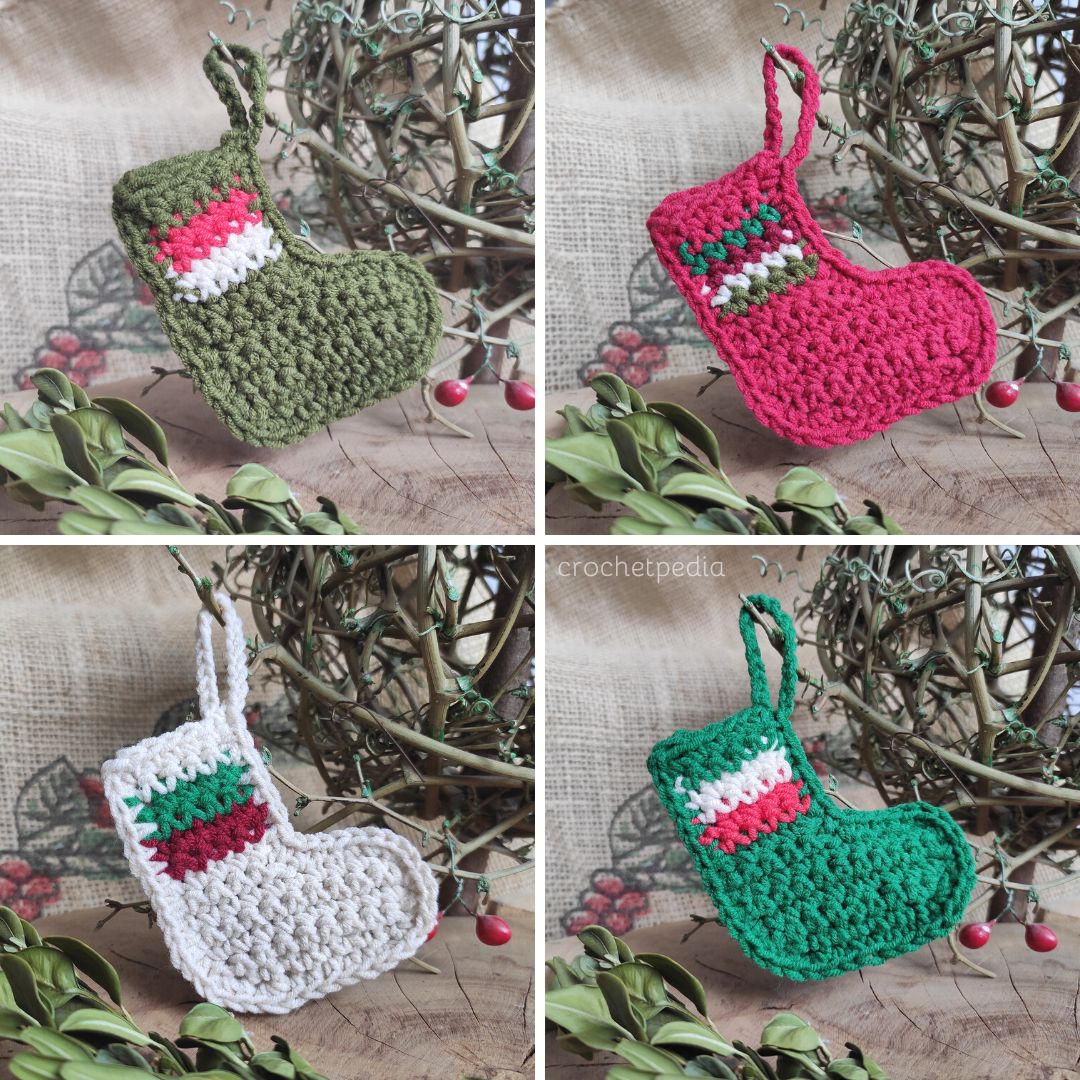 PATTERN NOTES
LEVEL – beginner
TERMS – standard US
TECHNIQUES
MATERIALS AND TOOLS
yarn: I used YarnArt Jeans in various colors (in fact you can use any yarn and corresponding hook you want, just stick to one kind of yarn for one ornament)

crochet hook 2,5 mm
toy filling (optional – you can leave your sock empty inside)
scissors
◉
◉
before you start
These socks are made with two parts – front and back, which are exactly the same. You can match the patterns on each sides, or go for totally different designs and colors.
Once you have two elements, you join them with single crochet stitches, but you can choose whether you want it to be open at the top (like a real sock), or closed off completely.
You can fill the sock with a little bit of stuffing to add plumpness, but it's optional.
Let's begin!
◉
Little Crochet sock ornament
go for one color or play with colorful stripes!

1 ch at the beginning of the round is a turning chain for single crochet and isn't included in the overall stitch count for the row.
the sock is worked from the bottom up.
SOCK – make 2.
START: 8 ch
ROW 1
1 ch, 7 sc, 2 sc in one st (9)
ROW 2
1 ch, 8 sc, 2 sc in one st (10)
ROW 3
1 ch, 9 sc, 2 sc in one st (11)
ROW 4
1 ch, 11 sc (11)
ROW 5
1 ch, 9 sc, sc2tog (10)
ROW 6
1 ch, 4 sc, sc2tog (5)
ROW 7-12
1 ch, 5 sc (5)
JOINING THE PARTS
To join two parts of the sock we need to work single crochet stitches all around, inserting the hook through both parts at once.
On the arches use increases by working two single crochets in the same stitch – it will help your stocking remain flat.
To create a hanger (loop), make 20 chain stitches and attach it with a slip stitch back to the base.
In my opinion it's best to choose the same color in which the sock is made, but after all it's your sock and your ideas! 🙂
To make your sock open at the top…
start in the top left corner and end up in the right left corner (make a hanger there, too).
To close off your sock at the top… 
start in the top right corner and work the stitches all the way through. Don't forget about the hanger in the end.
If you want to stuff your sock with filling…
stop before closing off the sock completely and add stuffing to the ornament, then proceed with single crochets to close it off.
PIN IT!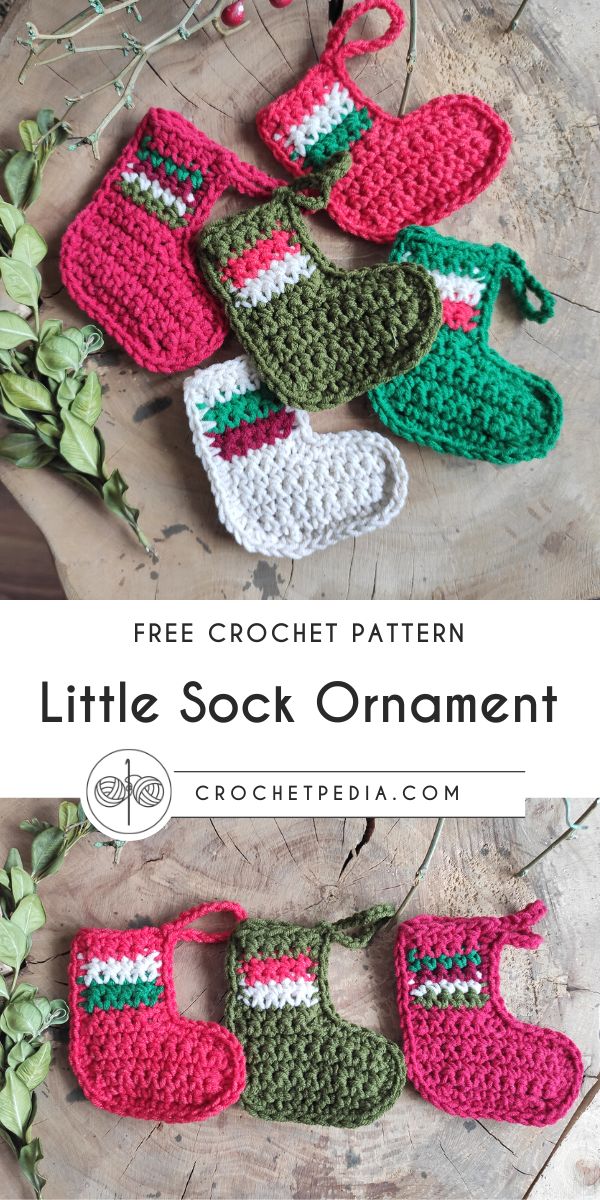 you are done!
Now hang your crochet sock ornament on the tree or put some money inside 🙂
◉
While I work hard to make sure the projects I publish are the highest quality, this pattern is untested and may contain errors. If you notice one, please let me know – I'm going to revise it and correct as soon as possible.
You may also like these free patterns!
share, like, subscribe!
It's great when you follow my patterns, so don't hesitate to contact me! Please feel free to share the results in the comments or on social media, because I would love to see it. Of course, if you find any mistakes in the pattern or find it hard to understand, please let me know, so I can learn and improve!
Sharing is caring, so if you liked this project, be sure to share it with your friends and spread the word, because I really appreciate it! For more free tutorials, patterns and interesting articles – follow my social media pages and allow notifications to get a pop-up whenever new post is published.