Yarn labels are full of important informations, so learning how to read them is a crucial lesson. It will make choosing the right materials much easier for you! Yarn label will tell you what qualities does your yarn have, or how to take care of the items you make with it.
Typical yarn label contains:
Brand Name and Yarn Name
Fiber Content and Yarn Weight (Thickness)
Skein Weight and Yardage
Recommended Needle / Hook Size and Gauge for Knitting and Crochet
Color and Dye-Lot
Care Instructions
Let me show it to you on an example – my yarn label of choice is Nako Elit 50.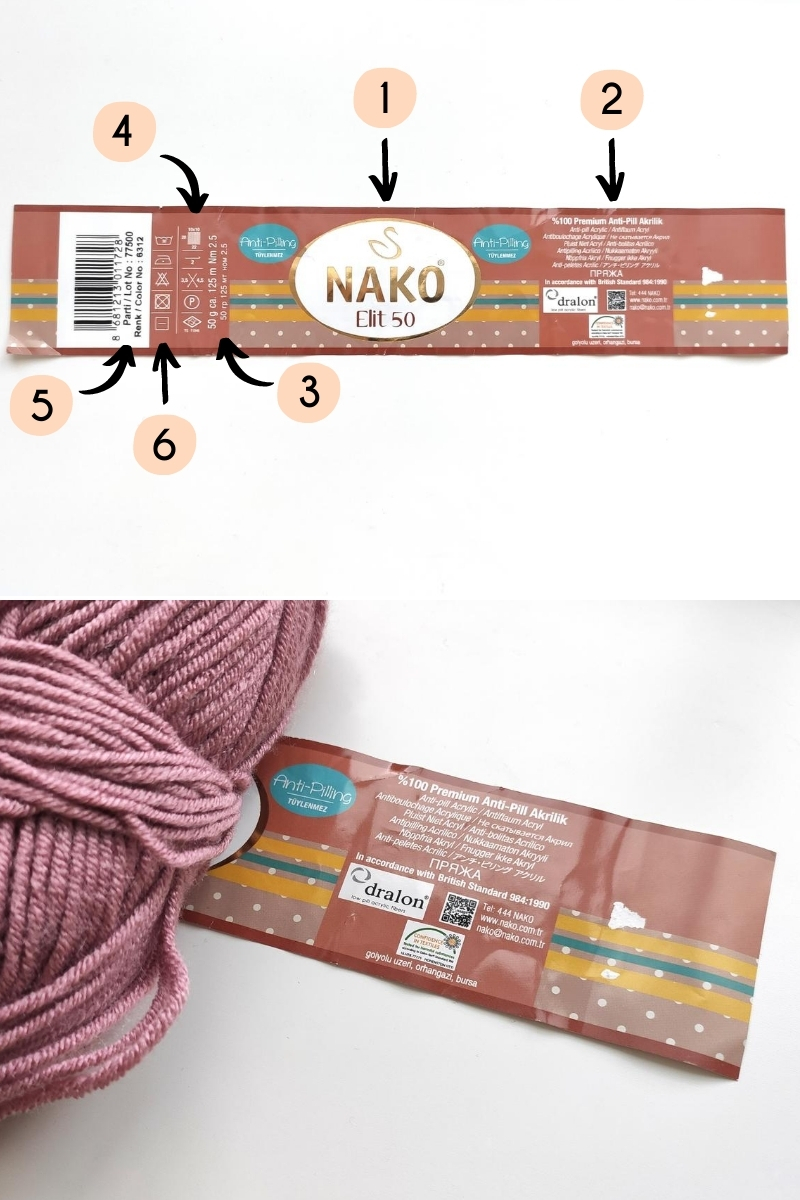 Depending on the size of and shape your skein, the label will have different shape, size and layout.
You can learn more about the types in this article – Yarn Ball Types.
◉
1. Brand Name and Yarn Name
In this case the name of the brand is Nako, and the name of the yarn is Elit 50. Sometimes additions of words like "Anti-Pilling" or "Baby" further distinguish the type of yarn from other ones made by the same producer, but the most popular combination is just Brand Name – Yarn Name.
2. Fiber Content and Yarn Weight (Thickness)
My yarn of choice is made with 100% premium acrylic, which is a synthetic fiber with additional anti-pilling technology. If your yarn is a blend, the label will tell you how much of particular fiber there is in your blend, for example: 45% cotton, 55% wool.
If you want to learn more about types of fibers, check out this article – Types of Yarn.
This particular label doesn't tell what yarn weight it is, but you can often find little icons with yarn skein and a number. They indicate if it's lace, fine, medium, bulky, or if it's 2-, 3- or 5-ply yarn.
More informations about yarn weights are in this post – Yarn Weights and Ply.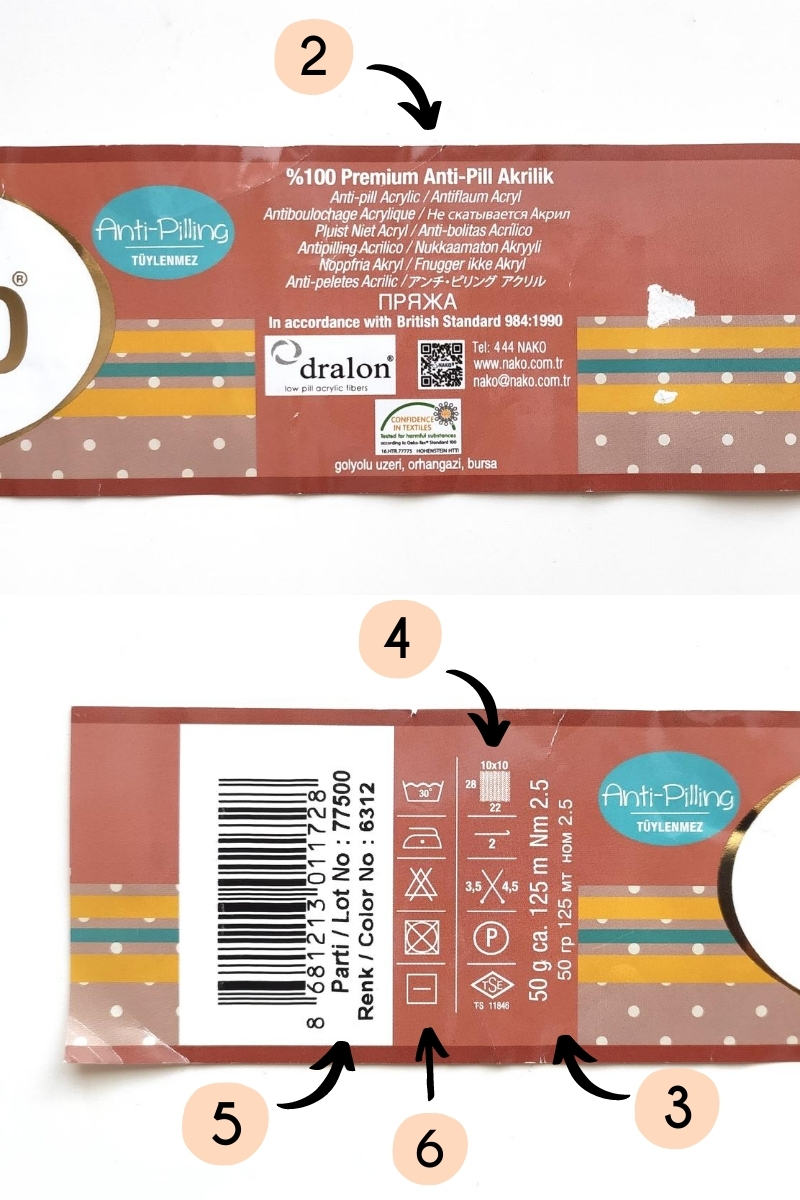 3. Skein Weight and Yardage
My skein of yarn weights 50 grams and has 125 meters of yarn in it. You can find these informations provided in yards, too. The weight and yardage (or length in meters) of one skein allows you to calculate how many of them do you need for your project.
4. Recommended Needle / Hook Size and Gauge for Knitting and Crochet
Looking from the top, the first icon is our gauge, which tells us how many stitches we need to create a 10×10 cm square (note, that this measurement may be provided in inches on American yarn labels). In this case it's 28 by 22 stitches, and it's usually measured with the use of recommended tools.
Next, we have an icon of crochet hook with number 2 below it. This tells us that yarn producer recommends 2.00 mm hook for this yarn.
Below that, you can see an icon of crossed knitting needles with two numbers – 3,5 on the left and 4,5 on the right. This tells us that you can use any knitting needles ranging between these two sizes.
5. Color and Dye-Lot
Every yarn label should have two numbers that tell you what color you have, and both of them are equally important.
All yarn producers have their colors cataloged, so that each one has a corresponding number. In my case, color number (Color No) 6312 is dusty pink, so if I ever needed exactly the same color from the same brand, I can look for the number instead of comparing all the pinks with each other.
When I chose my dusty pink and want to buy more skeins for my big project, I need to take a look if all of them have the same lot number (Lot No). In this case it is 77500. Lot number indicates a batch in which it was dyed, so the color with different dye lot number might not be exactly the same as the one I have. Even if you can't see a difference while holding two skeins in your hands, it may be visible once you start crocheting.
6. Care Instructions
This column has all the informations you need to properly care for products you make with particular yarn, but these instructions differ depending on the type of yarn, fiber content, and so on.
To decipher these icons, you should take a look at laundry symbols, so I recommend heading straight to Wikipedia article about it.
For example, my yarn label tells me (looking from the top) to:
wash at or below 30 °C
iron at low temperature
do not bleach
do not tumble dry
dry flat
Keeping these restrictions is the only way to avoid unpleasant surprises, such as shrinking, deformation, or coloring other clothes in the washing machine.
◉
Explore more from Yarn 101 series:
⟶ Lace, worsted, bulky, or jumbo…? To find out more about Yarn Weights and Ply, check out this article!
⟶ You can wind yarn into different shapes, such as skeins, hanks, balls and other – if you want to know more about Yarn Ball Types, check out this article!
⟶ Animal fibers, plant fibers, or synthetics? Learn all about Types of Yarn in this article!
◉