How to Crochet Spike Stitch | Video + Pattern
Spike stitch is a very easy technique, so that every beginner will master it in no time! This tutorial will show you how to crochet spike stitch in its most simple version. I hope that this article will give you enough tools to experiment with your own patterns.
◉
SAVE IT IN FAVORITES ON RAVELRY
or follow me on PINTEREST and INSTAGRAM
◉
This stitch is based on single crochet, which is the most basic of basic stitches. The trick is to alternate regular stitches with elongated ones, which are worked in the rows below. This technique creates interesting, but nicely repetitive surface, which is perfect for blankets and home decor.
If you like it, please give me thumbs up and subscribe to my channel, so that more people can learn from it!
Remember to click the bell button if you don't want to miss any of my tutorials!
◉
The stitch you are about to learn was used in…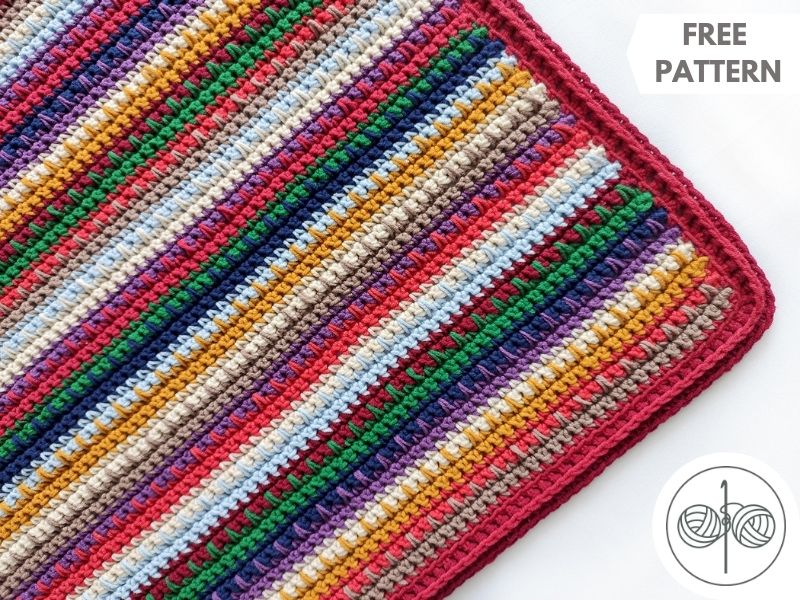 ◉
playing with colors
I've created a bunch of examples for you, so that you can see the full potential of this stitch. Whether you like your crochet works colorful or delicate, this technique will work for you!
◉
Color your spikes
This stitch is great for using up your leftover yarn ends. In my version, one color can be used for two rows only, if you like.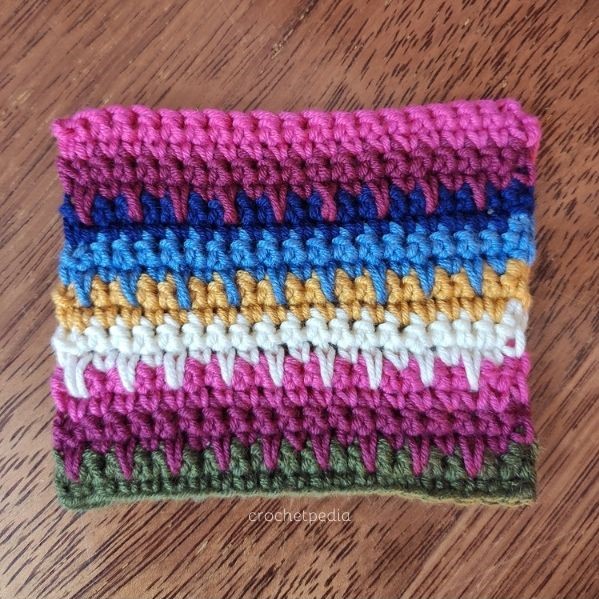 Even if you think that your colors will clash, try them out, because you might discover that together they work fine in a bigger picture.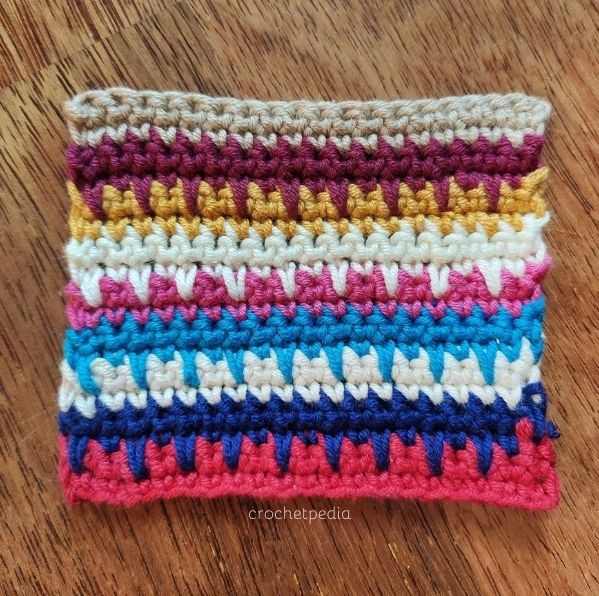 Palette you will go with should represent the mood you are aiming for. Will it be delicate pastels, rich colors of the autumn, or cold hues of deep sea?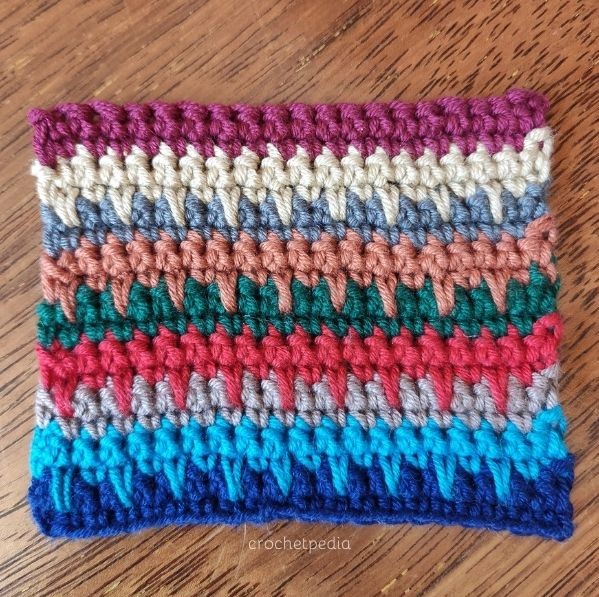 Inspired? Great, so let's learn how to crochet spike stitch.
For more inspiration and free crochet patterns, visit this post: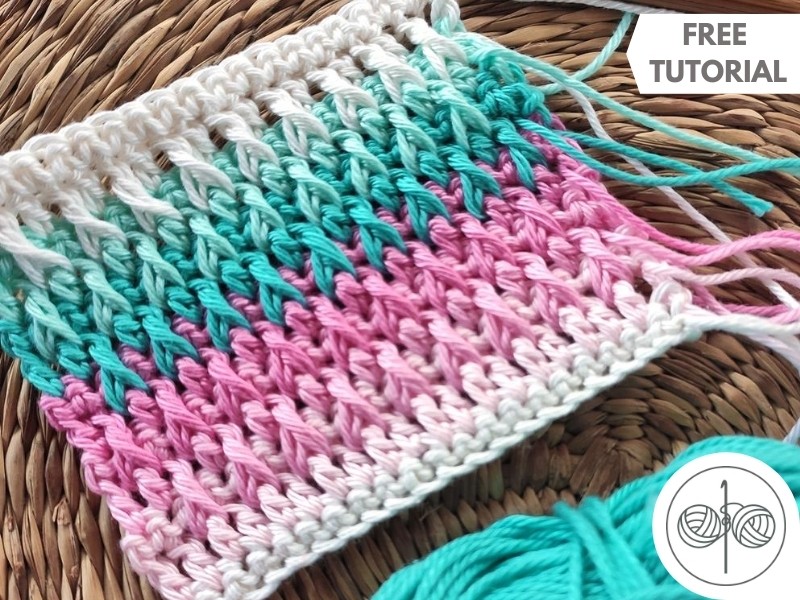 ◉
PATTERN NOTES:
LEVEL – beginner
TERMS – standard US
TECHNIQUES
chain (ch)
single crochet (sc)
elongated single crochet (elongated sc, or long spike) –

you have to insert your hook in the stitch below the usual stitch, and pull the yarn to the height of your other stitches in the row. You work it the same way you would work classic single crochet stitch. 
ABBREVIATIONS
C1 – color 1 pink

C2 – color 2 blue

C3 – color 3 yellow
MATERIALS AND TOOLS
you can use any yarn and recommended hook size

for step by step sample I used DMC Amigurumi Cotton yarn and 3 mm hook.
how to crochet spike stitch
C1 / START:
Make a foundation chain of any number of stitches – make a slip knot, and go on with chain stitches. I decided to go for advanced foundation chain, so that it's nice and clean.
Option 1: If you work with an even amount of stitches, you start the row with a small spike, but end with a long spike. 
Option 2: If you go with an uneven amount of stitches, you start and end the row with a small spike.
The pattern works either way, so it's your choice which one you choose. In my tutorial, I went with option 1 and 20 stitches for the foundation chain. 
C1 / ROW 1:
chain 1, sc in each stitch.
C1 / ROW 2:
chain 1, sc in each stitch, but finish the last stitch with new color.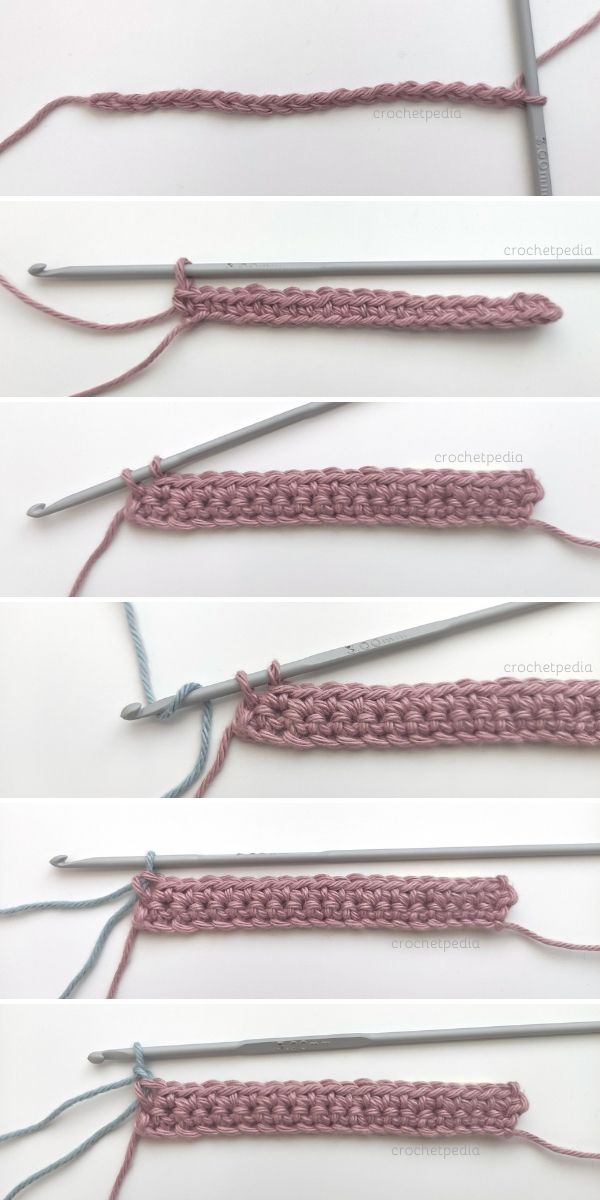 foundation chain, rows 1 and 2 + adding new color
PRO-TIP!
If you are planning on adding lots of colors, weave in ends as you go, by simply working over the loose ends in the next row. It's a great time-saving technique!
C2 / ROW 3:
chain 1, *1 sc (small spike), 1 elongated sc (long spike)* until the end of the row. 
Don't know how to make elongated single crochet? Check out pattern notes earlier in this article and follow photo tutorial.
Remember to keep the stitch count every row.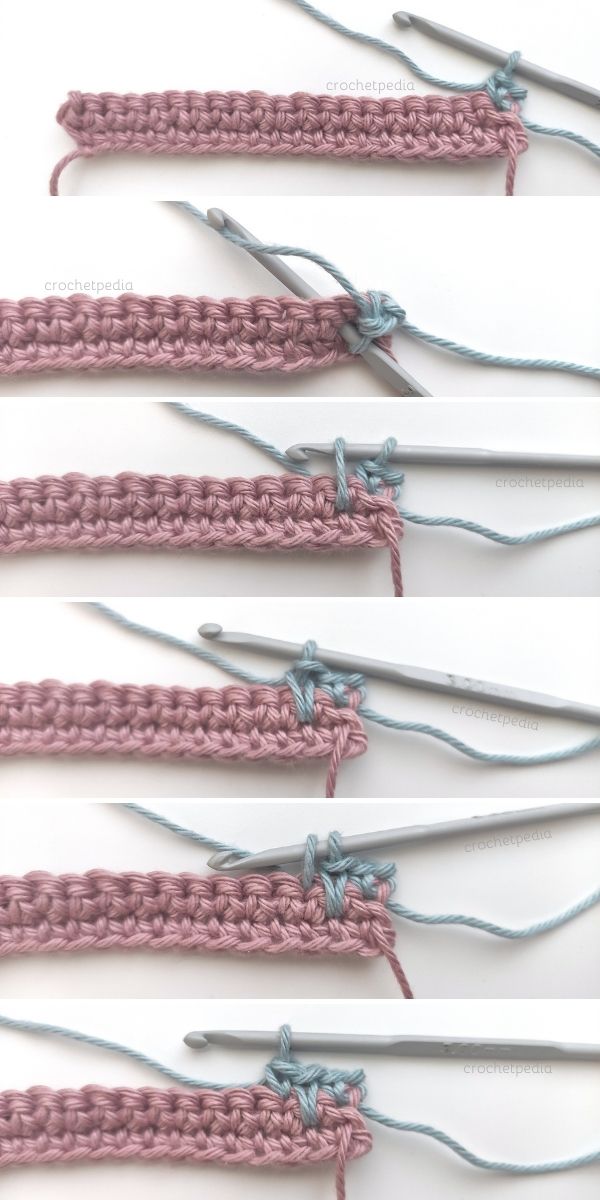 row 3 – making of "small spikes" (single crochet) and "long spikes" (elongated sc)
C2 / ROW 4:
chain 1, sc in each stitch, but finish the last stitch with a new color.
C3 / ROWS 5 – 6:
chain 1, sc in each stitch.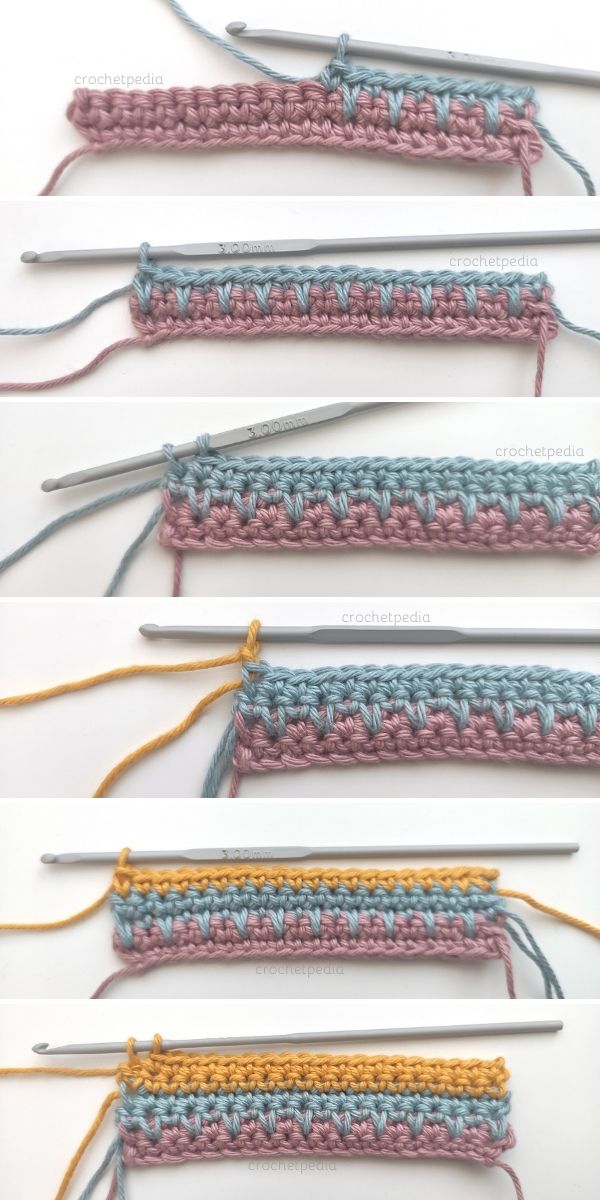 ending of row 3, row 4 with change of color, and rows 5 and 6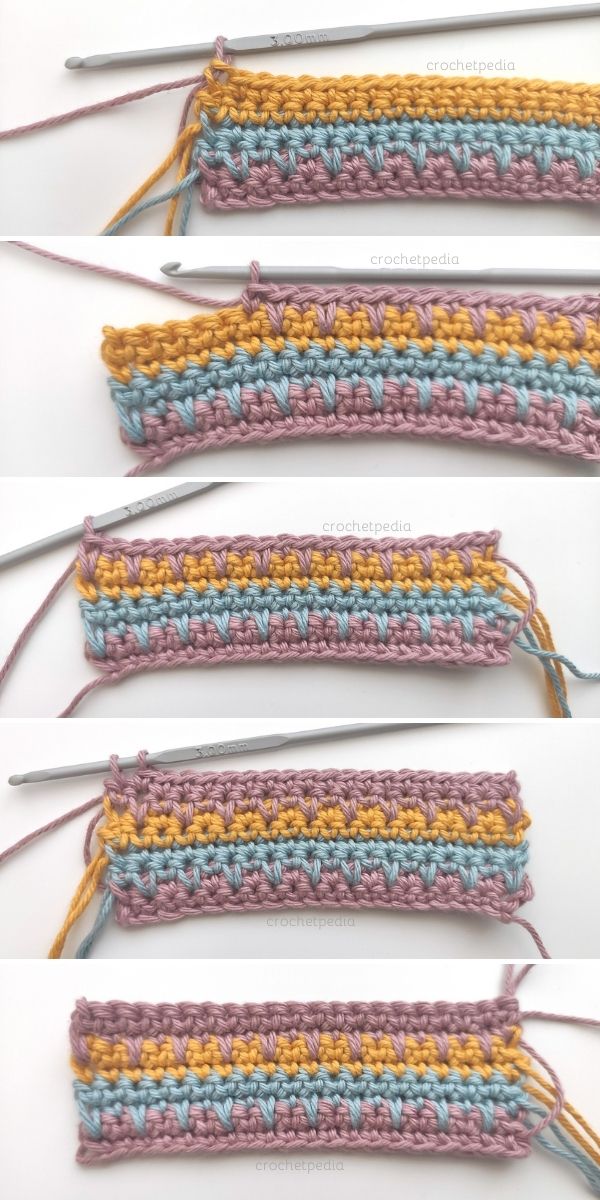 again with color 1: attaching the yarn and repeat of rows 3 and 4
Repeat rows 3-6, changing the colors every two rows. You can play with the arrangement and length of the spikes, because you can work them in any of the rows below. 
The most important thing here is keeping the tension right, so when you master it, this stitch will be a no brainer for you.
Deciding on the colors of your "spikes"
In the photo below you can see how important it is to choose the right colors for your "spikes" and your "background". These two swatches use the same yarns, but in a different order.
Top one has grey spikes on white background, and bottom one has white spikes on grey background. Which one do you prefer?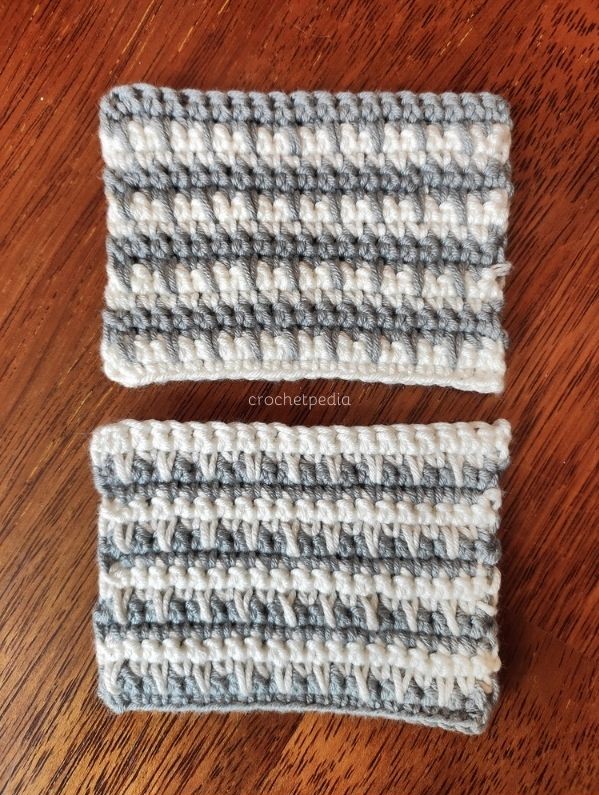 Remember, that similar colors will make your spikes much less visible, so if you like your pattern to be bold, go for contrasting yarns!
Hey, it wasn't hard, right? Use this stitch in whatever project you want.
share, like, subscribe!
If you happen to make this project, I would love to see it, so don't hesitate to contact me! Please feel free to share the results with us in the comments or on social media. Of course, if you find any mistakes in the pattern or find it hard to understand, please let me know, so I can learn and improve!
Sharing is caring, so if you liked this project, be sure to share it with your friends and spread the word, because I really appreciate it! For more free tutorials, patterns and interesting articles – follow my social media pages and allow notifications to get a pop-up whenever new post is published.
◉
FOLLOW ME ON PINTEREST AND INSTAGRAM