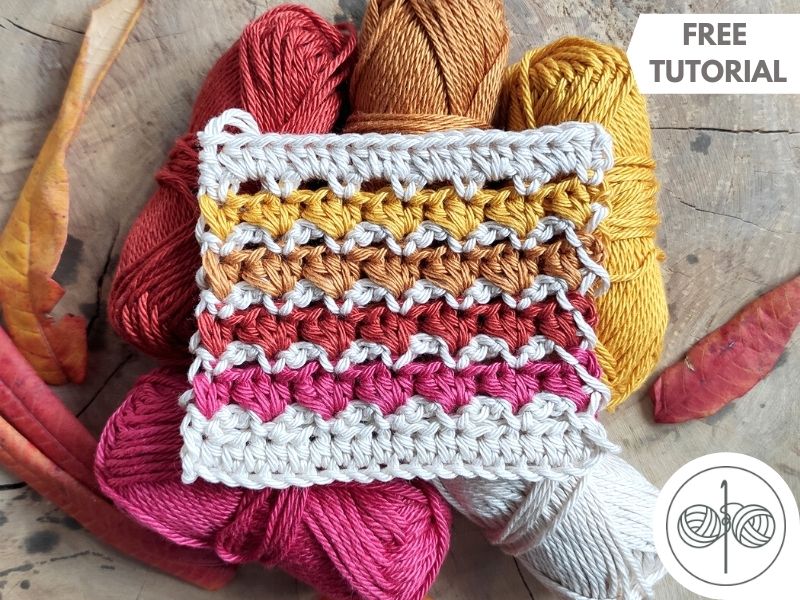 Would you like to add a new crochet lacy stitch to your arsenal? I thought so! It's always good to have new techniques at hand, especially if you like coming up with original patterns. This beginner-friendly stitch is easy to learn and will look great in many projects!
◉
SAVE IT IN FAVORITES ON RAVELRY
or follow me on PINTEREST and INSTAGRAM
◉
Why Seven Wonders? Well, this stitch isn't that original, but I haven't seen this particular combination of stitches elsewhere. I decided to name it after my recent project, in which this stitch is featured. It will be available here soon, as a free pattern, of course, so stay tuned!
In this article you will find video tutorial, written instructions, photo-tutorial, as well as a chart for this lacy crochet stitch.
Seven Wonders Crochet Scarf
If you want to use this stitch in a project, check out my Seven Wonders Crochet Scarf (click on the link!) – inside you will find free pattern and a chart!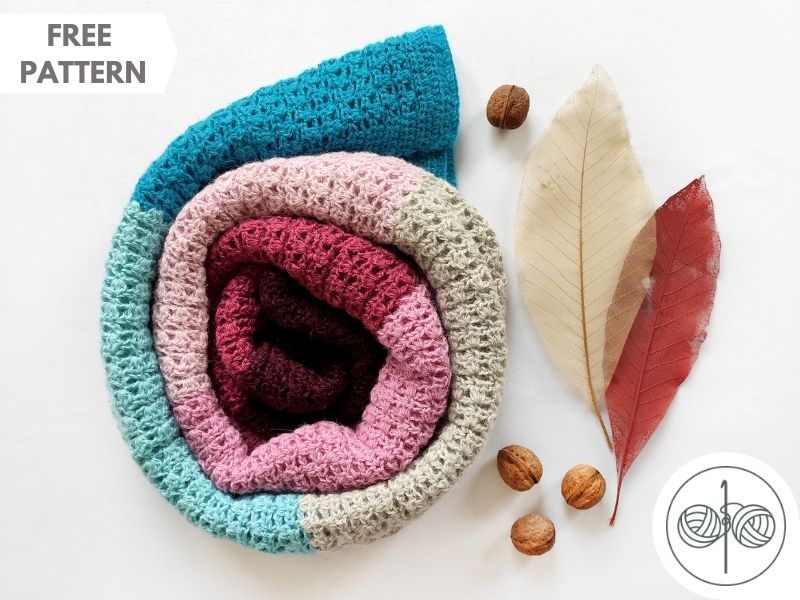 Prefer a video? Here you go!
playing with colors
I've created a bunch of examples for you, so that you can see the full potential of this crochet stitch. Whether you like your crochet works colorful or delicate, this technique will work for you! I used Scheepjes Catona mini-skeins of yarn for my crochet swatches.
Golden Leaves Colorway
Colors used: 505 Linen, 249 Saffron, 383 Ginger Gold, 504 Brick Red, 258 Rosewood.
This colorway was inspired by fall, obviously! I cannot help being excited and amazed by rich colors of leaves and foliage. I know that it won't be long until the trees are naked again, so I decided to keep this palette in one of my swatches.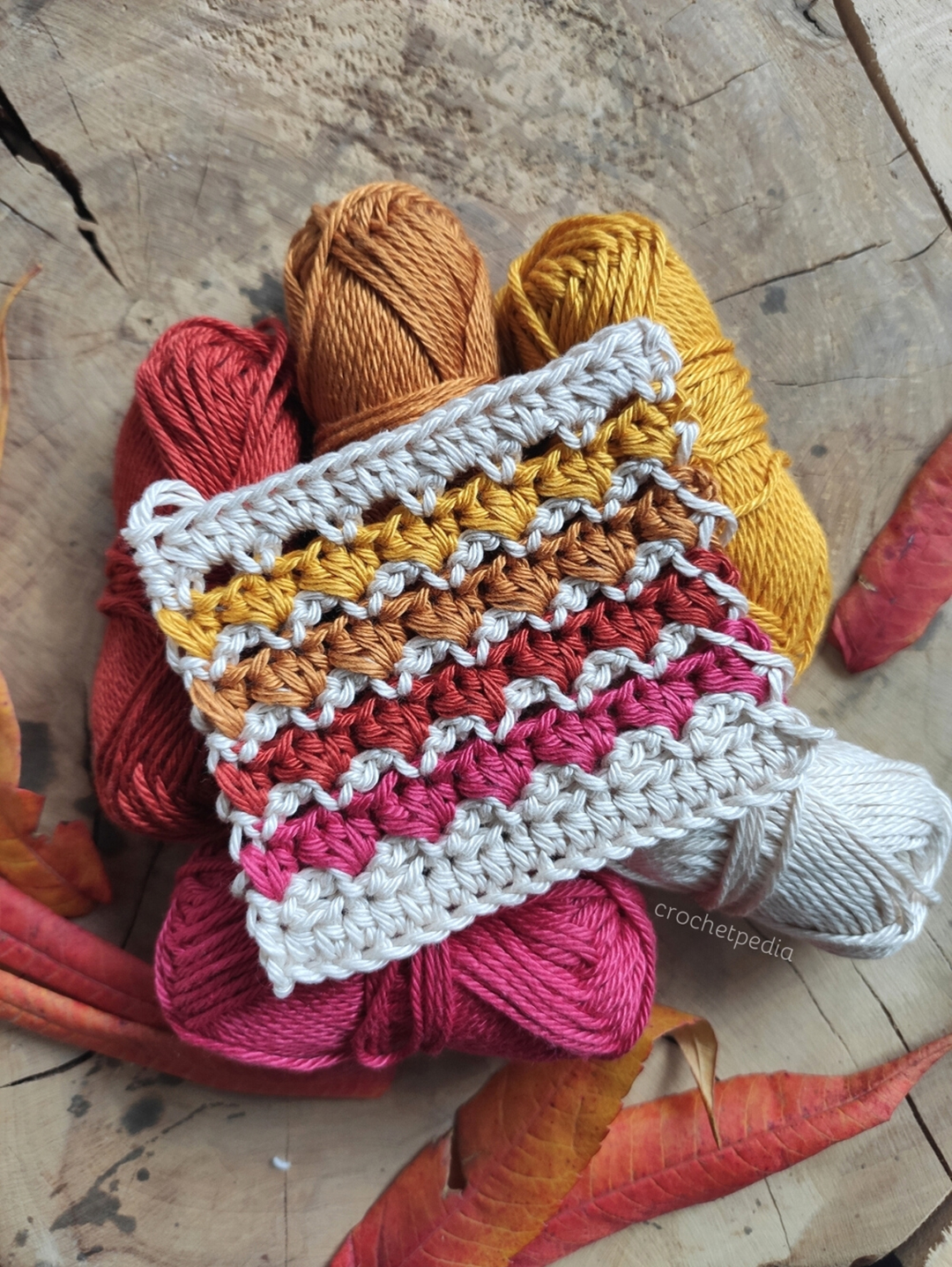 I'm sure this colorway would look great if light grey was switched to dark color, too!
◉
Cool Mist Colorway
Colors used: 248 Champagne, 396 Rose Wine, 526 Ashes, 393 Charcoal, 244 Spruce.
This colorway is more subdued, because I was aiming to play with darker colors and come up with moody palette. Don't be afraid to experiment, and try changing up light grey for darker color – it will look cool!
◉
Sweet Pastels Colorway
Colors used: 130 Old Lace, 524 Apricot, 263 Petal Peach, 402 Silver Green, 528 Silver Blue.
To complete my collection, I decided to add a soft, sweet palette, which can be easily used in baby blankets or feminine accessories. Delicate peachy hues look nice when combined with blues and mints, right?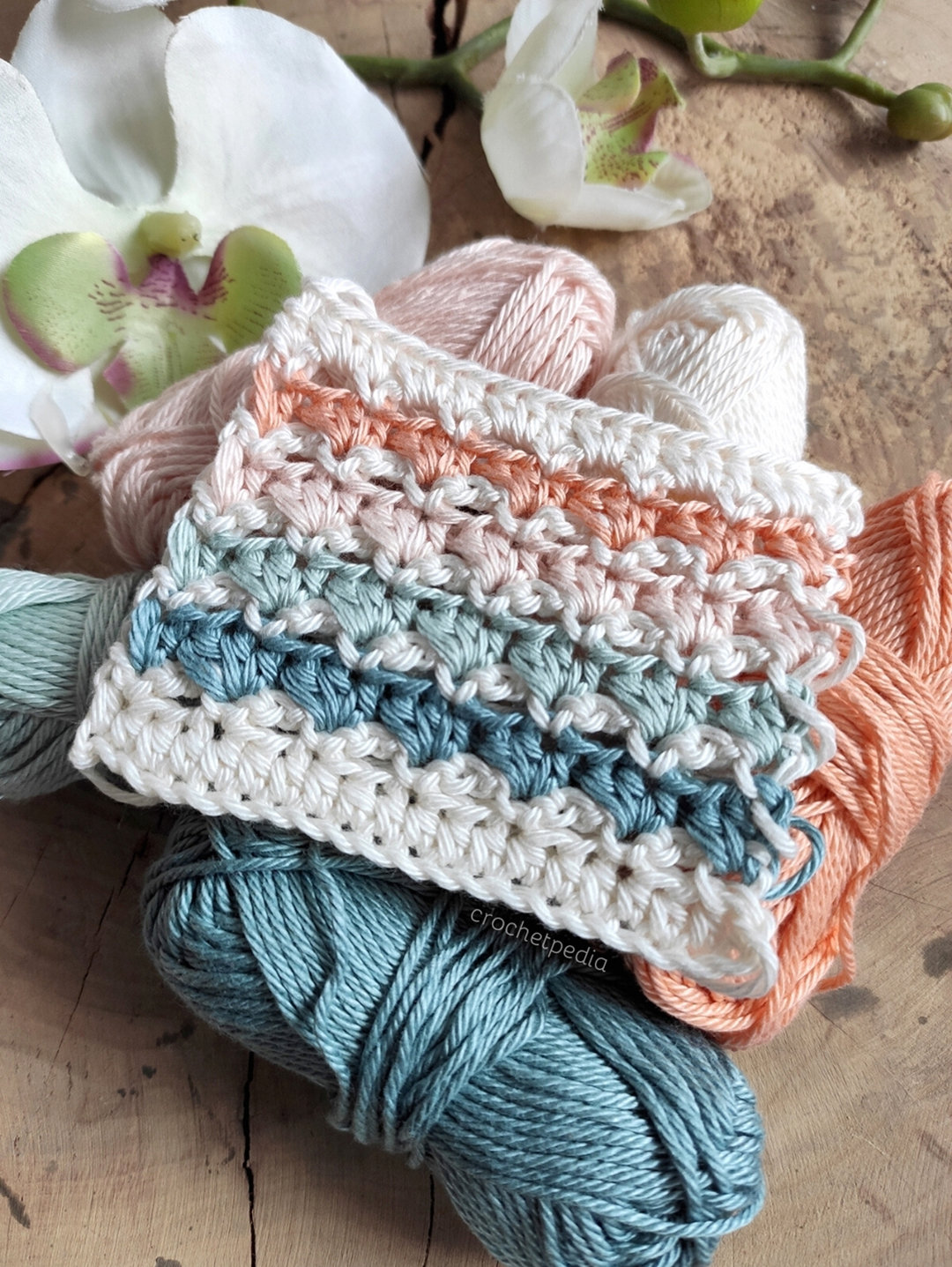 ◉
Feeling inspired yet? Great, so let's learn how to crochet this stitch.
For more inspiration and cool colorways, visit this post: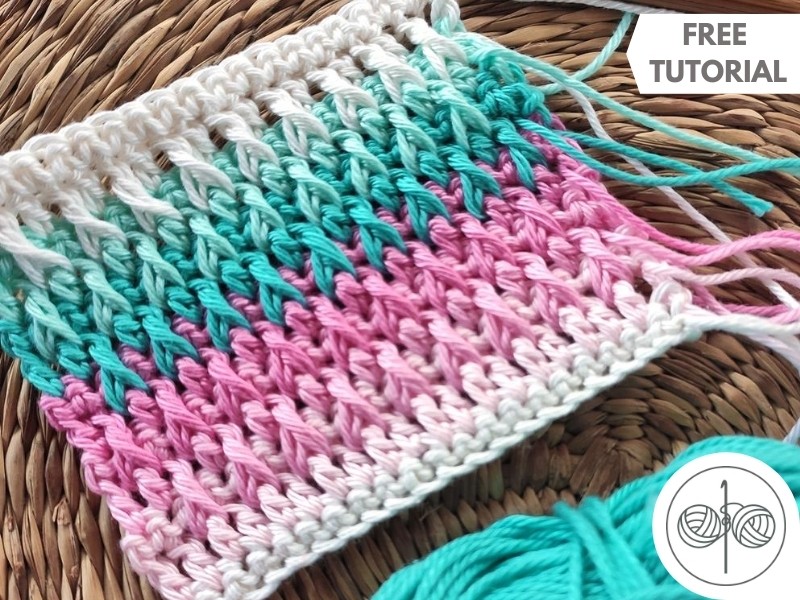 …or learn more with this tutorial: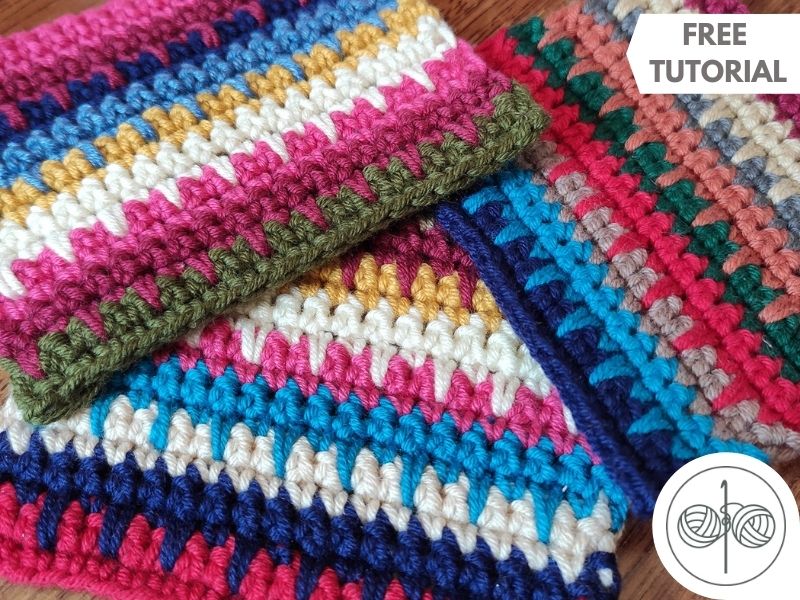 ◉
PATTERN NOTES
LEVEL – beginner
TERMS – standard US
TECHNIQUES
ABBREVIATIONS
C1 – color 1 pink

C2 – color 2 blue

C3 – color 3 yellow
MATERIALS AND TOOLS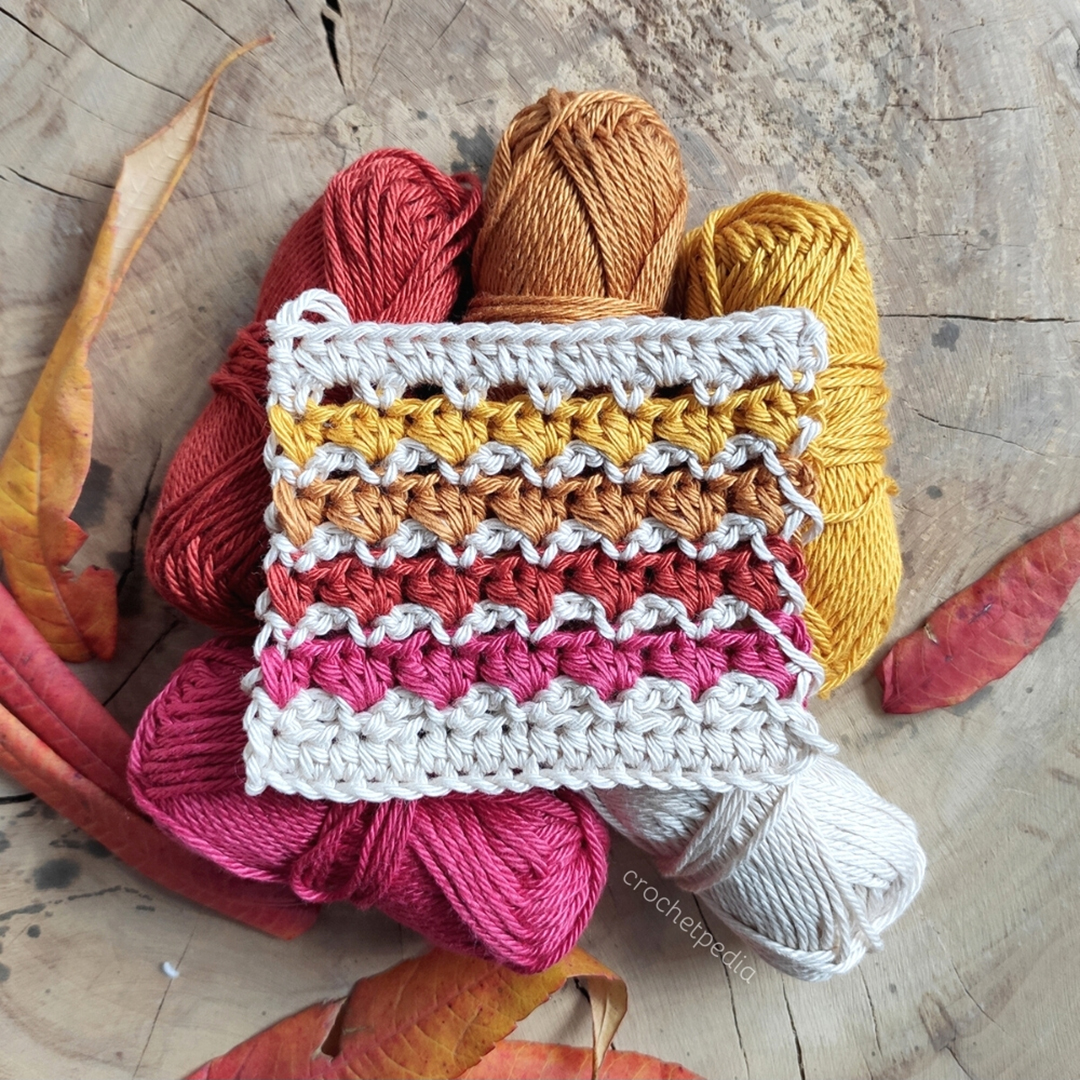 how to crochet 7 wonders stitch
CHART
Below you can see a visual representation of my lacy crochet stitch. Colors should make it easier to understand how it's built.
You start with the black arrow in the bottom left corner, and go with the stitches:
Pink and yellow show you the modules, which consist of three-stitch repeat – this is your main pattern!
Blue indicates turning chains – we do not count them as stitches in this pattern!
Green are unfinished stitches – they make your design look nice on the edges.

C1 / START:
To start, you need to make a foundation chain of multiply of 3 + 1, so make a slip knot, and go on with your chain stitches. You can go for advanced foundation chain, so that it's nice and clean.
Why +1? Your pattern is built by repeating 3-stitch module, but you need an additional stitch to "close" your design from both sides. You can see it clearly in the chart! Your rows should start and end with the same stitch.
C1 / ROW 1:
C1 / ROW 2:
chain 1, *1 sc, 2 ch, skip 2* repeat until you reach end of the row – your last stitch should be 1 sc.
Don't know how to change colors? Check out my article on How to Change Colors in Crochet!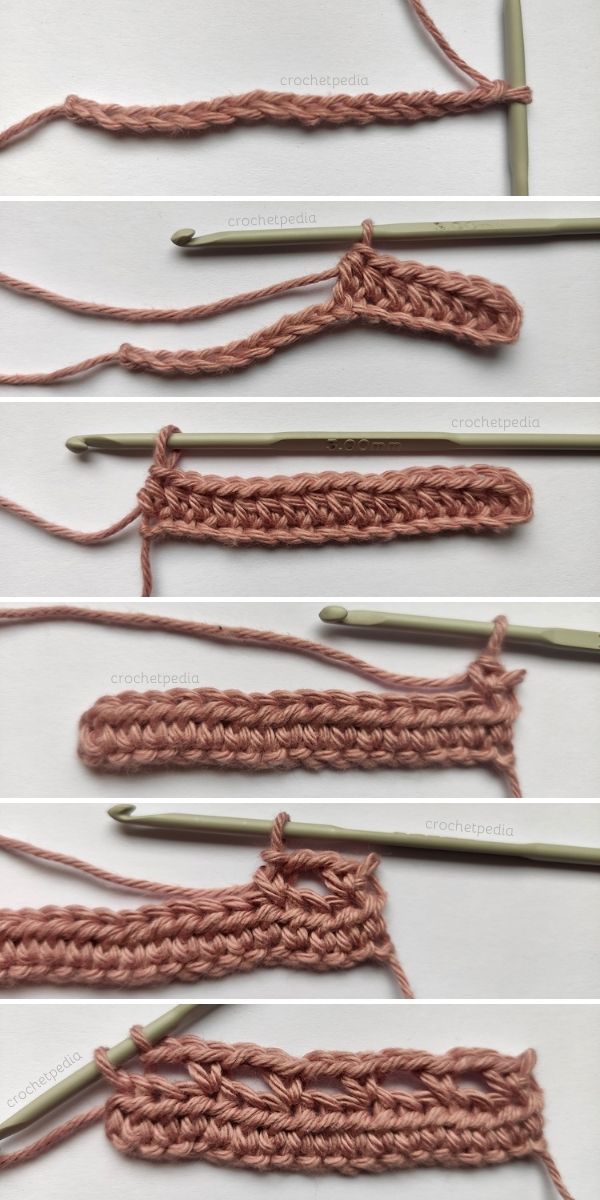 foundation chain, rows 1 and 2 + adding new color
PRO-TIP!
If you are planning on adding lots of colors, weave in ends as you go, by simply working over the loose ends in the next row. It's a great time-saving technique!
C2 / ROW 3:
chain 2, 2 hdc in the first stitch, *skip 2, 3 hdc in one st* until you reach the last stitch, which is 2 hdc.
Remember, that your triads of half double crochet go into the single crochets from the previous row, not in the chain space!
Be sure to keep the stitch count in every row.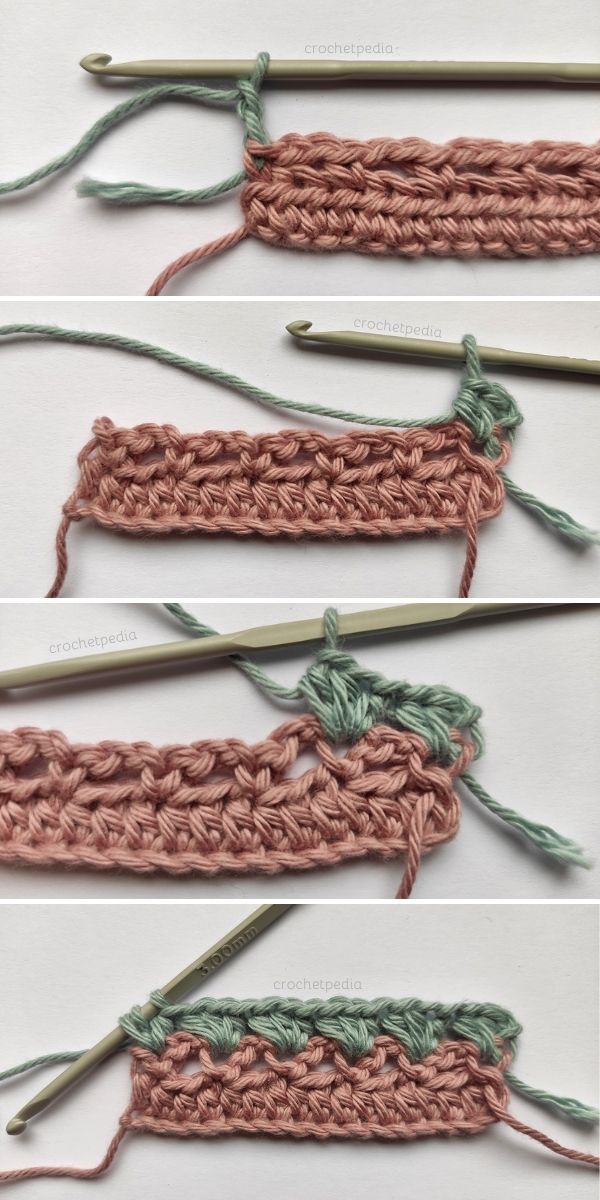 row 3
C1 / ROW 4 – REPEAT ROW 2:
chain 1, *1 sc, 2 ch, skip 2* repeat until you reach end of the row – your last stitch should be 1 sc.
C3 / ROW 5 – REPEAT ROW 3:
chain 2, 2 hdc in the first stitch, *skip 2, 3 hdc in one st* until you reach the last stitch, which is 2 hdc.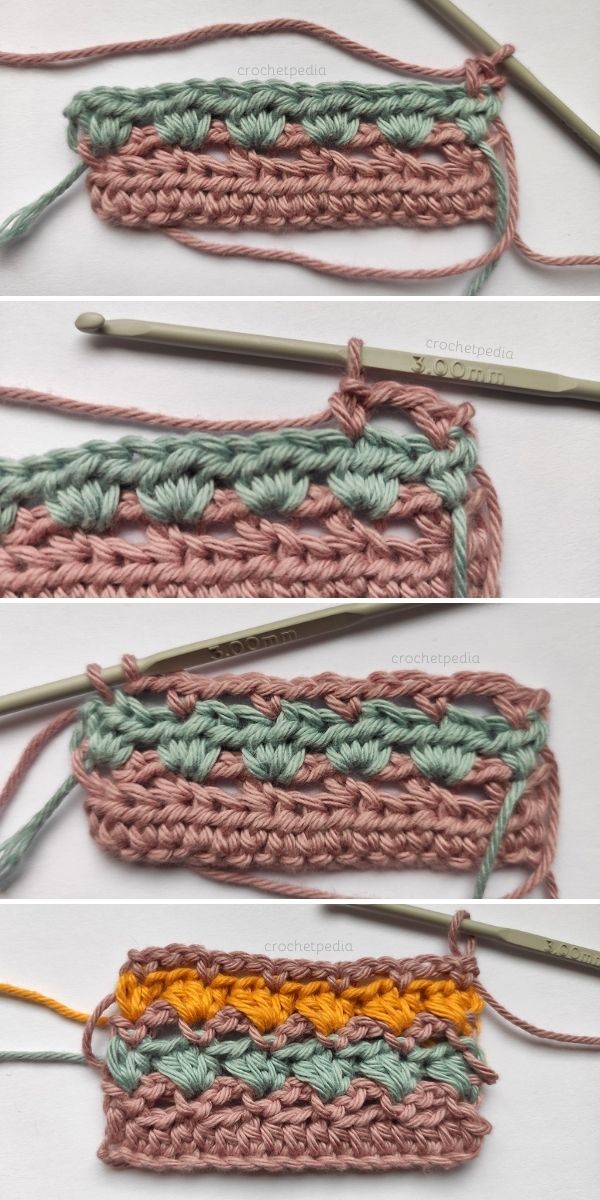 row 4; last photo – rows 5 and 6.
Repeat rows 2 and 3.
Choosing your color scheme
My way of changing colors create nice little "line" between the shells, so to achieve that, be sure that you always use the same color for repeats of row 2, and change the colors in each repeat of row 3.
You can easily go for one-color project with this stitch, too!
Hey, it wasn't hard, right? Use this crochet lacy stitch in whatever project you want.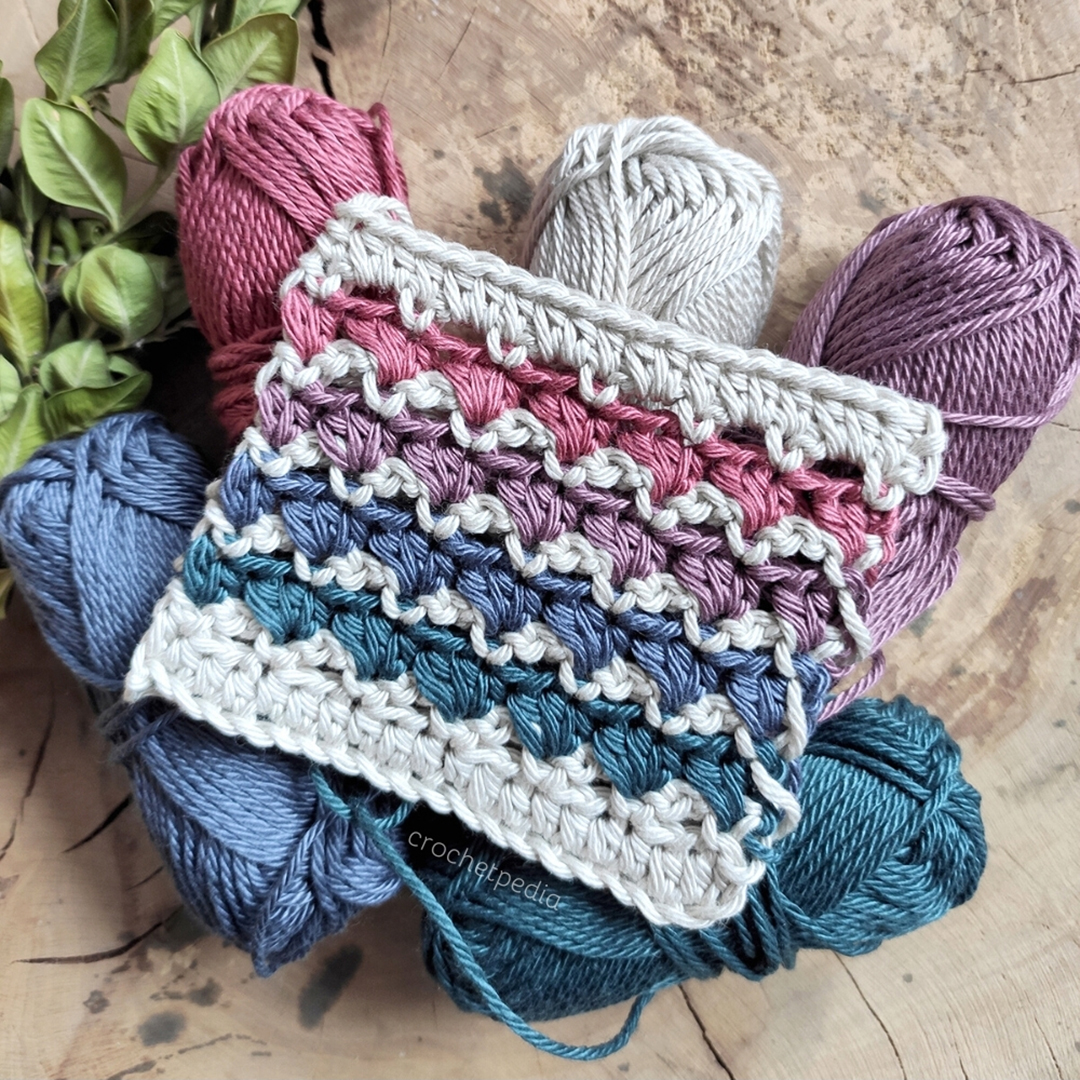 share, like, subscribe!
If you happen to make this project, I would love to see it, so don't hesitate to contact me! Please feel free to share the results with us in the comments or on social media. Of course, if you find any mistakes in the pattern or find it hard to understand, please let me know, so I can learn and improve!
Sharing is caring, so if you liked this project, be sure to share it with your friends and spread the word, because I really appreciate it! For more free tutorials, patterns and interesting articles – follow my social media pages and allow notifications to get a pop-up whenever new post is published.
◉
FOLLOW ME ON PINTEREST AND INSTAGRAM