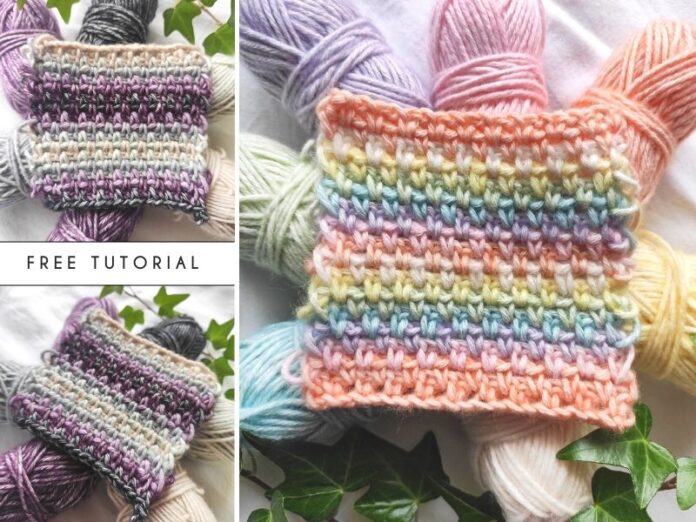 Today I will show you how to crochet moss stitch, so buckle up and get ready! This stitch is veeeeery easy, in fact it's one of the easiest stitches ever. All you need to know is how to crochet chain stitch and single crochet, so grab any yarn you have and learn it with me!
In this article you will find video tutorial, diagram, written pattern and two unique colorways that I've made especially for you!
◉
or follow me on PINTEREST and INSTAGRAM
◉
About Moss Stitch
Moss stitch, or linen stitch is reversible, which means that it looks the same on both sides. It's a one-row repeat, so once you get a hang of it, you'll be crocheting without even thinking about it!
I wrote an article about Moss Stitch ideas, in which I tell more about this stitch, and – as usual – you'll find the best examples of it by the top crocheters in my Crochet Roundup. Find it here:
Moss Stitch / Linen Stitch Crochet Ideas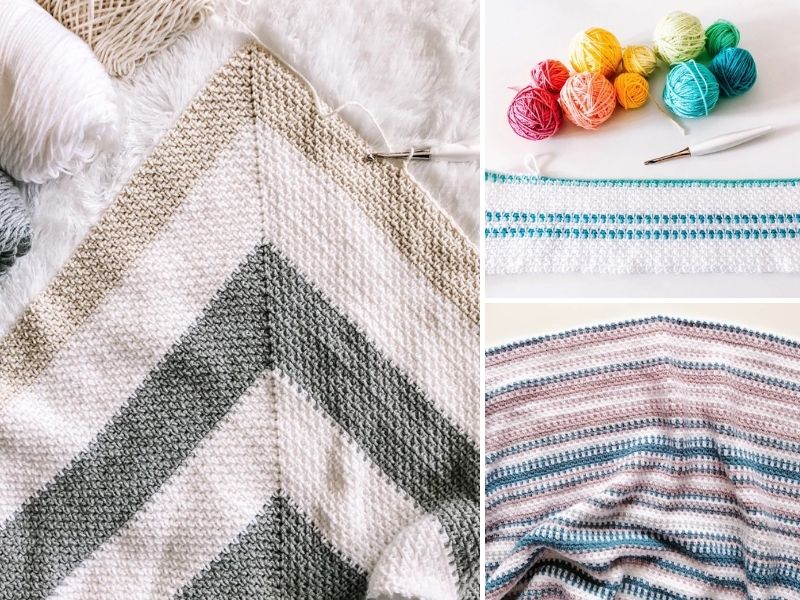 ◉
Prefer a video? Here you go!

If you like it, please give me thumbs up and subscribe to my channel, so that more people can learn from it!
🔔 Remember to click the bell button if you don't want to miss any of my tutorials! 🔔
◉
Which colorway is more "You"?
I've created two very different swatches for this stitch, because I wanted to see how it the colors can change it. Both of them use Scheepjes Stone Washed yarn from my mini-skein pack! You will find the exact colors listed below each colorway.
Juicy Fruits
This seven color repeat was so much fun to crochet, let me tell you! I can see a potential for a baby blanket here, or some kind of cheerful accessory for the summer. The repeat is simple, because the order of colors stay the same.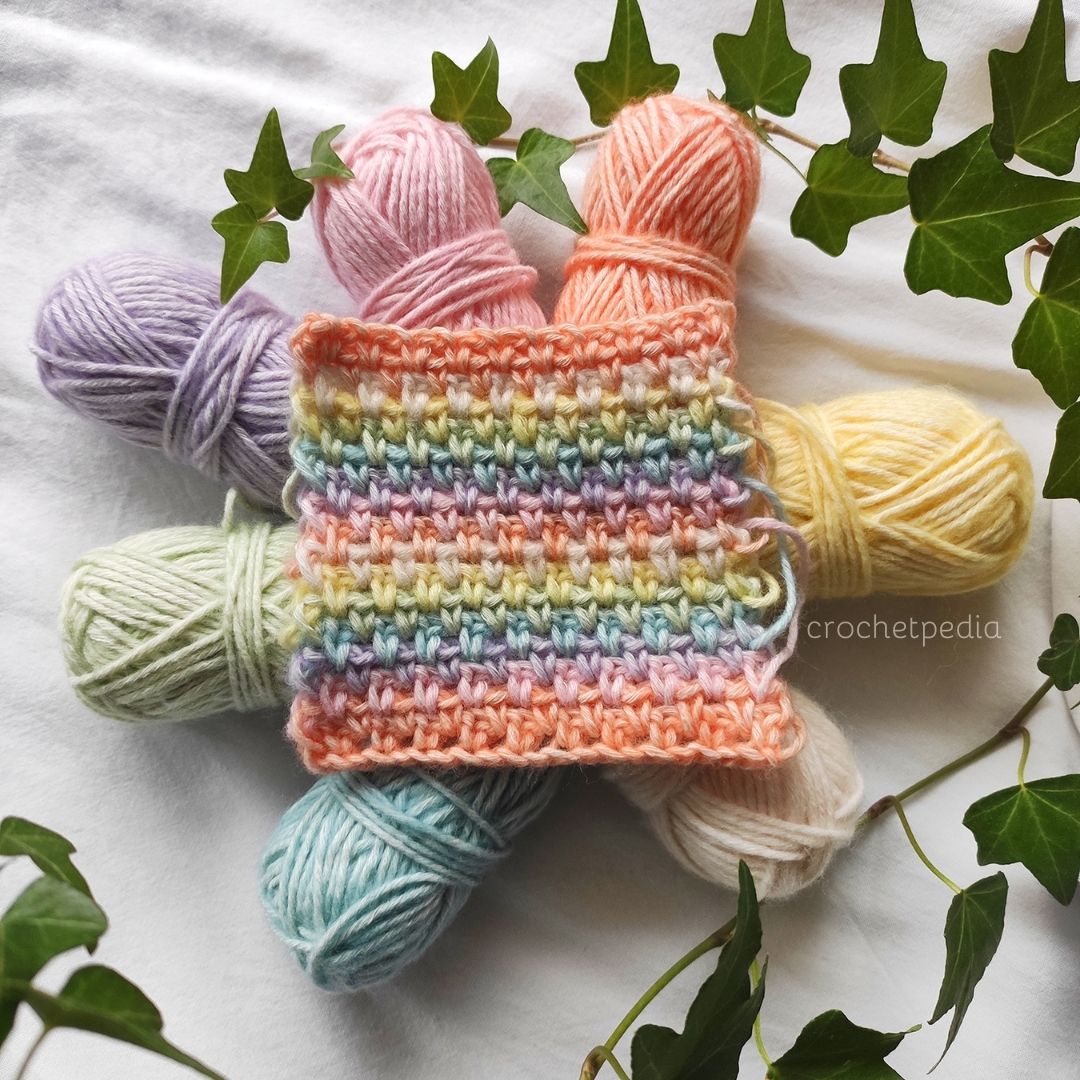 Scheepjes Stone Washed – Colors:
834 Morganite, 820 Rose Quartz, 818 Lilac Quartz, 813 Amazonite, 819 New Jade, 817 Citrine, 801 Moonstone.
Blackberry in the Mist
I made a small whoopsie when photographing this swatch and I oriented it upside down – my bad! The colors I chose repeat like in the mirror, though, so I hope that it doesn't change much for you, friends.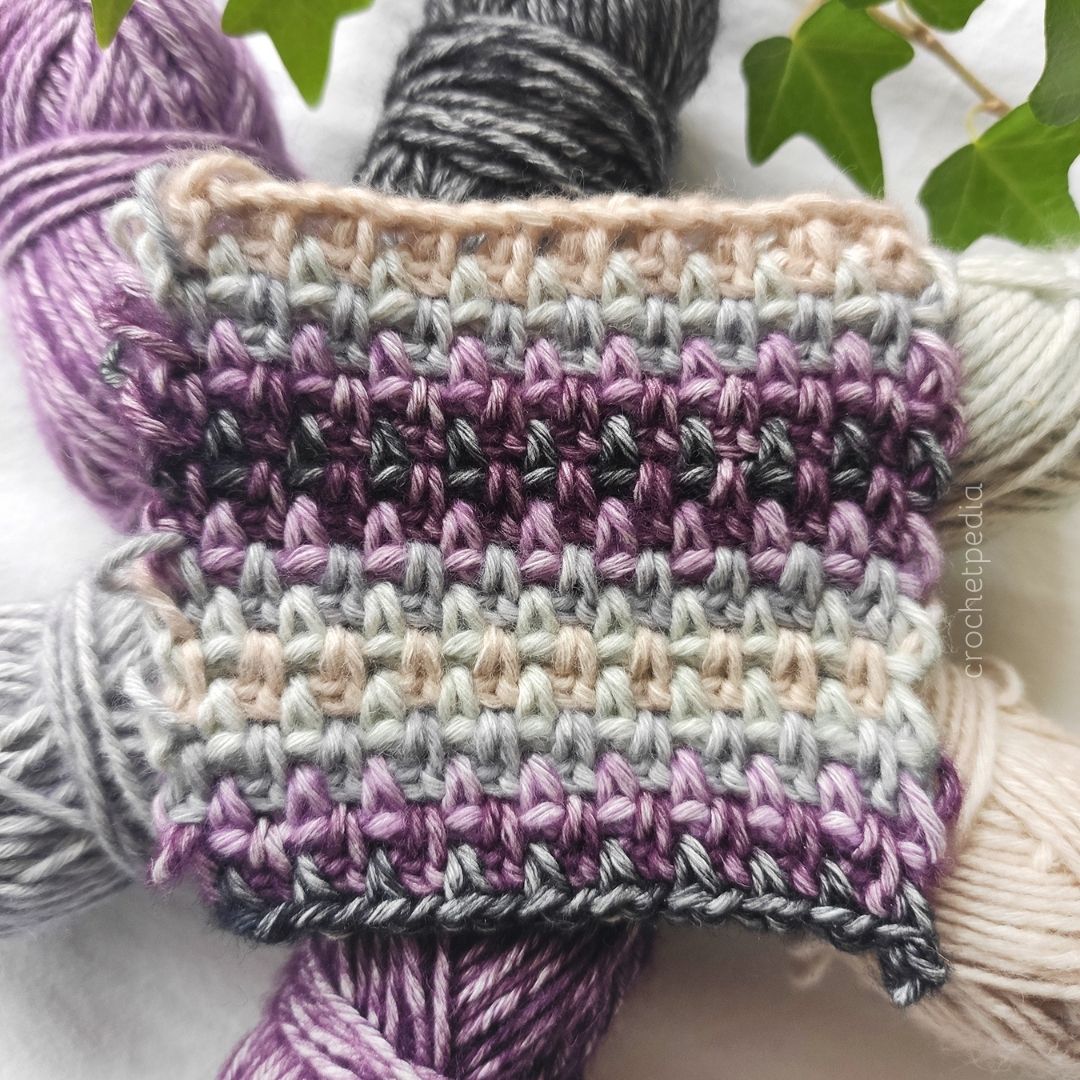 Sheepjes Stone Washed – Colors:
803 Black Onyx, 830 Lepidolite, 811 Deep Amethyst, 802 Smokey Quartz, 814 Crystal Quartz, 831 Axinite.
PATTERN NOTES
LEVEL – beginner
TERMS – standard US
TECHNIQUES
MATERIALS AND TOOLS
you can use any yarn and recommended hook size.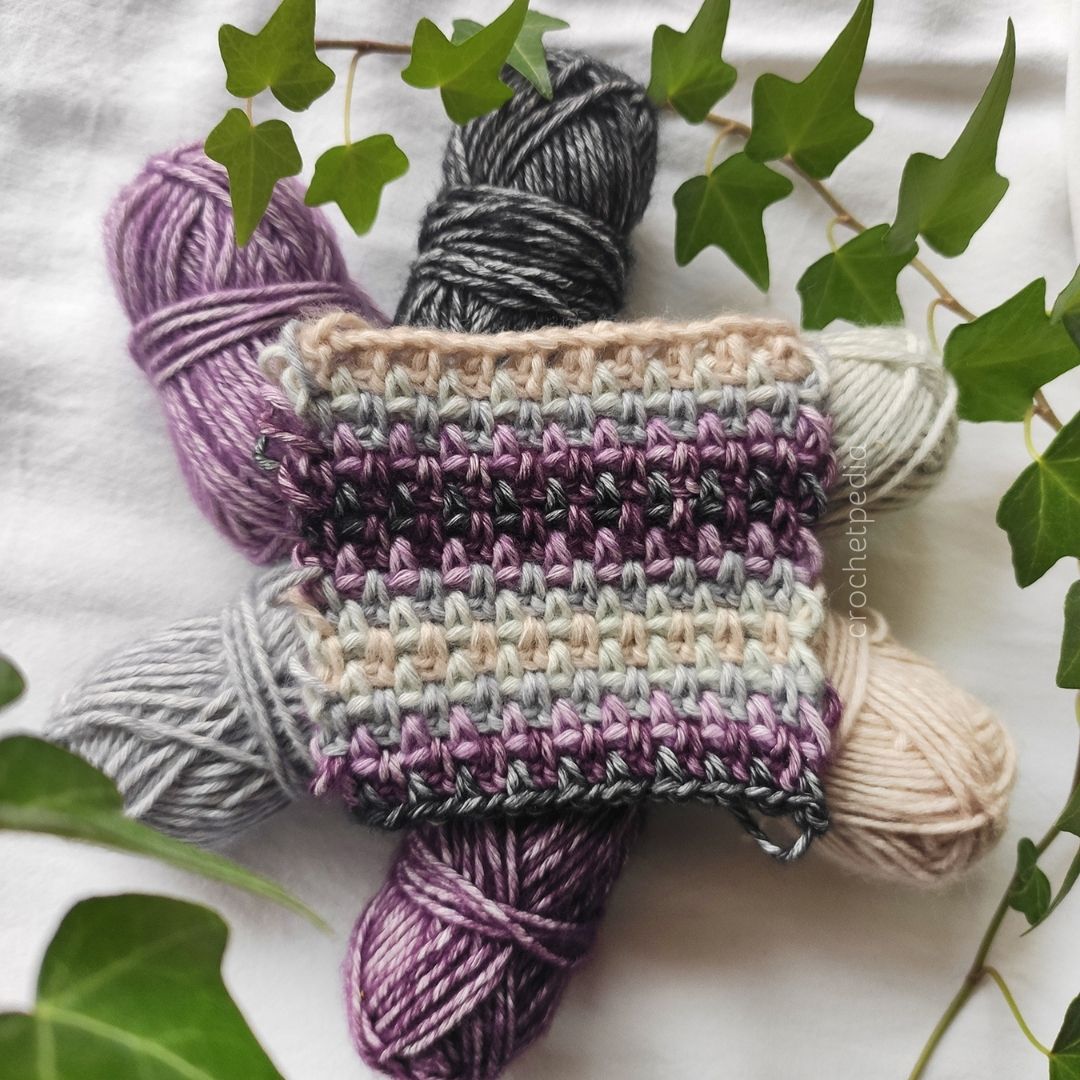 diagram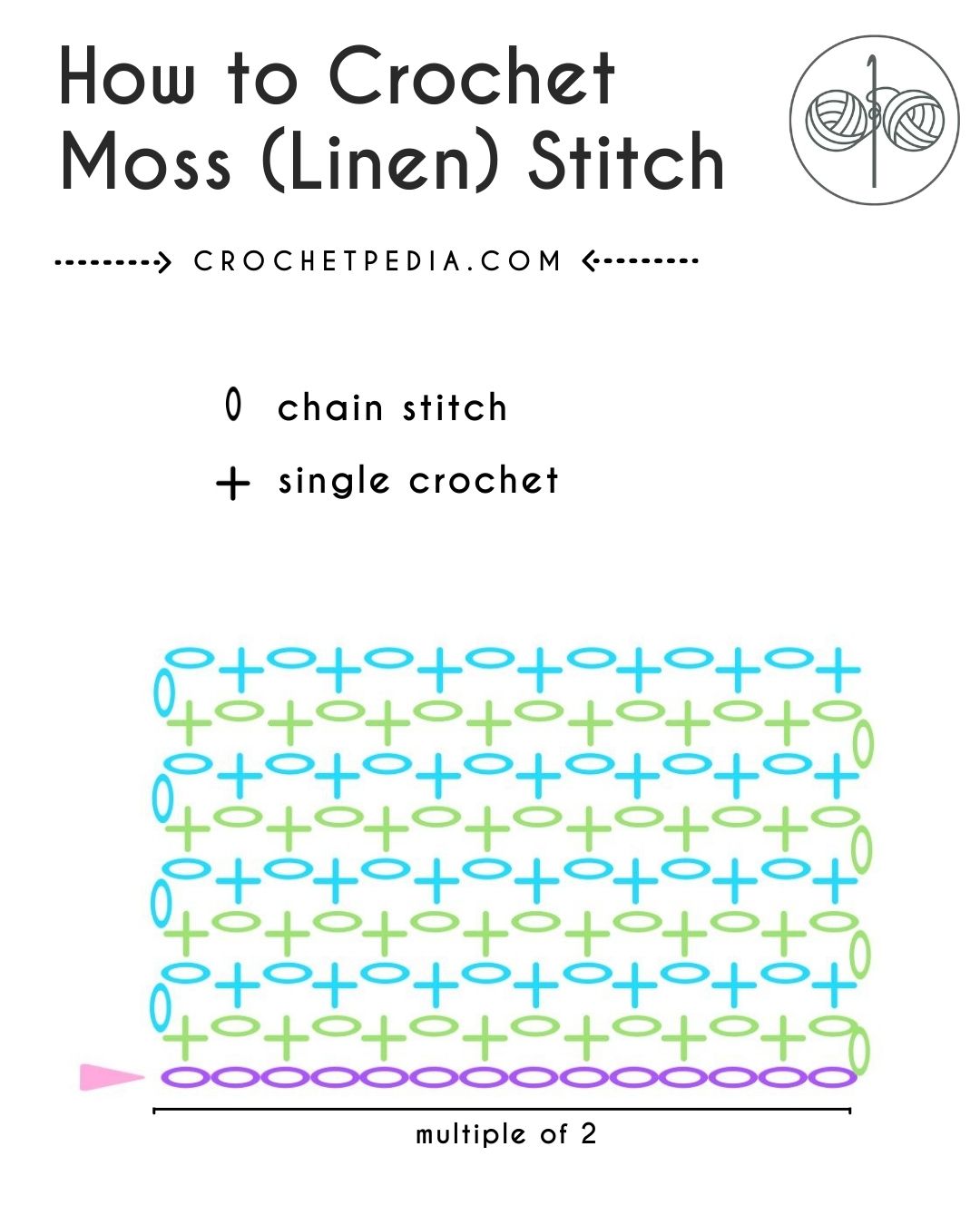 Written Pattern
START:
chain multiple of 2, but remember that your last two stitches will work as your turning chain and 1 normal chain (see diagram above).
ROW 1:
make 1 sc in the 4th stitch counting from the hook, then chain one and skip one. Repeat *1 sc, 1 ch, skip one* until the end of the row: your last stitch is 1 sc.
ROW 2:
chain 2, 1 sc in the nearest chain space, 1 ch, skip one. Repeat *1 sc into the chain space, 1 ch, skip one* until the end of the row: your last stitch is 1 sc worked between turning chain and single crochet of the row below.
Repeat row 2 until you reach the desired size.
If you want to change colors, check out video tutorial or this article: How to Change Colors in Crochet.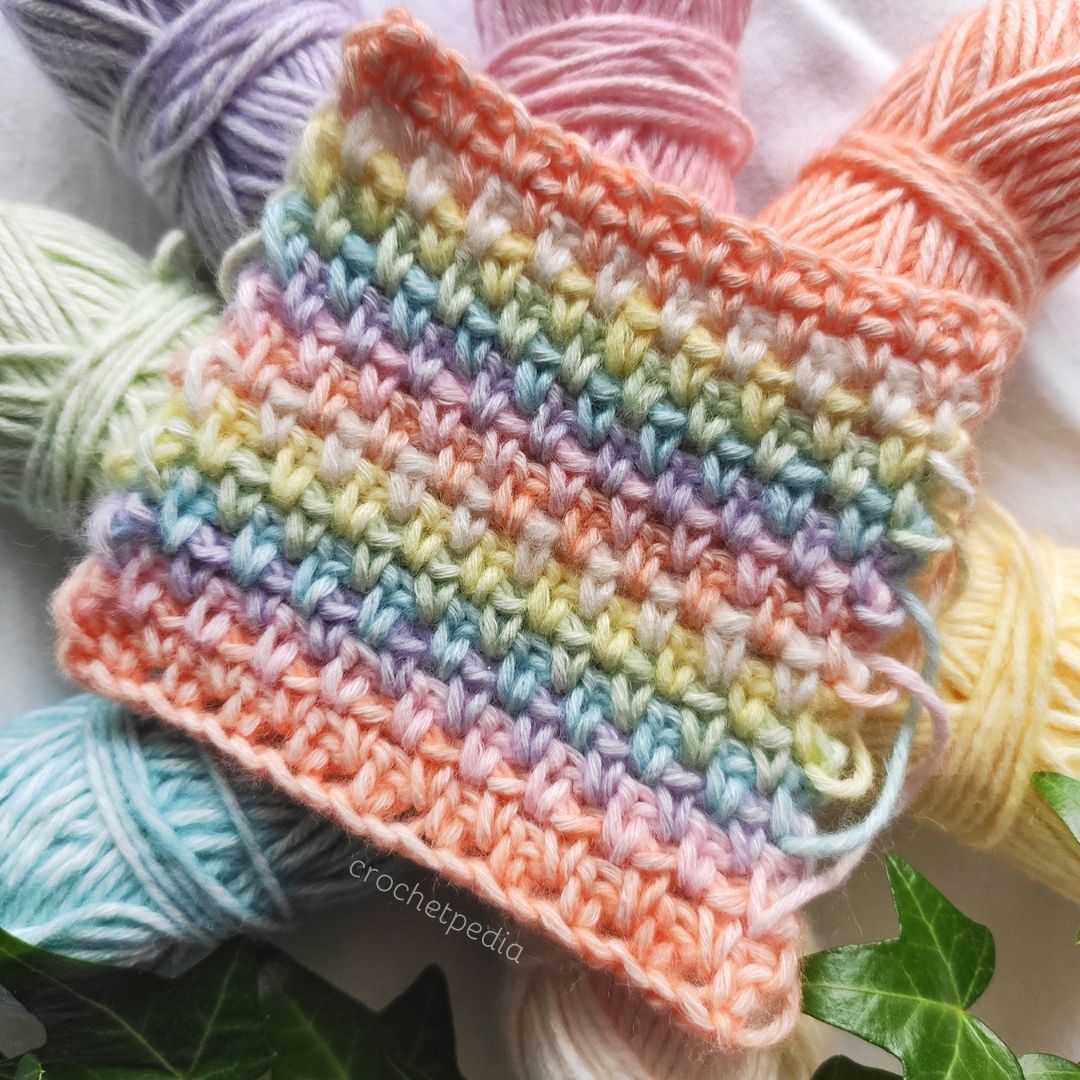 PRO TIP! 
Always make sure that you choose the right type of yarn for your project to achieve the effect you want.
Hey, it wasn't hard, right? Use this stitch in whatever project you want.
◉
share, like, subscribe!
If you happen to make this project, I would love to see it, so don't hesitate to contact me! Please feel free to share the results with us in the comments or on social media. Of course, if you find any mistakes in the pattern or find it hard to understand, please let me know, so I can learn and improve!
Sharing is caring, so if you liked this article, be sure to share it with your friends and spread the word! Stay tuned for more free tutorials, patterns and interesting articles by following my social media pages (PINTEREST and INSTAGRAM), or allow notifications to get a pop-up whenever I publish something new.
◉
You may also like:
How To Crochet Granny Stripe Stitch + Video!