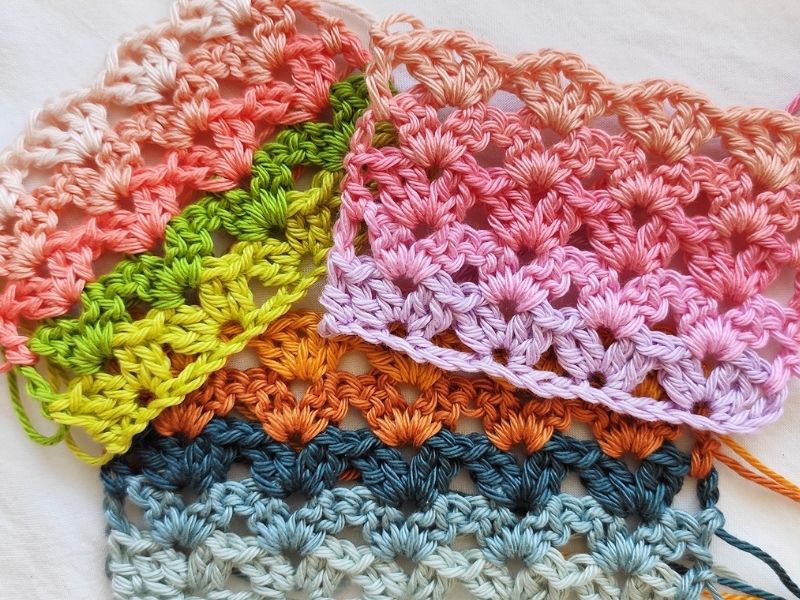 If you are interested how to crochet iris stitch, I've got you covered! Here you will find written pattern, video tutorial and three unique colorways I've created. Iris stitch is one of the easiest crochet stitches, because it uses only chain stitch and double crochet. You'll grasp it in no time, so be sure to try it!
◉
or follow me on PINTEREST and INSTAGRAM
◉
This crochet technique creates lacy structure with beautiful openwork, so it's suitable for lightweight accessories and decorative blankets. It works fast and doesn't eat up much yarn, so choose it for a quick and fun project!
Depending on the yarn weight you choose the final effect may differ, because the yarns behave differently. Keep in in mind so you can make the right choices for your particular project.
If you like it, please give me thumbs up and subscribe to my channel, so that more people can learn from it!
…and a version for left-handed crocheters:
Remember to click the bell button if you don't want to miss any of my tutorials!
COLORWAYS
For these swatches I used mini skeins of Scheepjes Catona yarn, which is a 100% mercerized cotton and has amazing range of colors.
Rose Garden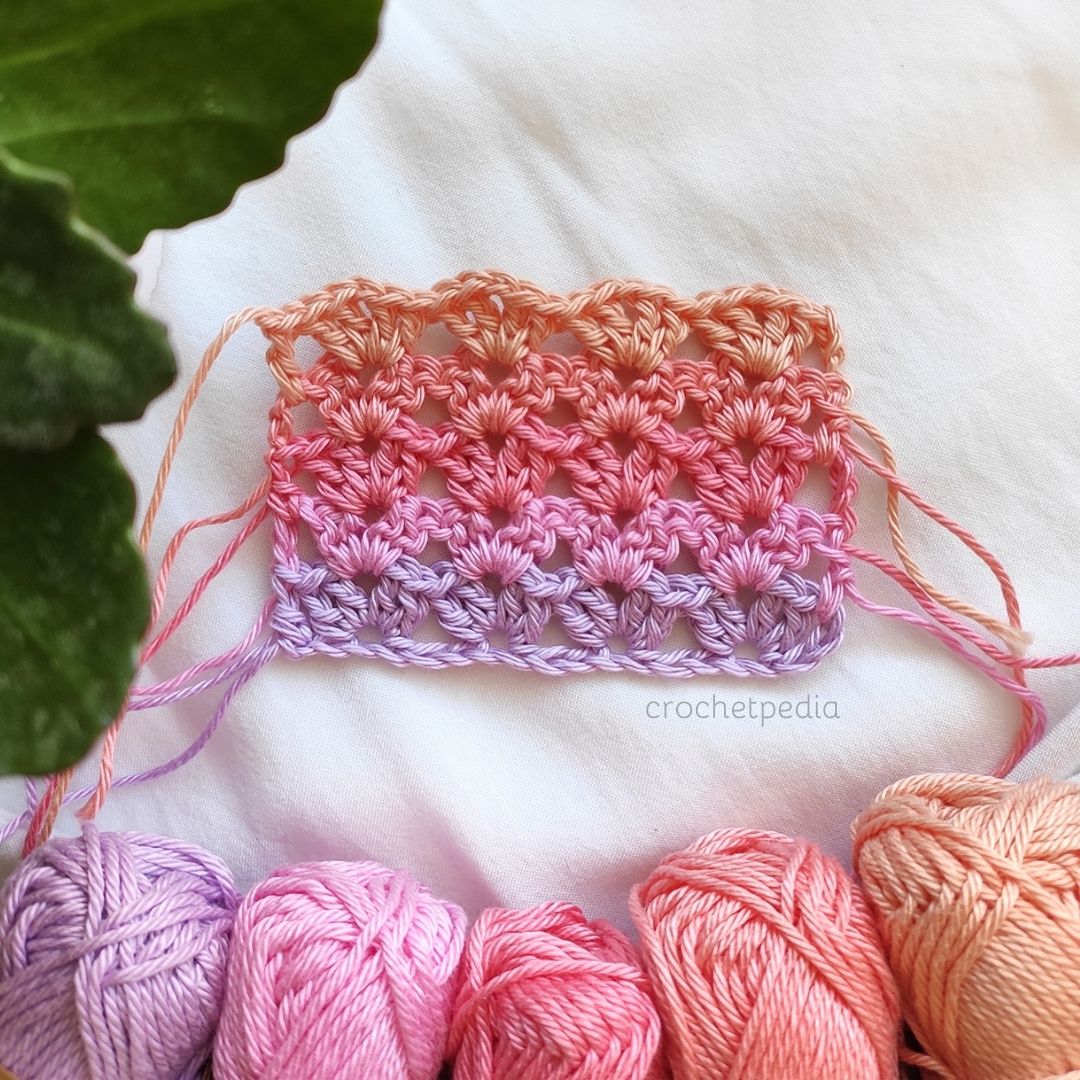 Colors: 226 Light Orchid, 222 Tulip, 409 Soft Rose, 264 Light Coral, 414 Vintage Peach
Magnolia Tree
Colors: 245 Lime, 205 Kiwi, 410 Rich Coral, 524 Apricot, 255 Nude
Sunset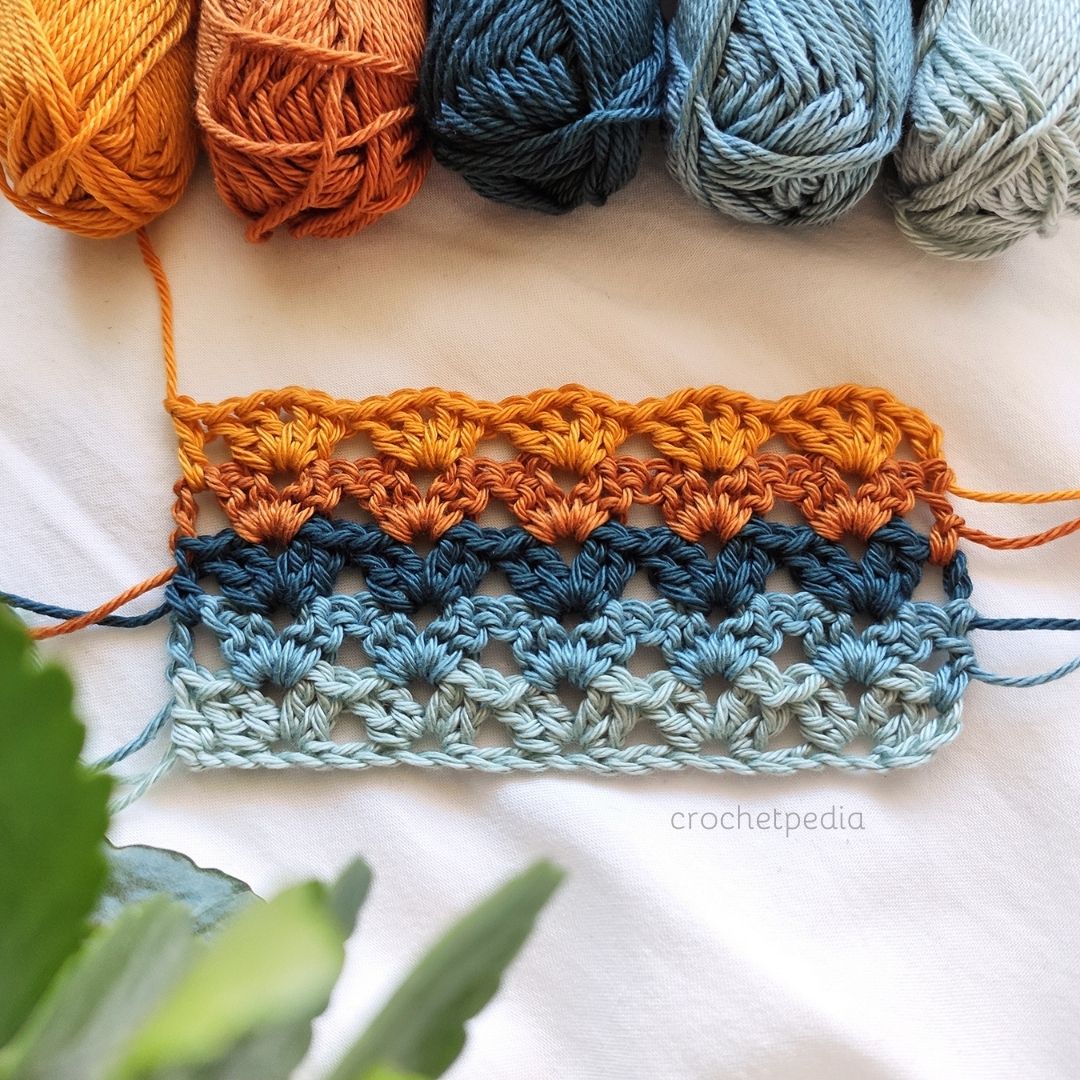 Colors: 402 Silver Green, 528 Silver Blue, 244 Spruce, 383 Ginger Gold, 249 Saffron
◉
See more inspiring colorways here:
Iris Stitch Crochet Ideas | Inspiration + Resources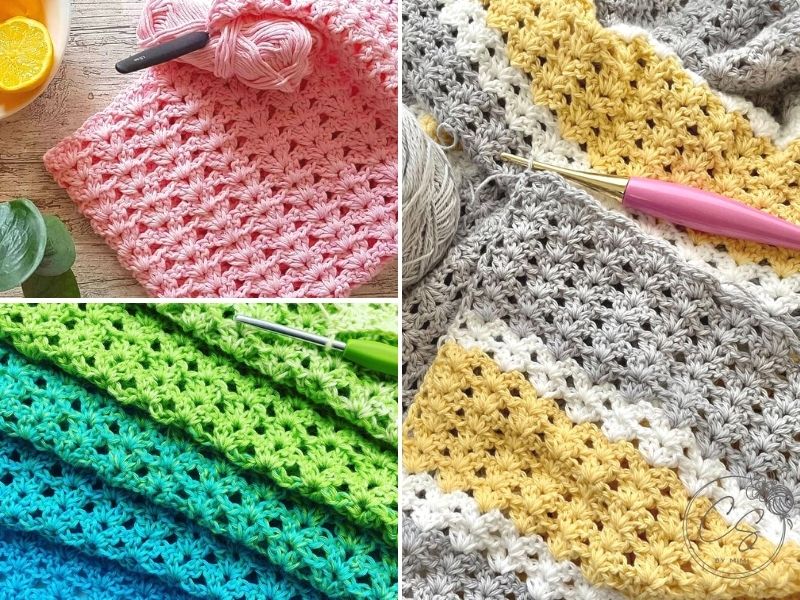 ◉
PATTERN NOTES
LEVEL – beginner
TERMS – standard US
TECHNIQUES
MATERIALS AND TOOLS
you can use any yarn and recommended hook size.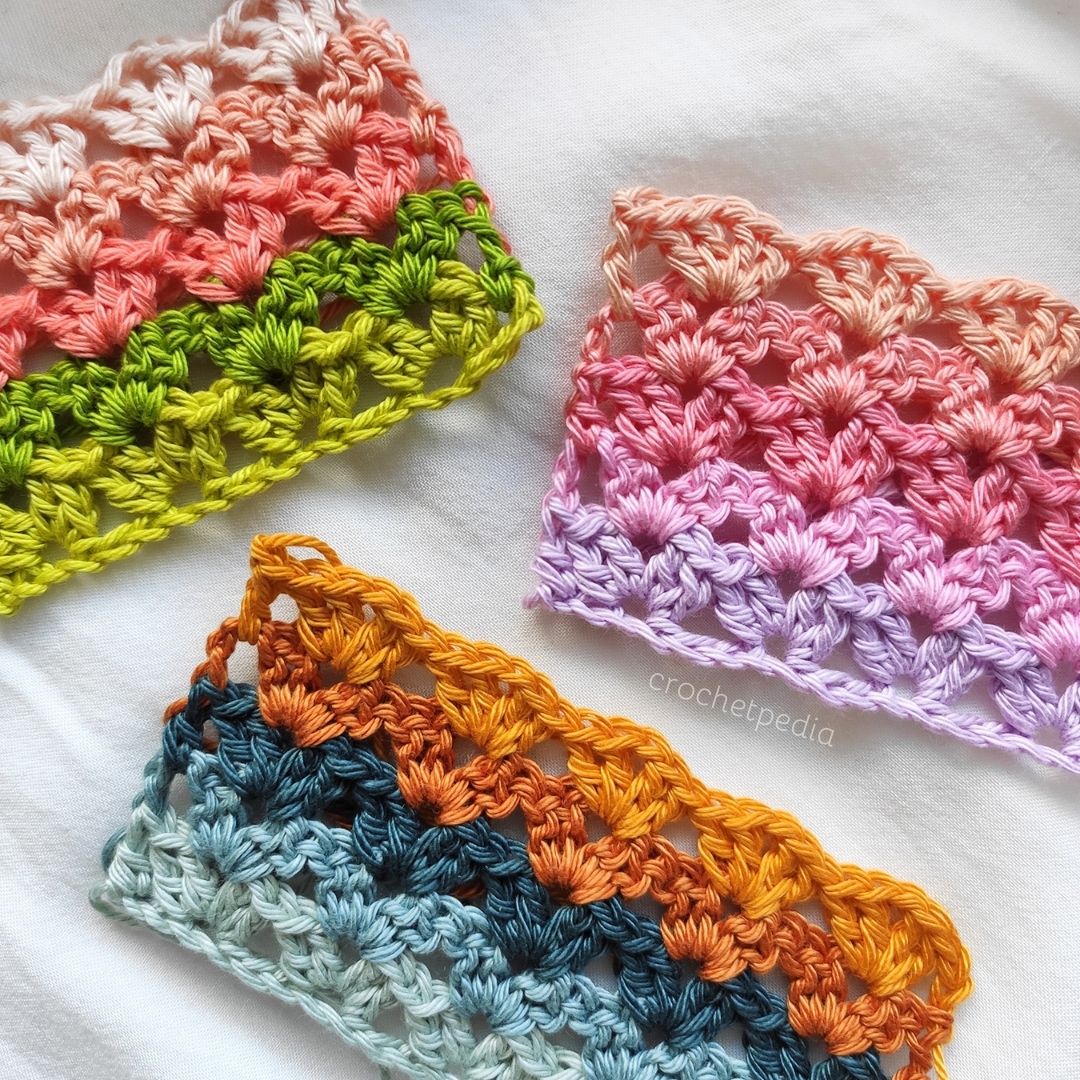 diagram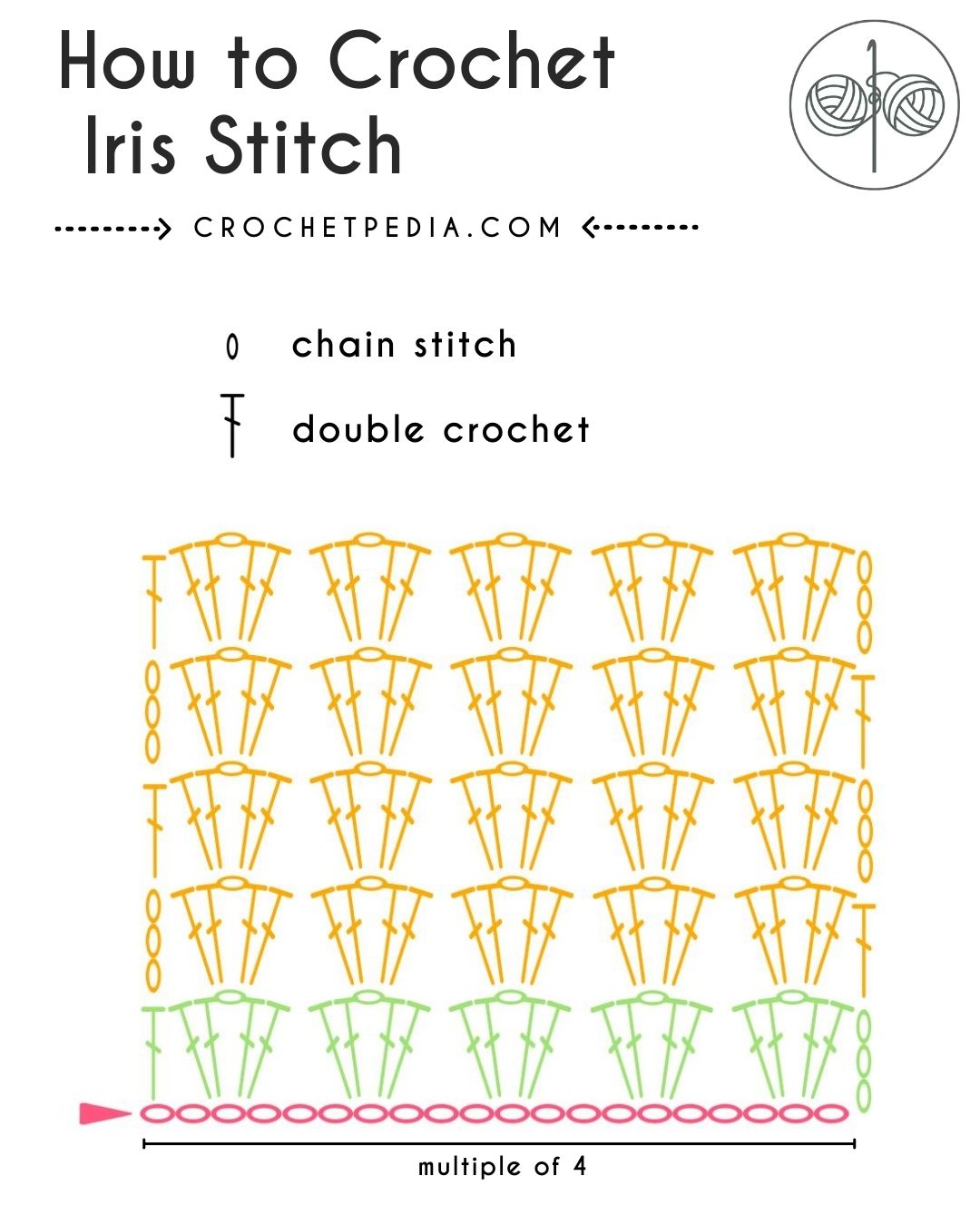 Written Pattern
START:
chain multiple of 4. 
ROW 1:
chain 3, insert your hook into the 5th chain counting from the hook and work *2 dc, 1 ch, 2 dc* all in one stitch, then skip 3. Repeat [*2 dc, 1 ch, 2 dc* in one st, skip 3] until you reach the last two stitches of the row. Work 1 dc in the last stitch.
ROW 2:
chain 3, [*2 dc, 1 ch, 2 dc* all in one chain space (between the pairs of the dcs)] repeat until the end of the row, finish with 1 dc into the top of the turning chain.
Repeat row 2.
If you want to change colors, check out video tutorial or this article: How to Change Colors in Crochet.
PRO TIP! 
Always make sure that you choose the right type of yarn for your project to achieve the effect you want.
Hey, it wasn't hard, right? Use this stitch in whatever project you want.
◉
share, like, subscribe!
If you happen to make this project, I would love to see it, so don't hesitate to contact me! Please feel free to share the results with us in the comments or on social media. Of course, if you find any mistakes in the pattern or find it hard to understand, please let me know, so I can learn and improve!
Sharing is caring, so if you liked this project, be sure to share it with your friends and spread the word, because I really appreciate it! For more free tutorials, patterns and interesting articles – follow my social media pages and allow notifications to get a pop-up whenever new post is published.
◉
FOLLOW ME ON PINTEREST AND INSTAGRAM