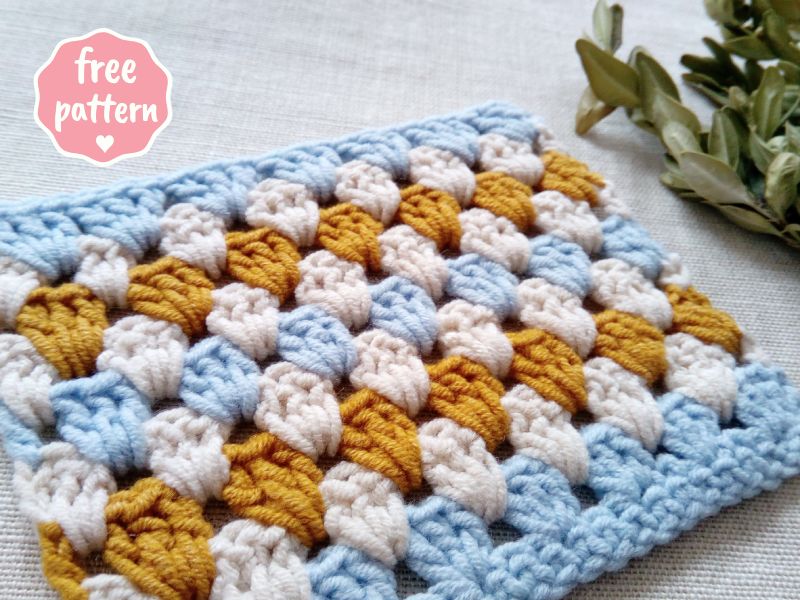 Granny stitch is one of the most popular ones among crocheters and every beginner eventually tries it, most often sooner than later. This stitch is what everyday people associate with crochet the most, thinking about colorful bedspreads and cushions. Today I want to show you classic granny stripe, which you can use in many ways, making garments and home accessories. It's so versatile, the sky is the limit!
◉
SAVE IT IN FAVORITES ON RAVELRY
or follow me on PINTEREST and INSTAGRAM
◉
This is a great stitch for beginners, so if you are just starting out, be sure to master it. You make it with triads of double crochets, which create fun bead-like shapes. You can change the colors every row, or go for a uniform palette. Make it from squishy cotton blend and you can easily crochet a beautiful baby blanket!
VIDEO TUTORIAL COMING SOON 🙂
CHECK OUT OUR OTHER FREE PATTERNS: Sleepy Bunny Lovey and Lake Sunset Shawl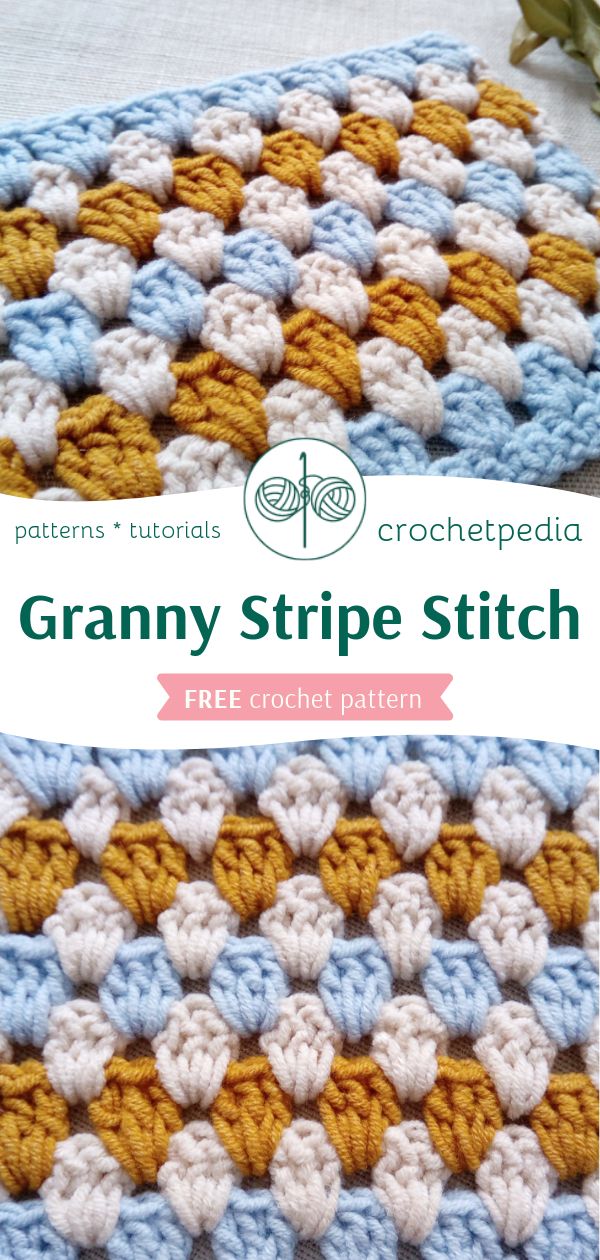 To practice, start out with one color of yarn. You need to make a basis for your stitch, so that it's nice and even. A row of single crochet stitches is enough to create an elegant edge. Of course, if you are making a blanket, you can later add decorative border to it.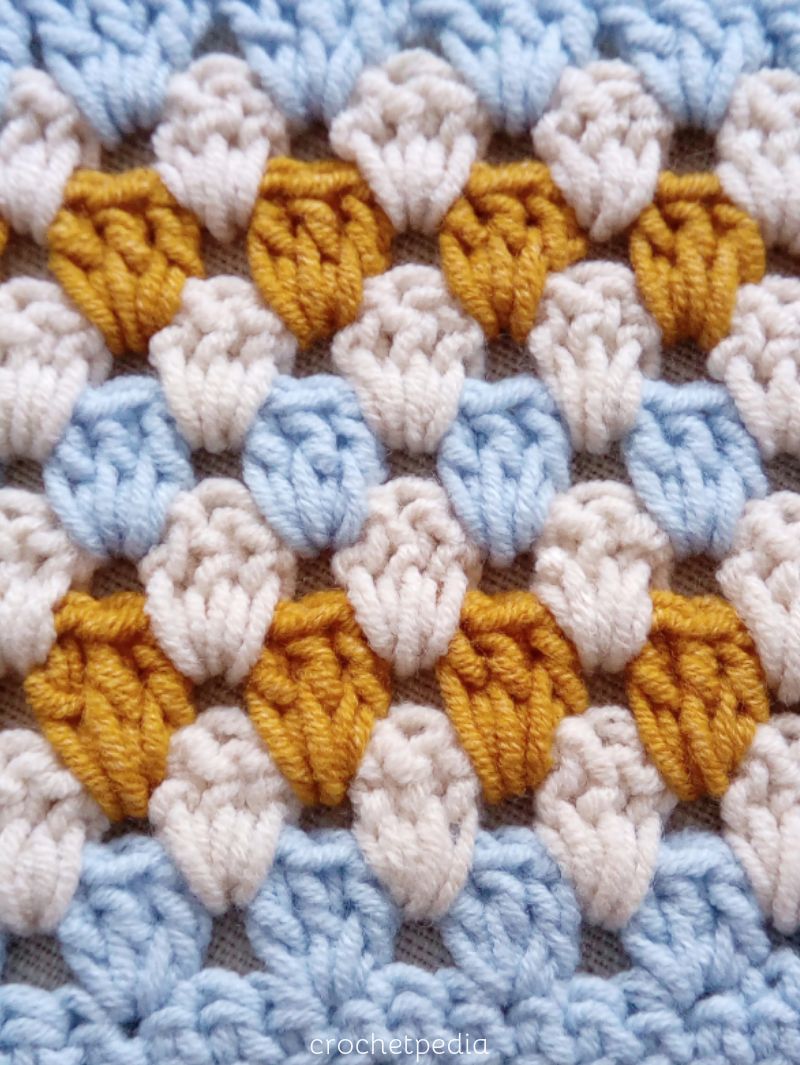 PATTERN NOTES
LEVEL – beginner
TERMS – standard US
TECHNIQUES
MATERIALS AND TOOLS
you can use any yarn and recommended hook size

for the sample I used YarnArt Jeans and 3 mm hook
diagram
diagram is a visual representation of the pattern, where symbols are used to represent stitches.

start with chaining multiple of 3 + 2 – as you can see, starting chain has the "+2" colored yellow.

in the first row of 3 double crochet clusters turning chain is 3 chains, but in the next rows it's only 2 chains. It's because double crochets worked in the stitch are taller than those worked in chain spaces.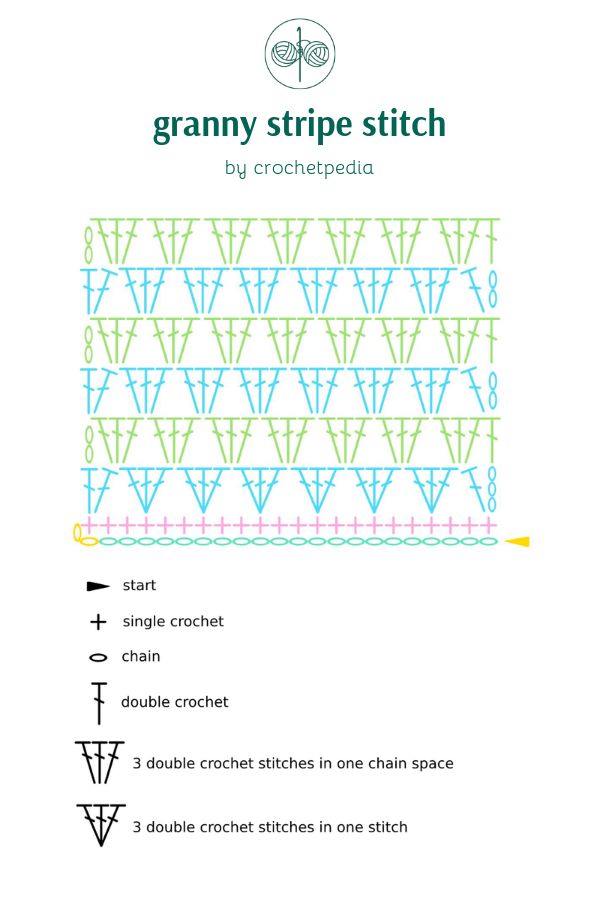 Written Pattern
START:
chain multiple of 3 + 2. For this sample I chose 29 = 27 + 2 (the last one is your turning chain for single crochet)
ROW 1:
entire row of single crochet stitches – in my sample it will be 28 sc
ROW 2:
3 ch, 1 dc in the same stitch, *skip 2, 3 dc in the next st* repeat to the end of the row, 2 dc in the last st of the row. 
ROW 3:
2 ch, 3 dc in the nearest chain space, *3 dc in each space between the clusters*, 1 dc in the last stitch (top stitch of the last turning chain)
ROW 4:
2 ch, 1 dc in the same stitch, *3 dc in each space between the clusters* repeat to the end of the row, 2 dc in the last st of the row. 
Repeat rows 3 and 4 until desired size.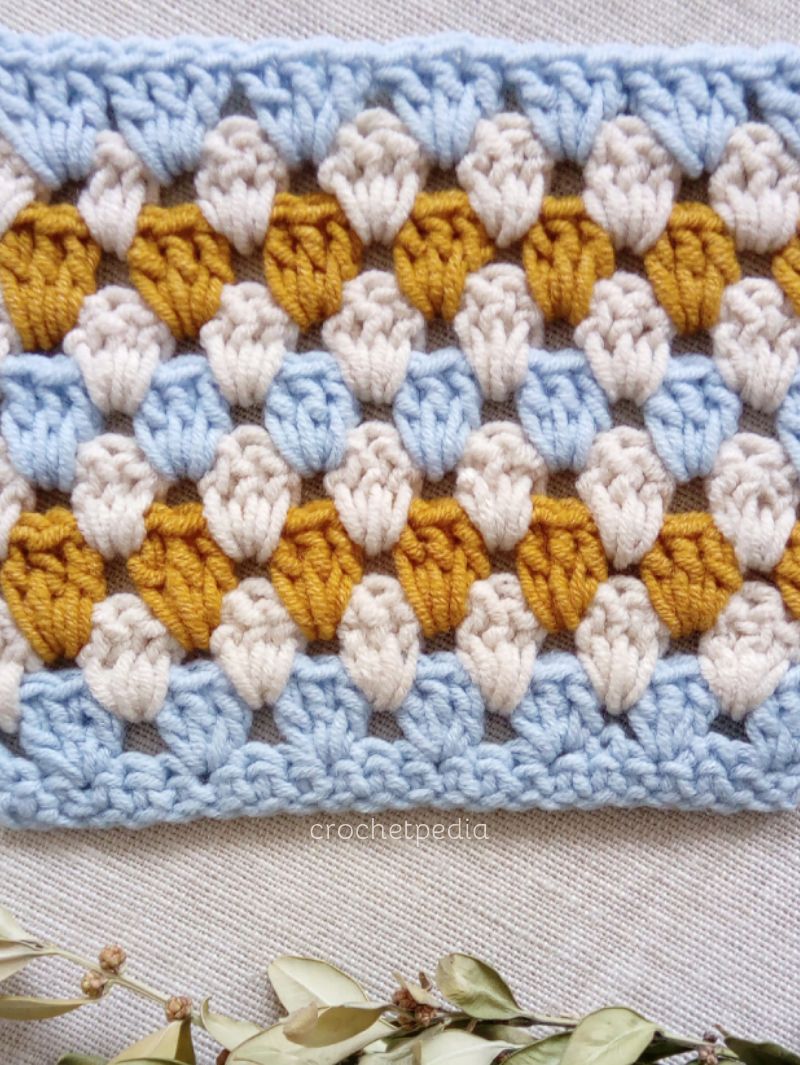 Hey, it wasn't hard, right? Use this stitch in whatever project you want.
share, like, subscribe!
If you happen to make this project, I would love to see it, so don't hesitate to contact me! Please feel free to share the results with us in the comments or on social media. Of course, if you find any mistakes in the pattern or find it hard to understand, please let me know, so I can learn and improve!
Sharing is caring, so if you liked this project, be sure to share it with your friends and spread the word, because I really appreciate it! For more free tutorials, patterns and interesting articles – follow my social media pages and allow notifications to get a pop-up whenever new post is published.
◉
FOLLOW ME ON PINTEREST AND INSTAGRAM