How to Crochet Block Stitch + Video!
Have you ever wondered how to crochet block stitch? If so, this is a perfect place to start, because I'll teach you step by step how to crochet it!
◉
or follow me on PINTEREST and INSTAGRAM
◉
This lovely stitch looks best when made with two or more colors, because the "dots" and "blocks" should be visible. It's a fantastic technique to use for a crochet blanket, or other home accessories. And it's easy to learn, too!
RIGHT-HANDED VERSION
LEFT-HANDED VERSION
If you like it, please give me thumbs up and subscribe to my channel, so that more people can learn from it! Remember to click the bell button if you don't want to miss any of my tutorials!
◉
More about this stitch in my other article…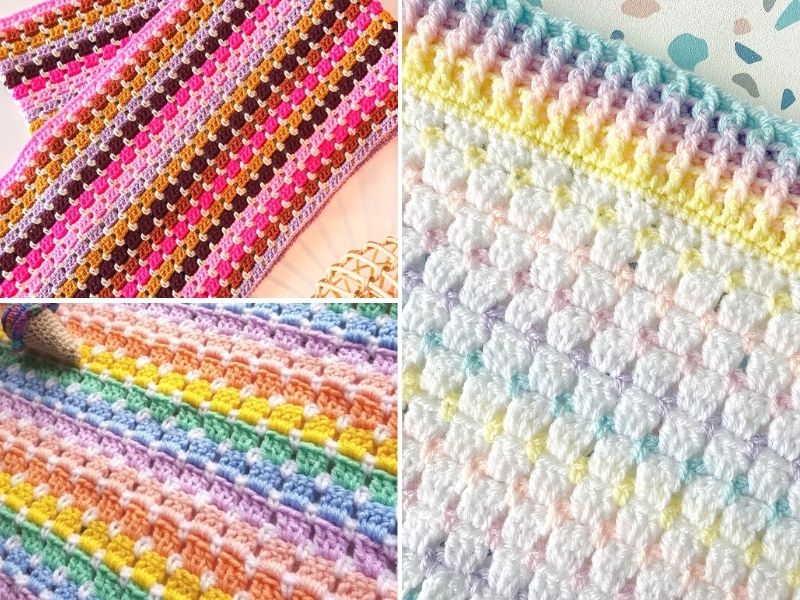 ◉
COLORWAYS
For these swatches I used mini skeins of Scheepjes Catona yarn, which is a 100% mercerized cotton and has amazing range of colors.
Unicorn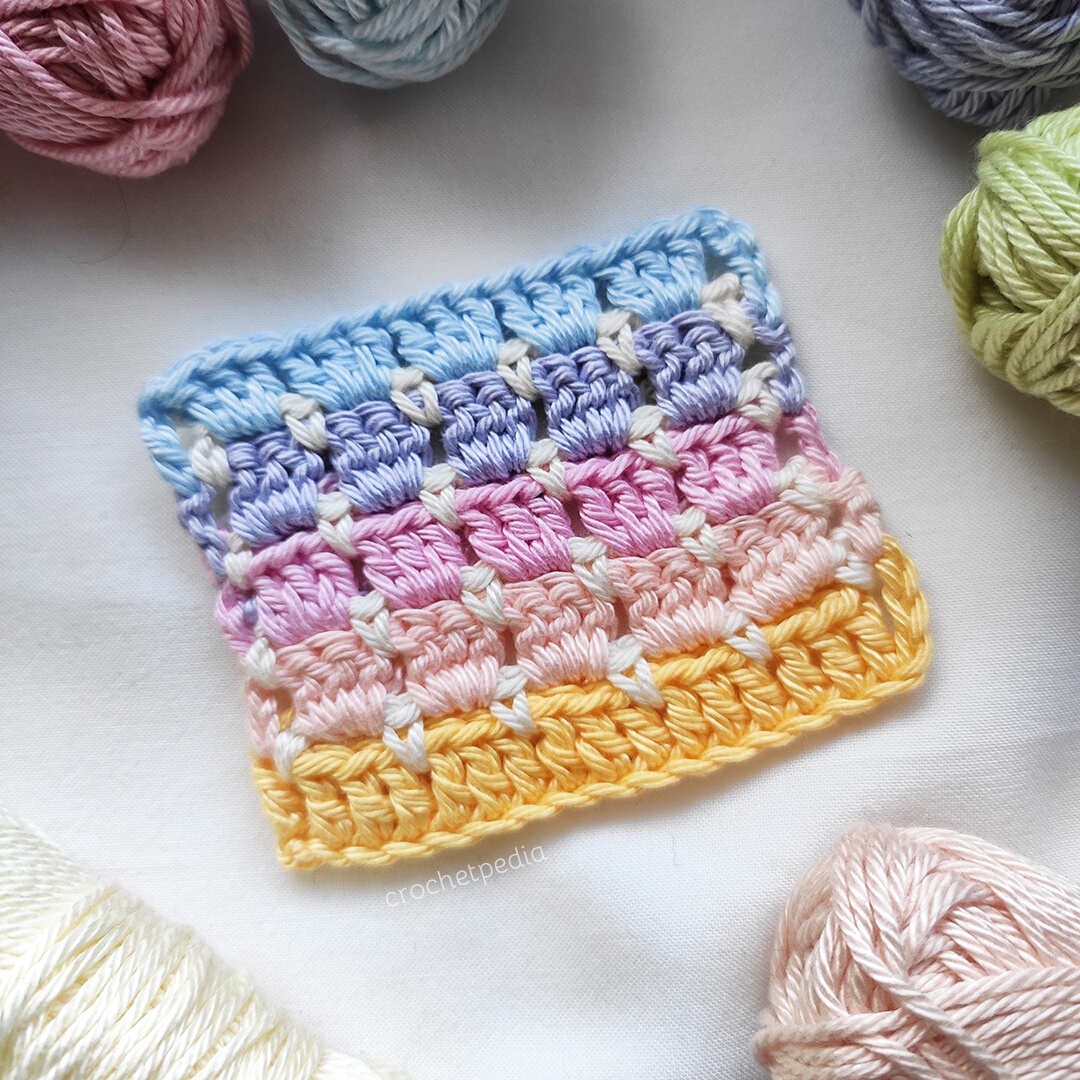 Colors: 522 Primrose, 518 Marshmallow, 246 Icy Pink, 399 Lilac Mist, 173 Bluebell
Teddy Bear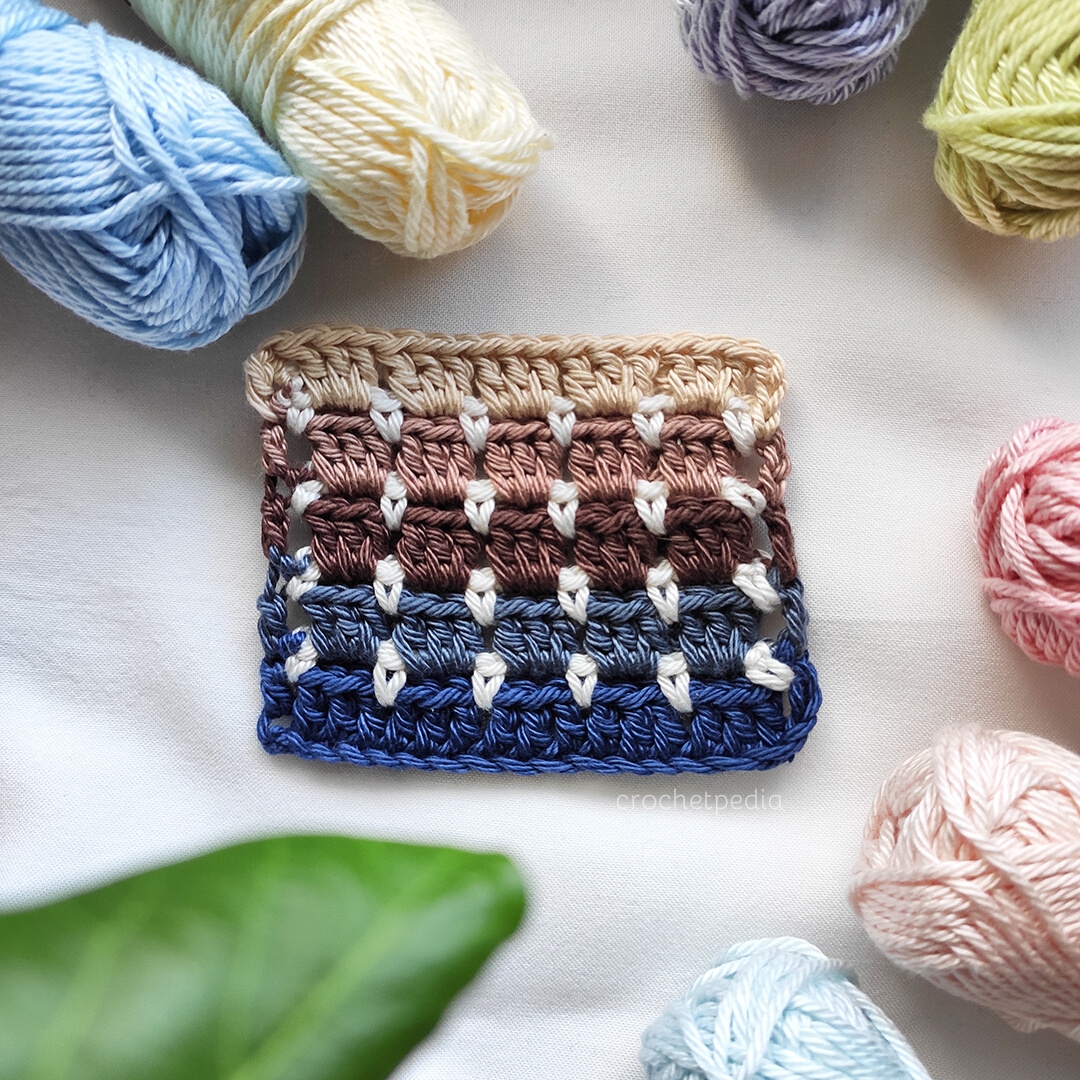 Colors: 164 Light Navy, 393 Charcoal, 507 Chocolate, 506 Caramel, 404 English Tea
◉
PATTERN NOTES
LEVEL – beginner
TERMS – standard US
TECHNIQUES
MATERIALS AND TOOLS
you can use any yarn and recommended hook size.

to see the potential of this stitch, please use at least two (preferably contrasting) colors.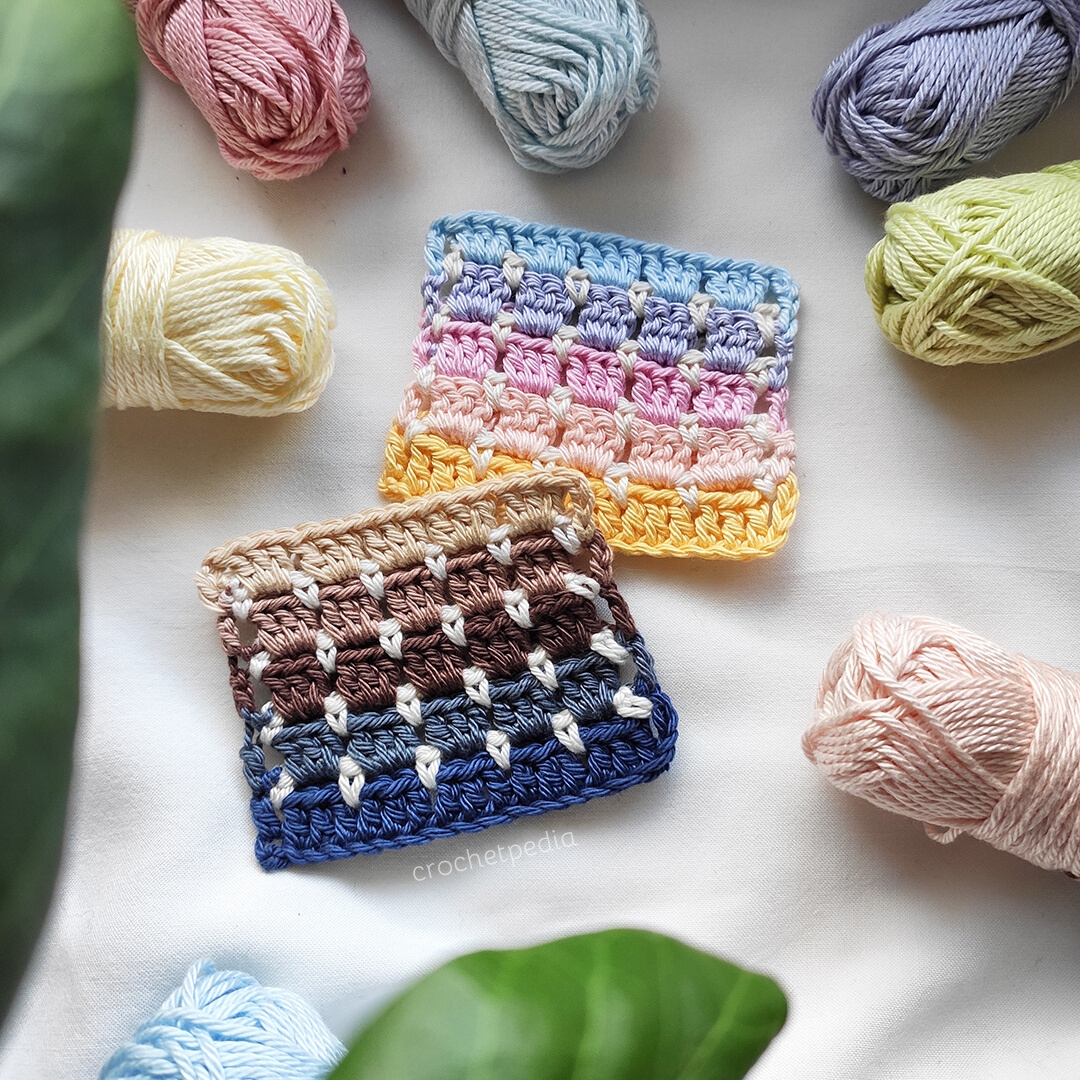 diagram
start with chaining any even number.

color green indicates how the edges are created, and other colors show how the repeatable modules work in the piece.
arrows indicate where the rows start.
rows of dots (purple) require adding new strand of yarn each row, while in the rows of blocks (other colors) the yarn can be carried from one row to the next.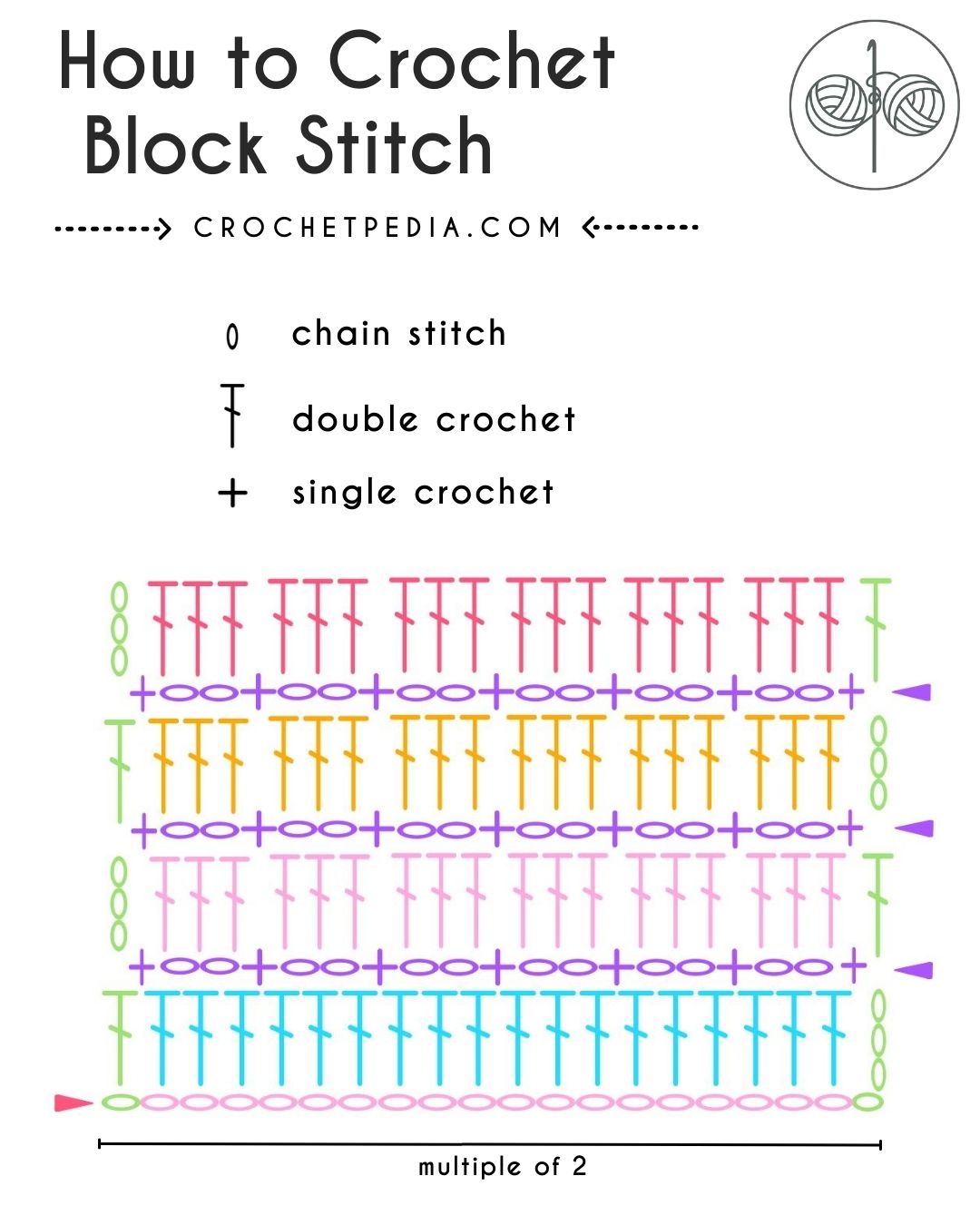 Written Pattern
NOTES on how to crochet block stitch:
For the purpose of this tutorial I will use 2 colors: color A for the blocks and color B for the dots between them. In the chart above blocks have multiple colors, while dots are purple.
Rows of dots (purple) require adding new strand of yarn each row, while in the rows of blocks (other colors) the yarn can be carried from one row to the next.
START:
chain multiple of 2. 
ROW 1 – color A – blocks:
chain 3, make 1 double crochet in the 5th chain counting from the hook. Make 1 double crochet in each stitch of the row.
If you plan to use this color in the next blocks row, pull out the yarn so the last stitch doesn't unravel when you remove the hook. If you want your blocks to be different color each row, cut the yarn.
ROW 2 – color B – dots:
Stay on the right side of the work (don't turn it) and go back to the beginning of the row. Make a slip knot on your hook as if for a starting chain, but insert your hook between the turning chain and the first double crochet. Work a single crochet there.
Now make 2 chain stitches, skip 3 and work 1 sc between 3rd and 4th dc (counting from your previous sc). Continue like so until the end of the row: *1 sc between the stitches, 2 ch, skip 3*. Your last stitch should be 1 sc between the last two double crochets of the row.
ROW 3 – color A – blocks:
Option 1: If you continue with color A, put the loop of yarn back on the hook and tighten it up.
Option 2: If you attach new color, insert your hook in the top of the last stitch and start there. Turn the work over after you've made the first 3 chain stitches (turning chain).
Option 3: Do not turn the work and attach a new color in the top of the turning chain of row 1. This way you'll stay on the right side of the work at all times, attaching new yarn on the right hand side in each consecutive row.
All of these options result in this:
3 ch, *3 dc in the chain space* repeat until the end of the row, your last stitch will be: 1 dc into the last stitch (or top of the turning chain).
Repeat rows 2 and 3.
◉
Choosing colors
As you can see in the example below, block stitch changes quite dramatically depending on your color choices. These two swatches were created with the same colors, but I used them differently.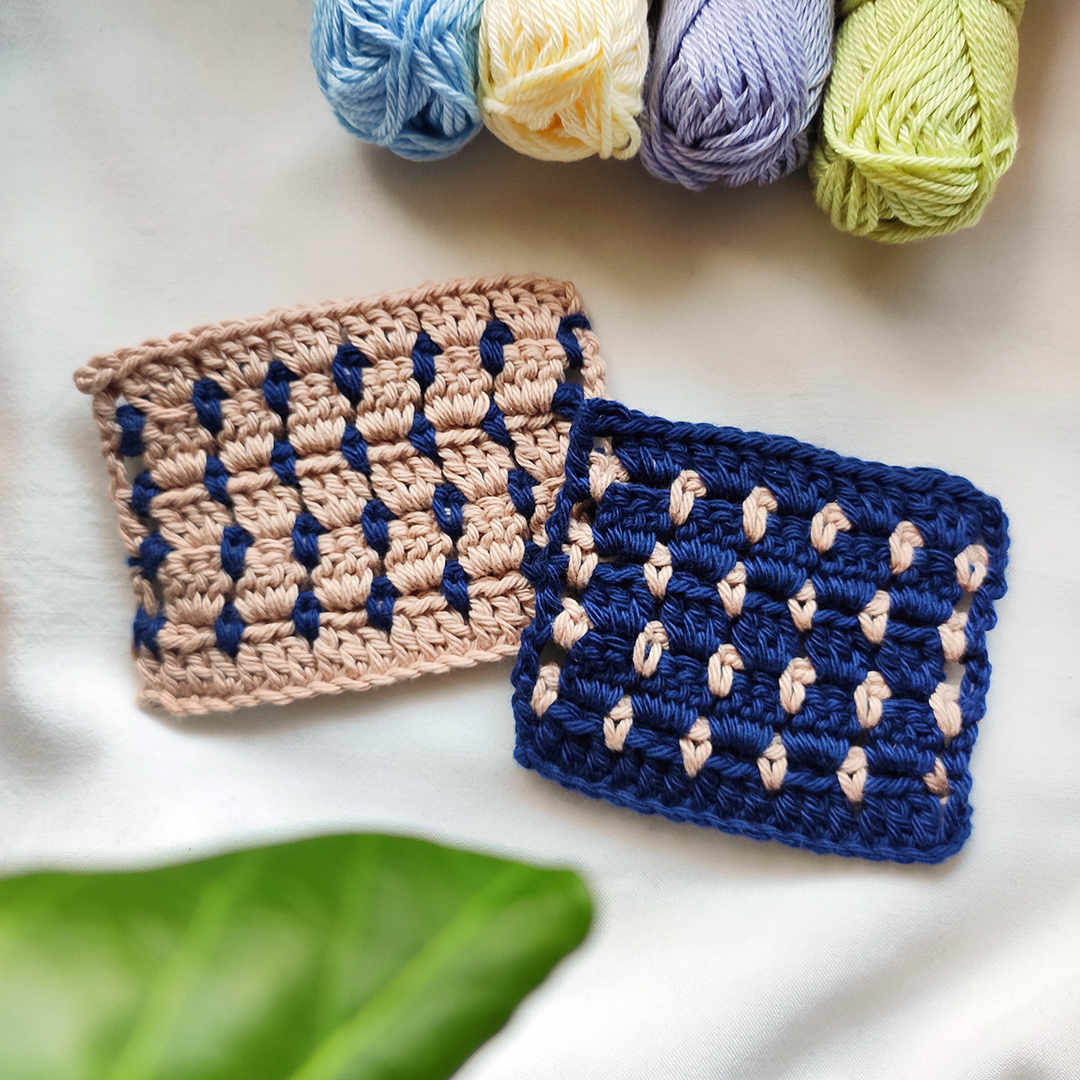 PRO TIPS! 
As this stitch leaves a lot of loose yarn ends, I recommend adding a border and hiding them there!
Always make sure that you choose the right type of yarn for your project to achieve the effect you want.
Hey, it wasn't hard, right? Now you know how to crochet block stitch and can use it in whatever project you want.
◉
If you want to learn more, check this out!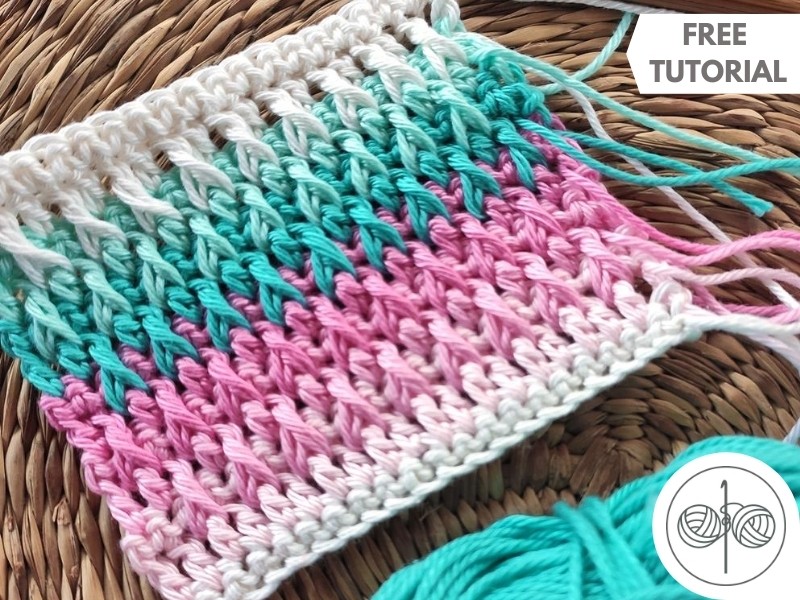 ◉
share, like, subscribe!
If you happen to make this project, I would love to see it, so don't hesitate to contact me! Please feel free to share the results with us in the comments or on social media. Of course, if you find any mistakes in the pattern or find it hard to understand, please let me know, so I can learn and improve!
Sharing is caring, so if you liked this project, be sure to share it with your friends and spread the word, because I really appreciate it! For more free tutorials, patterns and interesting articles – follow my social media pages and allow notifications to get a pop-up whenever new post is published.
◉
FOLLOW ME ON PINTEREST AND INSTAGRAM