Have you ever wondered how to change colors in crochet? Whether you are working in rows, circles or spirally, these simple tricks will come in handy.
In this article you will learn how to change colors at the end of the row and in the middle of it, as well as in the flat circle. Easy steps will allow you to use it in many different situations, so grab your crochet hook and some yarn, and let's get started.
◉
Try my Free Crochet Patterns!
◉
How to change colors in crochet?
Changing colors row by row
If you go for stripy design, you have to learn how to change your colors row by row. It's very easy and you can see the process in the photos below: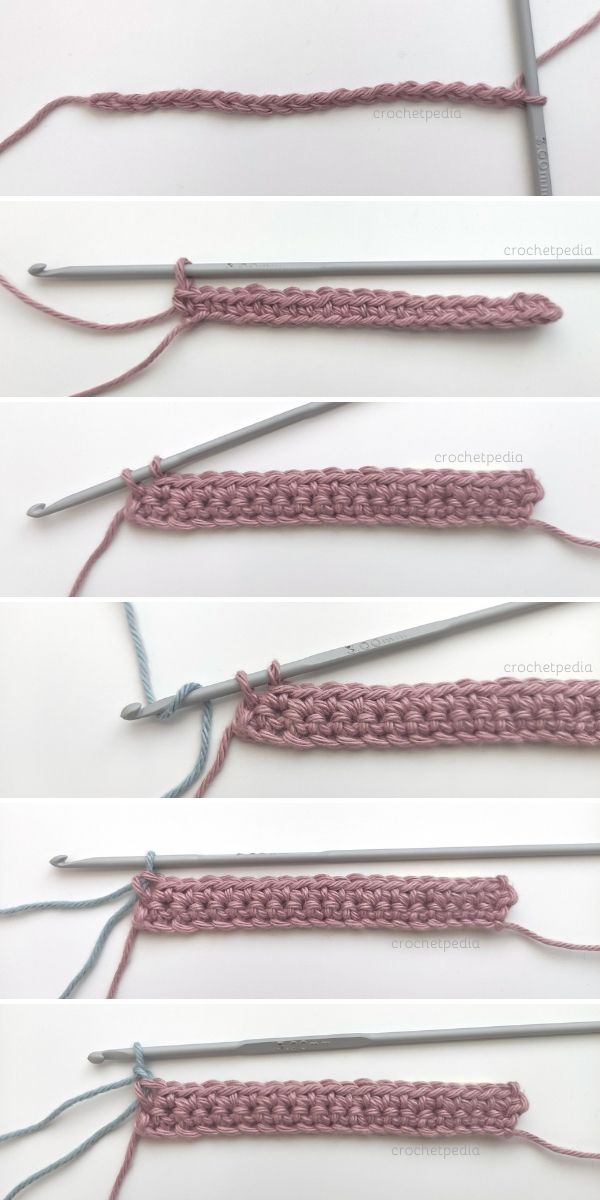 this part of the tutorial comes from my article on How to Crochet Spike Stitch
To add a new color for the new row, stop before finishing the last stitch of the row, because that's when you should attach new color.
Why is this method better?
If you finish up the last stitch as usual, your first color will be visible in your next row as the ugly bump. That's because the last "pull-through" creates the loop that goes farther than your last stitch – on top of the next, to be precise!
You can see it clearly in the comparison below: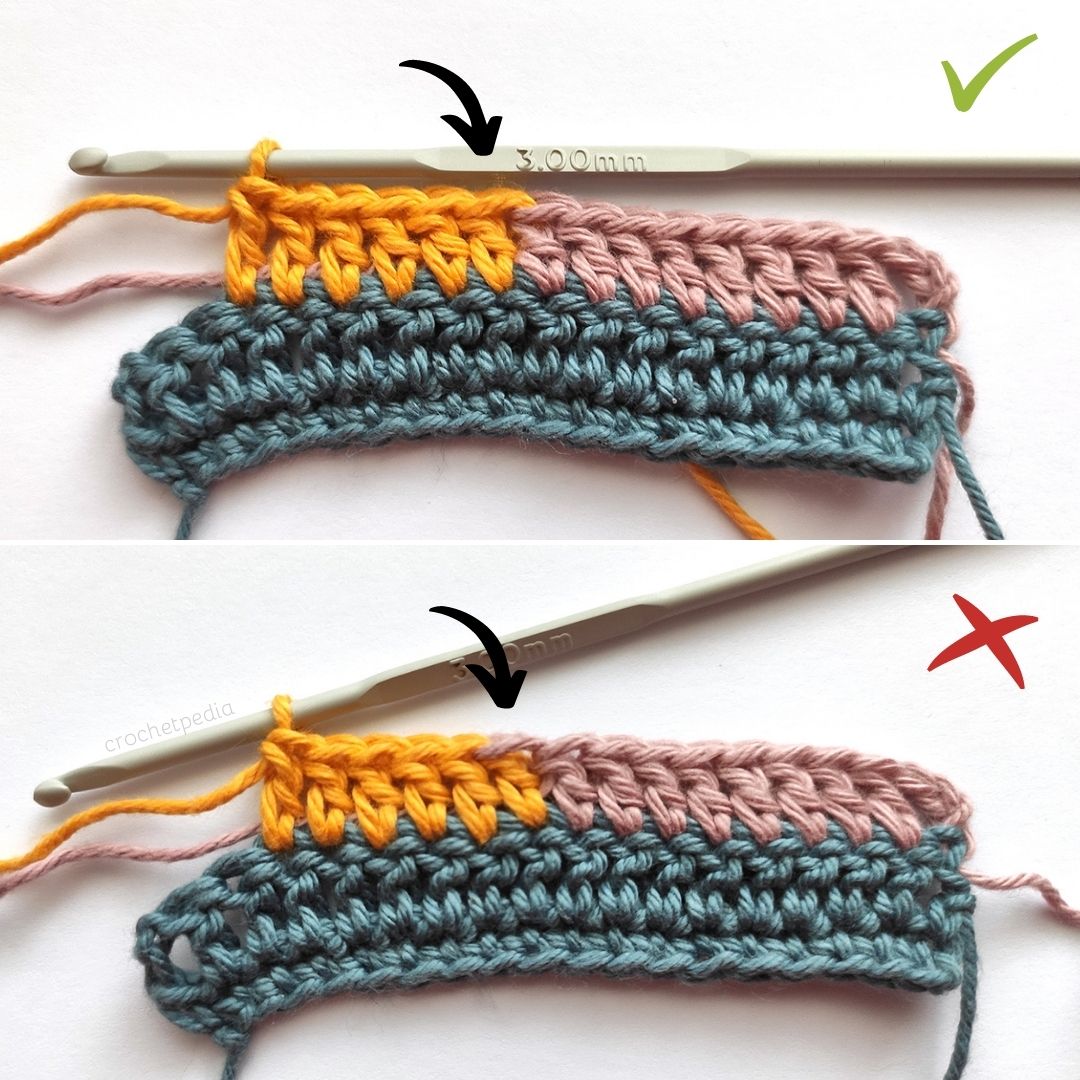 In the top photo you can see, that change of colors is nice and clean, because the last "pull-through" of pink dc used yellow yarn. In the bottom picture, however, the last loop of double crochet was finished with first color, so that pink yarn is visible on top of your first yellow stitch.
How do I change the colors in the middle of the row?
Good question! The answer is simple – exactly the same. Tutorial below shows it step by step, so follow it if you like!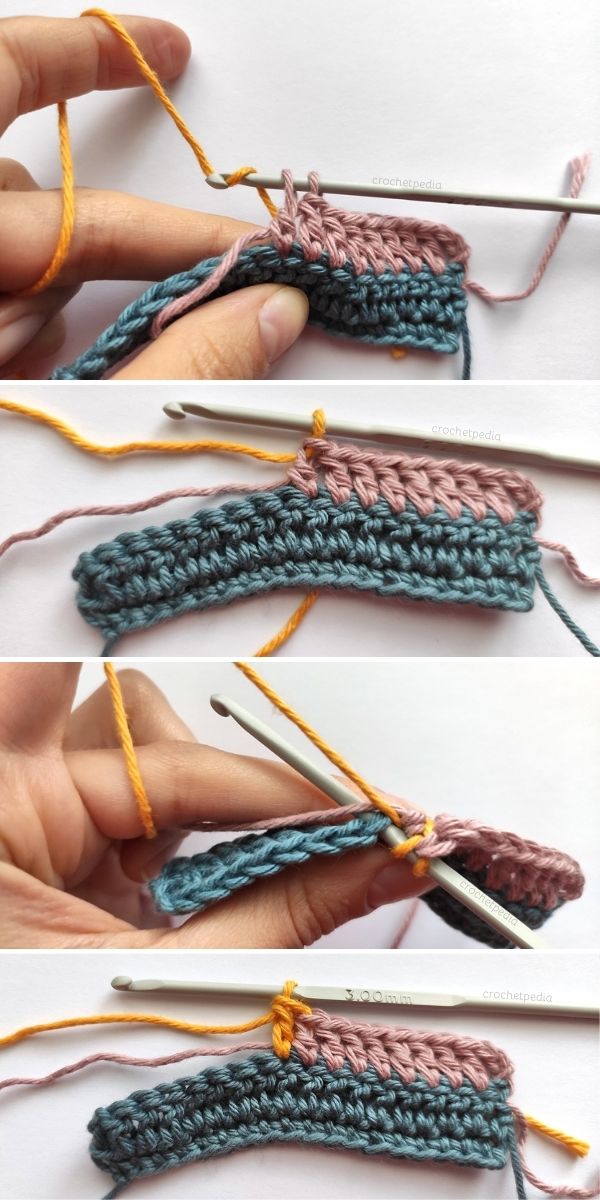 Pro tip!
This one is for those of you, who are introducing new color in the middle of the row. If you don't like weaving in ends, just carry your first color as you crochet with second one. Work your stitches over this yarn, so that it's hidden inside. You can then pick it up at the end of the row, or simply cut it.
Carrying yarns and working with multiple colors in one row is the crucial technique in tapestry crochet, which I will write about soon!
◉
How to change colors when working in circles?
Whether you are working in rounds, or spirally, the method remains basically the same.
As you can see below, not following the method creates ugly bumps that make your rounds look uneven. For this swatch I used magic ring and single crochet stitches.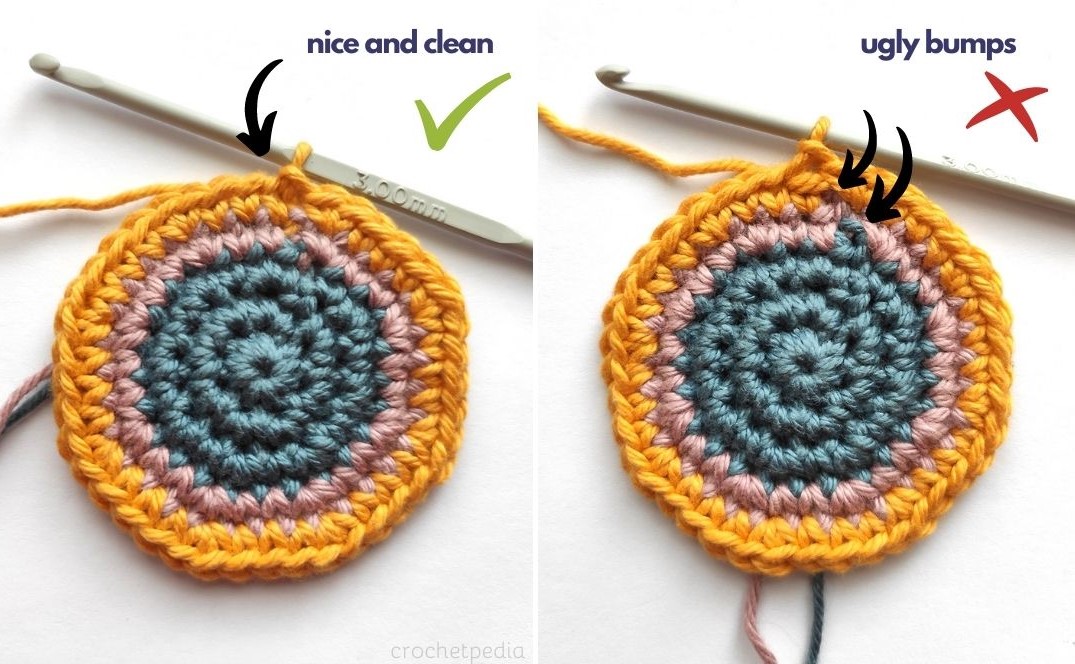 Now let's see step by step how to do it – for closing a round, we use slip stitch. When you made your last stitch of the round, insert your hook into the first stitch, and stop there. This is a place for adding new color! Pull it all the way through and secure, by making chain stitch.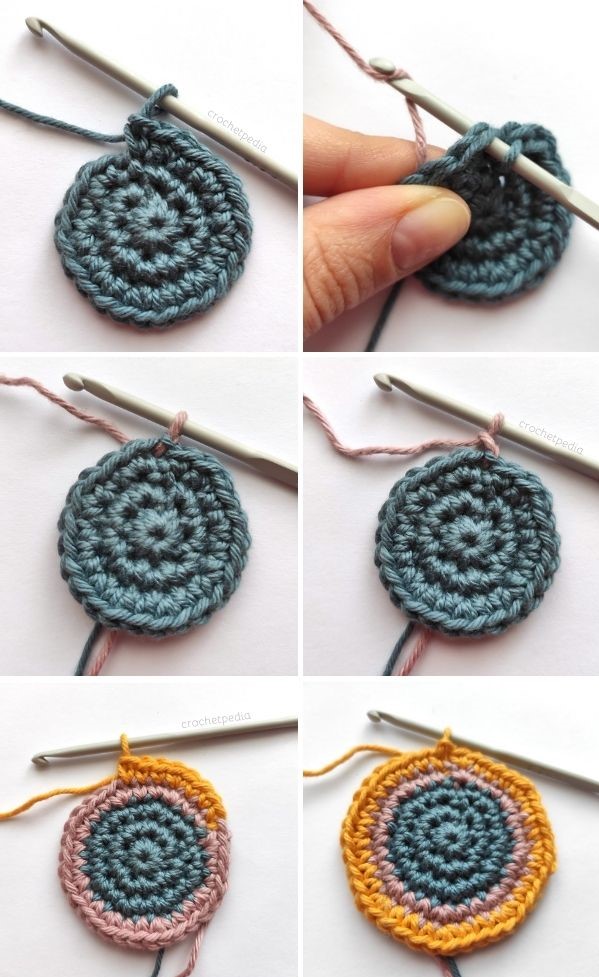 Do it in every row, so that they look nice and polished.
If you are new to this, practice your tension and the way you are holding the yarns. It's not easy to keep them in place at first, so don't get discouraged if they tangle or slip now and then.
Does it work with every stitch?
Yes, it does! Whether you are working with slip stitch, single crochet, half double crochet or double crochet stitches, the method remains unchanged. You stop when you have your last two loops on the hook and make a final "pull-through" with new color.
◉
You may also like: How to Crochet Alpine Stitch