Herringbone Stitch Crochet Ideas
Have you heard about herringbone crochet stitch? If not, this post is for you, because it's one of the most interesting techniques I've stumbled upon. It's easy to learn, looks stunning, and… doesn't even look like crochet!
Intrigued? I bet! Let's get started!
Learn how to crochet this stitch with the help of free crochet patterns and tutorials, and get inspired with my selection of the most beautiful colorways in the Roundup section!
◉
Elegant and versatile
How does crochet herringbone stitch works?
There's no special stitches involved in this crochet technique, but it does require very careful work. Why, you may ask? Because you will insert your hook totally differently than you're used to.
As you can see in the example below, there are many ways you can work crochet herringbone stitch – with single crochet, half double, or even puff stitches. It's all about making these stitches "lean" to one side.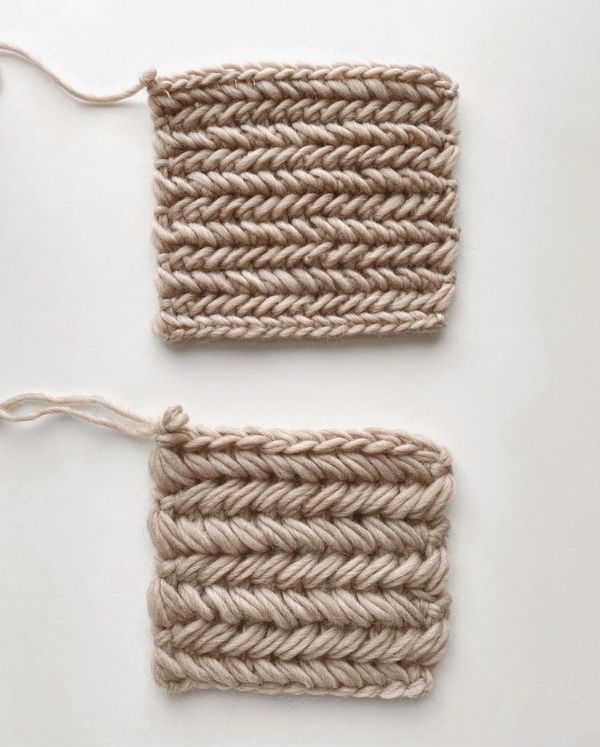 What can I use this stitch for?
This technique results in quite dense and structural fabric, but it's also reversible – meaning it looks the same on both sides. That last thing makes it perfect for blankets, scarves and home decor.
Is this stitch hard to learn?
Well, it depends – if you are willing to put time and focus into mastering this stitch, then it's definitely worth it. As I mentioned, the process is quite unusual, as it involves inserting your hook in totally different places than with regular stitches. It also requires quite good knowledge of the anatomy of crochet stitches, so that you know how it works and what you're doing. Ambitious beginners and intermediate crocheters should be happy to try it!
Check out
Crochet Roundup
below for more inspiration, because that's where I've gathered the most stunning projects and 
free resources
!
talking about stitches…
Our growing website and library of free crochet patterns has some projects that might interest you, too. 
→ How to Crochet Block Stitch | Written Pattern + Chart ←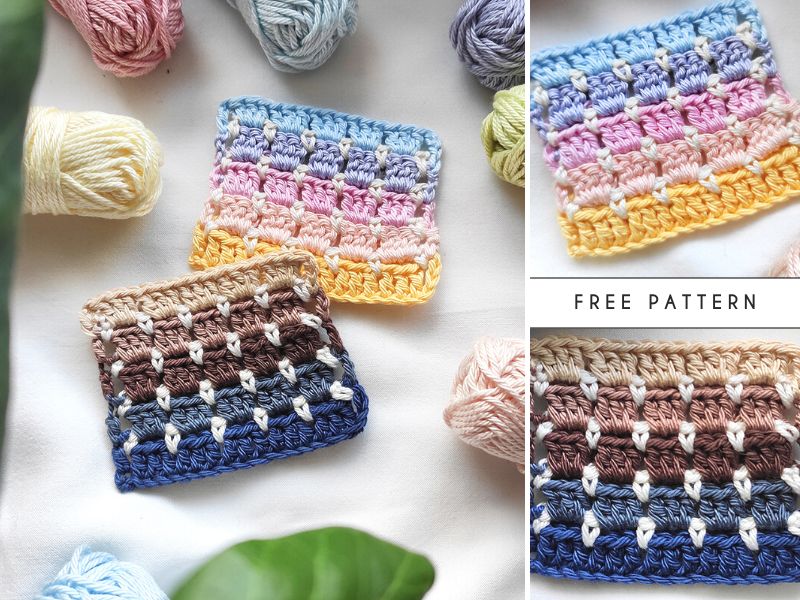 ◉
Crochet Roundup!
This part is definitely my favorite, because I absolutely looove writing about colors. The more I research, the more beautiful creations I find, and this time was no different.
Read carefully for free crochet patterns and tutorials.
Herringbone Single Crochet
Twisted Herringbone Headband by Sylwia Kawczyńska
*free crochet pattern*
Elegant look of this stitch elevates a simple headband to the level of must-have accessory. Sylwia's project is a straightforward free pattern, so you can use it to practice the stitch while creating something useful for your wardrobe. Such headband works up quite fast, so it's a great idea for a last minute gift as well.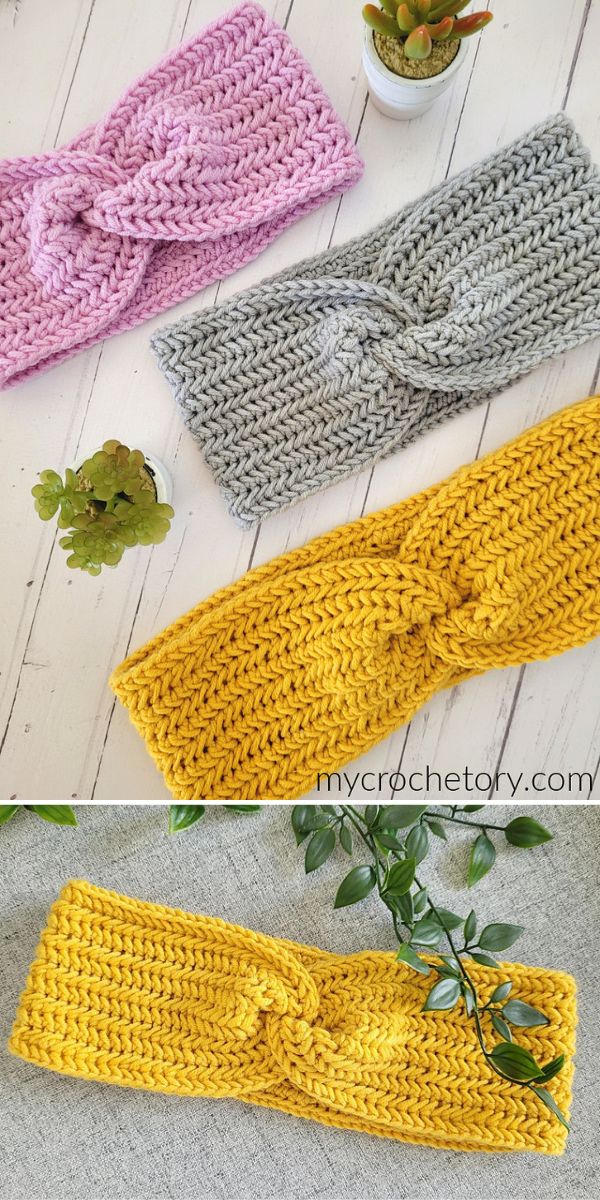 This project is available as free crochet pattern on mycrochetory.com and on ravelry.com.
You may also like: How to Choose the Right Crochet Project
◉
Over the Mountains Herringbone Pillow by minimalism with yarn
The beauty of herringbone stitch lays in its repeatable nature and similarity to the structure of knitwear. If you like knitted look, but want a lot denser fabric, this technique will be just perfect. As you can see, crocheter behind Minimalism With Yarn Stitches showcased the beauty of the yarn, so remember to choose high quality fibers for the best effect.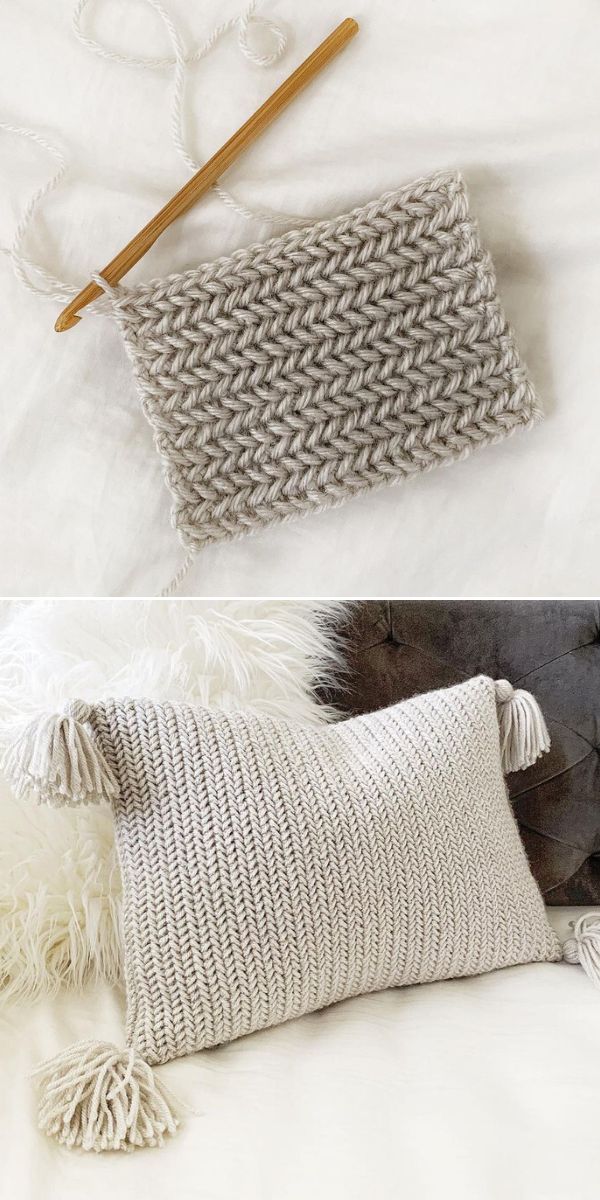 This project is available to purchase on ravelry.com.
◉
Heart of Home Herringbone Potholders by All Things I Heart
I'm a big fan of handmade home decor in general, but I'm even fonder of useful home decor! These potholders by Jess check all the boxes, because they are both beautiful and work great. In the photo you can see that she crocheted with black and white strands together, achieving this magnetic marled effect.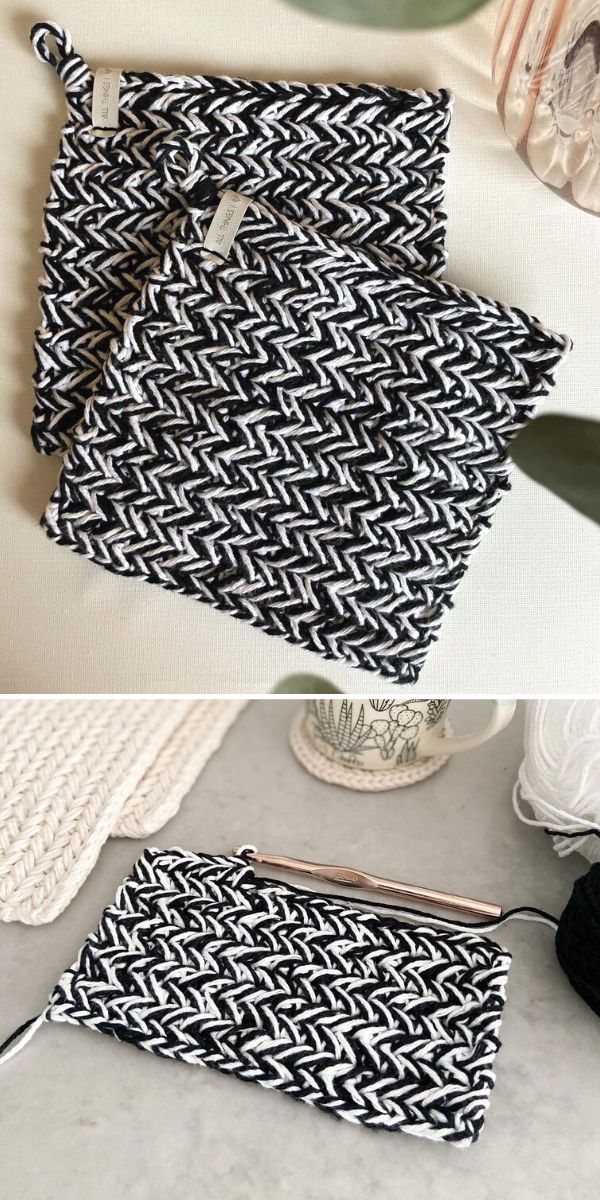 Jessica designed these potholders herself, but if you want to check out similar pattern for free, see Herringbone Trivet Set by Dana Hogan, available on daysck.com.
You may also like: 5 Ways to Make Your Crochet Pieces Look Pro
◉
One Single Afghan by Spunky Yarn Master
Combining crochet herringbone stitch with basic stitches is a great way to mix things up a little. Spunky Yarn Master went for colorful panels of herringbone divided by slim grey stripe of basic stitches – just take a look at the photo below! If you're already familiar with the technique, recreating this blanket shouldn't be a problem.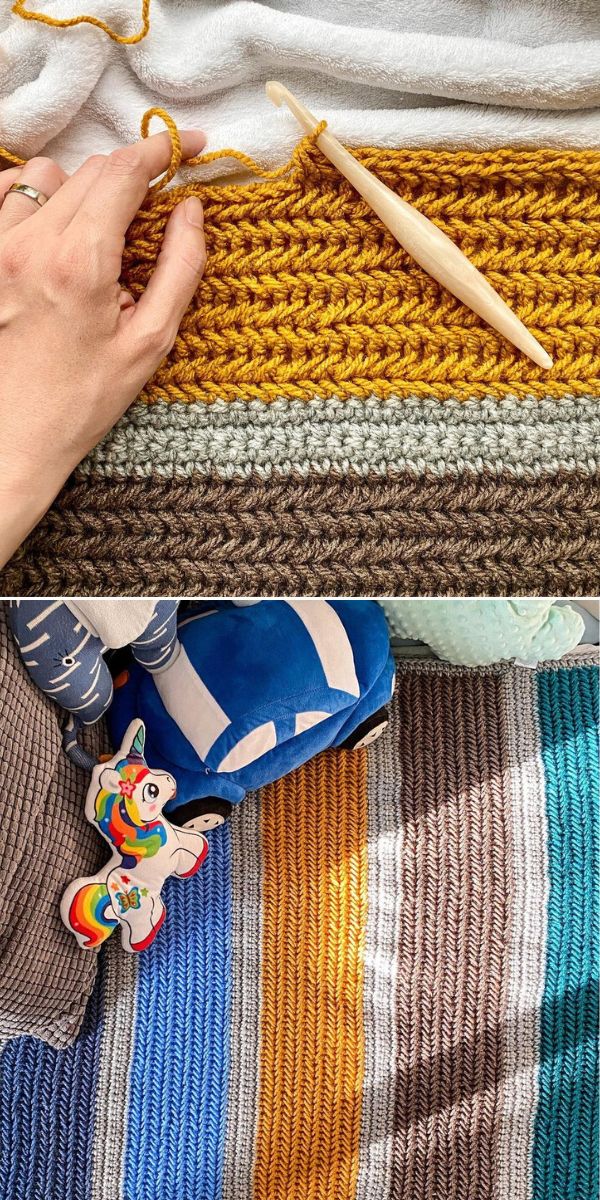 To learn herringbone stitch, check out this free video tutorial by thecraftiman on youtube.com.
◉
Herringbone Single Crochet Ripple Blanket by Jennifer Renaud
*free crochet pattern*
I love variations on the theme, so this version of herringbone stitch immediately stole my heart! Jennifer came up with the idea on how to combine this stitch with classic chevron pattern. As you can see, geometric ripples look really interesting, so all you need is a high-quality yarn to go with it.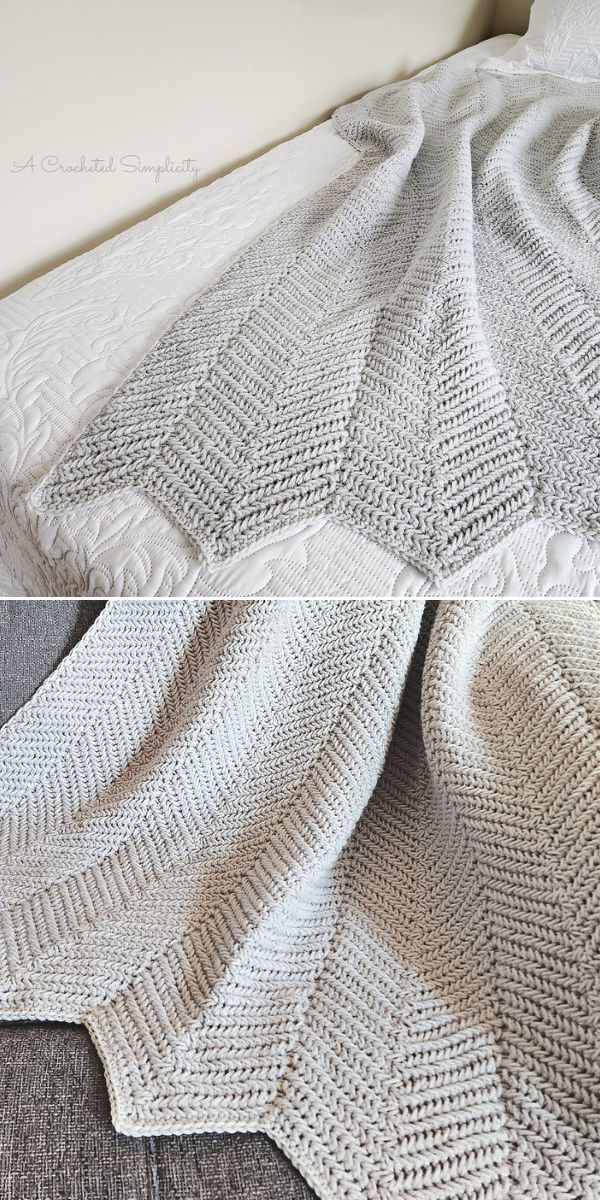 Find this free crochet pattern on acrochetedsimplicity.com, or purchase it on ravelry.com.
You may also like: Basket Weave Stitch Ideas
◉
Heavenly Herringbone Hat by Margit Kurvits
*free crochet pattern*
Most project I've presented here were made with sleek yarns, such as cotton, but it doesn't have to be the case. Margit chose lovely mohair yarn for her project, and you can see the "fluff" of the yarn pictured below. Her hat – a work in progress – will have a lovely halo when finished, and a proper wintery look.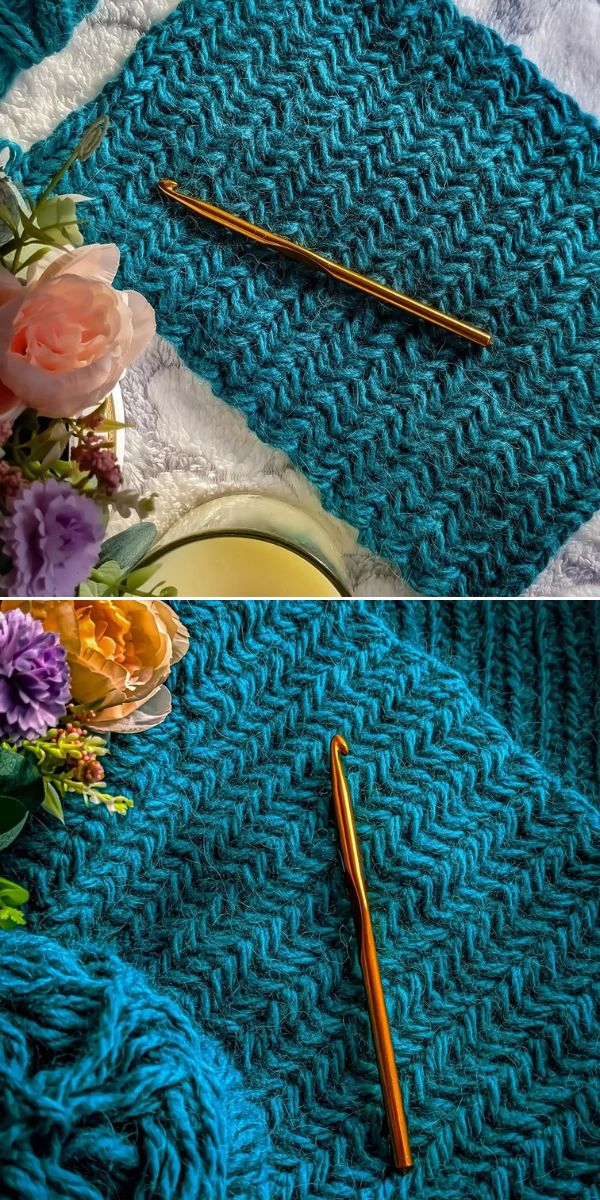 This project is based on a free crochet pattern called Heavenly Herringbone Hat by MJ's Off The Hook Designs, available on mjsoffthehookdesigns.com, or on ravelry.com.
◉
Heart of Home Herringbone Coasters by All Things I Heart
*free crochet pattern*
Herringbone in the round? Yes, please! Jess came up with these simple coasters by herself, but you can use video tutorial I linked below to make similar project. These beauties work up fast and will make a great last-minute gift when combined in a set. Choose neutral colors to make sure it will fit the receiver's interior.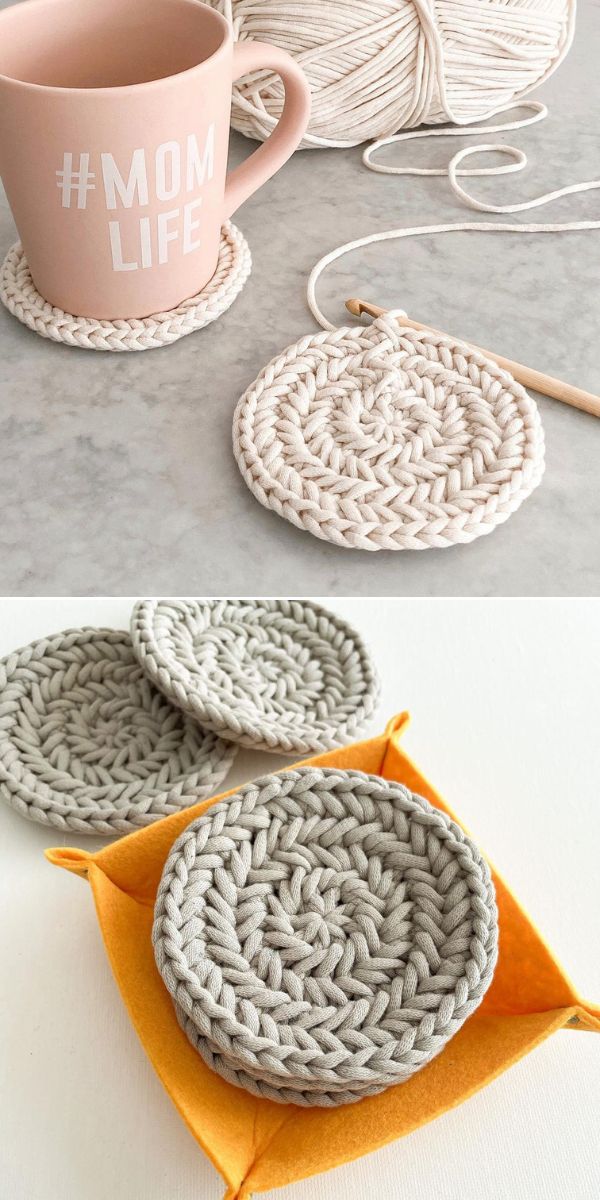 Jessica designed these coasters herself, but if you want to learn how to crochet herringbone stitch in the round, see the tutorial on bystellam.com.
You may also like: Easy Crochet Dishcloth Patterns
◉
Herringbone Crochet Basket by Briana K Designs
*free crochet pattern*
You don't have to buy expensive covers to make your plants look presentable – just use this free pattern instead! Elegant look of herringbone stitch will enhance the beauty of the yarn you choose, but remember to pick quite thick one! If your yarn will be too fine, the basket will collapse. Take a look at Briana's lovely choice of colors!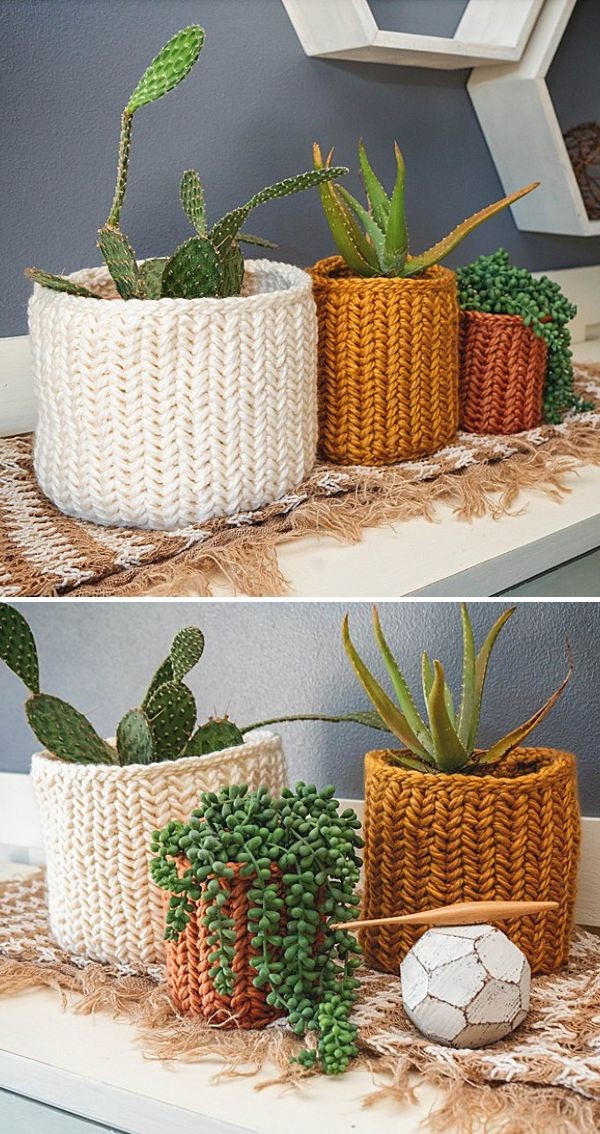 This is a free crochet pattern and it's available on brianakdesigns.com and on ravelry.com.
◉
That's all for today, but I'll be back with much more inspiring projects and free patterns. Like, share, and subscribe if you like what you see. Stay tuned!
↔
You may also like: Celtic Weave Stitch Ideas