Hello, crocheters! Can you feel the festive vibe yet? Today I created a list of handmade gift ideas for all of the makers out there. We've got still some time left until we meet with our friends and family and exchange gifts, but it's definitely high time to start making them.
Last year I put toghether a gift guide for crocheters, that is for people in your life who love making things and work with yarn. This time I'm tackling it from the other side, so if you are asking yourself – what can I make and gift to my friends? – hopefully this list will help you!
◉
use your crochet superpowers
Below you can find ten broad ideas for thoughtful handmade gifts, which you can use as a guide for this year's Christmas shopping. Wherever I could, I tried to include examples of free crochet patterns that you can use straight away, so look for links under the pictures!
Useful Items for the Home
1. Kitchen Accessories
When in doubt – make it useful. There's plenty of items you can crochet that will be handy in the kitchen! Make a set of cute dishcloths, sturdy hotpads, or colorful kitchen towels. If you know how the kitchen of the gift receiver looks like, it's even better, because you can go for the color scheme that will fit right in!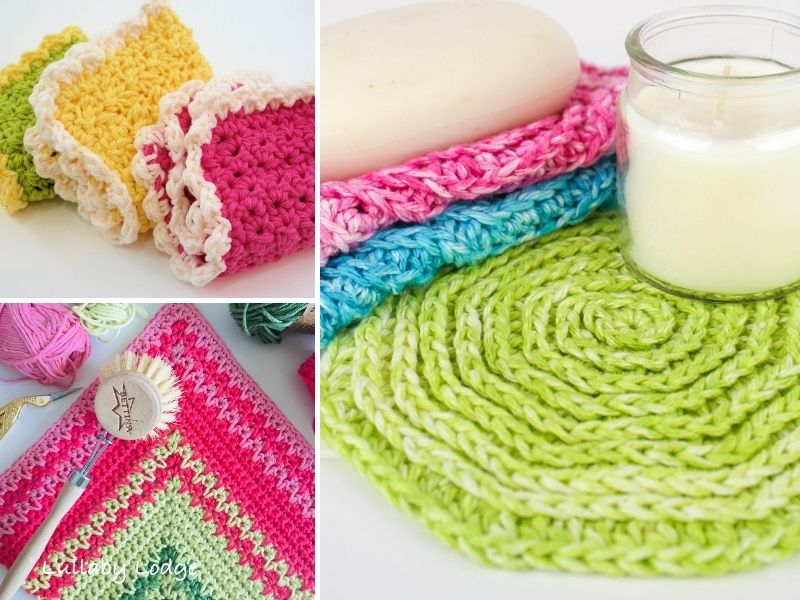 One thing to remember is to always use cotton yarn with such projects, because it soaks up water very well, and it is safe to use with hot products. Synthetic yarns will melt in contact with hot items, and do not absorb water well enough. Learn more about types of yarn in my article.
This free crochet pattern is available on yarnspirations.com.
◉
2. Decor
If you are feeling confident about nailing your friends' taste, you can go for crocheted home decor. There's plenty to choose from: make a set of coasters, or placemats; invest some time and effort into making meticulous doily, or boho-inspired wall hanging.
In the photo below you can see the latest project by SisHomemade.
Mandalove Circle by SisHomemade can be downloaded for free from ravelry.com.
◉
3. Storage
I strongly believe that one cannot have too many storage in the house, so crocheted baskets in all shapes and sizes are high on my list of universal gifts. Choose the style you like best, and don't stop on one, because you can easily hide baskets of different sizes inside each other to save space.
Example shown below even has leather handles!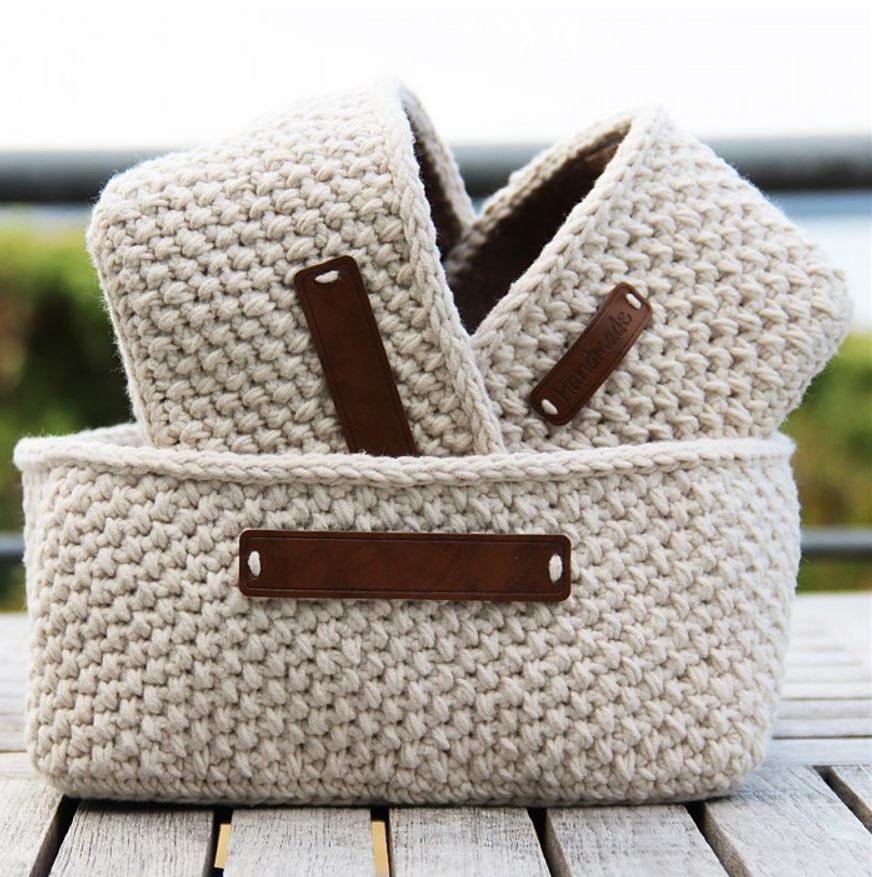 Moss Stitch Basket – Square by Hobbii Design is a free crochet pattern and is available on hobbii.com.
Not only do they come in handy in places like bathroom or bedroom, but also can be transformed into plant pot covers, like the one by Nihal in the picture below. Clever!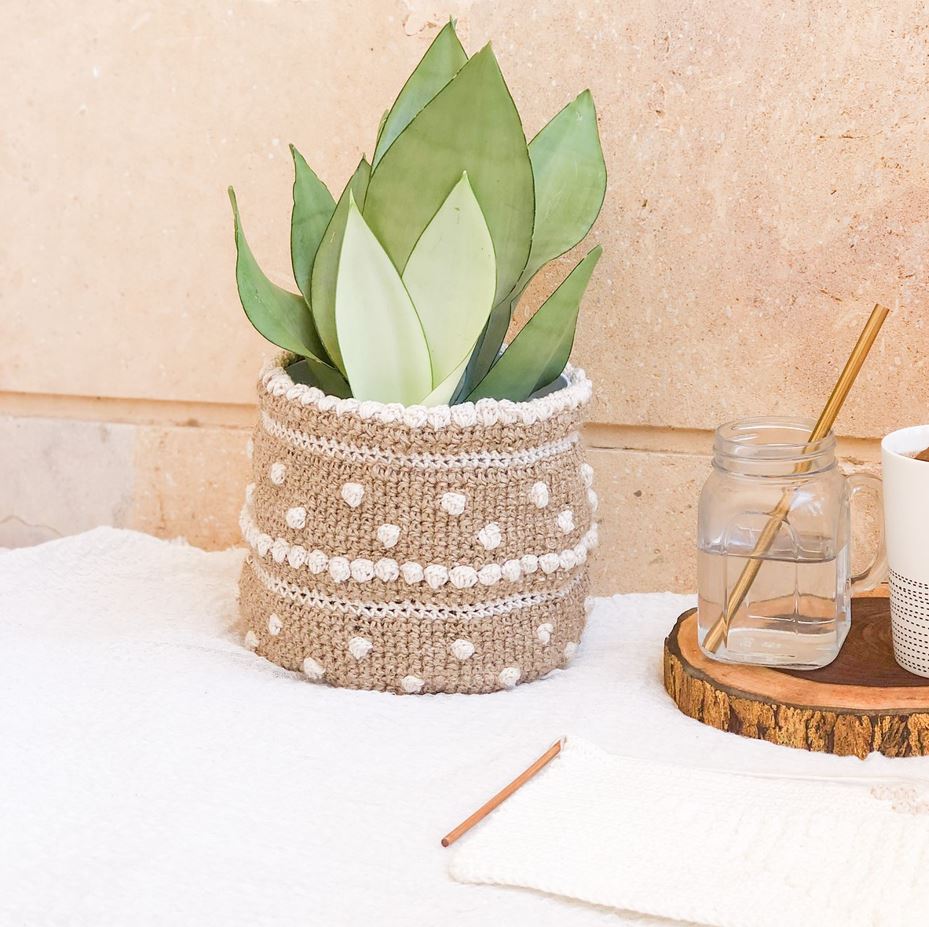 BUBBLY Plant Pot by Nihal Salem is a free crochet pattern and is available on topknotchcrochet.website.
◉
4. Crochet Bags of All Kind
Whether you make a stylish handbag, a bunch of versatile crochet market bags, or tiny produce bags, I am sure the gift receiver will be quite happy! Nowadays I'm always keeping a reusable bag at hand whenever I go shopping, and I bet a lot of you do too. Help your family and friends be more eco-friendly, starting this Christmas!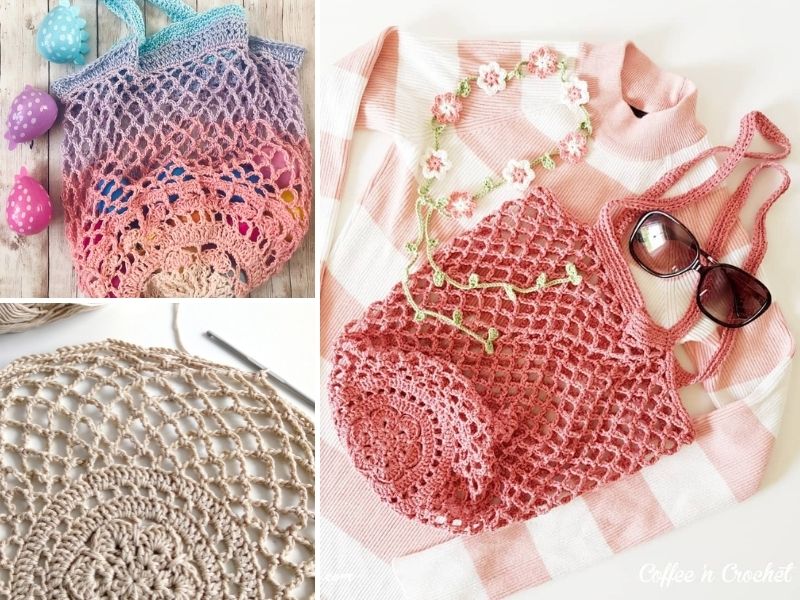 ◉
Stylish Accessories to Wear
5. Crochet Shawls and Scarves
Shawls and scarves are perfect as handmade gift idea, because… they are one-size! You don't have to worry that they won't fit, and they come in handy all year round. This year's hottest trend is crochet pocket shawl, and I am sure it will stay for at least another season! There's a lot of projects that require just one skein of yarn, too (ombre ones , so don't wait and choose one for someone you love!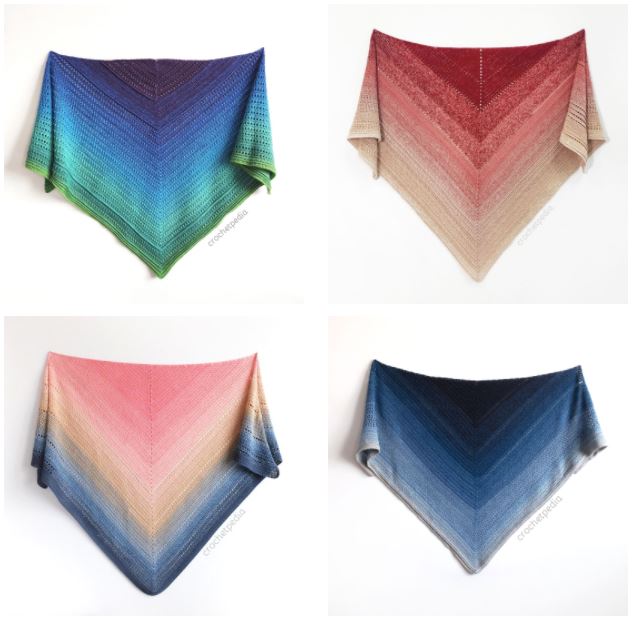 ◉
6. Hats and Headbands
Staying in the winter accessories category, another great item to gift will be a warm hat, or a cute headband. They work up very fast, especially if you use bulky yarn, so you will be able to make a bunch before Christmas.
Take a look at the photo and see how delicate are these headbands made by Tiffany.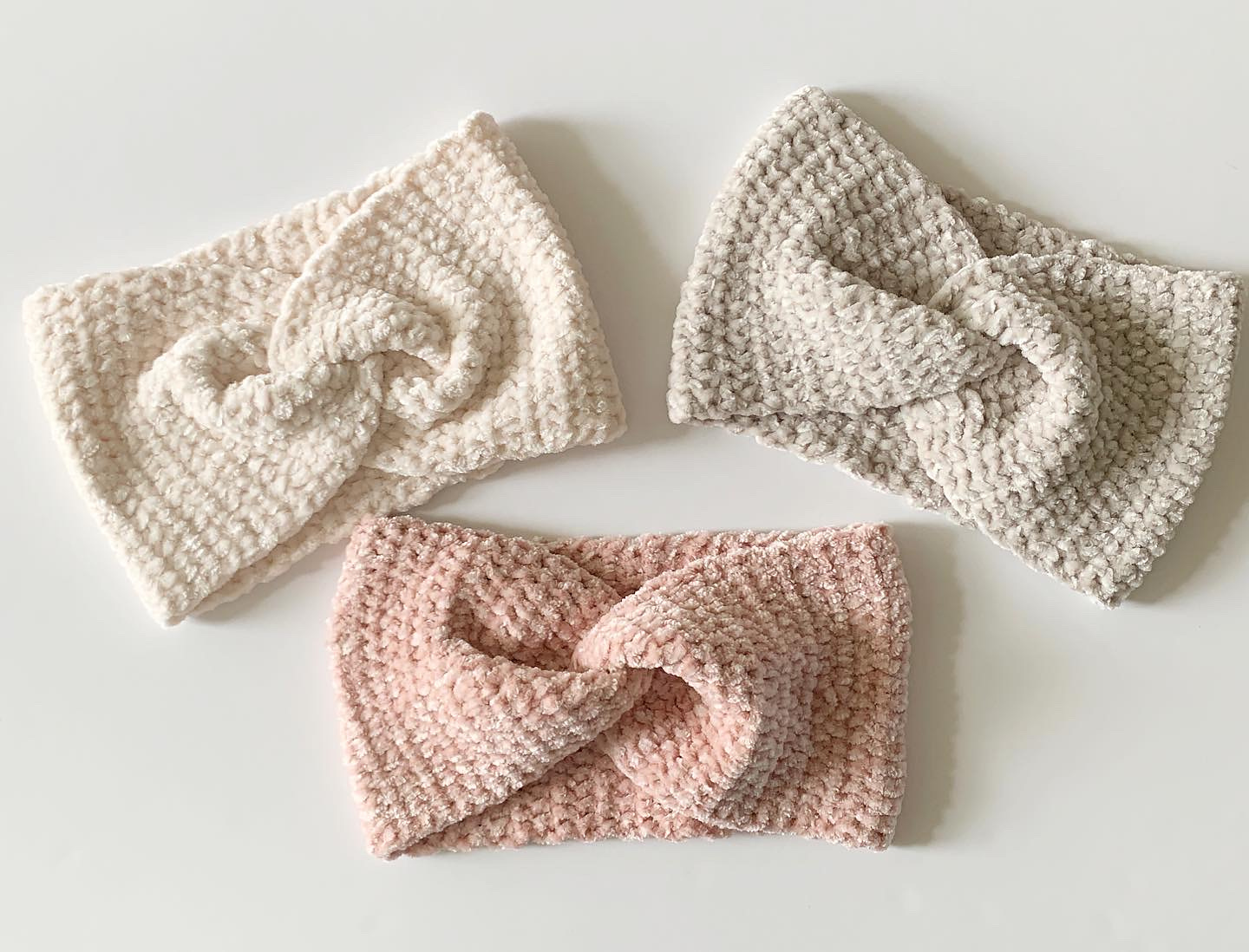 Easy Crochet Velvet Twist Headband by Tiffany Brown is a free crochet pattern and is available on yarnspirations.com.
◉
7. Mittens and Fingerless Gloves
Warm crochet mittens will be useful in very cold regions, where it snows heavily and winter sports are popular. If you live in a warmer place, though, fingerless gloves will be perfect to keep hands comfy during chilly evenings. A handmade gift like this can be a true lifesaver!
In the picture below you can see Raffaella's ornamental gloves in two versions.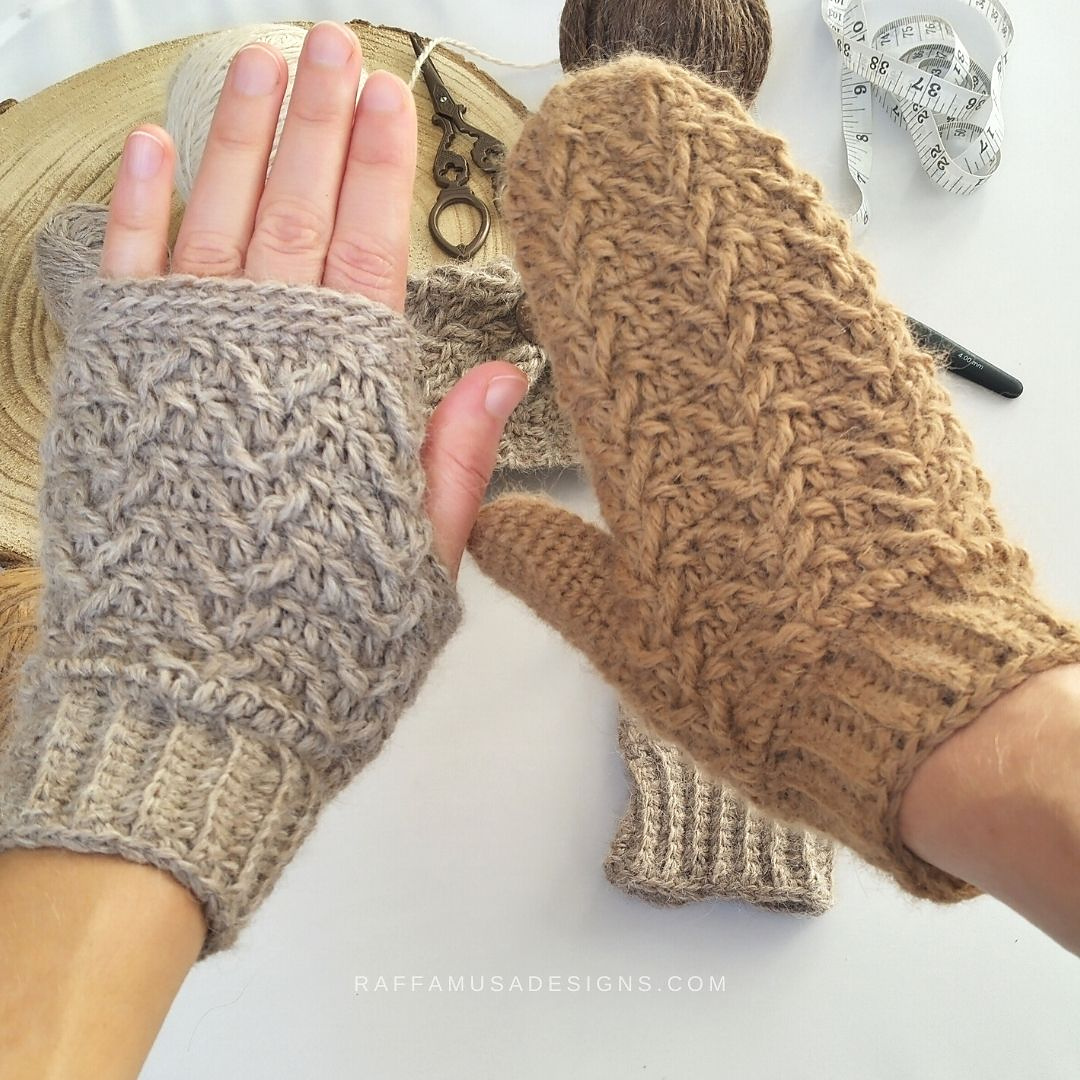 Hygge Arrow Gloves by Raffaella Tassoni include versions for both mittens and fingerless! Free crochet pattern is available on raffamusadesigns.com.
◉
8. Comfy Crochet Slippers
I don't know about you, but my feet get cold so quickly during the winter, it's ridiculous. Some of you may say that socks are the epitome of boring gift idea, but I dare to argue that crochet slippers are simply amazing.
For example, rustic slippers you see in the picture below are magically made with just one simple rectangle – Jess is a true visionary!
Magic Rectangle Slippers free crochet pattern by Jess Coppom is available on makeanddocrew.com.
◉
Thoughtful and Funny Gifts
9. Personalized Amigurumi
If you know someone very well and you are familiar with their sense of humor, make your handmade gift highly personalized and sentimental. Amigurumi is a perfect choice here, because it gives you an array of possibilities. Make a doll and clothe it in your friend's favorite outfit, or crochet a squishy animal with details that only you two will understand.
There's a big power in such gifts, because they make the bond between you and your loved ones even stronger, enclosing shared memories in a crocheted item forever.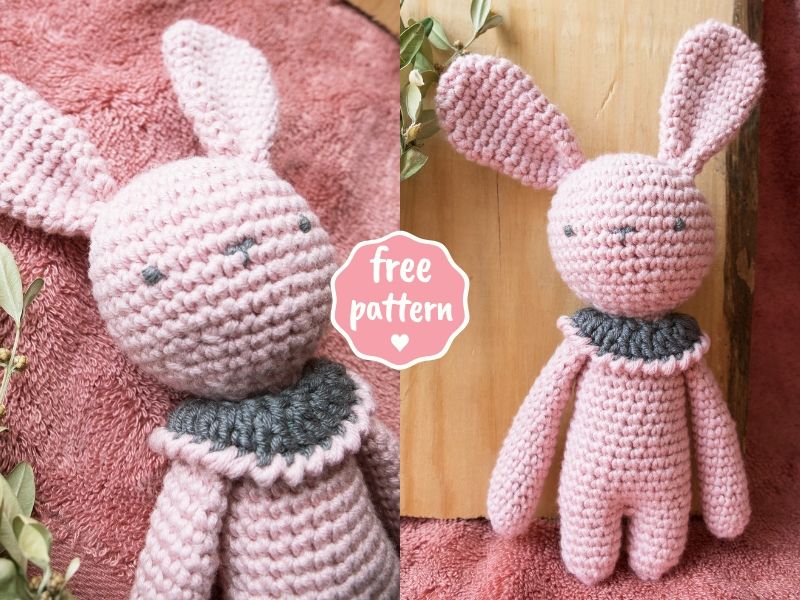 ◉
10. Crochet Blankets, Throws and Afghans
In my opinion a handmade gift as big as crochet blanket has a very special meaning, because the amount of time and effort put into it gives it enormous gravity. Such item can single-handedly serve as "I love you" declaration, so if you want to make this year's Christmas truly unforgettable, go for crochet blanket.
Take a look at my selection of the best blankets to make and sell, or explore this year's favorite festive accessory – crochet peppermint blanket. You can also go and check this article: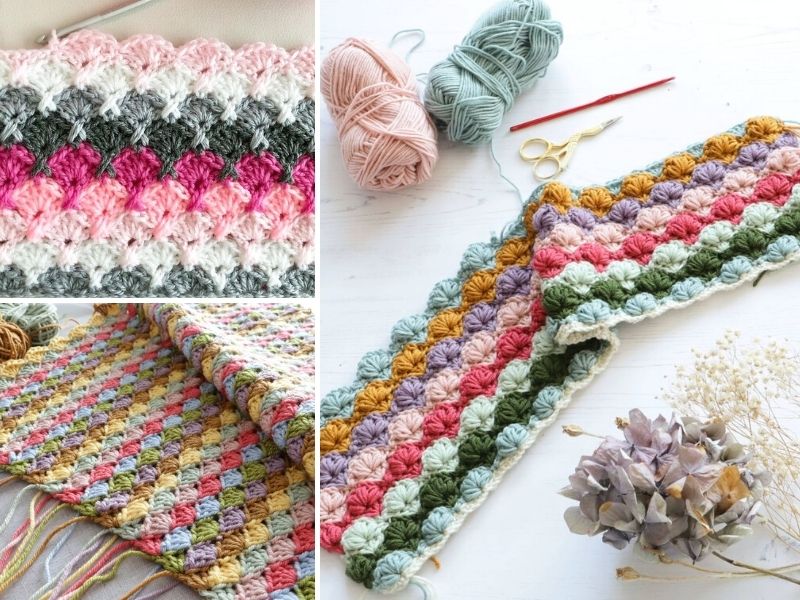 ◉
SHARE, LIKE, SUBSCRIBE!
Sharing is caring, so if you liked this, be sure to share it with your friends and spread the word, because I really appreciate it! For more stitch tutorials, free patterns and recommendations – follow my social media pages and allow notifications to get a pop-up whenever new post is published.
◉
FOLLOW ME ON PINTEREST AND INSTAGRAM
◉
You may also like: How To Crochet Granny Stripe Stitch