Foundation chain, also known as base chain or starting chain, is a base for almost all crochet projects, especially those worked in rows. To put it simply, it's a series of chain stitches beginning with a slip knot.
Foundation chain is the first thing you learn on your crochet journey.
It's in the foundation chain, where you work your first row of stitches. Number of chain stitches you have at the beginning indicates how wide your fabric will be. To measure your work, you may want to make a crochet swatch first.
Foundation chain is also a beginning of many projects worked in rounds. If you close your chain with slip stitch, it will create a loop in which you can work your first round of stitches. Alternative to this technique is magic ring, which creates much smaller, adjustable loop. This technique is extremely popular in amigurumi.
◉
How to make a Classic Foundation Chain
To make a classic foundation chain, you need yarn and crochet hook. You might want to take a look at my article on working with crochet hook first.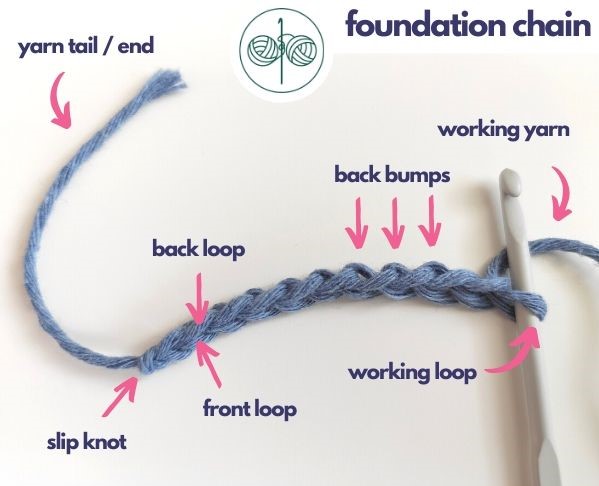 If you are ready to make your own foundation chain, follow these steps: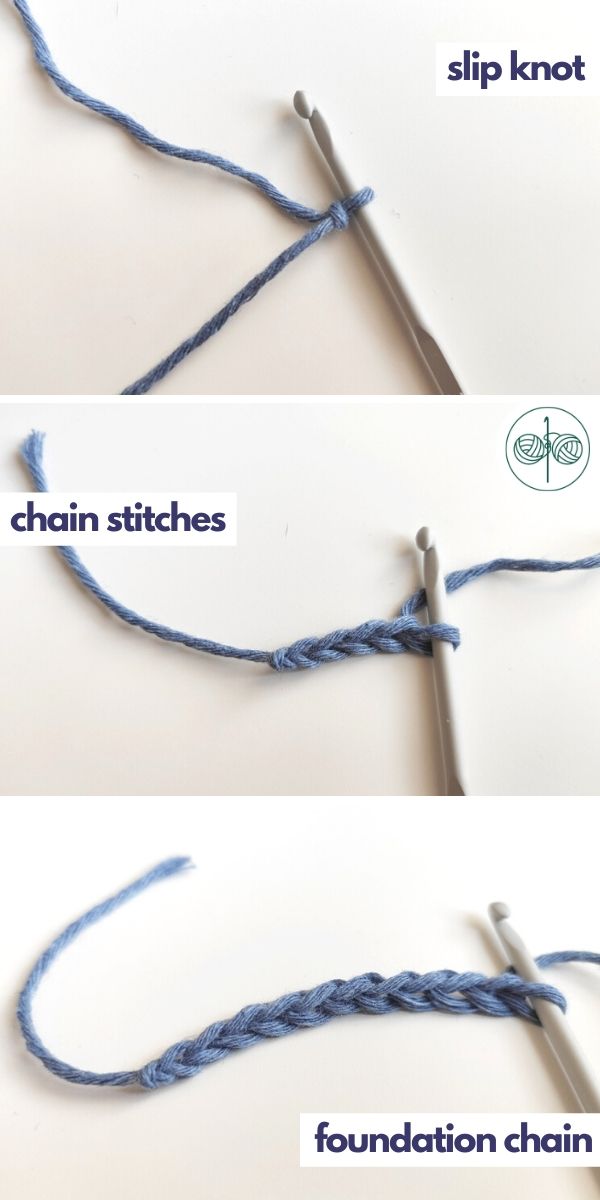 Make a slip knot.
Make your chain stitches – if you are working on particular pattern, check how many stitches it requires.
Depending on the type of stitch you use, work your first row in the chain stitches. Remember about turning chain at the beginning of the row, so that your stitches stand tall and fabric is not distorted.
◉
Advanced Foundation Stitch – Working in "Back Bumps"
Some crocheters go for a slightly different method of working the first row. Instead of inserting your hook into back loop, you insert it into "back bump". This way you have nice bottom edge, which looks like it's top of the stitch.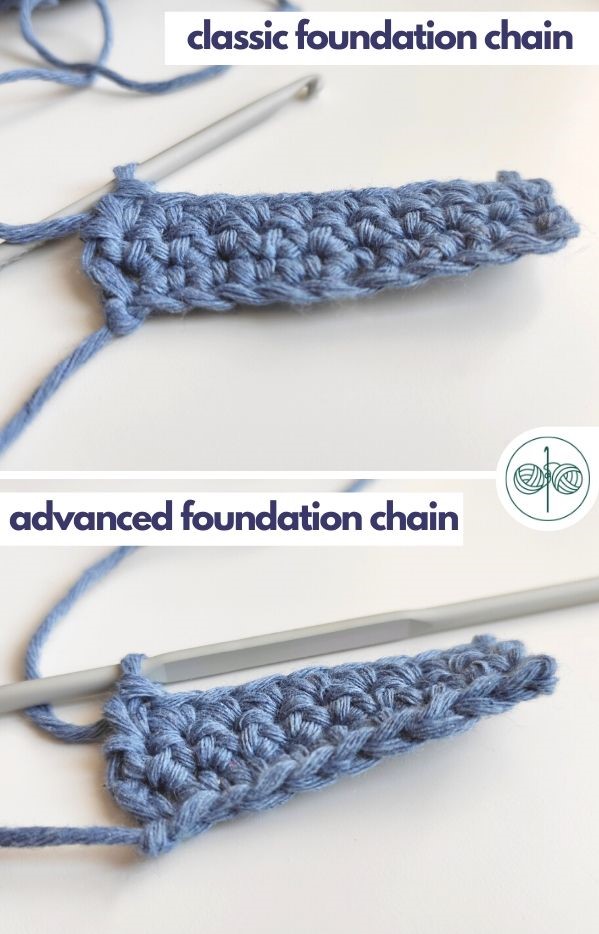 It's a great technique for those projects, which need both ends of your fabric to look the same, i.e. scarves.
More info and tutorial soon!
◉
Chainless Foundation Stitches
Although starting with slip knot and chain stitches is certainly the most popular method of beginning crochet projects, there are advanced techniques that allow you to skip this part altogether.
Chainless foundation stitches allow you to make your first row and chain at once.
(FSC) Foundation Single Crochet  – more info and tutorial soon!
(FHDC) Foundation Half Double Crochet – more info and tutorial soon!
(FDC) Foundation Double Crochet – more info and tutorial soon!
Tunisian Simple Stitch Foundation Row – more info and tutorial soon!
◉
6 Reasons to go for Chainless Foundation
1. Speeds up crocheting process. You don't need to make a chain and go back working your first row of stitches. It's often hard to insert the hook in chain stitches, too.
2. No more lost stitches. It's common that crocheters unintentionally skip stitches of the foundation chain, especially when going towards its end. When using chainless foundation, mistakes in counting are much less likely.
3. Helps you avoid tightness on one end. Foundation chain stitches tend to be tighter than the rest of your crochet work. When it happens, your fabric is distorted and looks… well, ugly. Many crocheters try to avoid this issue by using bigger size hook for foundation chain than for the rest of stitches, but chainless stitch eliminates this problem altogether.
4. You can see true width of your work. As I mentioned earlier, chain stitches are often much tighter than your rows, but this problem shows only when you are two or more rows on the way. Before you work your first row of stitches, chains are very elastic and are not the best way to measure the actual width of your project.
5. Easily change the width of your first row. If you are not content with the width of your project, you can add more stitches as you go, without having to frog the first row to add more chains to the base.
6. Makes the base of your fabric much more elastic. This technique creates much more flexible edge, which is very useful for garments and makes your project more even.
◉
Learn More:
Foundation chain multiples and how to understand them – soon!
◉
That's all for today, but I'll be back with much more inspiring projects and free patterns. Like, share and subscribe if you like what you see. Stay tuned!
↔
You may also like: Ripple Stitch Crochet Ideas