Even if you've never heard the term filet crochet, I'm sure you've seen it already, because it's one of the most classic ways of crocheting.
Find more inspiration in my Recommendation Series, because I've analyzed lots of cool crochet stitches and projects there. Learn more about Granny Square Crochet Ideas, Dune Blanket Ideas, or explore The Best Flowery Crochet Stitches.
What is filet crochet?
Filet crochet technique is a simple one, based on double crochet stitches and chains. With the aid of these, we create open and solid blocks, the result of which is to create a picture or pattern.
The principle behind creating a picture is similar to that for changing colors in the C2C technique, with the difference that here we are operating with open and solid blocks. It's a wonderful technique for making lace curtains, napkins and cushions.
Can I design my own patterns for filet crochet?
Oh yes, you can!
The filet crochet technique allows one to design patterns on normal squared paper – if we accept that one square is one block, we may paint in solid blocks, thereby creating a unique project.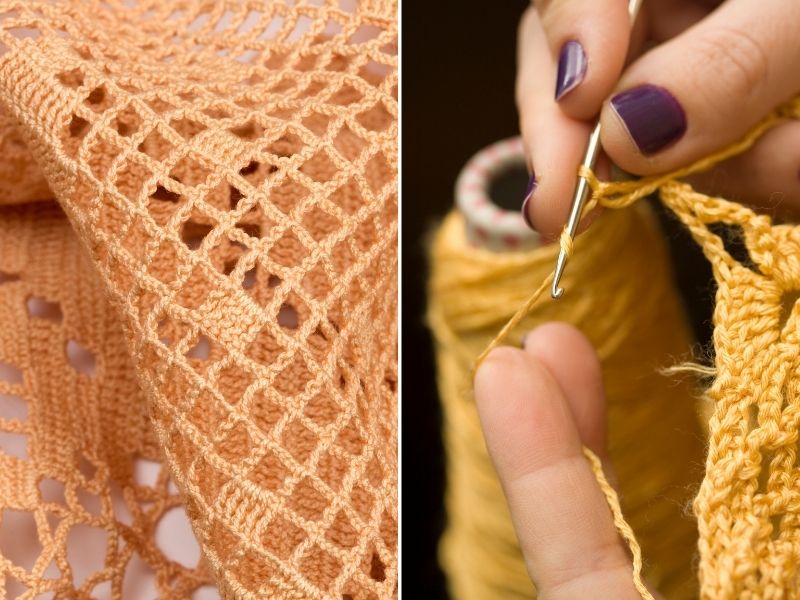 How to crochet filet blocks?
Empty block:
Make foundation chain with a number of stitches divisible by three, plus five additional stitches which make up the edge and one of the sides of the block. Insert the crochet hook into the eighth chain stitch from the hook and crochet a double crochet stitch. Crochet two chain stitches and insert the hook into the third chain stitch, and crochet a double crochet stitch. We repeat this and now we have an open block.
Solid block:
If you have mastered making empty blocks, solid blocks may be described in the following manner – instead of skipping the second stitch of the previous row between the double crochet stitches, make a double crochet stitch in each of them. In this way, you get four double crochet stitches next to each other which create a solid block.
To learn more about filet crochet, read comprehensive article by Kathryn Vercillo for thesprucecrafts.com, or learn tips and tricks on interweave.com.
What yarn should I use?
You can use any yarn and corresponding hook you want, but remember that yarn weight will highly impact the final effect. You can find these informations on the yarn label, so be sure that you know how to find them! To make sure the stitch looks exactly like you want it to, I recommend you making a crochet swatch first.
talking about stitches…
Our growing website and library of free crochet patterns has some projects that might interest you, too. On top of that, my list of Stitch Tutorials is still growing! For example, check out my tutorial on How to Crochet V-Stitch Two Ways!
→ Yes! Take me to this tutorial! ←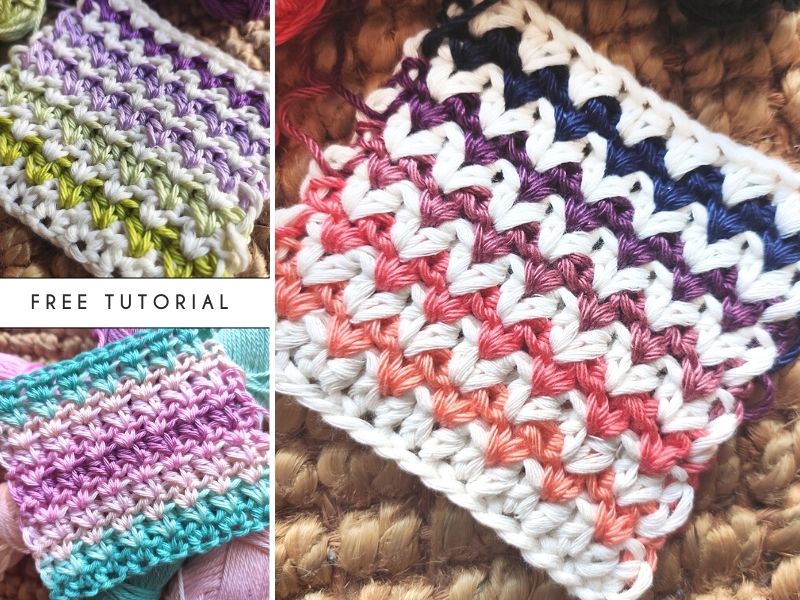 or…
Learn How to Crochet Granny Stripe Stitch with me!
→ Yes! Take me to this tutorial! ←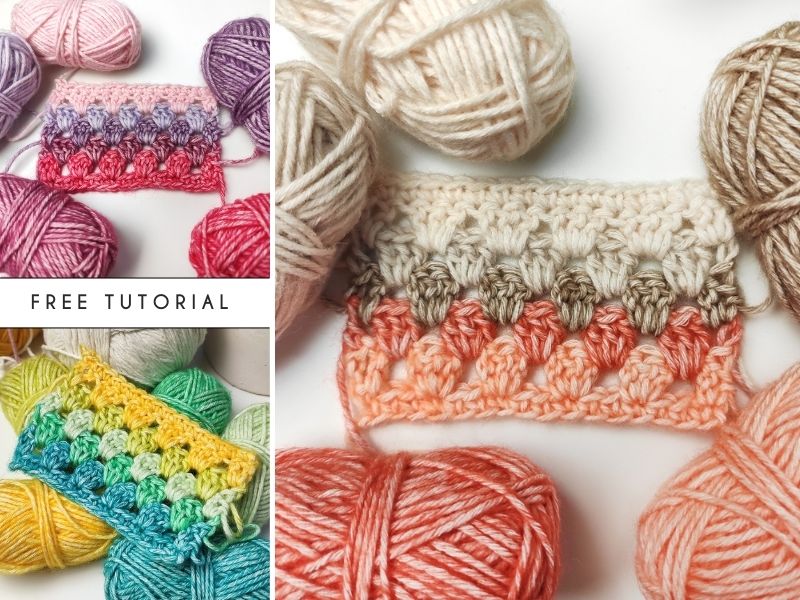 crochet roundup!
This subjective selection of filet crochet projects is full of color ideas. Read closely to find free crochet patterns and other useful resources, and don't forget to check out and follow talented crocheters I featured today.
◉
Delicate and Sweet
Hopscotch Blanket Version by Frankielovescrochet
Basically, all the patterns that feature simple openwork and resulting in flat crochet work can be called filet crochet. It's not totally accurate, but it makes navigating through millions of projects much easier. This lovely design features modern arrow pattern and takes inspiration from classic double-crochet-only way of filet. Frankie chose sweet colors, which you can see in the photos below – aren't these adorable?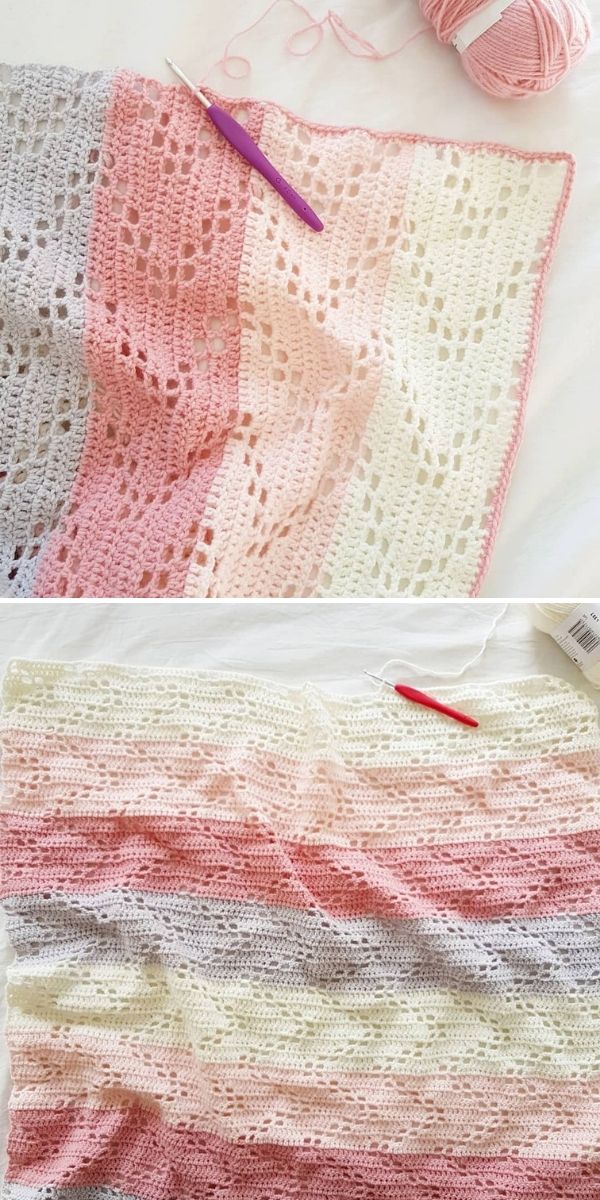 Pattern for Hopscotch Blanket by Tanya Eberhardt is available for free on her blog littlethingsblogged.com, or through ravelry.com.
◉
The Midwife Blanket-Inspired Projects
Valeria Blanket by Harriet's Duck Crochet
Once Midwife Blanket entered the crocheting world, it simply is here to stay. Not that I'm surprised, because this romantic design is the epitome of a vintage baby blanket. Valeria Blanket pattern is one of the mainly used, probably because of its lovely scalloped edging. As you can see below, Kate decided to go for dusty blue, and I must admit that I love this shade!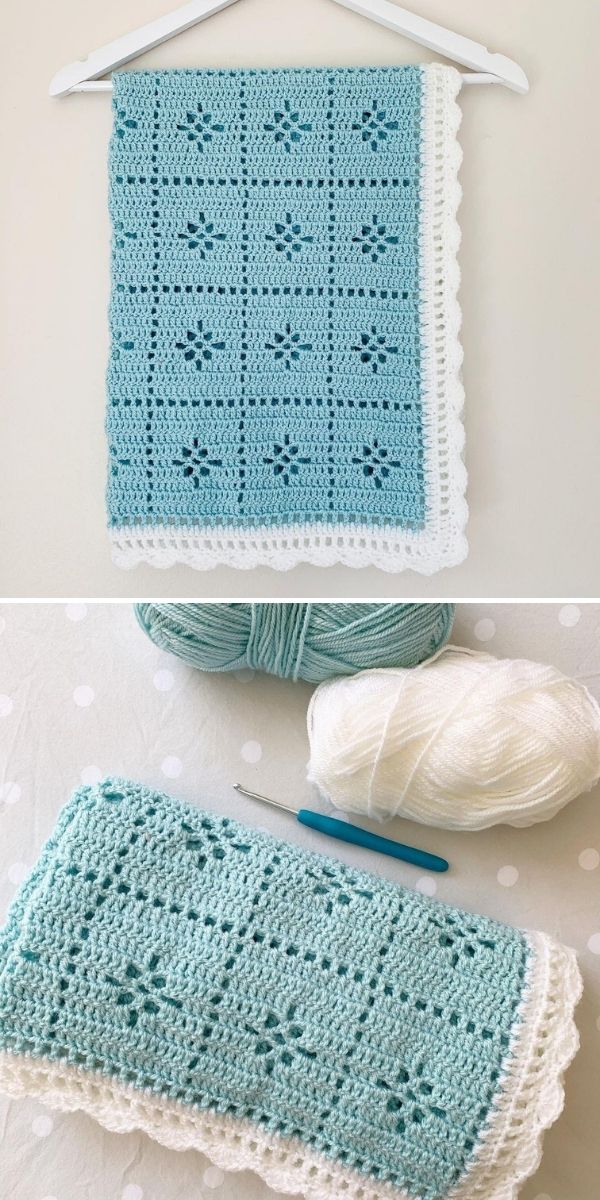 You can purchase the pattern for Valeria Blanket by Lisseth Jimenez through ravelry.com.
◉
Valeria Blanket Version by May's Handmade Crochet
Pink and white is such a timeless classic, that you can never go wrong with this combination. May's version of this design is delicate and cute, just perfect for a newborn baby. If you know original Midwife Blanket pattern, you can see that Valeria Blanket features a little bit more complex "flower" in the center of each square. Take a peek below and get inspired!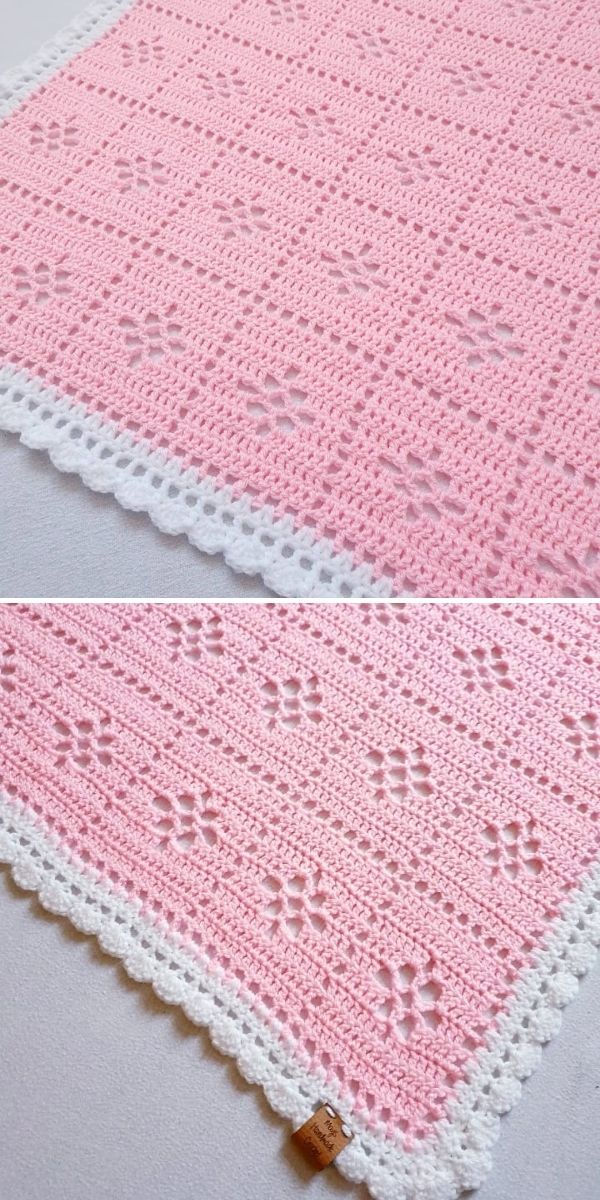 You can purchase the pattern for Valeria Blanket by Lisseth Jimenez through ravelry.com, but if you want to try the original Midwife Blanket pattern, check out Call the Midwife Afghan by Jonna Martinez. It's available for free on jonnamartinez.com, or through ravelry.com.
◉
Gold Valeria Blanket by Harriet's Duck Crochet
As soon as the summer starts transitioning into fall, I'm starting to see rich colors everywhere! The blanket in the photos is no exception, because it features the most beautiful shade of gold. I truly believe that baby blankets don't have to be pastel and sweet, and this version by Kate is a great example. Please notice simple edging, too – isn't it beautiful?
You can purchase the pattern for Valeria Blanket by Lisseth Jimenez through ravelry.com, but if you want to try the original Midwife Blanket pattern, check out The Midwife Blanket by Rebecca Langford. It's available for free on littlemonkeyscrochet.com, or through ravelry.com.
◉
Lovely Neutrals
Summer Baby Blanket by Milla Billa
Filet crochet is all about creating lacy patterns, and this baby blanket by Milla Billa shows that you can approach it from the side of empty blocks, too! As you can see below, the solid blocks create a latticed pattern, and the empty blocks are the background. You could easily design such pattern by yourself, using squared paper and a pen!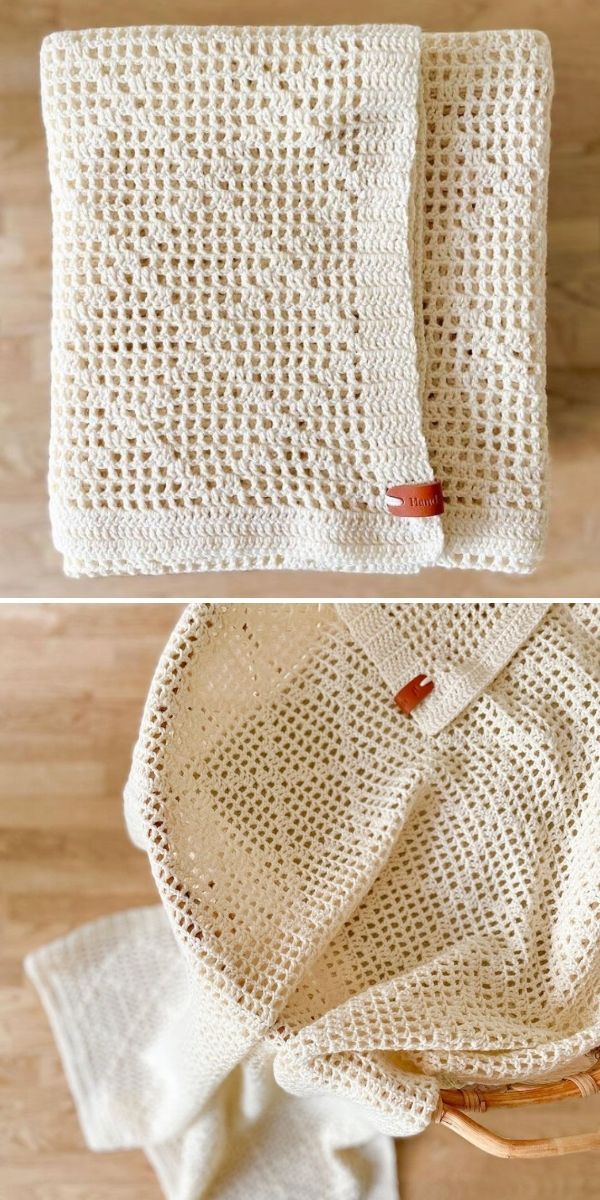 You can purchase this pattern on millabilla.dk.
◉
Window Pane Cardigan by Alex DellAringa
This simple filet pattern by Alex can serve many different purposes, because you can adjust it to any project you want! Originally it's a summer cardigan, which would be great for hot days on the beach – just take a look at the photo and admire bold openwork! Cotton yarn would be the perfect choice for this project, but if you want to make a blanket out of it, you sure can.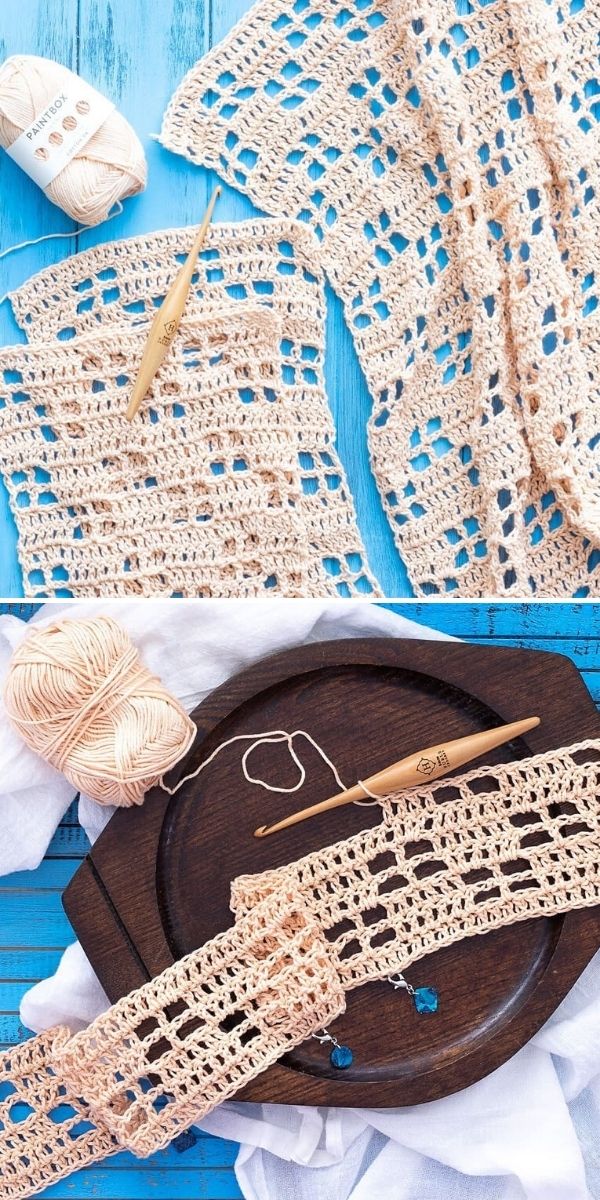 Free crochet pattern for Window Pane Cardigan by Alex DellAringa is available on youshouldcraft.com and through ravelry.com.
◉
Amour Baby Blanket by Harriet's Duck Crochet
What can you "paint" with filet crochet? Whatever you want! Kate mastered this technique, because she created a bunch of fabulous filet projects already. One of them is this cute heart pattern, which is visible in the photos. All you need is just one color of yarn and a cleverly repeatable motif!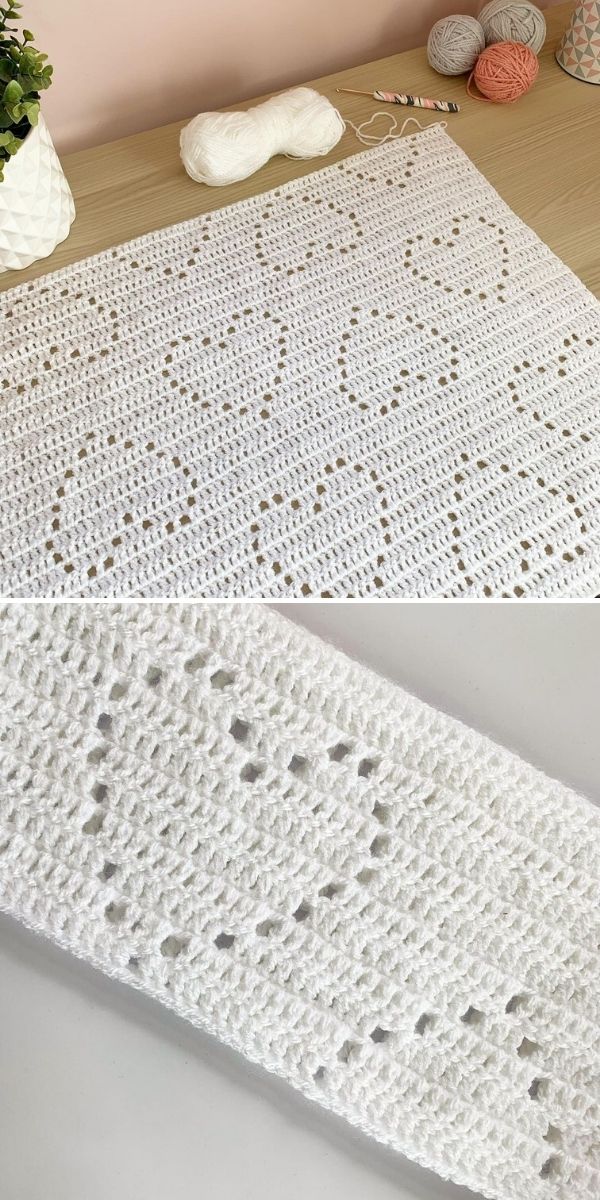 You can purchase Amour Baby Blanket by Owl B. Hooked through ravelry.com.
◉
Busy Bees Blanket Version by Emma Carter Crochet
Are there any fans of bees? I guess so! There's something in a honeycomb pattern that makes is very pleasant to look at. Emma's version of this lovely blanket is crocheted in a simple white yarn, but it doesn't make it boring, that's for sure! Take a look below and see how nicely openwork intertwines with solid rows.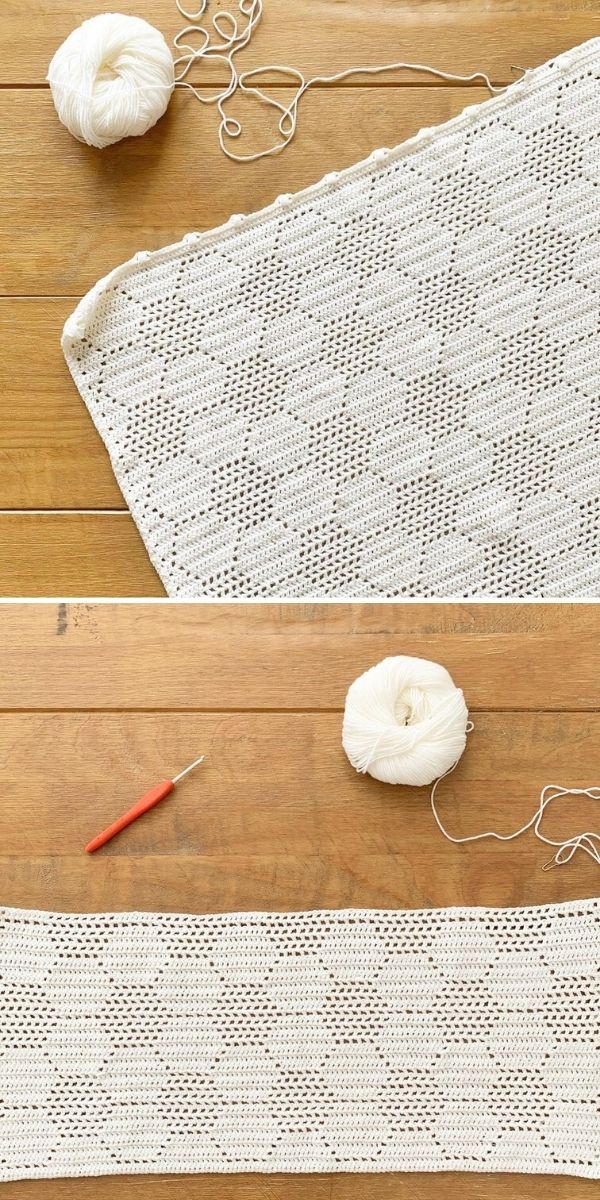 You can buy Busy Bees Blanket pattern by Adrienne Brigham through ravelry.com.
◉
Cheerful Rainbows
Diamond Stitch Baby Blanket Version by Helen
To truly showcase the beauty of multicolored yarn, one shouldn't go for very complicated patterns. In fact, the simpler it is, the more you can appreciate color changes of the material used. In the photos you can see Helen's version of a classic diamond pattern.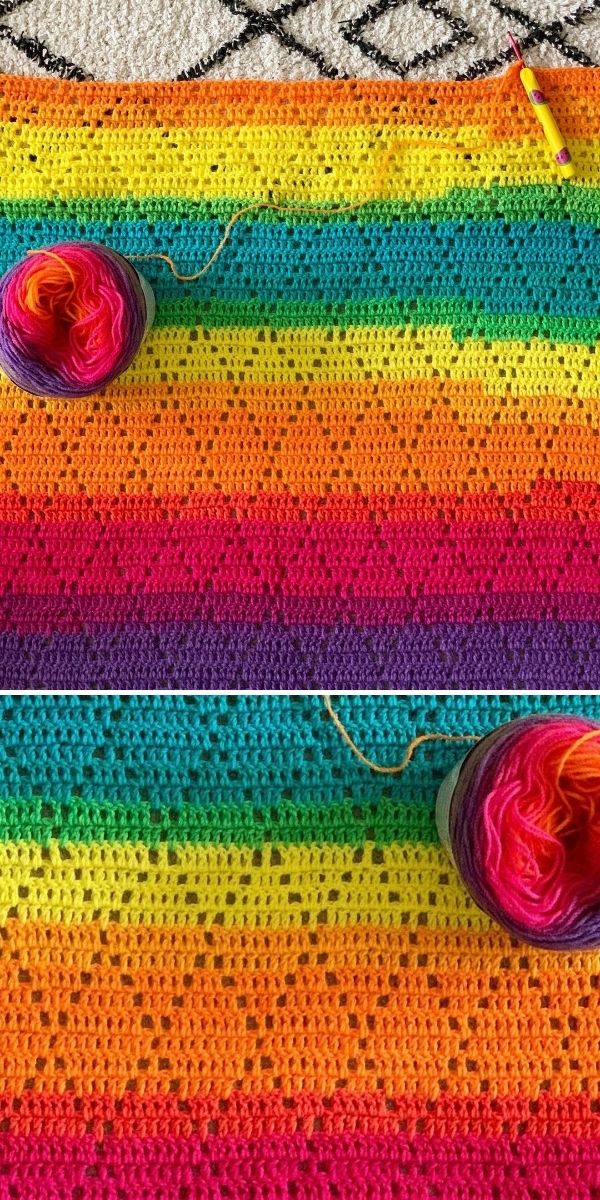 Diamond Stitch Baby Blanket pattern by Olga Poltava is available for free on lacycrochet.blogspot.com, or you can read more about it on ravelry.com.
◉
Diamonds Blankets by Becca Bomgardner
Have I already said that I adore ombre and multicolored yarns? Well, I do, especially if the color changes are delicate and smooth. Becca mastered filet crochet enough to design her own patterns, and you can see the two of them in the photos below. As you can see, they look great both in one color and in a rainbow palette, so don't wait and try this technique!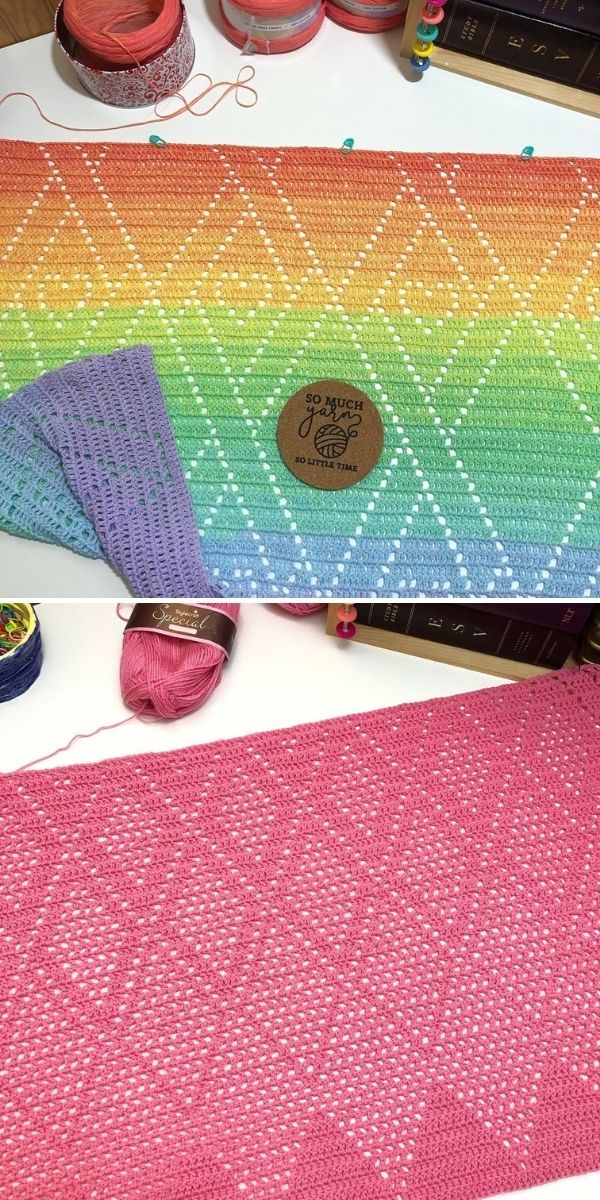 Top photo features I Heart Diamonds Blanket, and bottom photo shows Faded Diamonds Blanket – both are available on mayhemandmajesty.com.
↔
Lately I wrote about… Suzette Stitch Ideas – Resources, Colorways and Inspiration!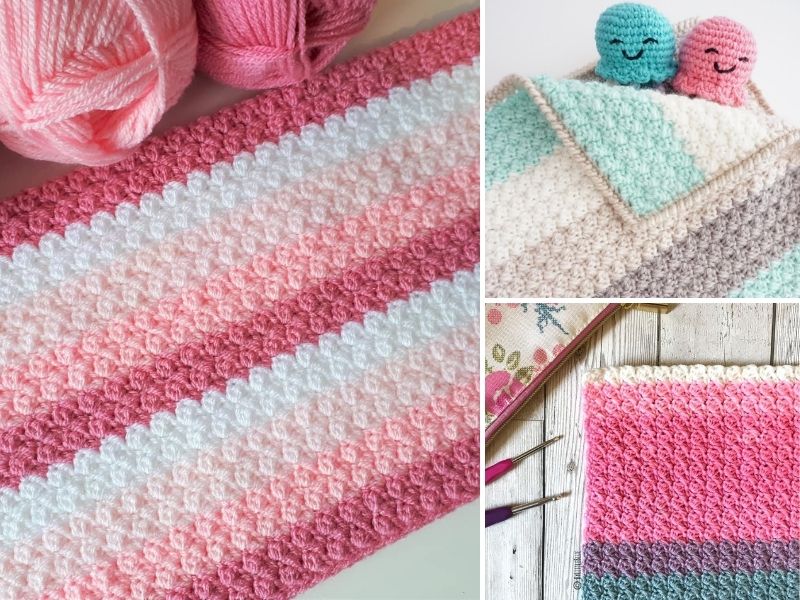 SHARE, LIKE, SUBSCRIBE!
Sharing is caring, so if you liked this article, be sure to share it with your friends and spread the word! Stay tuned for more free tutorials, patterns and interesting articles by following my social media pages (PINTEREST and INSTAGRAM), or allow notifications to get a pop-up whenever I publish something new.