I've had ombre cotton rope for a long time in my stash, not really knowing what to do with it. When summertime came, however, it dawned on me – of course! I need a small drawstring bag that will keep all of my essentials! As it turned out, one cake of ombre macrame yarn was exactly what I needed to make it happen.
◉
SAVE IT IN FAVORITES ON RAVELRY
or follow me on PINTEREST and INSTAGRAM
◉
I'm very happy how it turned out, and I hope that you like it, too! It was an easy project, which looks amazing in ombre yarn, because it's worked in spirals and showcases the color changes beautifully. It's made exclusively with single crochet stitches, so it's great for beginners. Sandy hues make it a perfect beach bag!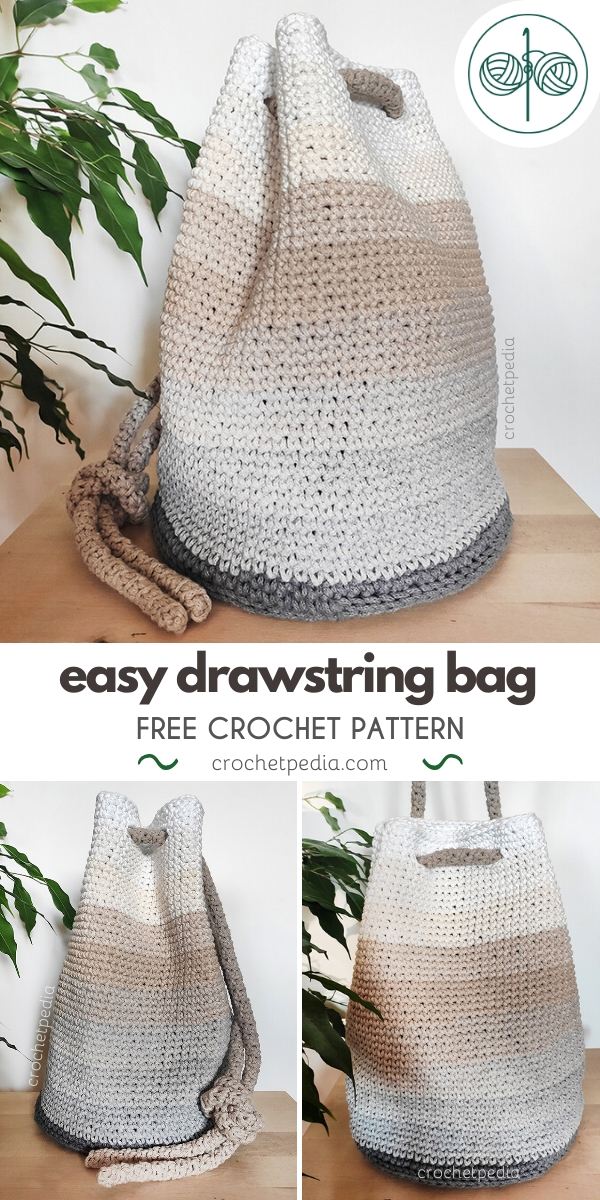 Psst… This project is fun, too. I promise!
If you like my drawstring bag, be sure to try out my other patterns, because they are great for beginners, too! For example, Lake Sunset Shawl that I designed last year is still my favorite for the summertime this season. It's available for free!
→ Yes! Take me to this free pattern! ←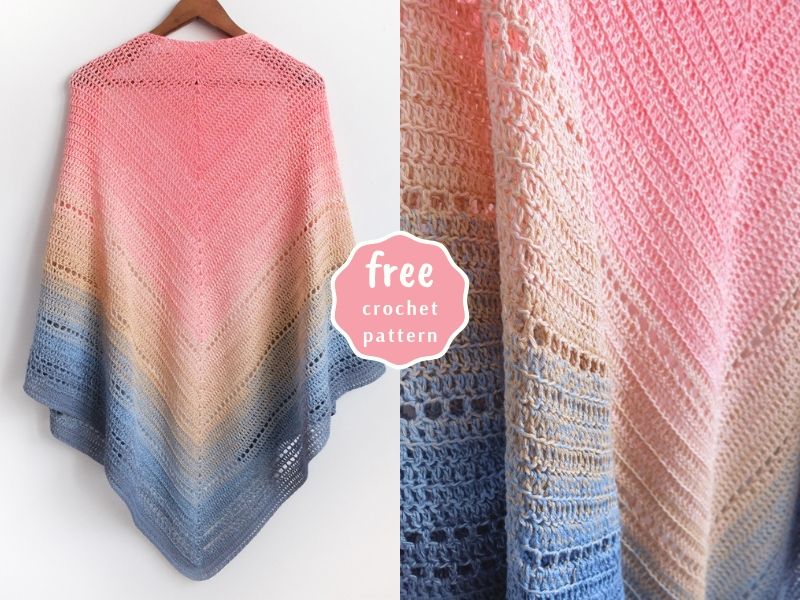 ◉
Easy and versatile crochet drawstring bag
I like working with macrame yarn, because it works up pretty fast, and creates dense and sturdy material. There are lots of beautiful colors available, and more fantastic colorways in ombre section. This drawstring bag requires no sewing, and it's big enough for running everyday errands.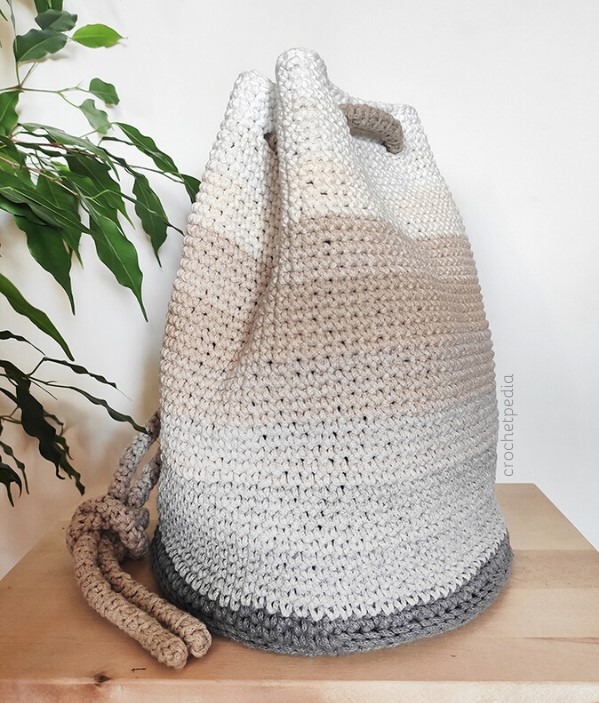 PATTERN NOTES:
LEVEL – upper beginner
TERMS – standard US
TECHNIQUES
MATERIALS AND TOOLS
yarn:

one cake (225 m = 246,06 yds) of YarnArt Macrame Cotton col. 753 for the bag, and a little bit of rope for the string, I used the same kind of yarn in solid beige color.

crochet hook 4 mm

tapestry needle

scissors
stitch marker (optional)
MEASUREMENTS
circular bottom of the bag is 22 cm wide (8.66 in)
the bag itself is 30 cm tall (11.8 in)
string is 140 cm long (~55 in)
Remember, that your crocheting style can affect the final size of this drawstring bag.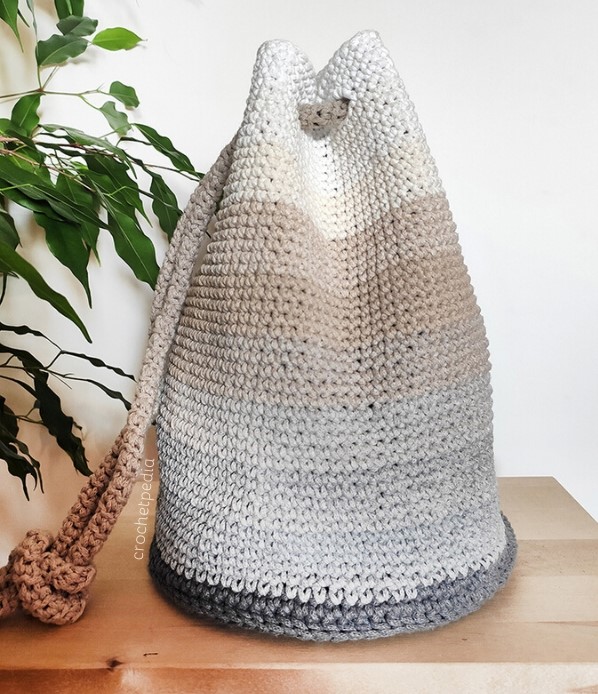 before you start
Before you start, a couple of important things:
we start from the center of the bottom and work our way up spirally, so the bigger you want your bottom to be, the shorter your bag would be. Measurements I've provided here work great to make this size of a bag out of one cake of yarn.
we are working in spirals, which means that you don't end your row with slip stitch – instead, you go right to the next row. Stitch markers can be very useful here, so that you can see where one row ends and the next row starts.
Let's begin!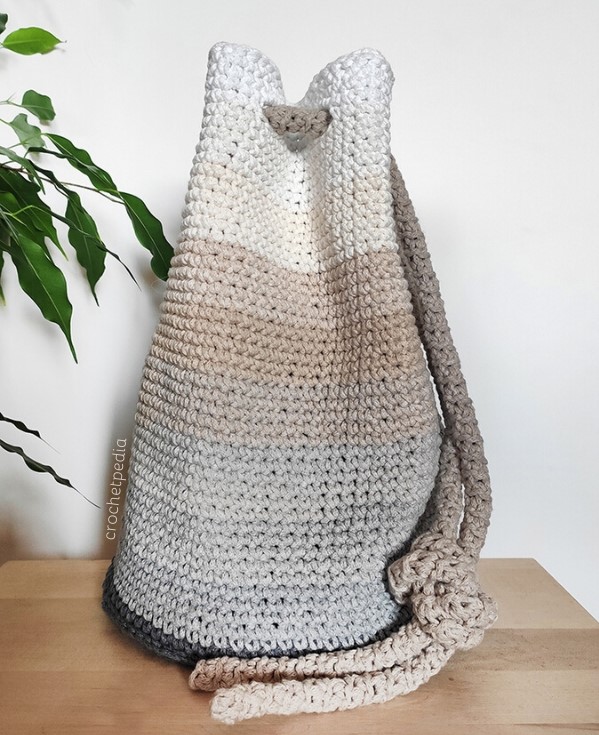 BAG
We start in the center of the bottom, working spirally.
START: magic loop
ROW 1: 4 sc into the loop (4)
ROW 2: 4 inc (8) (increase = you work 2 sc in one st)
ROW 3: 8 inc (16)
ROW 4: *1 sc, 1 inc* all around (24)
ROW 5: *1 sc, 1 inc* all around (36)
ROW 6: 1 sc in each st all around (36)
ROW 7: *1 sc, 1 inc* all around (54)
ROW 8: 1 sc in each st all around (54)
ROW 9: 1 sc in each st all around (54)
ROW 10: 1 sc in each st all around (54)
ROW 11: *2 sc, 1 inc* all around (72)
ROW 12: 1 sc in each st all around (72)
ROW 13: 1 sc in each st all around (72)
ROW 14: *4 sc, 1 inc* all around (86)
ROW 15: 1 sc in each st all around (86)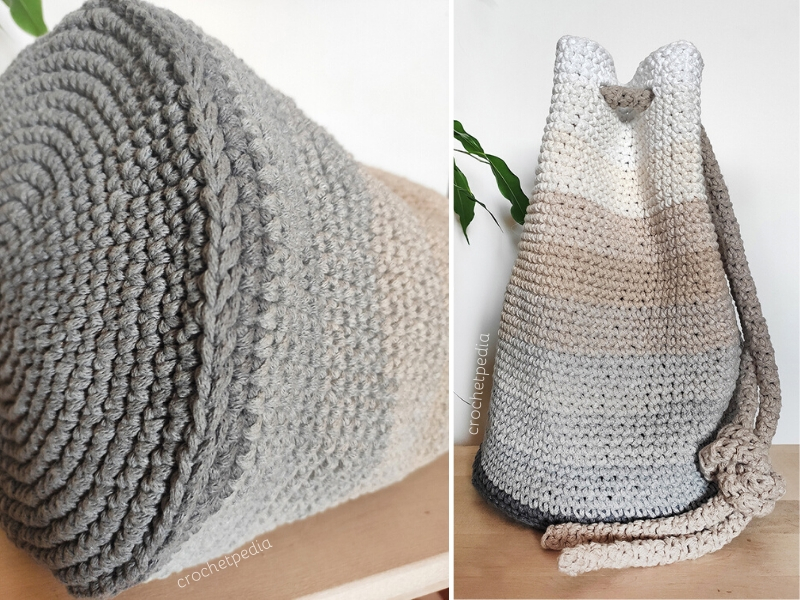 Make an edge of the base:
ROW 16: 1 back post sc in each st
Continue on body of the bag:
ROWS 17-60 (for about 30 cm / ~12 in): 1 sc in each st
Now to the holes in the bottom part:
ROW 61: *9 sc, 3 ch, skip 3* all around
ROW 62-64: 1 sc in each st
ROW 65: finish with 1 back post sc in each st.
Use tapestry needle or crochet hook to weave in the end of the yarn and secure it.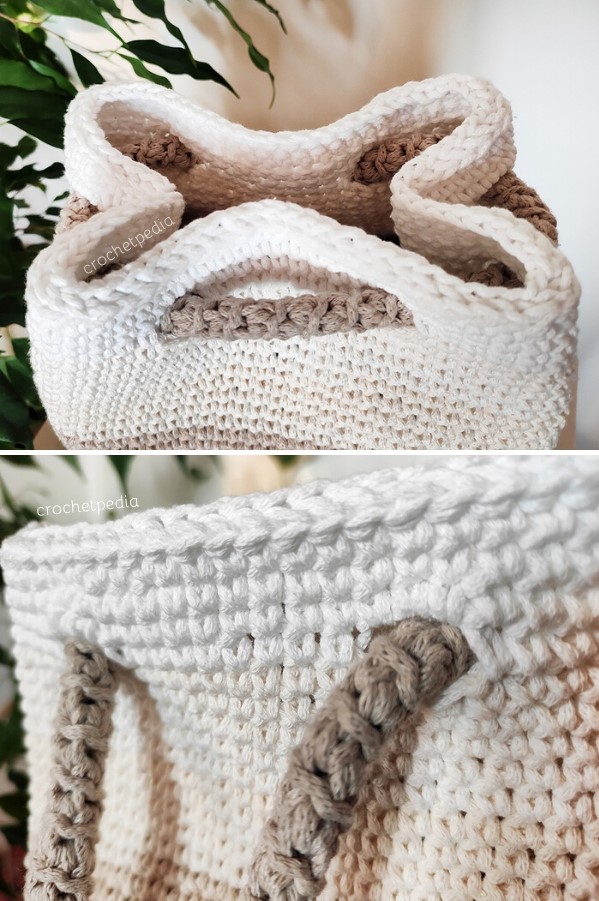 STRING
Chain 4 and join with slip stitch. Work 1 sc in each stitch spirally until you get the desired length. 
Weave the string in the holes you have in the top part of your bag and make a knot near the ends.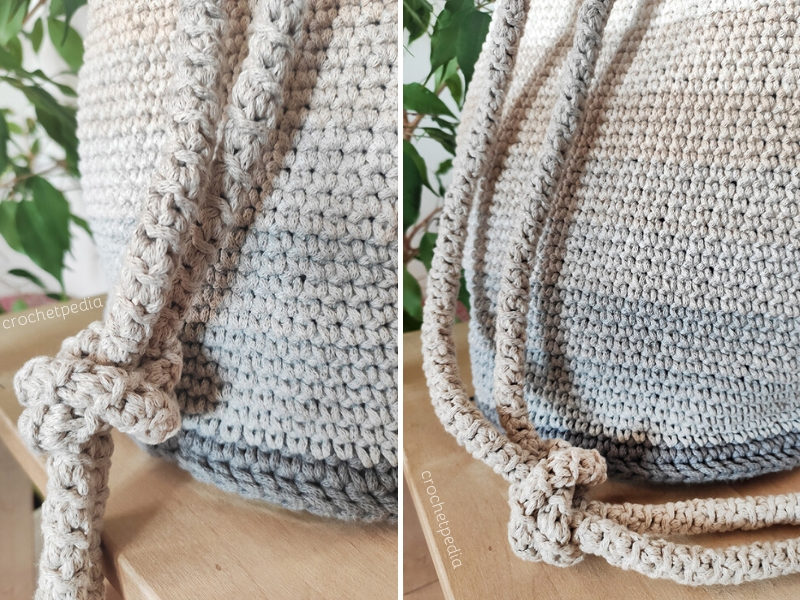 Hey, you've made it! Hope you enjoyed making this project as much as I've been designing it. This bag can become your newest accessory for summer season, or a beautiful gift for someone you love.
While I work hard to make sure the projects I publish are the highest quality, this pattern is untested and may contain errors. If you notice one, please let me know – I'm going to revise it and correct as soon as possible.
◉
share, like, subscribe!
If you happen to make this project, I would love to see it, so don't hesitate to contact me! Please feel free to share the results with us in the comments or on social media. Of course, if you find any mistakes in the pattern or find it hard to understand, please let me know, so I can learn and improve!
Sharing is caring, so if you liked this project, be sure to share it with your friends and spread the word, because I really appreciate it! For more free tutorials, patterns and interesting articles – follow my social media pages and allow notifications to get a pop-up whenever new post is published.
◉
FOLLOW ME ON PINTEREST AND INSTAGRAM