If you like working with yarn, you must have seen mini skeins available in online shops or on manufacturers' websites. Whether you've worked with them or not, I hope that this article will help you see what you can do with them and inspire you to give them a go!
If you like more in-depth articles, check out my Recommendation Series, or try my Free Crochet Patterns and Stitch Tutorials!
◉
What are mini skeins?
First of all, make sure you are familiar with yarn ball types, because skeins are one of them. Mini skeins (as the name suggests) are mini versions of regular yarn skeins, containing smaller yardage and often sold in sets, kits or bunches. They often appear in yarn-related advent calendars, too!
They can look like this: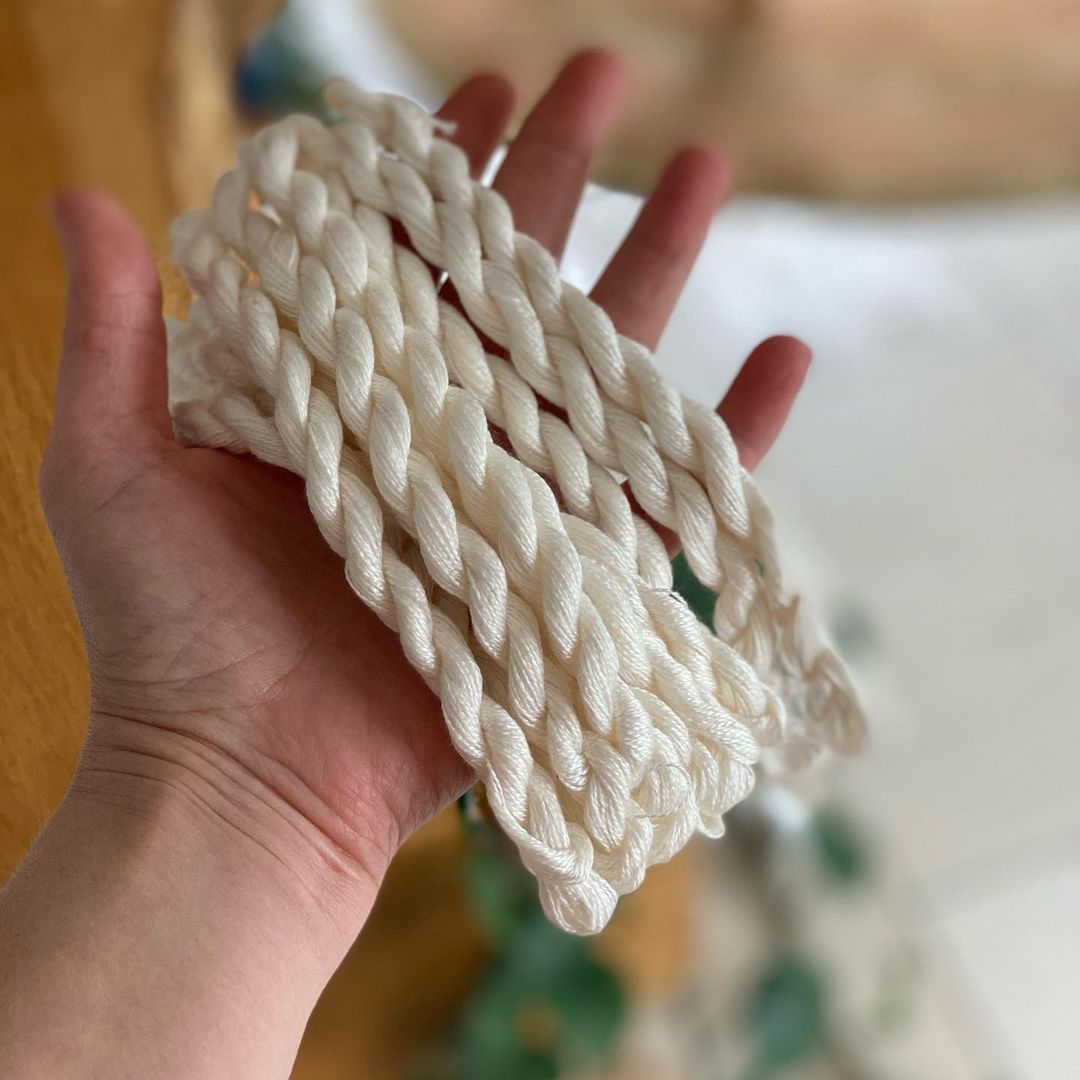 Many yarn manufacturers sell mini skeins in color packs, which let you see all the colors of given yarn series that is offered by this producer. It's very useful when you plan to order bigger quantities online, but you want to be sure about the color choices.
For example, Scheepjes Catona Colour Pack contains 109 mini skeins in all available colors and looks like this: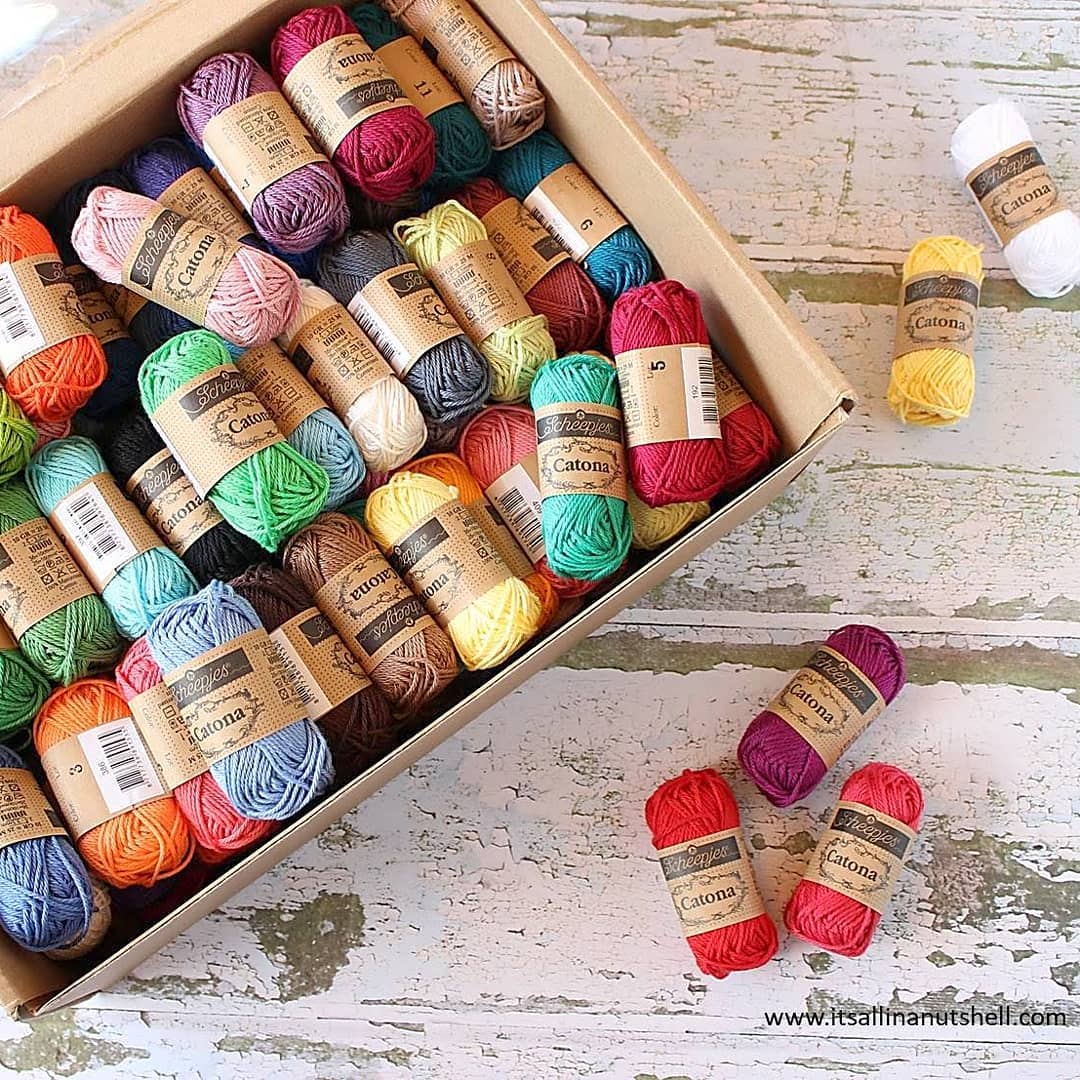 I don't use mini skeins, but I have lots of leftover yarn. Will these ideas help to use them up?
Yes, yes and yes!
Of course, leftover yarn ends are a little bit more tricky to work with, because they most probably are various yarn types, yarn weights and assorted colors. Don't worry, though, because many of the ideas I'm going to share will be suitable for such unexpected bunch.
I will let you know which projects are great for scraps, and which are better suited for elegant color packs.
Oh, and don't forget to learn more about yarn in my Yarn 101 Series!
◉
What to Do with Mini Skeins
Using such small quantities of yarn can be tricky, but don't worry! There's a lot you can do.
Swatches
1. Creating your own Yarn Library
It's a good practice to keep small amounts of yarn in case you want to check the color again, or see its texture and weight. That's why many crocheters have a system of making swatches whenever they work with new color or type of yarn.
Krystle, for example, wraps the yarn around the wooden clothespin and writes the name of the yarn and color on it. I like this method, because it's easy to store and looks lovely in the photos, such as this one:

If you want to see the yarn 'in action', however, you can go for simple shape, such as flat circle, square, hexagon, or whatever you come up with. This way you have bigger sample on which the color is much more visible and natural-looking. Take a look at Kylie's swatches in the photo:

◉
Consider The Shape
2. Simple Row by Row Blankets
Changing up the colors every row is the basis of scrap blankets, but you can easily use small skeins to make them, too! One kind of yarn in many different colors will obviously result in more uniform structure, which can look amazing.
If you have small amounts of yarn go for stitches that are short, such as moss stitch, granny stripe, or spike stitch, because they look amazing when you change the color every row. Just take a look at simple beauty of this blanket below: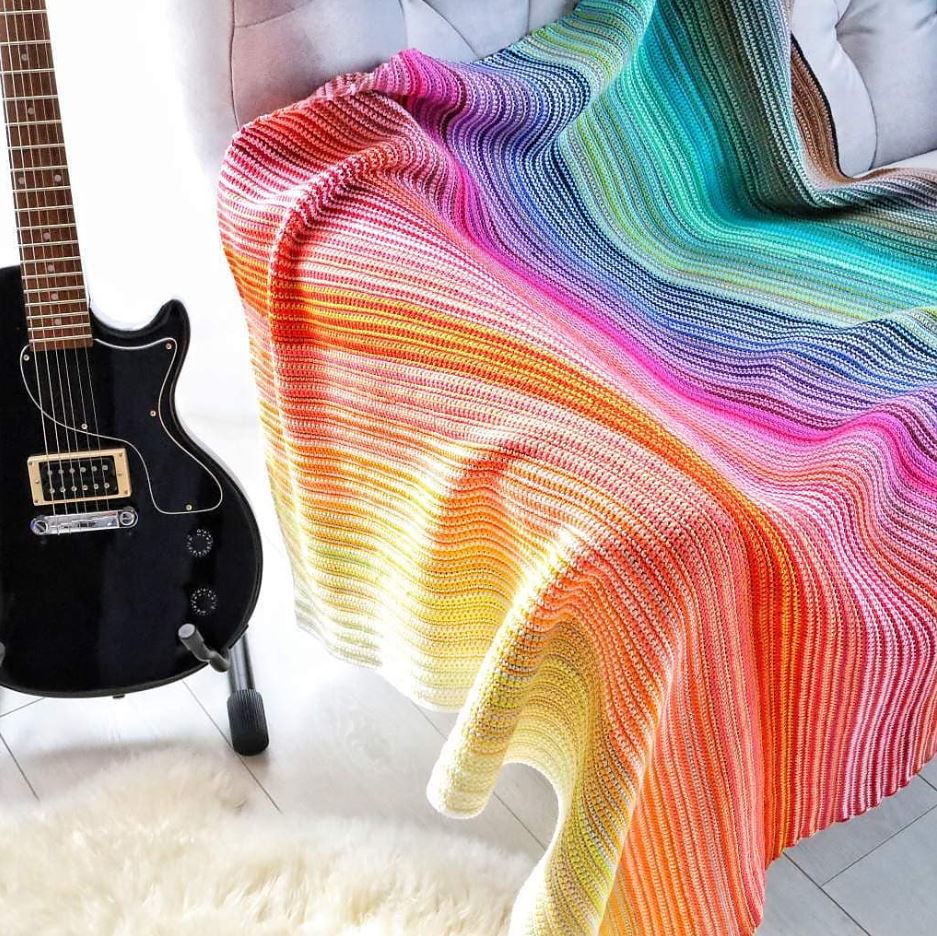 If you have more yarn and can play a little, check out shell stitches (for example Dune Blanket), go for block stitch, or millstone stitch!

3. Square and Hexagon Blankets
Another fantastic way to use mini skeins is to make crochet squares and join them together into a blanket or bedspread! You can easily make one simple square with each color, without thinking much how to join them – leave it until you have all of them!
Try out simple granny square, go for solid shapes like in Batternberg Blanket, or try out lacy designs – maybe Nature's Walk Blanket will be an inspiration?

Of course, you can go for any other shape, too! Hexagons are a nice choice, which is fun to work with. There are many projects that you can use, but remember that your unit must be small enough to be made with one mini skein.
Crocheter behind Crafty CC came up with this lovely idea: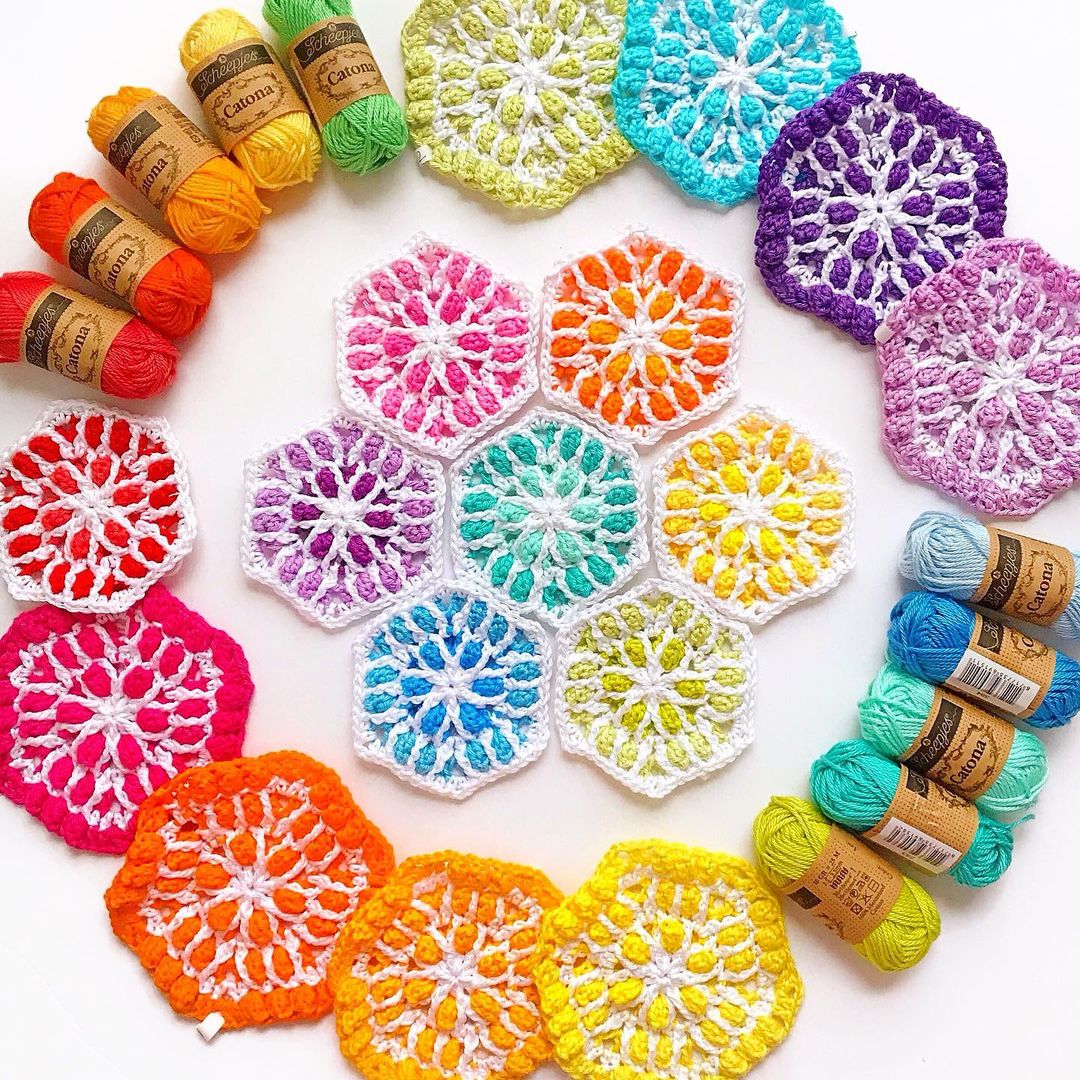 ◉
3. Projects Designed for Mini Skeins
There is a bunch of projects that are specifically designed for mini-skeins, so just try them!
One of the most beautiful projects is Noëlle Blanket by Kirsten Ballering, which you can see in the photo below. It's available for free on her website haakmaarraak.nl and it uses all 109 colors of Scheepjes Catona Colour Pack. It requires additional white yarn to go with ornamental hexagons, but it looks just incredible! 

Another fantastic hexagon project is Happy Little Tree Blanket by Rachele Carmona, which uses Scheepjes Stone Washed and River Washed Colour Pack. This blanket doesn't need any additional yarn and features three-dimensional flowers throughout – just take a look at the photo! The pattern is available for free on Rachele's website cypresstextiles.net.

If you prefer lacy designs, this one will be right up your alley, because it features stunning openwork. Emma Square by Dedri Uys is just an afghan square pattern, but many crocheters found out that a pack of Scheepjes Stonewashed minis is perfect to turn it into a medium-sized blanket. Below you can see one of such blankets created by Annalistic.

Emma Square is available for free on Dedri's website lookatwhatimade.net.
◉
4. Appliques and Flowers
If you are not into making big projects, try small pieces – appliques and crochet flowers will be just great. This way you can use up any leftover yarn you have, but also create a lovely addition to accessory, garment, or wall decor.
When using mini skeins from the color pack, you can organize flowers in a way that allows for colors to flow in the nicest ways. Gradients can create rainbow effects, such as in Crafty CC's work seen in the picture below:

To make similar flowers, you can use free crochet pattern for Crochet Flower by Crafty CC on craftycc.com.
◉
That's all for today, but I'll be back with much more inspiring projects and free patterns. Like, share, and subscribe if you like what you see. Stay tuned!
↔
You may also like: The Best Crochet Edging and Border Ideas