Crochet swatch is a sample of the pattern that you make before starting the main project, usually in the shape of a square.
Before tackling any project, you might want to make a crochet swatch first. This simple tool will help you with variety of measurements, which can be critical for your crochet work.
CROCHET SWATCH HELPS YOU DETERMINE IF YOUR GAUGE (TENSION), as well as CHOICE OF HOOK AND YARN IS RIGHT FOR THE PROJECT.
We most often talk about two types of swatches:
gauge swatch

helps you determine if your style of crocheting will produce the same results as the pattern you follow.
if you write your own pattern, gauge swatch provides a point of reference for other crocheters who will recreate your design.

stitch swatch

helps you see how the stitch will look like and how much yarn does it eat.
it also helps you determine how many stitches you need to create desired size, if you are not following a particular pattern.
You may also be interested in learning 5 Things I Wish I Knew as a Beginner Crocheter.
Why does swatching matter?
Making crochet swatch is important, because it allows you to check if your stitches match up with these of a pattern. If your stitches are looser or tighter than designer's, you will end up with a piece too small or too big.
If your gauge does not match the one provided by the pattern, you can correct it by going up or down on hook size.
It's especially important when making crochet garments, because final size of the piece is critical there. If you are making a piece that doesn't have to be of particular size, such as blanket or dishcloth, you can skip making a swatch.
Things to remember:
always work with the yarn and hook you want to make your main project with.
when following a pattern with more than one stitch type, be sure to make swatches for every listed gauge. If it requires different hook sizes, use each one accordingly.
your swatch has to be bigger than your measurement square, because top, bottom and side stitches can be distorted.
sometimes gauge is given in pattern repeats, so be sure to make your swatch big enough for the module to be clearly visible.
sometimes gauge is given for finished piece, for example for crochet squares. Patterns usually indicate their final size after blocking.
do with a swatch what you will do with a finished product, so if it needs blocking, block it, if it needs washing, wash it. For the most accurate measurement, always get your number of stitches from the piece that was treated the same, as finished product will be.
How to crochet a gauge swatch?
To make a gauge swatch, you will need:
yarn which you will use in your main project
crochet hook
ruler or measuring tape
Gauge is often given for
10×10 cm or 4×4 inches – that means your swatch must be bigger than that! Always go for extra few centimeters or inches on the side.
This swatch is made with half double crochet stitches.
The swatch itself is 10×10 cm or 4×4 inches in size, but the part we will use to get measurements will be much smaller – 5×5 cm or 2×2 inches. You can find such small gauges, too.
Make the measurement in the center to avoid distorted stitches on the sides, top and bottom.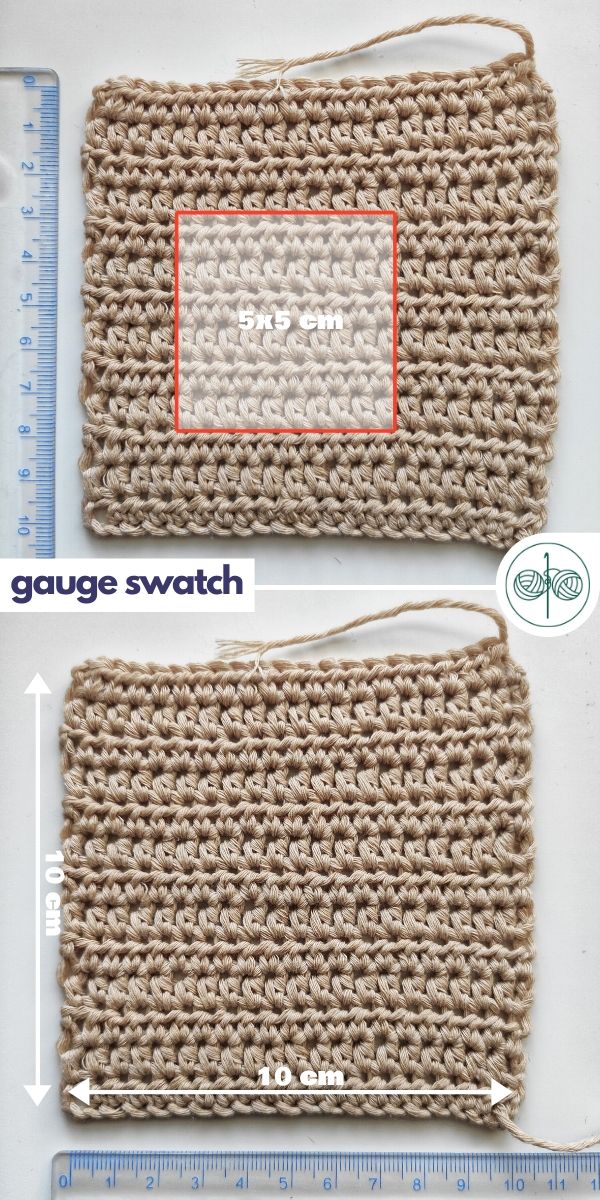 Try keeping tension natural to your style of crochet. Remember, that your gauge will be tighter if you crochet in stress situations, than when you sit back relaxed at home.
Now, use your ruler to see how many stitches fit horizontally into your 5 cm (2″) space. In this case it's 10 stitches.
Now count how many rows fits vertically in 5 cm (2″) – it my swatch it's exactly 7 rows.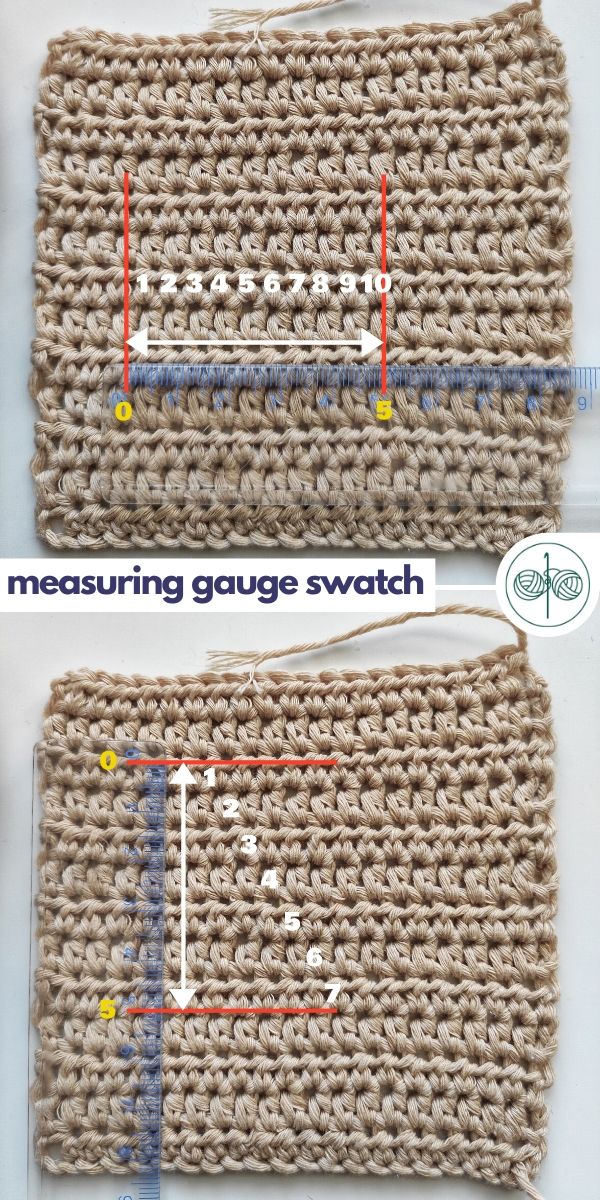 What will happen if I don't match the gauge?
your crocheted garment or accessory won't fit – difference in gauge can result in your sweater being couple of inches too tight or too big than you wanted!
your version of the project won't look like the one in the picture.
you will either run out of yarn in the middle of your project, or have a lot of leftovers.
What can I do?
If you have more stitches than needed – it means that you need larger size hook, otherwise your project will be too small!
If you have fewer stitches than needed – it means that you need smaller size hook, otherwise your project will be too big!
Let's swatch!
There are many types of swatching, as well as tips and tricks that will make swatching easier.
Stitch Swatching

Stitch swatching allows you to see how your stitch will look like, which is great, if you are to design your own garments or accessories.
IDEAS
You can keep swatches of different stitches in your self-made library, by attaching tags with names on them.
Stitch swatches are also a great way to keep a little bit of original yarn in case your main project needed fixing.
If you have a lot of swatches that you don't need anymore, use them to make a patchwork blanket or frog them and make a scrap afghan.
◉
Yarn Swatching

Yarn swatching is a great idea if you plan to use artisan yarns. Their beauty is often invisible when they are still in a cake or skein, so trying them out in a small swatch will allow you to see how the color will flow.
◉
Gauge Swatch Measurement Ruler

If you do a lot of measuring, it's clever to buy one of pre-made gauge swatch measurement tools. This little "window" with a ruler is a fast way to count your stitches. You can also DIY it by cutting it from a piece cardboard.
◉
That's all for today, but I'll be back with much more inspiring projects and free patterns. Like, share and subscribe if you like what you see. Stay tuned!
↔
You may also like: Easy V-Stitch Ideas Free Resources