Crochet Snowflakes Mini CAL – Part 6 | Pattern + Video!

That's it – Bonus crochet snowflake is here! It means that December has come and our journey with this mini CAL is over… Don't worry though, because I've got some seasonal patterns under my sleeve, and I'm sure they will be easy enough for you to make right in time.
Winter Crystal Crochet Snowflake looks innocent, but don't be fooled! It's made mostly with chain stitches, which are the easiest of all, but working with them can be tricky. Be sure to take a look at Pattern Notes and follow my instructions closely. I'm sure you can do it!
◉
SAVE IT IN FAVORITES ON RAVELRY
or follow me on PINTEREST and INSTAGRAM
◉
Below you will find links to next parts of this CAL, which is and will remain free, so you will always have the chance to make it. They will be published every Tuesday during November 2020. Start now, so that you are ready before Christmas!
And when you're done…
…be sure to see my video about how I block and stiffen flat crochet pieces:
DISCOVER THE REST OF THE PATTERNS
◉
◉
PATTERN NOTES
LEVEL – beginner
TERMS – standard US
TECHNIQUES
chain

(ch)

single crochet (sc)
double crochet (dc)
slip stitch (sl st)
X chain loop (X ch loop) – it means that you need to make a given (X) number of chain stitches, fold them in half and attach them with a slip stitch to their own base, just like you do with a picot.
MATERIALS AND TOOLS
yarn: 100% cotton thread – I used an unpopular Polish one, but something like Scheepjes Maxi Sugar Rush should be ok, too! 
crochet hook 1.5 mm
MEASUREMENTS
big snowflake: circa 9 cm (3,55″)
small snowflake: circa 8 cm (3,15″)
remember that your yarn weight of choice, hook size and crocheting style can affect the final size of the ornament, as well as blocking and stiffening.
◉
Winter Crystal Crochet Snowflake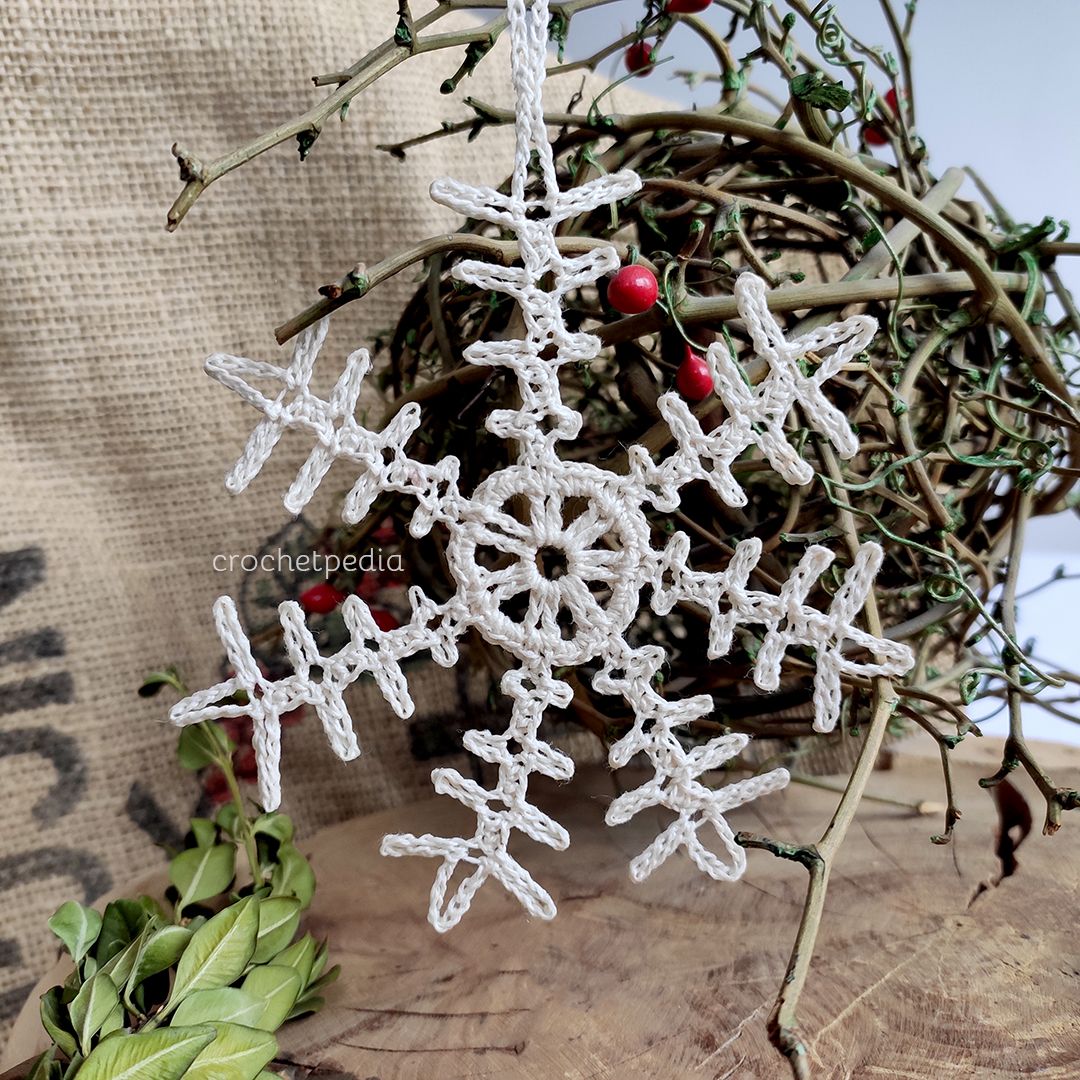 BEFORE YOU START
My chains are twisting! Help!
I feel you, it can be a true nightmare! Be sure to use your other hand (thumb and index finger) to follow your chain stitches as you crochet along, so that you can keep them in place. It makes counting easier, too! 
I made it, but my snowflake is all wobbly and doesn't look good…
It's time to block it! Remember, that without blocking and stiffening, your crochet snowflakes will not look good, because lacy projects are all about symmetry. Be sure to pin down each and every picot, so that they are nicely visible and make sure that the arms of the star are even.
◉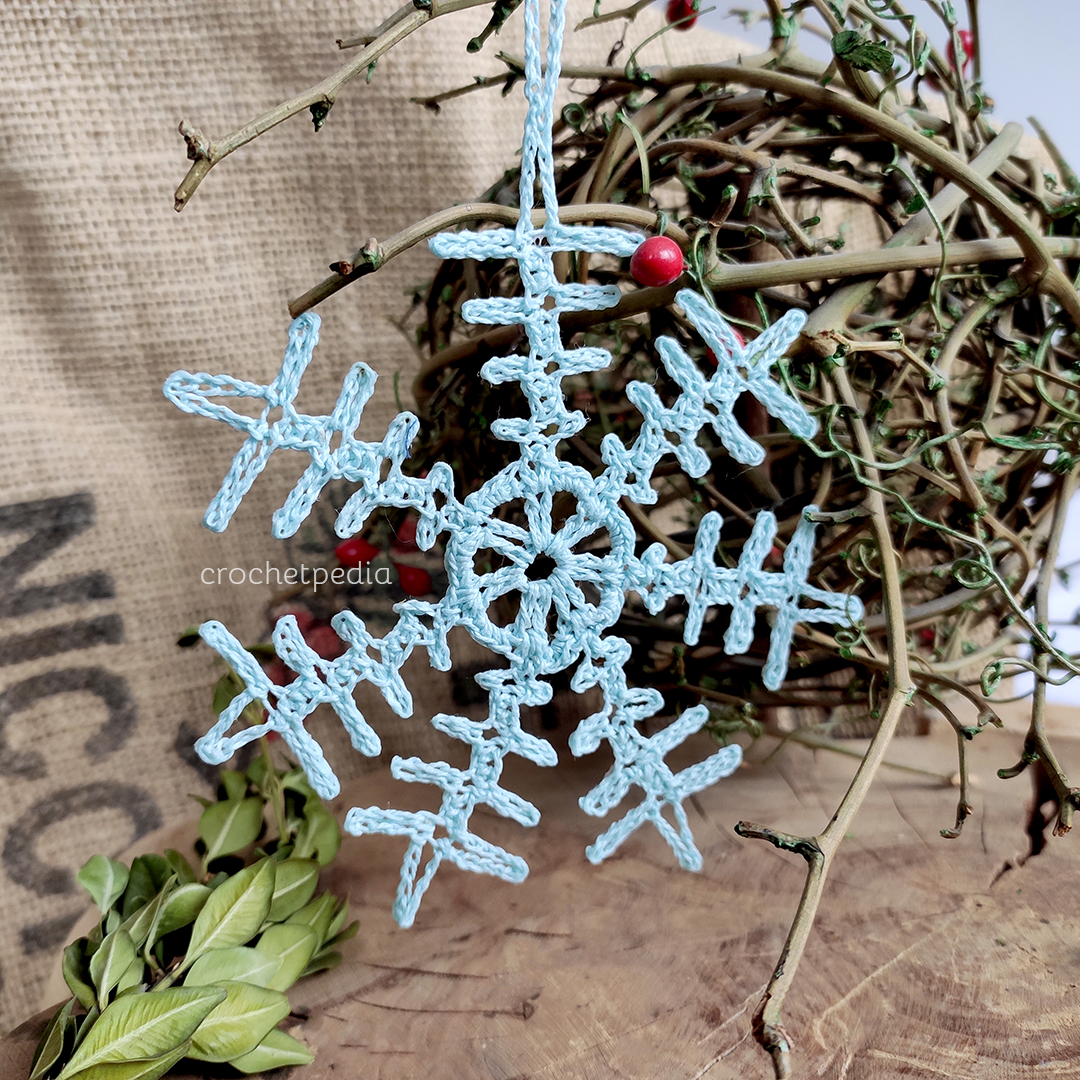 START:
chain 6, close with slip stitch.
ROUND 1:
chain 3, 1 dc into the loop, 3 ch, *2 dc, 3 ch* into the loop x 6, 3 ch, close with sl st.
IMPORTANT! In the next round I use the term X ch loop – please take a look in Pattern Notes to ensure that you know how to do it.
ROUND 2:
one side of the arm: *1 sc in between the pair of double crochets, 1 ch, 3 ch loop (remember to attach it with a slip stitch!), 2 ch, 5 ch loop, 2 ch, 7 ch loop, 2 ch, 
top of the arm: 9 ch loop x 3 (all attached to and growing out from the same stitch, just like you do with a cluster of picots),
opposite side of the arm: 2 sc in chain stitches, 1 sl st into the base of the loop you have on the opposite side, 7 ch loop attached to the same base (proceed as such with all next slip stitch and chain loop pairs), 2 sc, 1 sl st , 5 ch loop, 2 sc, 1 sl st, 3 ch loop, 1 sc in chain stitch, 1 sc in between the pair of double crochets. 
in between the arms: 3 sc in the nearest chain space*
repeat all of this 6 more times.
OPTIONAL:
If you want to add a long loop to hang your ornament easily on the tree, make the top of one arm longer than usual. It doesn't matter which one. 
In a "9 ch loop x 3" part elongate the middle chain to 35 chain stitches instead of 9, so that it's much longer than the rest. You do not have to change anything else in the pattern, so just proceed normally with the instructions.
FINISHING OFF:
Fasten off, secure the yarn, and don't forget to block and stiffen your snowflakes! 
◉
you are done!
◉
You may also like these free patterns!
share, like, subscribe!
If you happen to make this project, I would love to see it, so don't hesitate to contact me! Please feel free to share the results with us in the comments or on social media. Of course, if you find any mistakes in the pattern or find it hard to understand, please let me know, so I can learn and improve!
Sharing is caring, so if you liked this project, be sure to share it with your friends and spread the word, because I really appreciate it! For more free tutorials, patterns and interesting articles – follow my social media pages and allow notifications to get a pop-up whenever new post is published.
◉
FOLLOW ME ON PINTEREST AND INSTAGRAM