Crochet Snowflakes Mini CAL – Part 5 | Video + Pattern!
Final part of our crochet snowflakes CAL is here! Fifth ornament from our collection was inspired by tales of wintry lands, in which I used to loose myself when I was a kid. This simple project is very easy to make, so don't waste your time and start now!
Christmastime will be unique and magical, if only you adorn your home with handmade ornaments! This CAL is almost over, but don't worry – Bonus Mystery Pattern will be published next week!
◉
SAVE IT IN FAVORITES ON RAVELRY
or follow me on PINTEREST and INSTAGRAM
◉
Below you will find links to next parts of this CAL, which is and will remain free, so you will always have the chance to make it. They will be published every Tuesday during November 2020. Start now, so that you are ready before Christmas!
DISCOVER THE REST OF THE PATTERNS
◉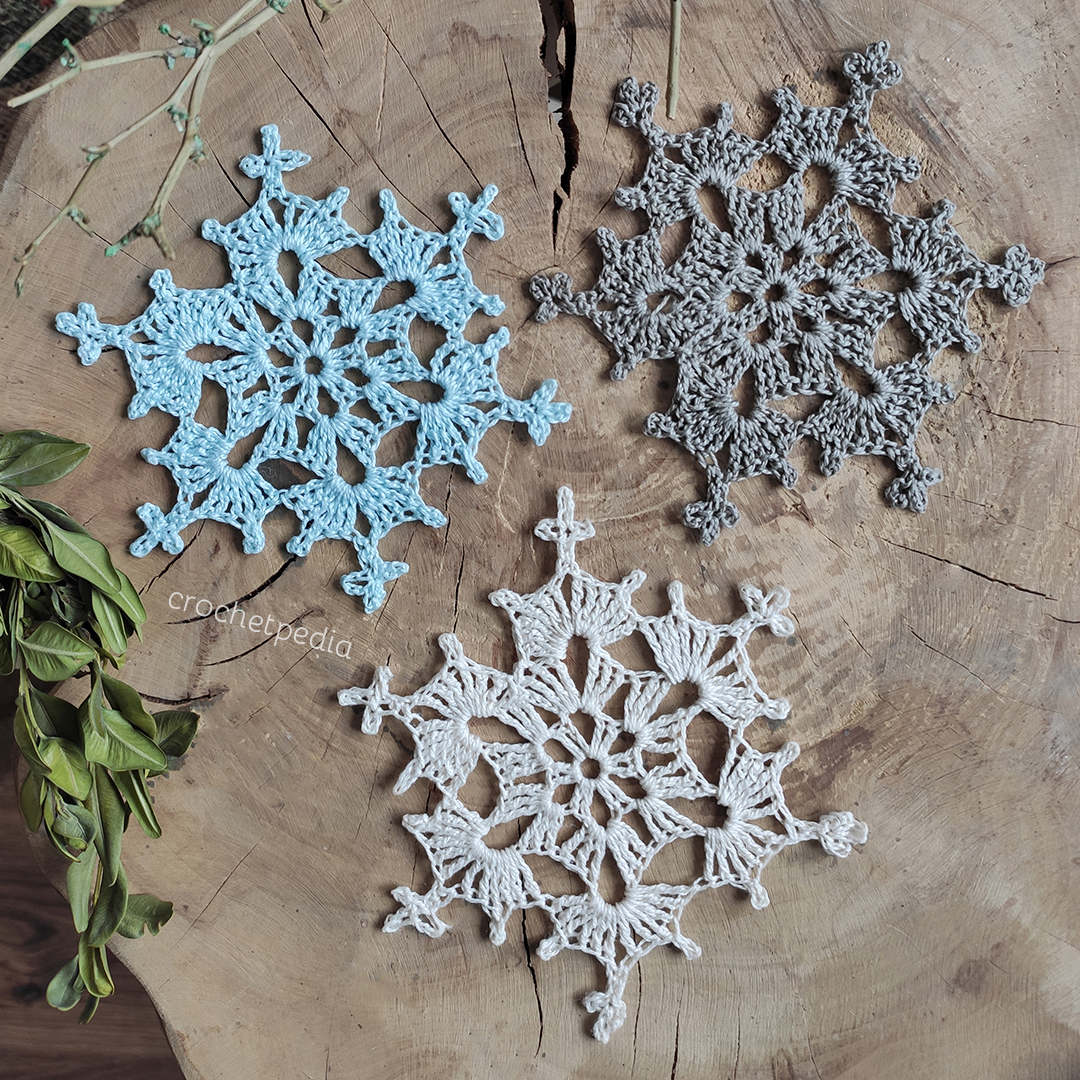 ◉
PATTERN NOTES
LEVEL – beginner
TERMS – standard US
TECHNIQUES
MATERIALS AND TOOLS
yarn: 100% cotton thread – I used an unpopular Polish one, but something like Scheepjes Maxi Sugar Rush should be ok, too! 
crochet hook 1.5 mm
MEASUREMENTS
this crochet snowflake is 12 cm (4,7 inch) high after blocking.
remember that your yarn weight of choice, hook size and crocheting style can affect the final size of the ornament, as well as blocking and stiffening.
◉
Winterland Crochet Snowflake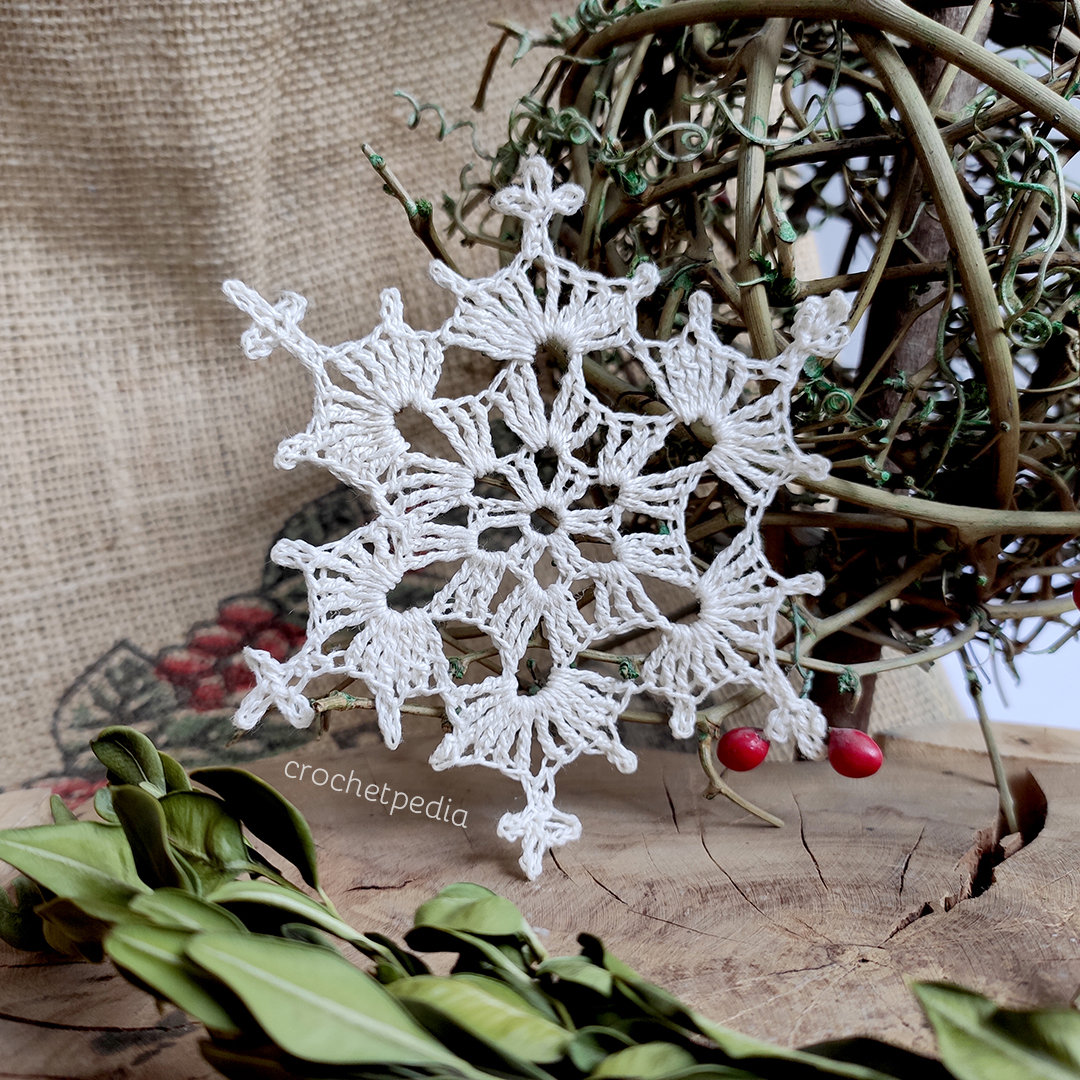 BEFORE YOU START
Chain 4, insert your hook in the 4th chain counting from the hook, yarn over and pull through all loops (like in a slip stitch). I recommend applying a little bit tighter tension when working with them!
What does it mean that picots are worked "in the same stitch"?
It means that second and each next picot "grow out" and is "attached" to the same stitch as the first one. 
My chains are twisting! Help!
I feel you, it can be a true nightmare! Be sure to use your other hand (thumb and index finger) to follow your chain stitches as you crochet along, so that you can keep them in place. It makes counting easier, too! 
I made it, but my snowflake is all wobbly and doesn't look good…
It's time to block it! Remember, that without blocking and stiffening, your crochet snowflakes will not look good, because lacy projects are all about symmetry. Be sure to pin down each and every picot, so that they are nicely visible and make sure that the arms of the star are even.
◉
START:
chain 6, close with slip stitch.
ROUND 1:
chain 3, 1 dc, *3 ch, 2 dc* x 5, 3 ch, close with sl st.
ROUND 2:
chain 1, 2 sl st (last slip stitch should be into chain space, so that you start there), 4 ch, *2 tr, 2 ch, 3 tr* into one chain space, *3 tr, 2 ch, 3 tr* all in one chain space x 5, close with sl st.
IMPORTANT! In the next round you may find yourself wondering, if all of the stitches can fit into one chain space, but don't worry. Move them with your fingers as you work, so that they are squeezed together – it will help!
ROUND 3:
2 sl st (last one in the chain space), chain 4, *2 tr, 1 picot, 3 tr, 2 ch, 3 picots in one st, 2 sc in the chain stitches, 3 tr, 1 picot, 3 tr*;
*3 tr, 1 picot, 3 tr, 2 ch, 3 picots in one st, 2 sc in the chain stitches, 3 tr, 1 picot, 3 tr* x 5
close with a slip stitch into top of your "chain 4" (which works as your first treble of the pack) from the beginning of the round.
Fasten off, secure the yarn, and don't forget to block and stiffen your snowflakes! 
◉
you are done!
◉
You may also like these free patterns!
share, like, subscribe!
If you happen to make this project, I would love to see it, so don't hesitate to contact me! Please feel free to share the results with us in the comments or on social media. Of course, if you find any mistakes in the pattern or find it hard to understand, please let me know, so I can learn and improve!
Sharing is caring, so if you liked this project, be sure to share it with your friends and spread the word, because I really appreciate it! For more free tutorials, patterns and interesting articles – follow my social media pages and allow notifications to get a pop-up whenever new post is published.
◉
FOLLOW ME ON PINTEREST AND INSTAGRAM