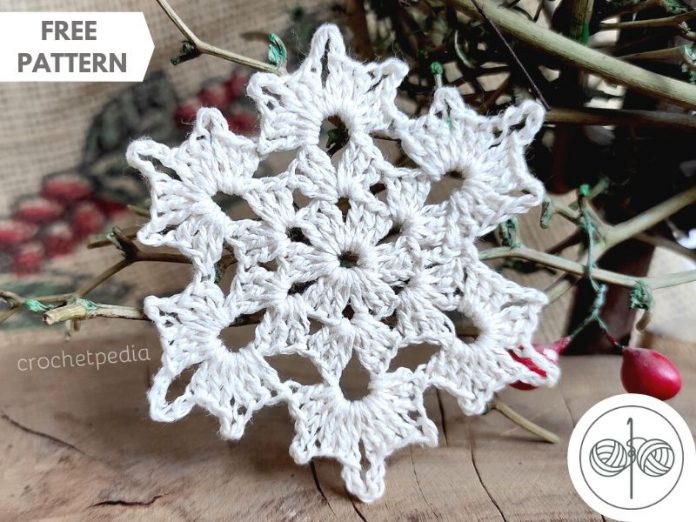 Welcome to part two of my Crochet Snowflakes Mini CAL! This week I have a star-shaped piece with six arms, which is a little bit more dense than Crystal Star Snowflake from last week. It reminded me of a little flower, so I decided to call it Frozen Flower. Hope you like it as much as I do!
◉
SAVE IT IN FAVORITES ON RAVELRY
or follow me on PINTEREST and INSTAGRAM
◉
Below you will find links to next parts of this CAL, which is and will remain free, so you will always have the chance to make it. They will be published every Tuesday during November 2020. Start now, so that you are ready before Christmas!
DISCOVER THE REST OF THE PATTERNS
◉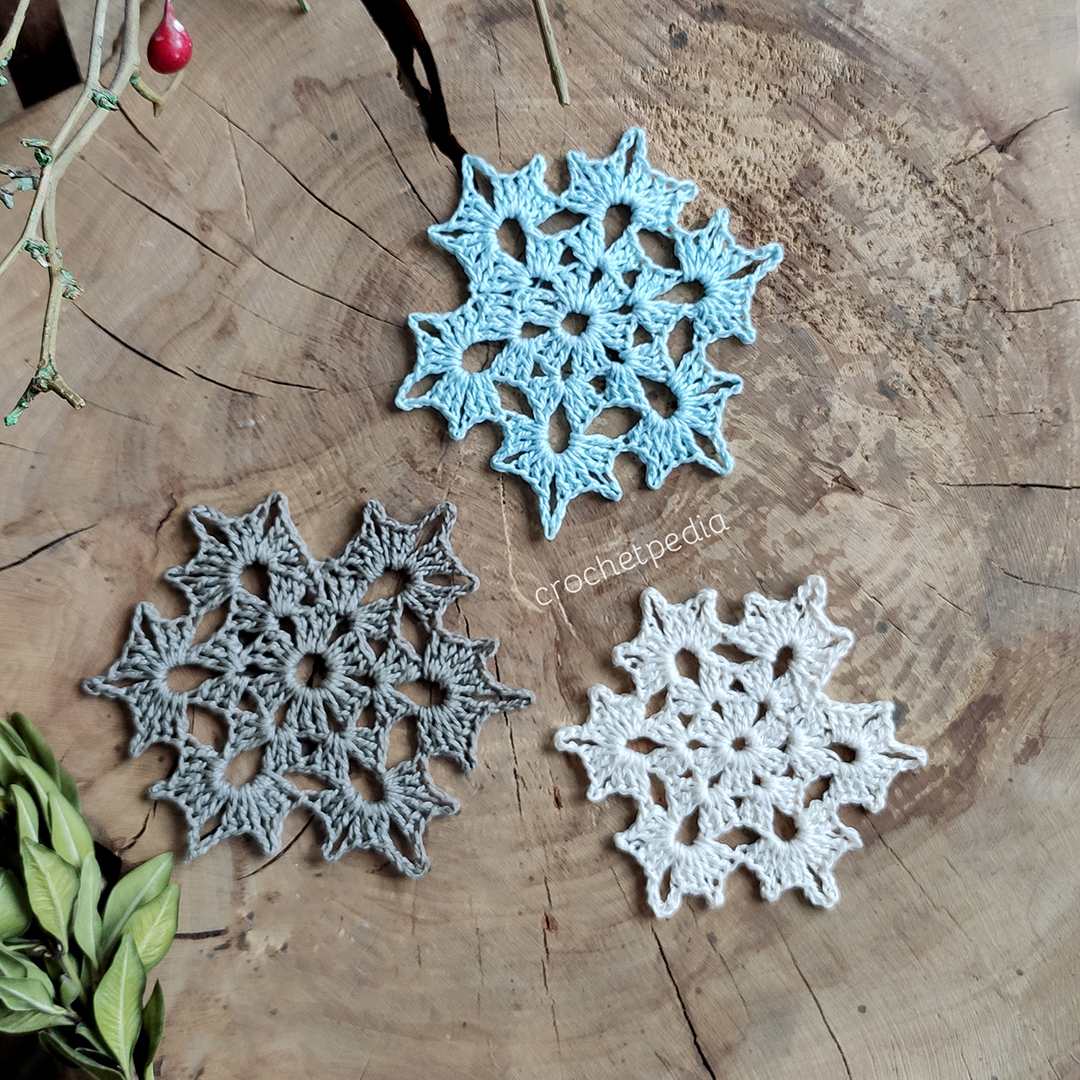 ◉
PATTERN NOTES
LEVEL – beginner
TERMS – standard US
TECHNIQUES
MATERIALS AND TOOLS
yarn: 100% cotton thread – I used an unpopular Polish one, but something like Scheepjes Maxi Sugar Rush should be ok, too! 
crochet hook 1.5 mm
MEASUREMENTS
small snowflake: circa 7 cm (2,75″)
remember that your yarn weight of choice, hook size and crocheting style can affect the final size of the ornament, as well as blocking and stiffening.
◉
Frozen Flower Crochet Snowflake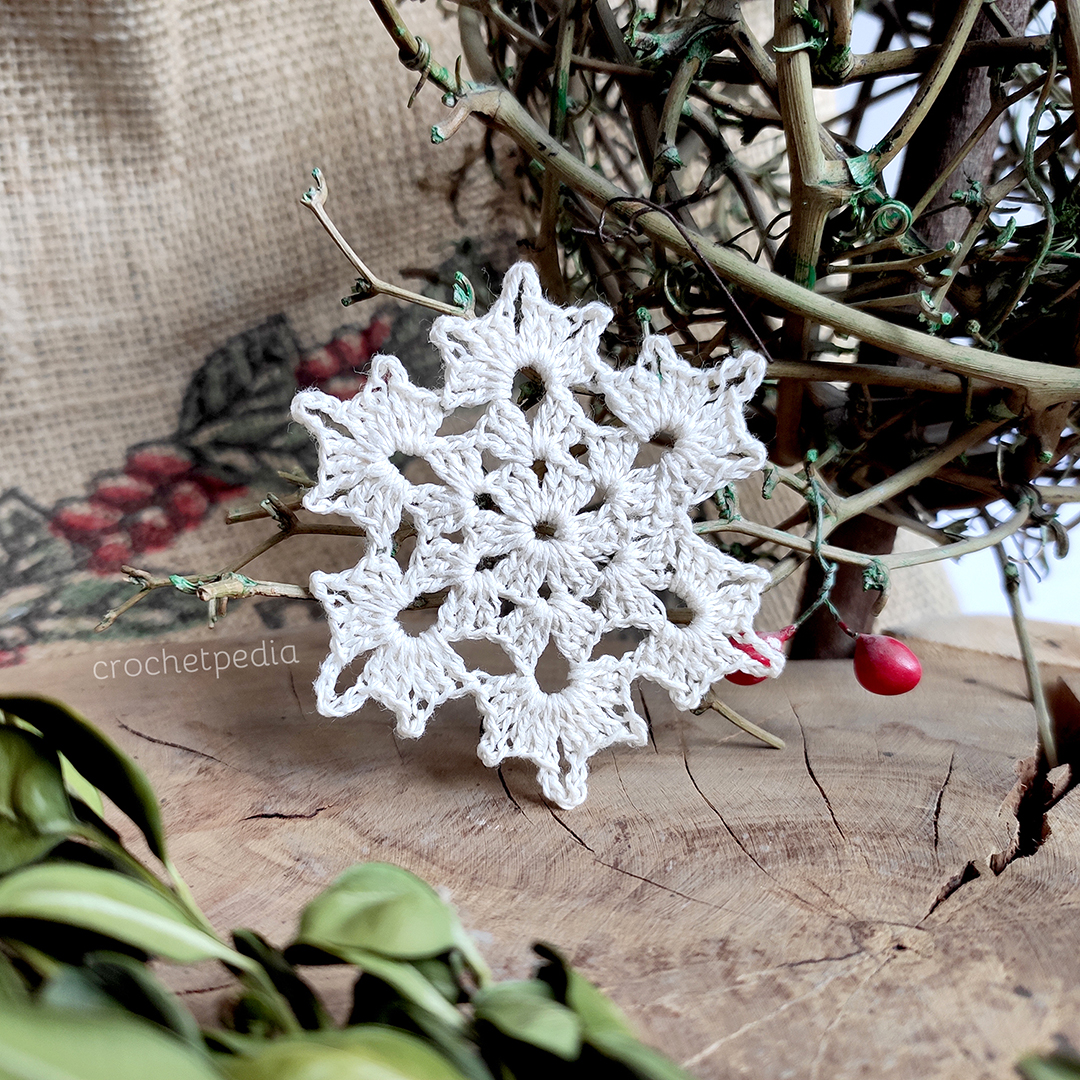 START:
chain 6, close with slip stitch.
ROUND 1:
chain 3, 2 dc, *2 ch, 3 dc* x 5, 2 ch, close with sl st.
ROUND 2:
chain 3, *3 dc into the nearest chain space, 5 ch, 3 dc into the same chain space* x 5, 3 dc into the nearest chain space, 5 ch, 2 dc into the same chain space, close with sl st.
ROUND 3:
2 sl st, 1 sl st into big chain space, 2 ch, *2 dc, 3 ch, 3 dc, 5 ch, 3 dc, 3 ch, 3 dc* all into big chain space,
*3 dc, 3 ch, 3 dc, 5 ch, 3 dc, 3 ch, 3 dc* all into big chain space x 6, 
Close with a slip stitch into top of your "chain 2" (which works as your first double crochet of the pack) from the beginning of the round.
Fasten off, secure the yarn, and don't forget to block and stiffen your snowflakes!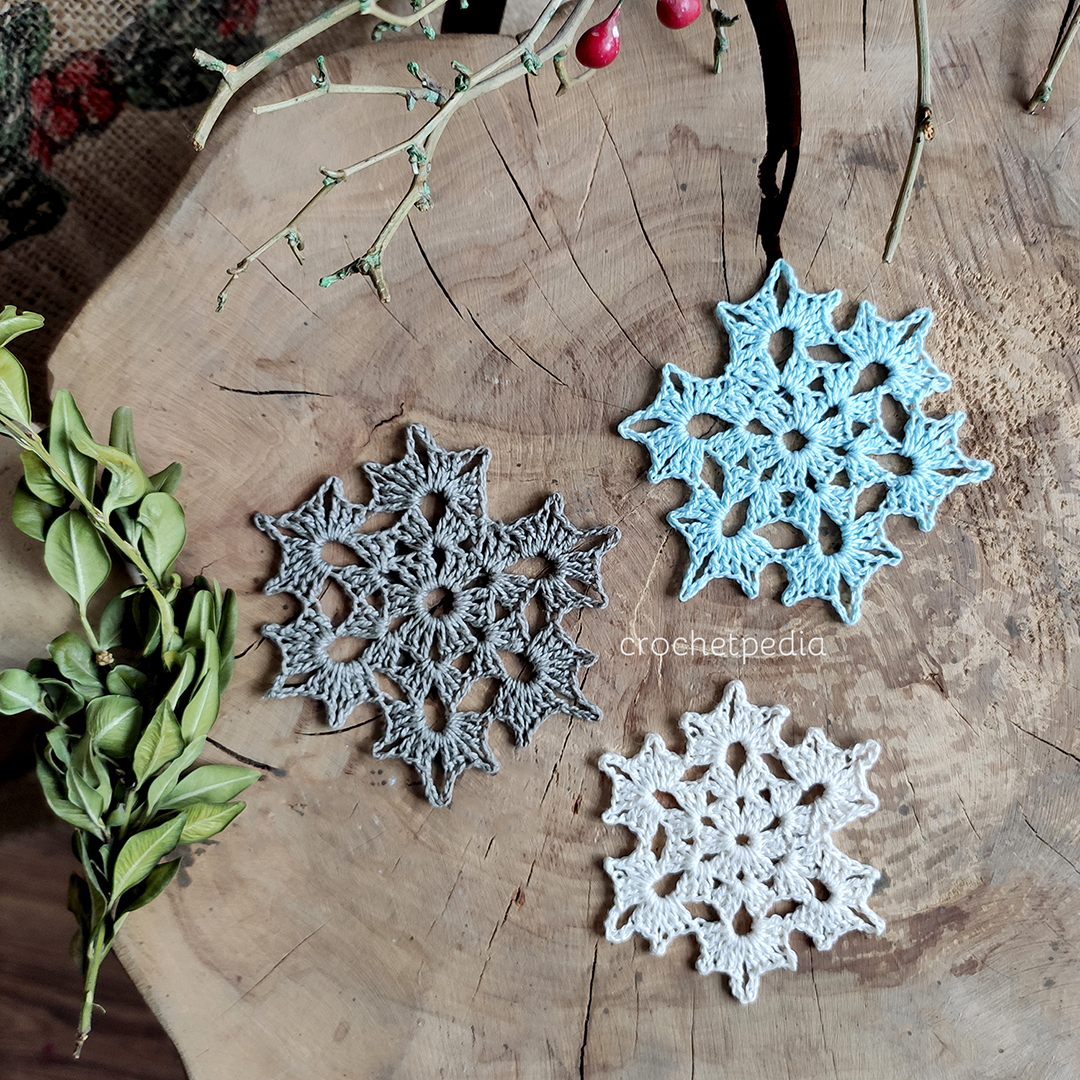 ◉
you are done!
◉
You may also like these free patterns!
share, like, subscribe!
If you happen to make this project, I would love to see it, so don't hesitate to contact me! Please feel free to share the results with us in the comments or on social media. Of course, if you find any mistakes in the pattern or find it hard to understand, please let me know, so I can learn and improve!
Sharing is caring, so if you liked this project, be sure to share it with your friends and spread the word, because I really appreciate it! For more free tutorials, patterns and interesting articles – follow my social media pages and allow notifications to get a pop-up whenever new post is published.
◉
FOLLOW ME ON PINTEREST AND INSTAGRAM