I bet you've seen a lot of crochet honeycomb projects already, but there's so much to it, I just had to write about it! Simplicity of the honeycomb pattern inspires crochet artists all over the world, and they come up with truly amazing ideas. Dive into this little analysis of mine and get inspired!
Find more inspiration in my Recommendation Series, because I've analyzed lots of cool crochet stitches and projects there. Learn more about The Best Crochet Flower Patterns, C2C Crochet Graphgan Patterns, or explore Crochet Shell Stitch Blanket Ideas.
It's Bee-youtiful!
Crochet honeycomb patterns vary a lot in difficulty and looks, so it's important to choose one you'll like working on and looking at. In the Crochet Roundup section you'll find lots of examples, many of which are available as free crochet patterns.
Materials
To make a honeycomb pattern you will use various yarn types and corresponding hook sizes, but remember that yarn weight will highly impact the final effect. You can find these informations on the yarn label, so be sure that you know how to find them! To make sure the stitch looks exactly like you want it to, I recommend you making a crochet swatch first.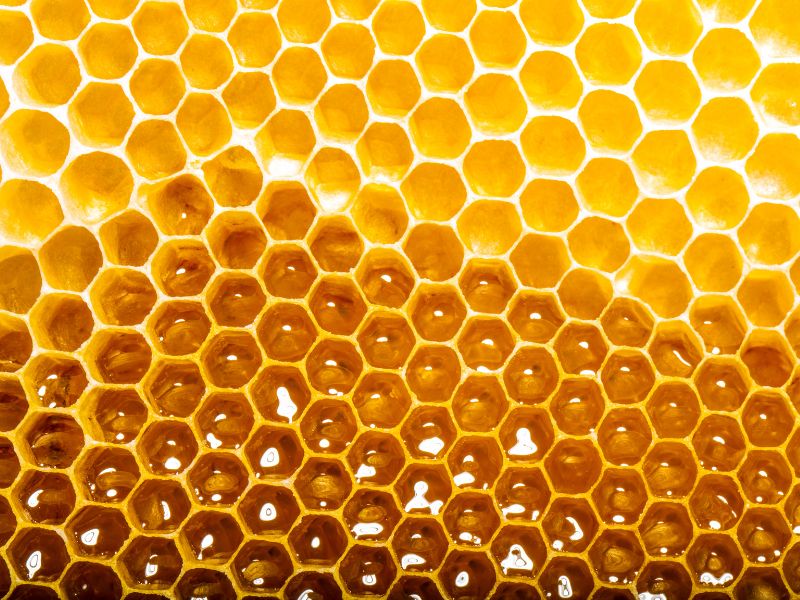 How does honeycomb pattern look like?
The basic unit of honeycomb pattern is a hexagon – a shape that has six sides. Hexagons fit together perfectly, connecting with each other to make bigger and bigger planes.
How to crochet honeycomb pattern?
It depends on what you're going to make and how! For example, you can use crochet honeycomb stitch pattern that you work in rows, but what you make with it is your choice. Below you'll see dishcloths, blankets, home decor items… the list goes on!
On the other hand, you can try making honeycomb pattern with individual crochet hexagons and joining them together. It's a great choice for those of you, who prefer working with smaller pieces and combining them at the end.
talking about stitches…
Our growing website and library of free crochet patterns has some projects that might interest you, too. For example, why not learn more about Jasmine Stitch?
→ Yes! Take me to this article! ←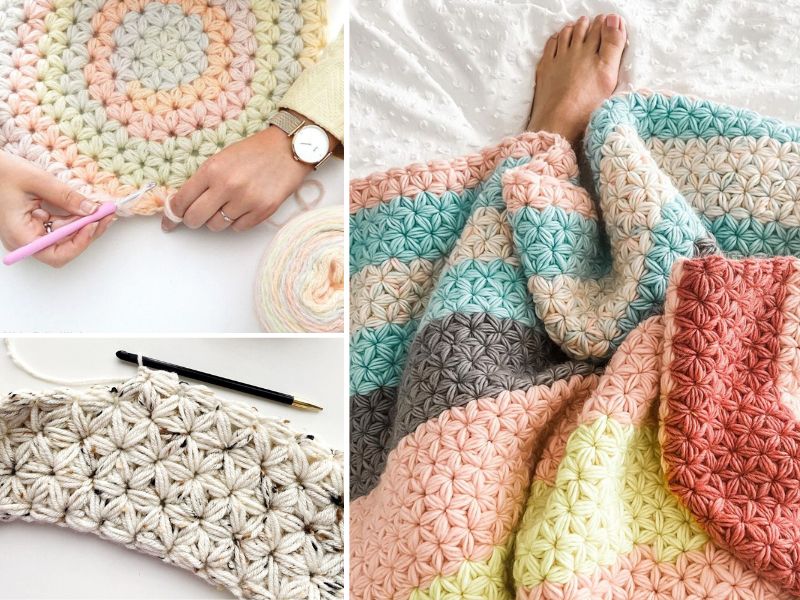 or…
Try my free pattern for Sleepy Bunny Lovey to make a sweet baby gift!
→ Yes! Take me to this free pattern! ←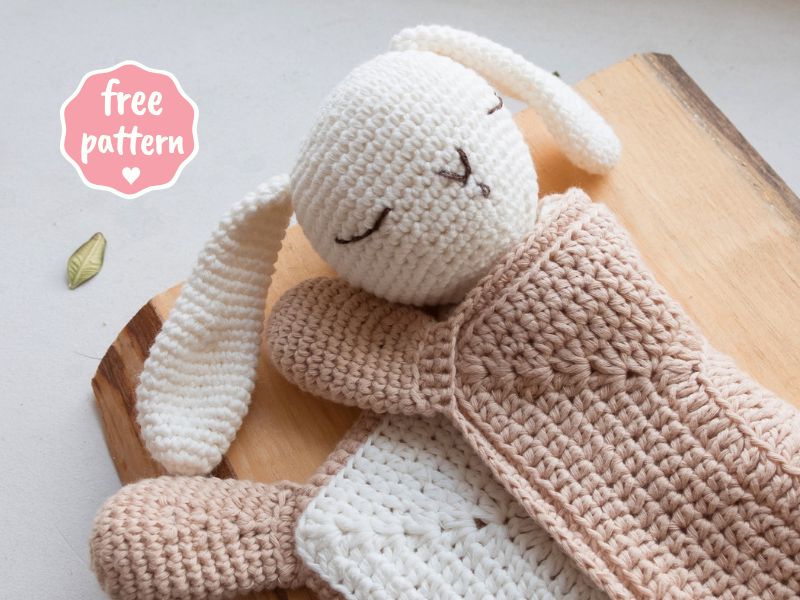 crochet roundup!
Honeycomb motif assumes many shapes and sizes, so I've gathered a few examples to show you the variety. Check out all the amazing creations I've found, or look for free patterns linked below the photos 🙂
◉
Textured Honeycomb Stitch Ideas
Honeycomb Textured Dishcloth by Raffaella Tassoni
*free crochet pattern*
Rafaella's design uses post stitches to create textured honeycomb pattern, and I must admit that it looks really beautiful! As you can see in the photos, delicate trellis is subtle, yet transforms simple home decor item into something truly unique. A little bit of texture also comes in handy when you need gentle scrubbing, so keep it in mind!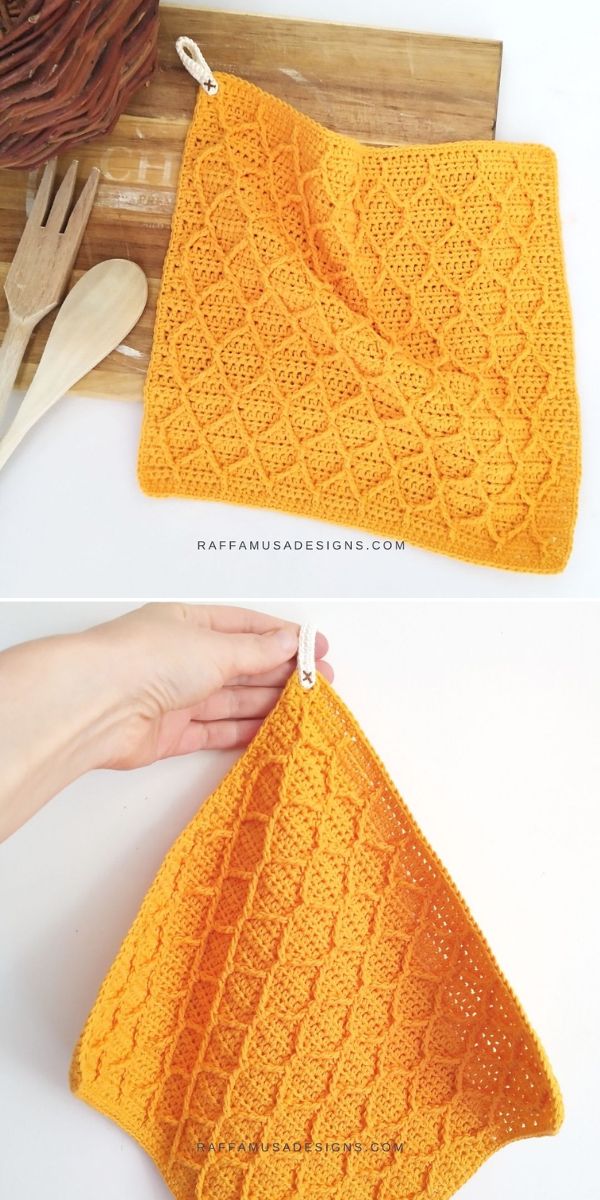 Find this free crochet pattern on raffamusadesigns.com, or read more on ravelry.com.
◉
Sweet As Honeycomb Blanket by Little Duck Crochet
I've covered the topic of "painting with bobbles" in my article about bobbles, but I couldn't resist sharing this blanket with you. It's not your classic honeycomb design, because it's striped. It's a little unorthodox, but crocheter behind Little Duck Crochet skillfully combined texture of bobbles, honeycomb motif and rainbow palette – just take a look at it!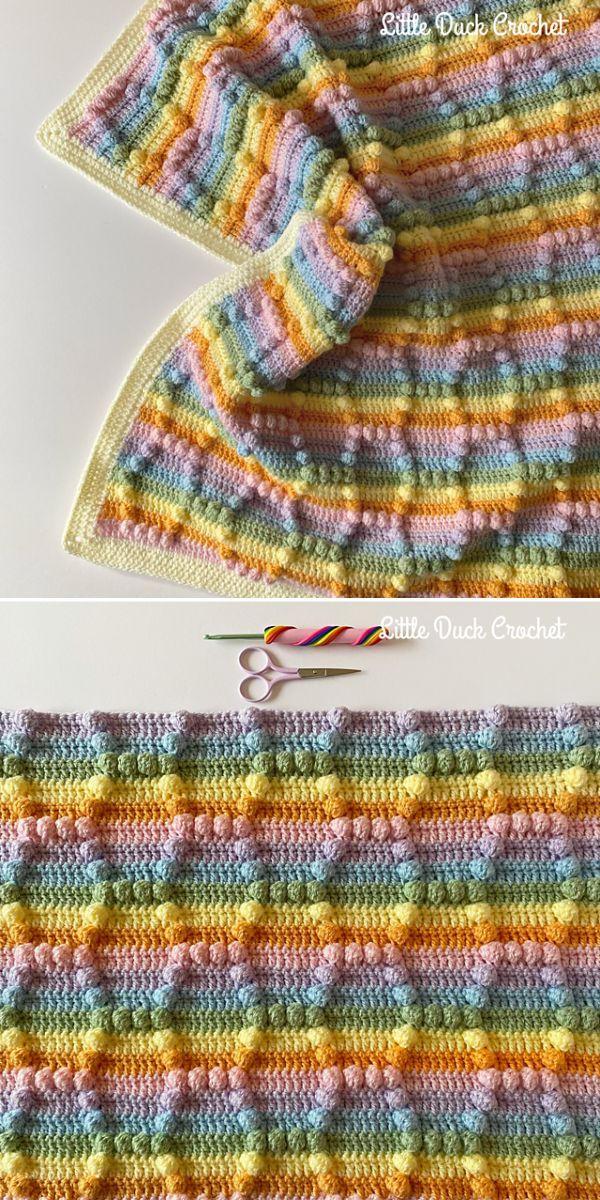 Purchase this crochet pattern through ravelry.com.
◉
Honeycomb Stitch by Crafting Happiness
*free crochet pattern*
Clever use of yarn and hook can result in this lovely three-dimensional stitch, so be sure to check out Crafting Happiness' free pattern! This texhnique produces delicate trellis that is not exactly built with hexagons, but close enough. The structural quality of this stitch makes it absolutely perfect for dishcloths and potholders.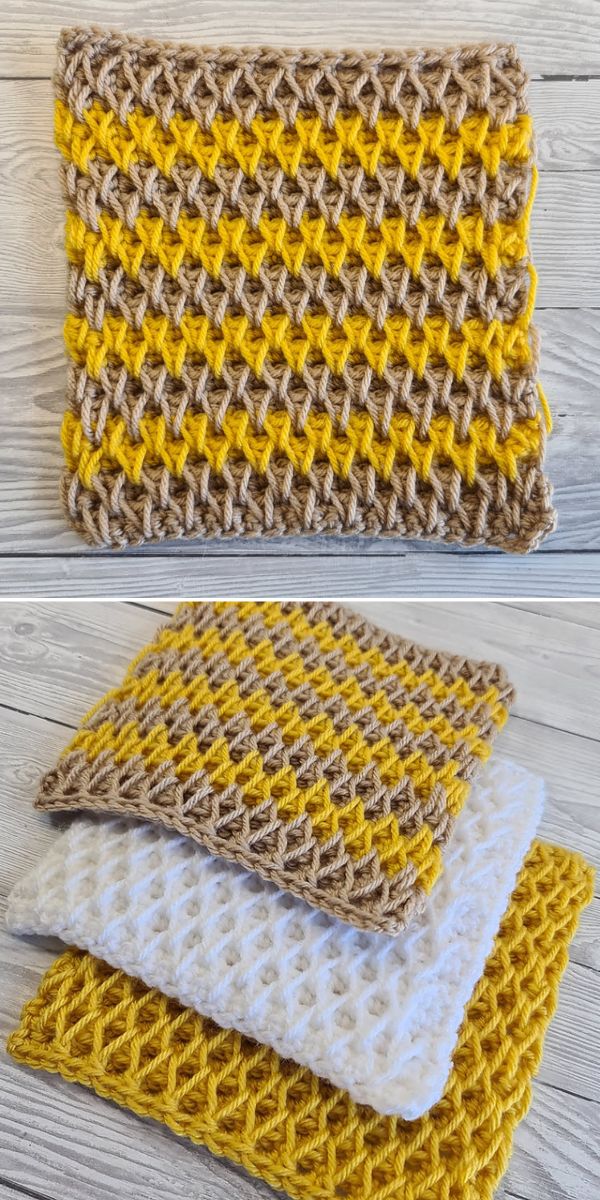 Find this free crochet pattern on craftinghappiness.com, or read more on ravelry.com.
◉
Honeycomb Hexagon Blankets
Honeycomb Baby Blanket by yarnstarved
Simple hexagons are enough to make a lovely bee-inspired blanket! Crocheter going by the name YarnStarved used yellowish and earthy tones for individual modules and joined them all together with white yarn. As you can see in the photos, she also added cute bee appliques – check them out, because it's a free pattern as well!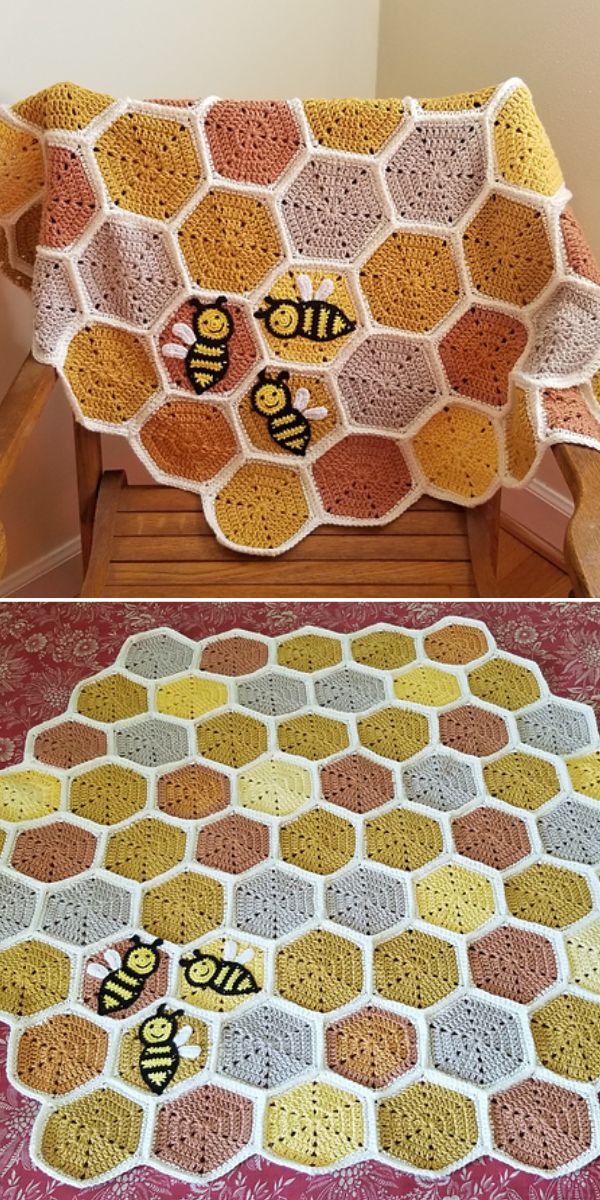 You can make similar blanket by using free crochet pattern for Hexi Blanket by Emily Bolduan, which is available on ravelry.com, or see this particular version on ravelry.com. Applique Bee is also a free crochet pattern from Natalina Craft, available on her website natalinacraft.com, or on ravelry.com.
◉
Lace and Filet Crochet Honeycomb Patterns
Honeycomb Wash Cloth by Claire Harding
*free crochet pattern*
How I love the simplicity of filet crochet – I wrote a whole article about it! All you need are the simplest of crochet stitches and clever placement of solids and holes. In this case Claire used holes to create a subtle honeycomb pattern, which you can see in the photos. It's delicate and will work perfectly in crochet blankets as well, so be sure to save it!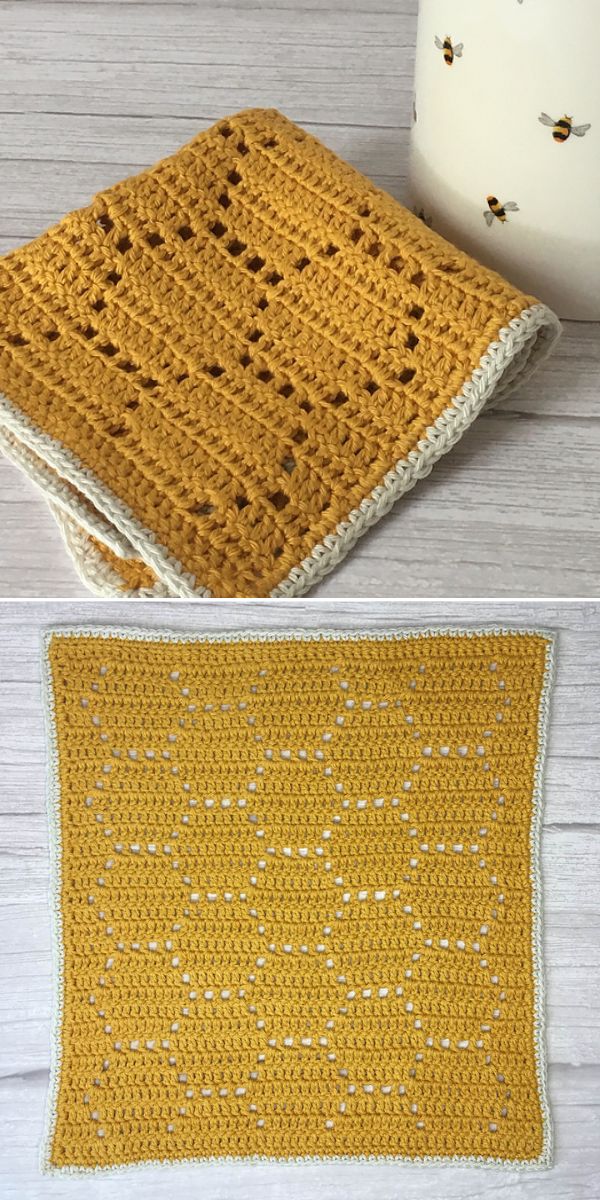 Find this free crochet pattern on clairesmadeit.com, or read more on ravelry.com.
◉
Honeycomb Trellis Stitch by Crochet 'n' Create
*free crochet pattern*
Lacy trellis stitches come in handy in summer garments and accessories, so add this project to your library at once! Crocheter behind Crochet 'n' Create came up with a simple yet sturdy pattern that creates lovely openwork. I can see it being used in beach cover up, or a quick market bag project.
Find this free crochet pattern on crochetncreate.com, or read more on ravelry.com.
◉
Tapestry Crochet Honeycomb Patterns
Honeycomb Bread Bag by Raffaella Tassoni
*free crochet pattern*
Raffaella decided to use yet another crochet technique for her honeycomb pattern, and it looks great! Tapestry crochet is one of my favorites, because it results in very meticulous looking projects. As you can see, the structure of the bag is dense, and the hexagonal pattern is "drawn" with mustard yellow yarn on the white background.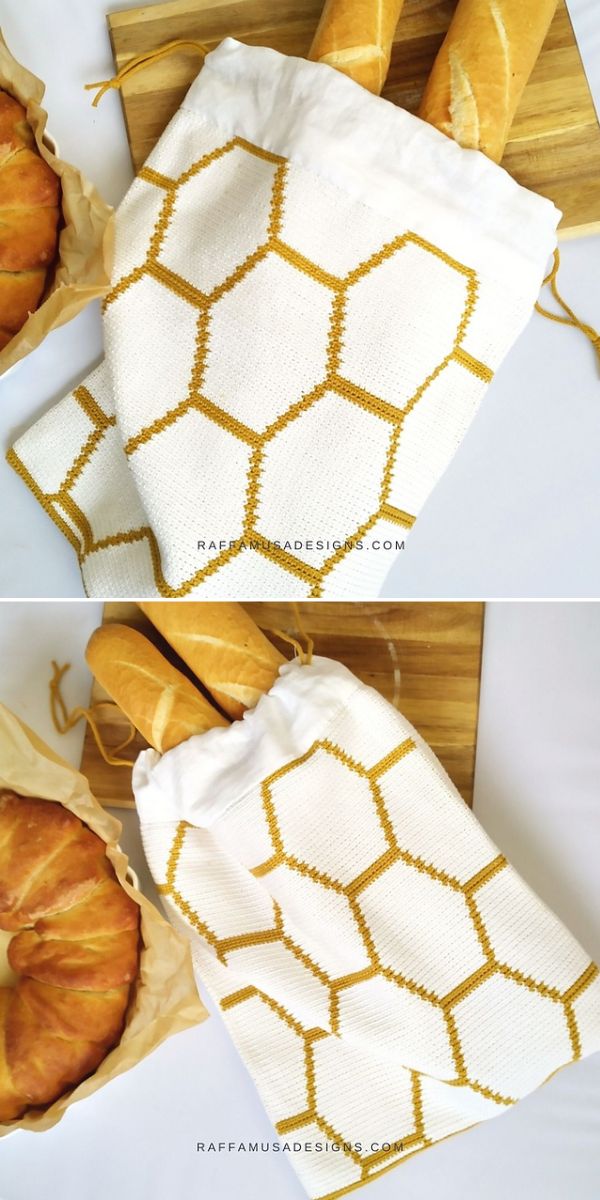 Find this free crochet pattern on raffamusadesigns.com, or read more on ravelry.com.
◉
Tunisian Crochet Honeycomb Stitch
Madhu Honeycomb Blanket by Arunima Goel

Tunisian crochet isn't for everyone, but it definitely produces eye-catching crochet designs! Arunima's project combines three colors of yarn, creating at once striped and textured blanket. In the photo you can see the tunisian hook – it has a long "tail" that allows the stitches to hang in there, similarly to knitting.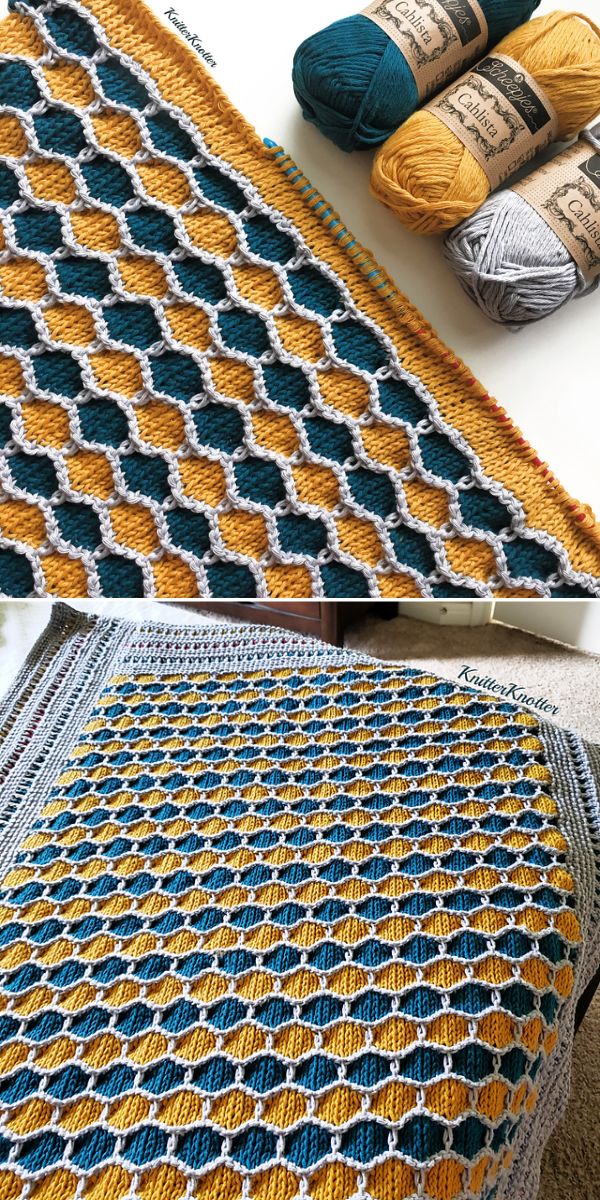 Purchase this crochet pattern on ravelry.com.
◉
That's all for today, but I'll be back with much more inspiring projects and free patterns. Like, share and subscribe if you like what you see. Stay tuned!
↔
You may also like: Moss Stitch / Linen Stitch Crochet Ideas