Have you ever heard of a graphgan? If not, you're in for a treat, because it's a kind of a project that gives unlimited options to crochet designers.
In this article you will learn what graphgans are, how they are made, as well as how to design one by yourself. As usual, I've gathered the most inspiring examples of this technique in my "crochet roundup" part, so check it out to get inspired.
What are graphgans?
The word grapghan combines two other words: graphic and afghan, so you might deduce that it means a blanket with graphic pattern on it. The most popular ones are baby blankets with cute or funny pictures, but you can find lots of abstract or geometric designs as well.
This term is most often used for corner-to-corner (C2C) blankets, because this technique creates uniform pixel-like boxes, which can be worked in many different colors. These colorful "pixels", when looked at from the distance, create a picture or a graphic pattern.
We can also use the word graphgan in relation to tapestry crochet, but it's less popular.
How are they made?
To make a graphgan, you need to learn corner-to-corner technique and how to change colors.
We don't usually make diagrams (or charts) for C2C projects, because they use the same stitch throughout the pattern, but we make "graphs", which are the visual representations of the pictures and their colors. They tell you which color you should work next and in which order, so that you end up with the desired effect.
When using many colors, you may need to learn how to work with many yarn skeins at once.
Can I design one myself?
Yes! You can design graphgans by hand, or digitally. All you need is a checkered base, in which one square represents one "pixel". The number of squares equals the number of "pixels" in your crochet pattern, so make a crochet swatch beforehand to see how big your blanket will be. 
Remember that the size of your finished project depends on your tension, hook size, and yarn you use.
Below you can see how Sally designed her bunny graphgan, using simple checkered notebook and a pencil, although crayons would be great for colorful designs. Take notice that she numbered the rows and stitches starting from the down right corner – it's he starting point from which her C2C blanket will grow.
To make a graph digitally, you can use these methods:
Crochet roundup
There are so many amazing projects featuring this technique, and crocheters come up with new ideas everyday. These examples show how versatile freeform crochet is, and how many beautiful things you can do with it.
◉
Cute Graphic Animals
Llama Blanket by Lovable Loops
*free crochet pattern*
Does anybody get tired of llamas? I am sure I'm not! These adorable animals took the world of design by a storm a long time ago and they are here to stay. Melissa decided to design four distinct llamas that can then be joined together to create an adorable blanket. Take a look below to see which one you like best!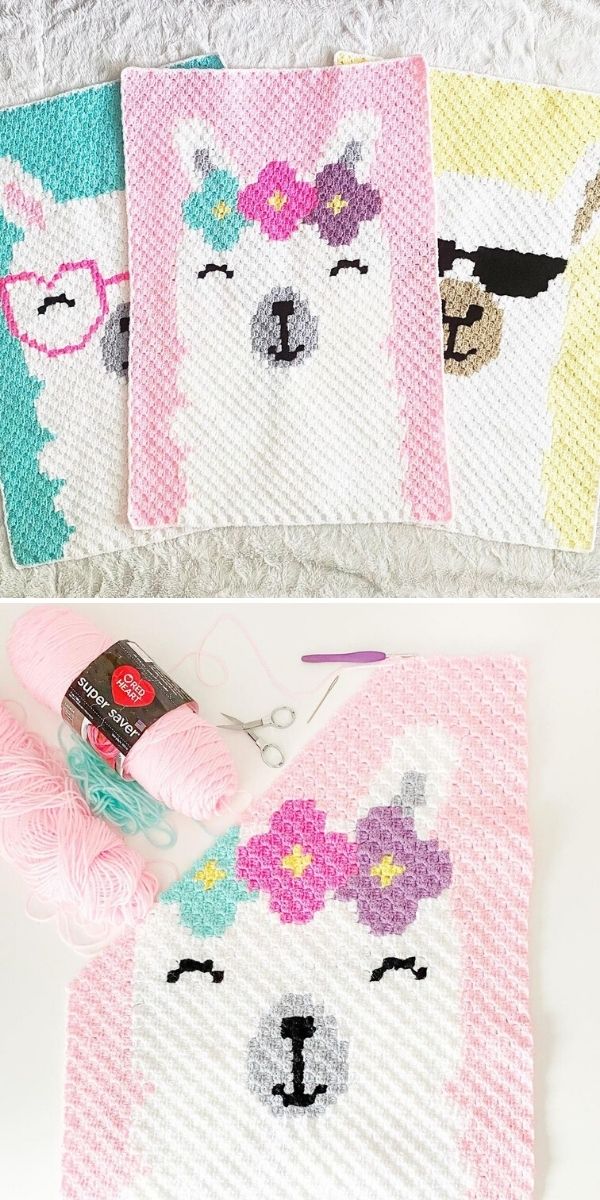 This project is available as free crochet pattern on lovableloops.com.
◉
c2c Fox Block Blanket Version by CarynSKA
Now this is adorable! I don't know about you, but I think that foxes are one of the cutest and smartest forest animals. Their rusty fur is so fun to recreate in endless creative variations that it's no surprise so many crocheters choose this theme. Below you can see Caryn's version featuring electric combination of blue and ginger.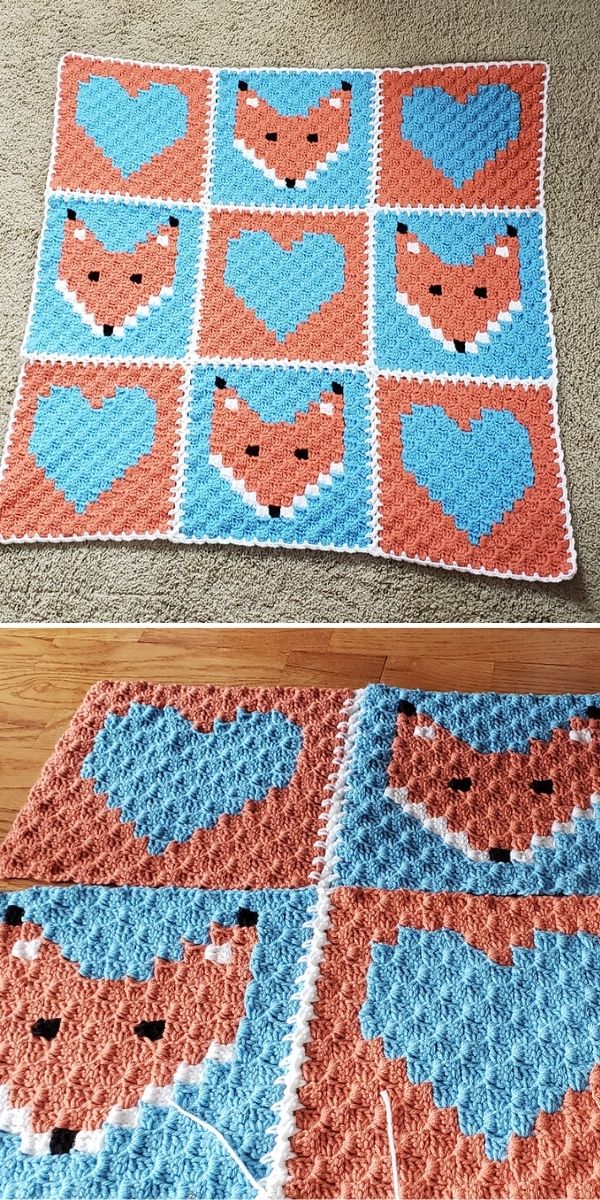 This project is based on a free pattern called C2C Fox Block Blanket by Kali Dahle, available on thefriendlyredfox.com.
To make a heart block, you can use C2C Enamored Heart Square by Alexandra of EyeLoveKnots, available for free on eyeloveknots.com, but remember that your square must be the same size as the Fox Block.
◉
Catghan C2C Blanket by naturebatslast
*free crochet pattern*
Hey, cat lovers! Are you there? I've got something special for you, and I'm sure this blanket will steal your hearts. Any pet owner knows that there are as many characters as there are animals, and this blanket captures this truth fantastically. Below you can see the squares from naturebatslast's cat afghan.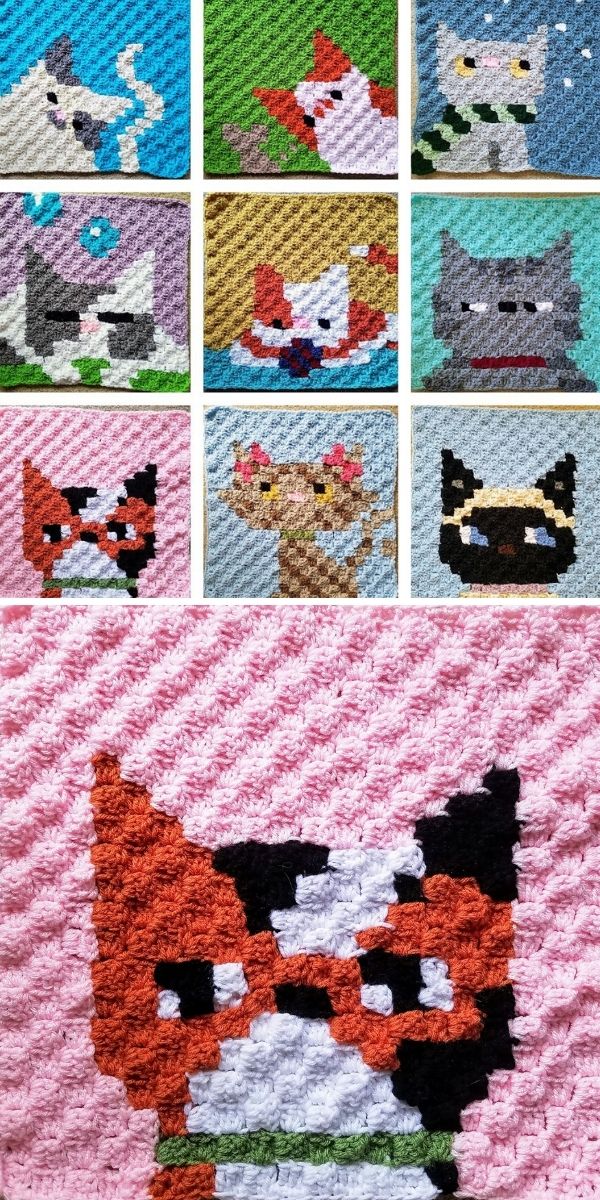 This is a version of free pattern called Catghan C2C Blanket by Ink & Stitches – get it on blog.jhwinter.com, or read more on ravelry.com.
◉
C2C Baby Blankets by Sally Owen
You can treat graphgans as your playground, so don't limit yourself when it comes to creative expression! Sally not only adorned her bunny with a three-dimensional crochet tail, but also often adds granny squares and original edgings to her blankets. As you can see in the bottom photo, block stitch border finishes the project off beautifully.
◉
Graphic Adventures
Fly Me to the Moon Version by SaturatedLifeCro
I bet that every kid dreams of interstellar adventures and lets the imagination roam when reading science fiction stories. As you can see in the photos, crocheter behind SaturatedLifeCro interpreted a rocket graphgan in the most stunning colors. Who wouldn't want to lay on such blanket and get lost in the dreamland?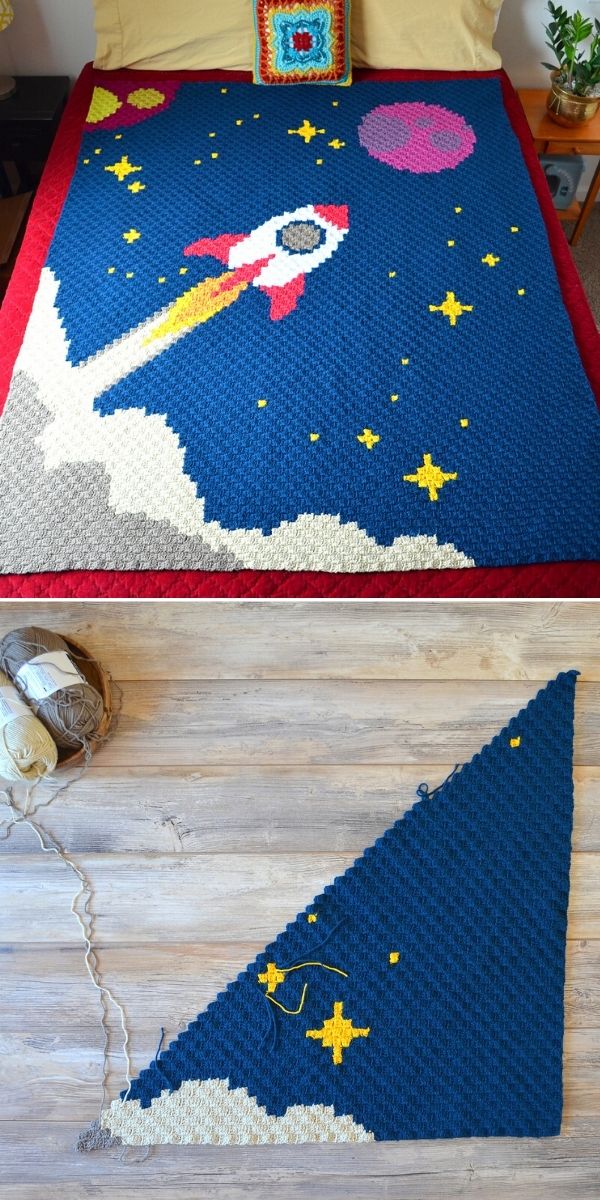 You can purchase the pattern Fly Me to the Moon by Rita Dali on ravelry.com.
◉
Summer Beach Bum C2C SET by Heartsprinkle
Ready to make your very own beach blanket? I bet this one will make other sunbathers gasp! Each square features a different summer staple – starting from cooling ice-cream, through pink sand castle, and ending on a refreshing watermelon. In the bottom picture you can see how Krystle manages to work with many colors at once – clever!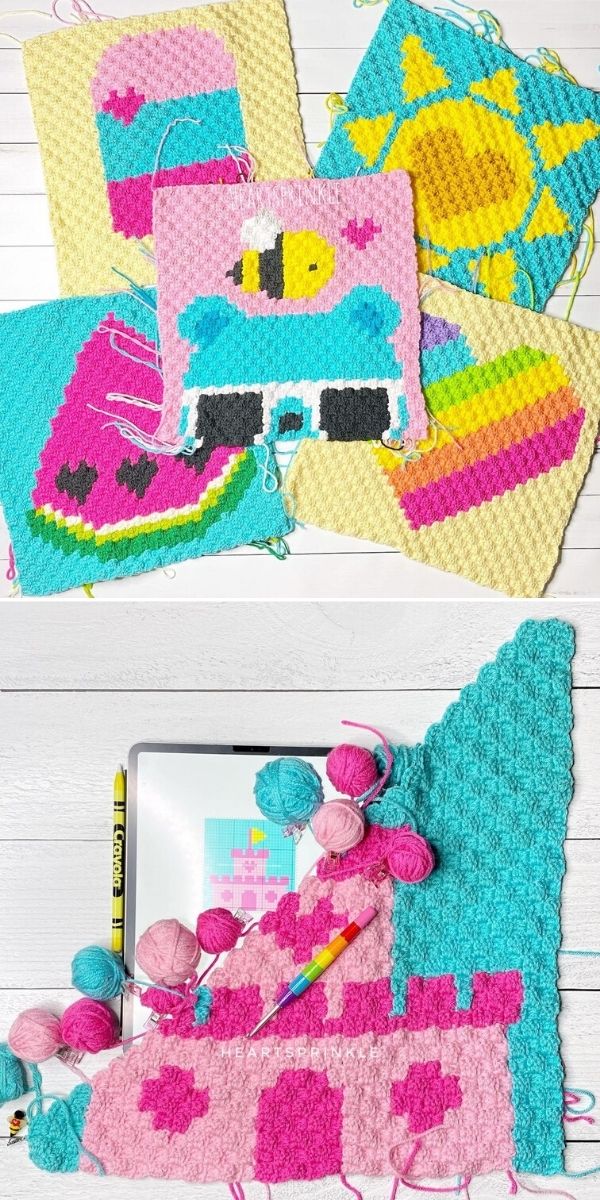 You can purchase the set of 9 patterns and a banner by Heartsprinkle on heartsprinkle.myshopify.com.
◉
Heart Throb Blanket by Marly Bird
*free crochet pattern*
If you can draw with pixels, you can write with them, too! This sweet baby blanket proves that nice lettering can be enough to design a blanket around. Candy pink version, which you can see in the photos, definitely screams "baby girl", but you can always change up the colors to make it more gender-neutral.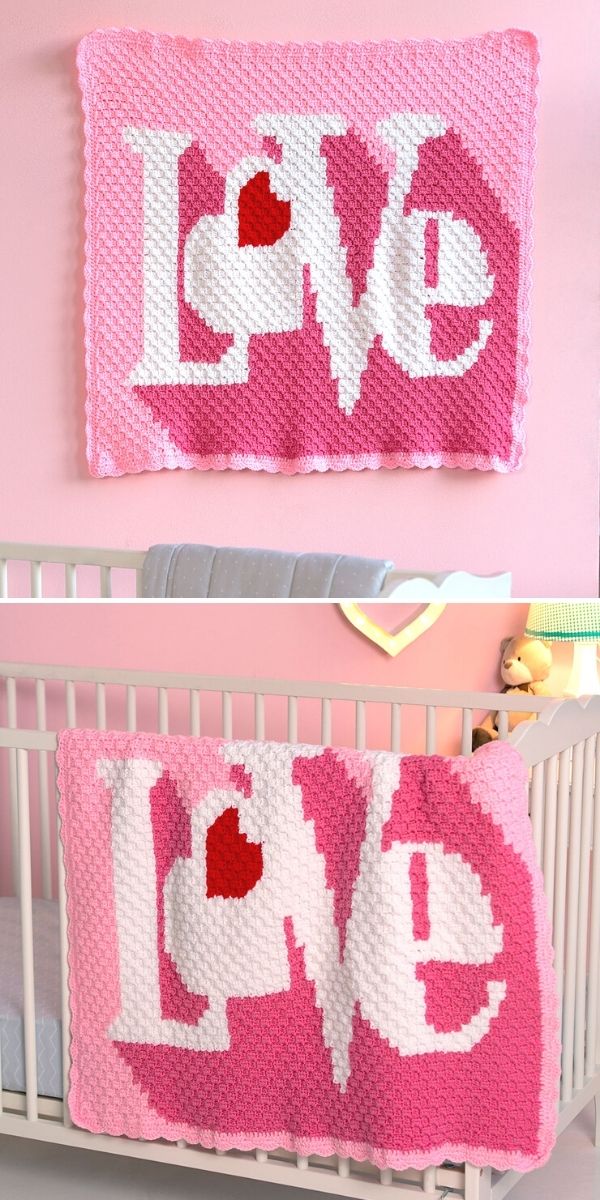 This is a free pattern called Heart Throb Blanket by Marly Bird – get it on yarnspirations.com.
◉
Floral Patterns
Tulip Love by Iris van Meer
As a pattern designer myself, I fell in love in Iris' tulips! Even her name evokes the love of flowers, so it's no surprise that she chose this theme for her crochet cushion. As you can see, the fact that the flowers are on a diagonal makes it even more fun!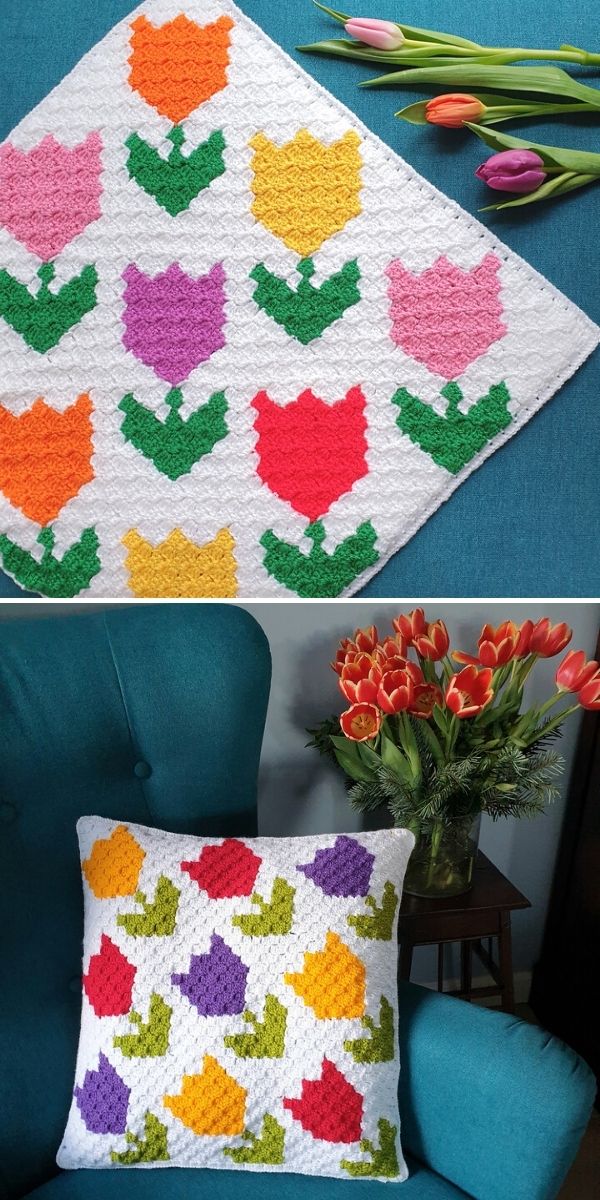 Purchase this pattern on ravelry.com.
◉
Lily Pond Shawl by Happy in Red
Esther came up with a simple flower pattern that looks great in her scarf design, but I can easily see this motif on a blanket or a square. Subdued colors make it look rustic and delicate – especially neutral background, which is a great base for contrasting hues. Take a look at the photos and consider what colors you would choose!
Purchase this pattern on ravelry.com.
◉
Geometric Patterns
C2C Harlequin Blanket by Happy in Red
*free crochet pattern*
Although I consider geometric patterns a slightly different category than the rest of the graphgans, here it is, because… well, it's still a graphgan! In this project Esther went for colorful diamonds on white background. See how cute it looks in the pictures below and keep in mind that you can use leftover yarn ends for the colorful bits!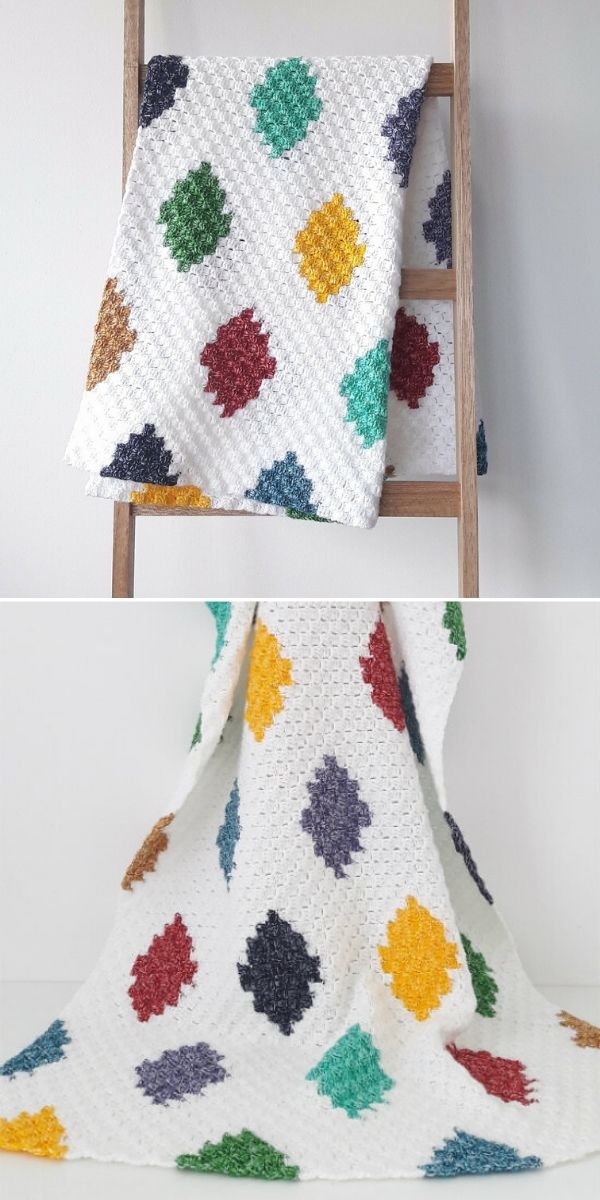 Get this free pattern on happyinred.nl.
◉
SHARE, LIKE, SUBSCRIBE!
Sharing is caring, so if you liked this article, be sure to share it with your friends and spread the word! Stay tuned for more free tutorials, patterns and interesting articles by following my social media pages (PINTEREST and INSTAGRAM), or allow notifications to get a pop-up whenever I publish something new.
◉
You may also like: Crochet Shell Stitch Blanket Ideas