The Best Crochet Flower Pattern Ideas and Inspiration
New to crochet and want to learn how to crochet a flower? If so, then you are in the right place. In Quick Roundup series I share 5-10 best ideas for crochet techniques, projects and patterns that caught my eye, so stay tuned for next parts!
If you want to learn more, read my articles, check out my Recommendation Series, or try my Free Crochet Patterns and Stitch Tutorials!
◉
How do I make crochet flowers?
Most of the projects require basic stitches only, such as double crochet, single crochet and chain stitch. There are many different crochet patterns in the theme, but you can roughly divide it into two types:
Flat Flower Applique
This is the easiest type of crochet flowers, because it's worked in the round and doesn't require much skills. All you need to know is how to work in rounds and have basic crochet stitches under your belt. Such flowers can be then sewn onto garments and accessories, or used to create a bunting.
3D Flowers
Three-dimensional flowers are much more interesting, because they aim to imitate real flowers. Crocheted petals are often reinforced with wire, or made with lots of elements, but the finished project is worth the time and effort. Wired stem creates a solid base for such decoration, which can be ten organized into bouquets, or put into a vase.
Which crochet flower pattern to choose?
First of all, assess your crocheting skills, but don't be too afraid to try more ambitious projects. Crochet flowers require little amounts of yarn and work up quite fast, so you won't loose much time even if you fail. It's best to start with easy crochet flower pattern (free pattern – if possible) and make a small crochet flower. Beginner projects often require bigger crochet hook and heavier yarn weight, so it's easier to see what you're doing.
Every kind of yarn has different qualities, so be sure to know what's what before you start. Learn more about types of yarn in my Yarn 101 Series!
You can find patterns for all your favorite flowers in different sizes, such as crochet rose patterns, crochet tulips, crochet poppy, flower bunting, or puff flowers. Some of the patterns feature crochet flowers and leaves, which makes them look even more lifelike. Many designers decide to add simple crochet flowers to crochet headbands, because they instantly elevate them to the next level!
◉
Crochet Roundup
Below you will find a selection of crochet flower pattern ideas that are easy and fun to crochet! I'm sure there's your next project hiding somewhere, so check them out!
◉
Easy Crochet Flower Patterns
Bramble Flowers by Hello Miss Maker
*free crochet pattern*
Textured crochet flowers don't have to be hard to make, so be sure to check out these beauties below! Jess followed an easy pattern for bramble flowers, and came up with some designs on her own. Such applique can be a lovely addition to summer and spring projects.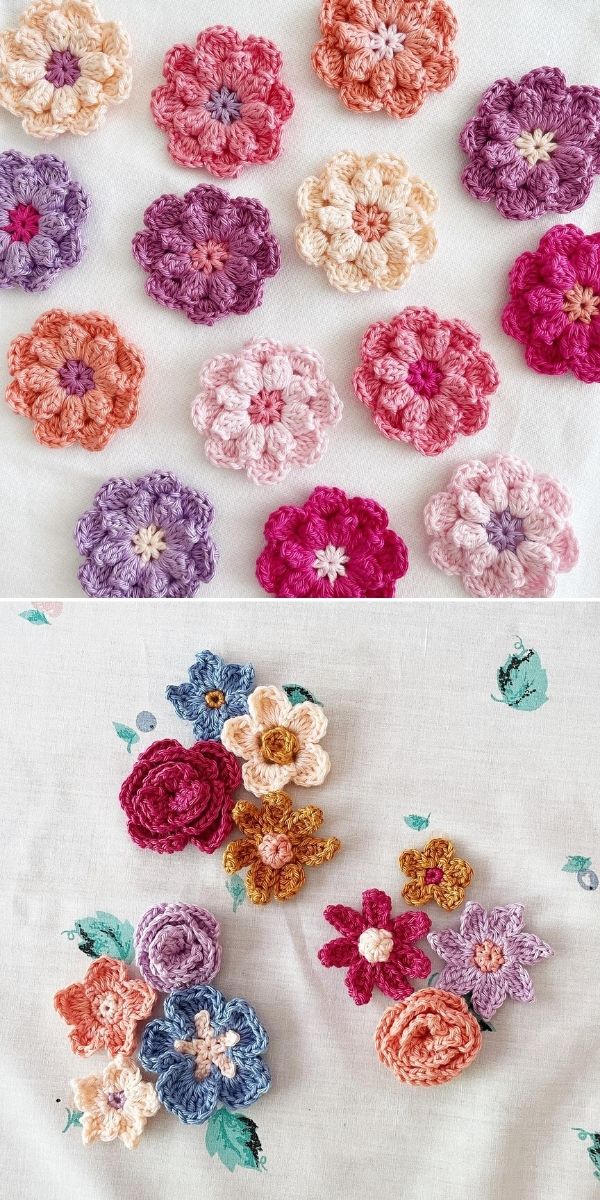 In the top photo you can see Jess' version of free crochet pattern called Bramble Flowers by Carmen Heffernan. You can get it from anniedesigncrochet.com, or read more about it on ravelry.com. There are no patterns for the flowers in the bottom photo.
◉
Cherry Blossom by Roseanna Murray
*free crochet pattern*
Is there something more beautiful than cherry blossom flowers? These pink blooms are an easy way to use up leftover yarn ends, because they are tiny! You'll be able to make a bunch of them in no time, so check it out in the photo – Roseanna did a fantastic job!

Find this free crochet pattern on moaracrochet.com, or read more about it on ravelry.com.
You may also like my article about African Flowers Crochet Ideas.
◉
Spring Bouquet Flowers by marianna mel
*free crochet pattern*
If you are looking for an easy and quick project, these flowers by Marianna will be right up your alley! You can use them as reusable cotton pad replacements, or sew them onto your favorite clothes and accessories. Grab your leftover yarn ends and try this project today!

Find this free crochet pattern on mariannaslazydaisydays.blogspot.com, or read more about it on ravelry.com.
◉
Pansy Version by Els Vermeeren – Van Schendel
*free crochet pattern*
Many projects have interesting details, such as Pansy Pizza Mandala by Dedri – what you see below is an element of the bigger piece. Isn't it adorable? Violet with yellow look amazing together, because it's a match created by nature!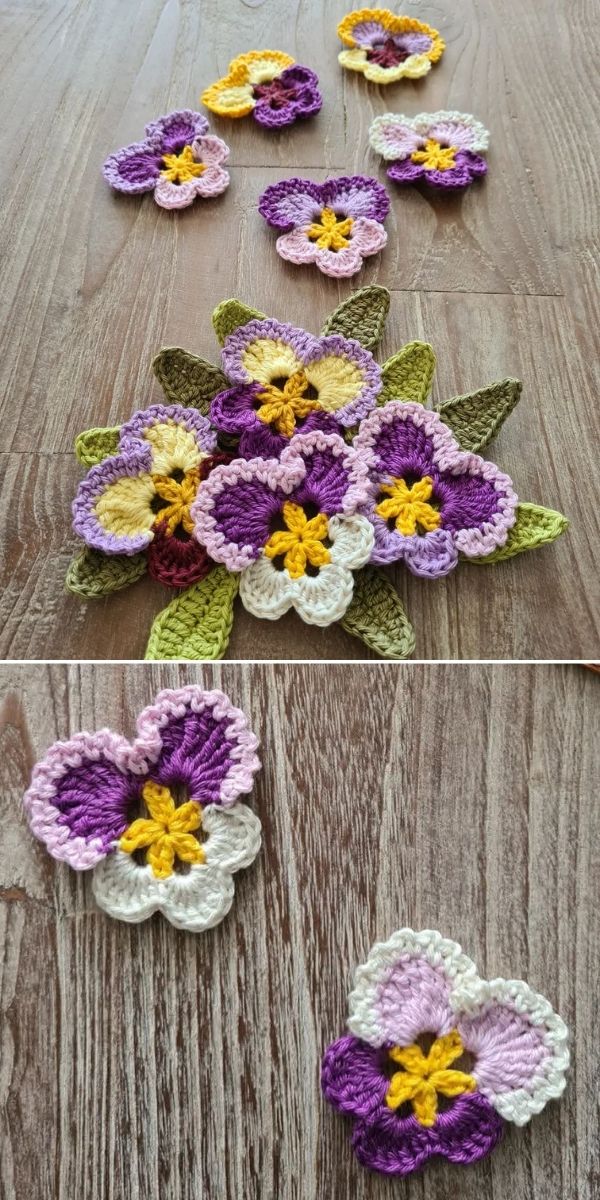 These flowers are a part of free crochet pattern for Pansy Pizza Mandala by Dedri Uys, which is available on lookatwhatimade.net.
Do you like flower stitches? Explore them in my article called The Best Flowery Crochet Stitches – Free Patterns and Inspiration!.
◉
Assorted Crochet Flowers by Marit
The best way to celebrate spring is to make a handmade flower wreath, because you can hang it on the door to welcome your guests! Marit created these flowers as a part of 100 day project, so consider if you would like to try such challenge as well.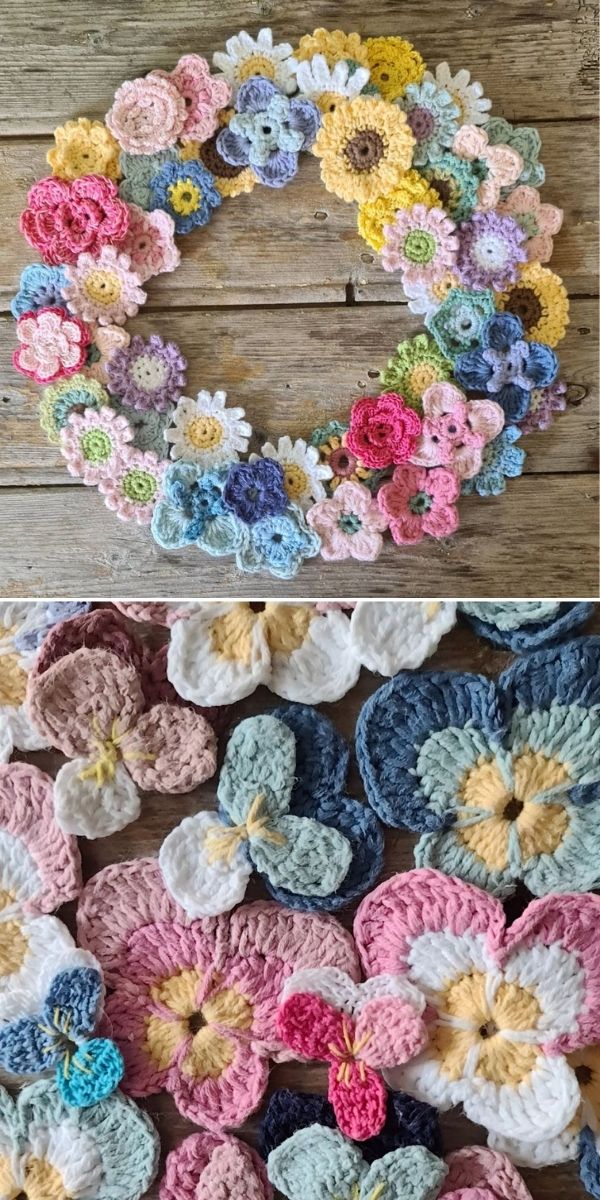 To make similar pansies, use free crochet pattern called Pansy Flower by Naztazia, which is available on naztazia.com, or ravelry.com.
◉
Crochet Rose Ideas
Flowers by crochet flowerway
Crocheter behind flowerway makes amazing three-dimensional crochet flower bouquets – just take a look below! You can achieve similar effect by using many different patterns, or come up with your own with basics of freeform crochet.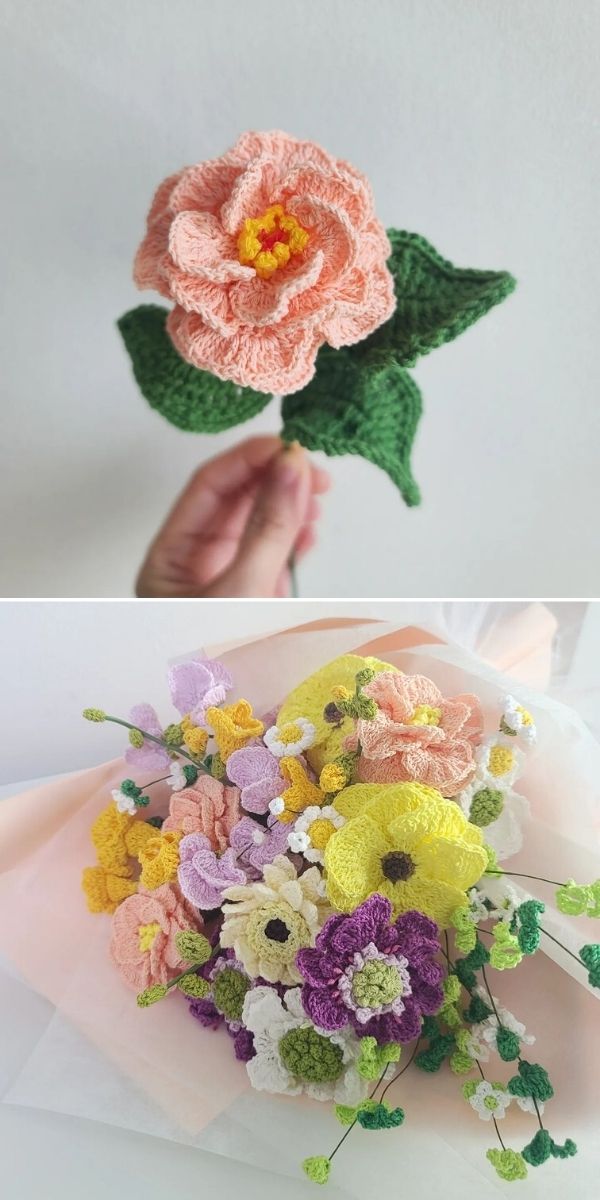 To make similar project, you can use free crochet pattern called Rose with wired Stem & Leaves by Nicole Riley, which is available on nickishomemadecrafts.com, or on ravelry.com.
◉
Assorted Rose Bouquet by Shannon Holding
*free crochet pattern*
I highly recommend you trying a three-dimensional flower project if you haven't tried one yet, because it gives a new perspective at the craft. That said, some of the projects are very easy, such as the one by Shannon you see below – adorable little roses, which you work in the round with basic stitches.

Find this free crochet pattern on theloopholefox.com, or read more about it on ravelry.com.
◉
Fantastic 3D Flower Crochet Patterns
Blooming Flowers by Marianne Seiman
Fantastic flowers by Marianne look like they are from another world, or from a fairytale! Take a look at the photo and see for yourself – these beautiful crochet flowers come in a myriad of shapes and colors. Many of these are not available as patterns, but below this photo you'll find links to two of these flowers.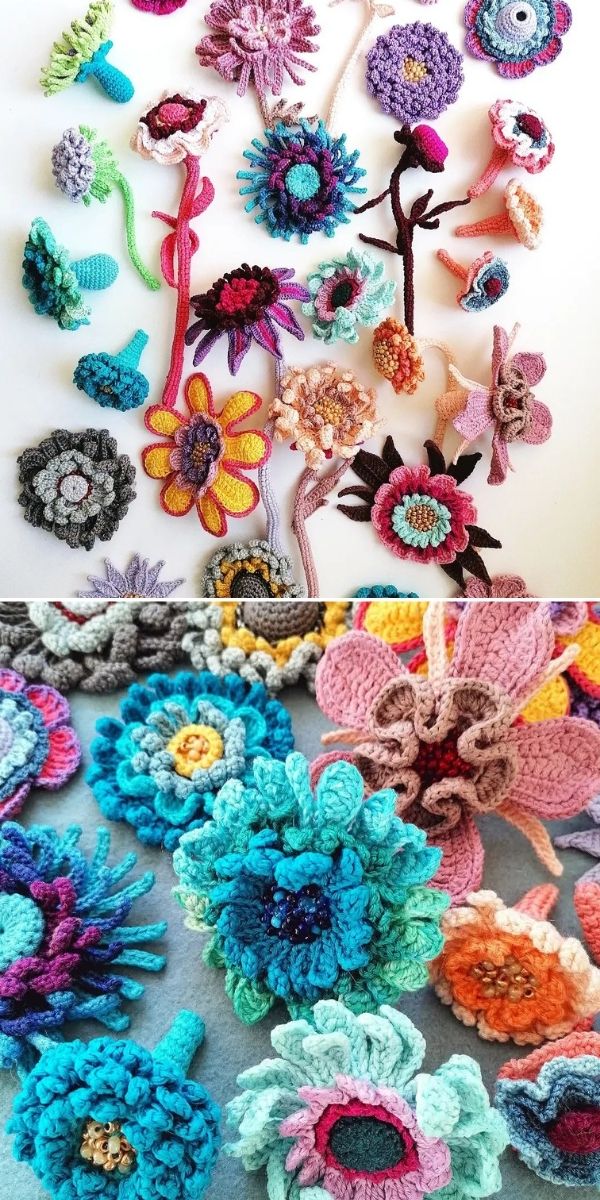 Marianne sells patterns for two of the flowers visible above, so head to etsy.com and purchase Crochet Flower No 1 and Crochet Flower No 2.
◉
Daffodil by Louise&A
These flowers are subtle and beautiful – poppies, daffodils and lillies all have slim stems with wires inside. If you put them into a stylish vase you can be sure that it will make your home look sophisticated. Take a look at these beauties by Louise&A in the photos below.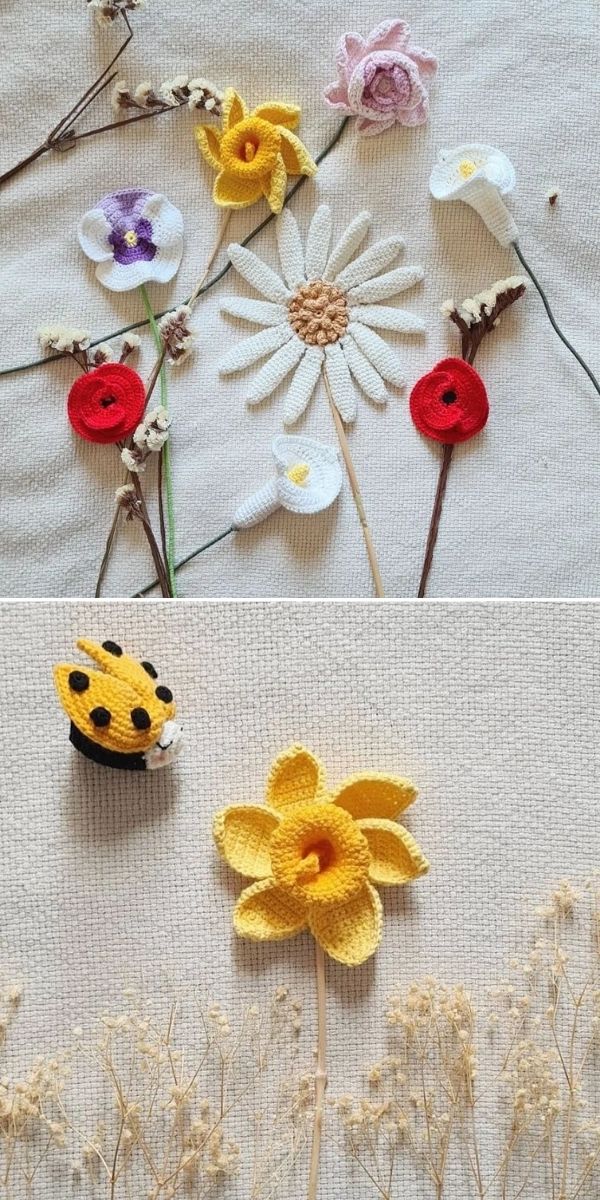 The daffodil is available as free crochet pattern in French on instagram.com. You can also try free pattern for Daffodil Flower by Roseanna Murray, which is available on moaracrochet.com and ravelry.com.
◉
Decorative 3d Flower by TanitkaLace
Crochet flowers come in all shapes and sizes, but these ones by TanitkaLace are among the most stunning! As you can see, these appliques look like they are taken out of an ornamental gobelin. Textured petals and curly stamens add make these flowers look truly magical.

I haven't found the pattern for this project, so if you know where it is, I'd gladly link it here!
◉
That's all for today, but I'll be back with much more inspiring projects and free patterns. Like, share, and subscribe if you like what you see. Stay tuned!
↔
You may also like: Puff Flower Crochet Ideas