Blocking is a technique of stabilizing pieces of crochet, applied with the aim of granting them a desired shape. This is crucial in the case of openwork, very elaborate and delicate pieces, as well as these with an unusual shape or made from natural yarn.
Blocking a piece such as shawl allows us to even out its shape and make it completely flat.
While working on a crochet piece, the yarn or thread stretches in an irregular way and yarn under tension loses its characteristic volume. Blocking the piece while wet allows the piece to return to its 'natural' form, while any irregularities iron themselves out. Synthetic materials do not react well to blocking, as they do not absorb water as well as natural yarns. Although you can just iron them, the end result is a little flat.
This is a great example of what a difference blocking makes: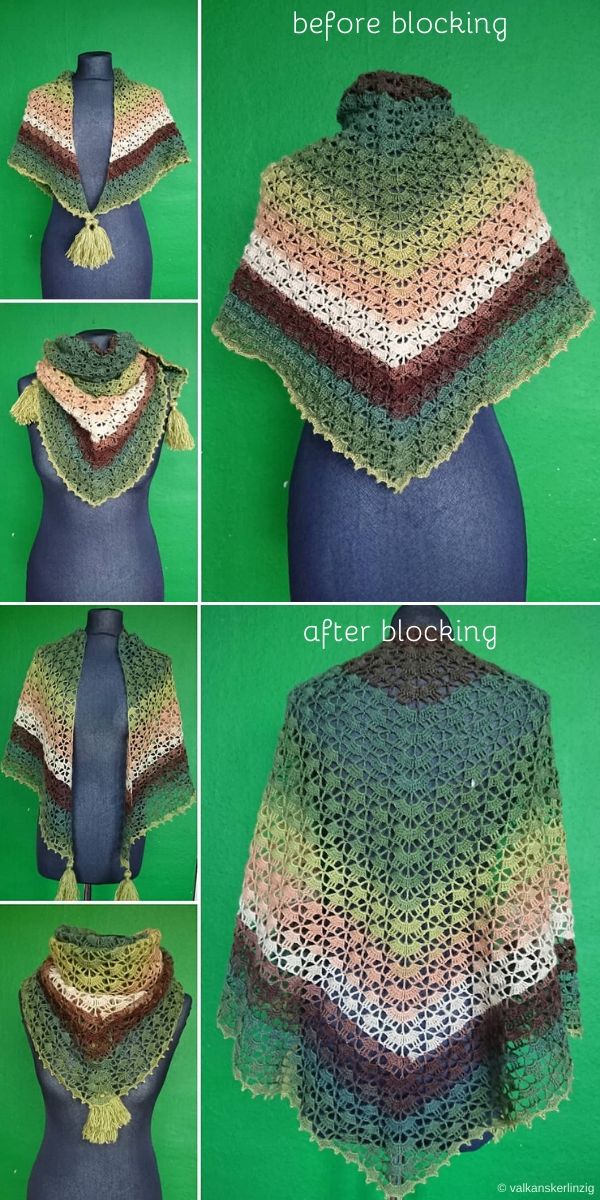 As you can see, the difference is dramatic – the shawl is twice as long and the stitches are much more visible. Edging is no longer curled up, and the shape is even.
BASIC BLOCKING TECHNIQUE
The general method for blocking is based on soaking or moistening the crochet piece, fixing it into the desired shape on a flat surface and leaving it to dry. 
For the most basic blocking we need:
A finished piece of crochet (in whole or in part)

Rust-free pins (those which are not, rust when wet and leave non-removable stains)

A base made of foam, cork or Styrofoam (stable, as big as or bigger than the crochet piece, and made from material that will take pins)

A light towel (optional for placing under the crochet piece so as to soak up moisture)

A dressmaker's measuring tape (optional so as to stretch out the crochet piece symmetrically)

An iron or hairdryer (optional so as to speed up the process)
Fix your crochet piece on a base with rust-free pins and use measuring tape if needed, to make it symmetrical. Use spray bottle with water in it to moisturize the piece. Leave to dry for 24-48 hours.
other methods
Depending on the type of the piece, we may choose various methods of blocking, so it's good to know them all. Each one of them demands patience and care, and every crocheter has their favorite. Although it's a time-consuming process, it produces amazing results, so it's worth the time spent. We may list the following methods:
Wet blocking

Semi-wet blocking

Dry blocking

Using blocking wires

On a special blocking mat

With a blocking frame

Blocking three-dimensional shapes (with rigid support)
Blocking is an inseparable part of stiffening a crochet piece.
how they do it
Let's see how other crocheters use blocking to shape their crochet pieces.
Blocking on Foam Mats
This method is one of the most popular and affordable, because it requires nothing more than a piece of foam and rust-free pins. Small crochet pieces does not take much space, but blocking bigger ones can be a challenge, so foam puzzle pieces are a great solution to this problem. Just attach them in a way that will create a surface big enough for your project.

◉
Grid Foam Mats
If you want your process of blocking crochet to be even easier, invest in grid foam mats. These simple lines will help you immensely, because blocking is all about keeping it symmetrical. The black and white mats you see in the photos are produced and sold by knitiq.com, so check them out!

◉
Blocking Intricate Lacework
Blocking complicated lace pieces requires a lot of precision and patience, but is absolutely critical to the final effect. Each part of lace – each picot, shell and edging should be individually pinned into place. In addition, such intricate lacy crochet works are often stiffened.

◉
Using Knit Blockers
Rust-free pins are great, but when it comes to blocking squares or big rectangles, knit blockers are the best. These cute little tools, which look like little combs, are just pins that are held together in a straight line.

One of the most popular are Knitter's Pride Rainbow Knit Blockers – not only do they look great, but also do their job nicely. Below you can see how helpful they are in blocking this unusually shaped shawl.

◉
Steam Blocking Your Crochet
Recently I've stumbled upon many posts that praised steam blocking – apparently, it's a much quicker way, which doesn't require leaving your blocked pieces overnight. I was always skeptical about using iron, but hand steamers are much safer for crochet work, especially if it's three-dimensional. This method sounds promising!
Check out free video tutorial on How to Steam Block Your Crochet on SistersInStitch's YouTube channel.

◉
Blocking Squares on Blocking Station
Blocking station is extremely useful when you are working with projects like blankets or afghans. This method allows for smaller pieces to be blocked together, which saves a lot of space and guarantees their uniform size. It's very important, especially if they are to be joined together.

Blocking station is easily customizable, as it's made with system of pins and holes, which can be reconfigured however you need. As you can see, blocking hexagons or halves of them is possible, too.

◉
Self-made Blocking Solutions
Many crocheters come up with their own ideas on how to effectively block their crochet pieces. You can build your own blocking station with a piece of wood and pins, or make a blocking frame with your kids' toys – clever plastic building systems like Knex work fine.

◉
More examples of makeshift blocking solutions show us how inventive crocheters are. A drill, wooden board and toothpicks are enough to make a proper blocking station (top photo). Blocking vertically is possible, too – just weigh the piece down with laundry pins (middle photo). When trying to block three-dimensional pieces, like baby bonnet, try putting a balloon inside to simulate the head (bottom photo).

◉
That's all for today, but I'll be back with much more inspiring projects and free patterns. Like, share and subscribe if you like what you see. Stay tuned!
↔
You may also like: Vibrant Clamshell Stitch Ideas