Hi there, crocheters! My usual approach for this series of articles is to write about stitches, but today I would like to focus on something I would much rather call a technique. That's because gingham crochet is not a stitch! It's a way of creating color flow, which can be achieved in many different ways.
What is gingham?
Originally, gingham is a kind of woven fabric, made with two shades of yarn, which create a checkered pattern. The two kinds of yarns are organized in stripes, which are then woven in a way that make intersections between them look like there's a third color. The overall look of gingham is very characteristic and can be translated into other mediums, such as crochet, knitting, or patchwork.
There are two possible sources of the name 'gingham' – one says that it originates from Malay word genggang, which means 'ajar, separate', and the other points to French town named Guingamp, after which the fabric could have taken the name.
◉
That's what we are going to explore today – how can you use this classic pattern to create modern crochet design? What is the anatomy of gingham technique? Let's find out!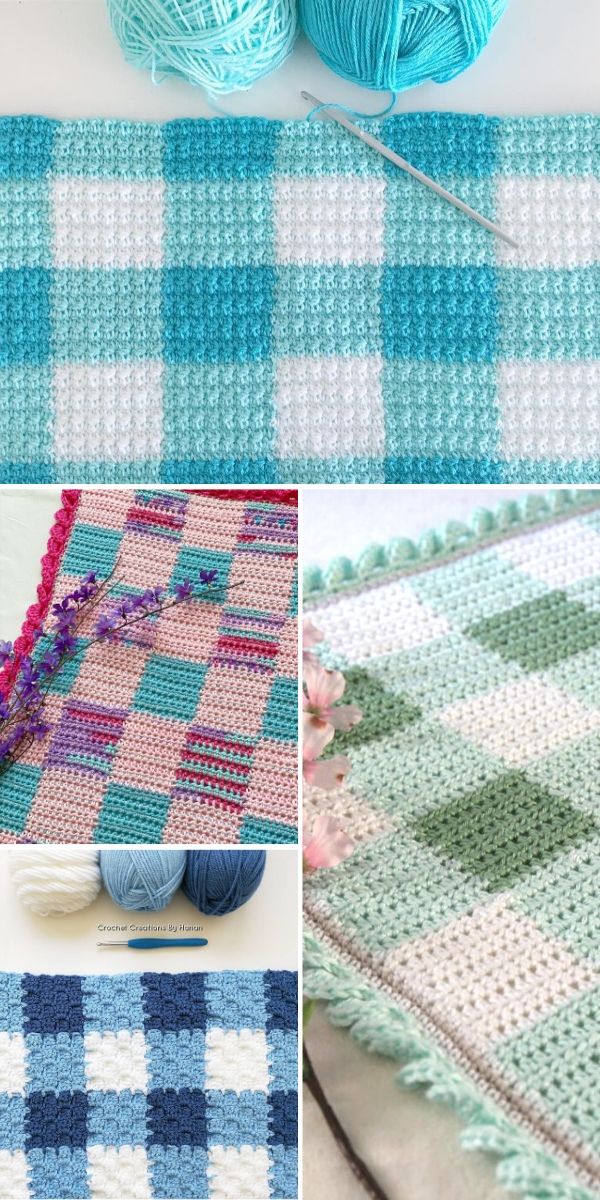 how do you know it's gingham?
Gingham is often confused with plaid or check, but it's definitely not the same! The easiest way to identify gingham pattern is to search for three colors – light, medium and dark. They are organized in such a way, that the medium color joins dark squares on the sides, top and bottom. Medium and dark colors are often two shades of the same hue.
There are many ways to create gingham crochet items, because you can use basic stitches or actually any solid stitches you'd like. You can go for advanced techniques, too, such as corner-to-corner.
Actually, every pattern that is made with squares can be used to create gingham pattern, because all you need to do is to assign the right colors in the right places.
How do I start?
To make your own gingham project, you can use any
type of yarn
and corresponding
hook
you want.
Following tutorials is always the best way to start, but to make the most basic gingham pattern, you need to know a technique called
tapestry crochet
. This clever way of crochet allows you to change colors multiple times in one row. Below you can see the simplified process of changing the colors in gingham pattern.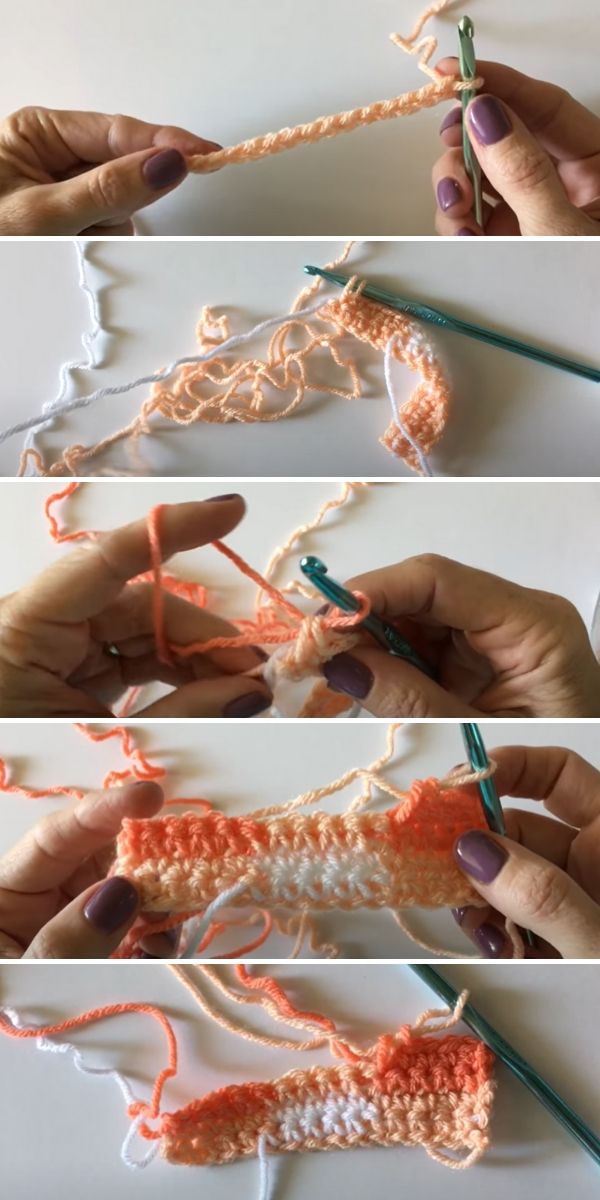 You start with
slip knot
and
foundation chain
, counting the multiplication of
chain stitches
by the width of one square. Every pattern will tell you exactly how many stitches you should have, as well as what kind of stitches you should be using. There are many different variations, which I will write about more further in the article.
The trick is to crochet over the yarn you are not using, so that it stays hidden inside. This makes the front and back of the blanket look exactly the same.
Learn more here…
The best way to start is to see the
full video
by Daisy Farm Crafts on YouTube 
here
, or check out post on
how to crochet a gingham blanket
on their blog
here
.
talking about stitches…
Our growing website and library of free crochet patterns has some projects that might interest you, too. If you want to know more about crochet, read my articles on different topics, for example – what are Yarn Weights and Ply? 
→ Yes! Take me to this article! ←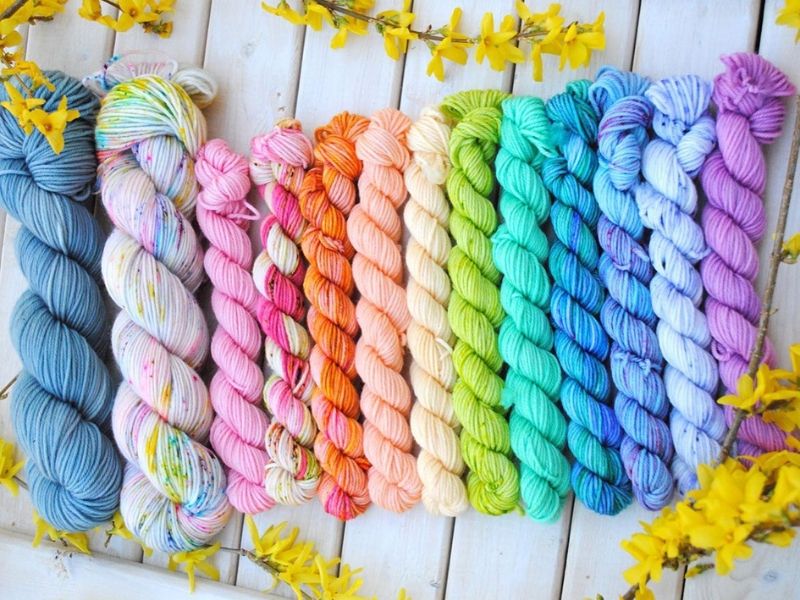 or…
Try out my newest tutorial!
→ How to Crochet Easy Puff Stitch | Video Tutorial + Written Pattern ←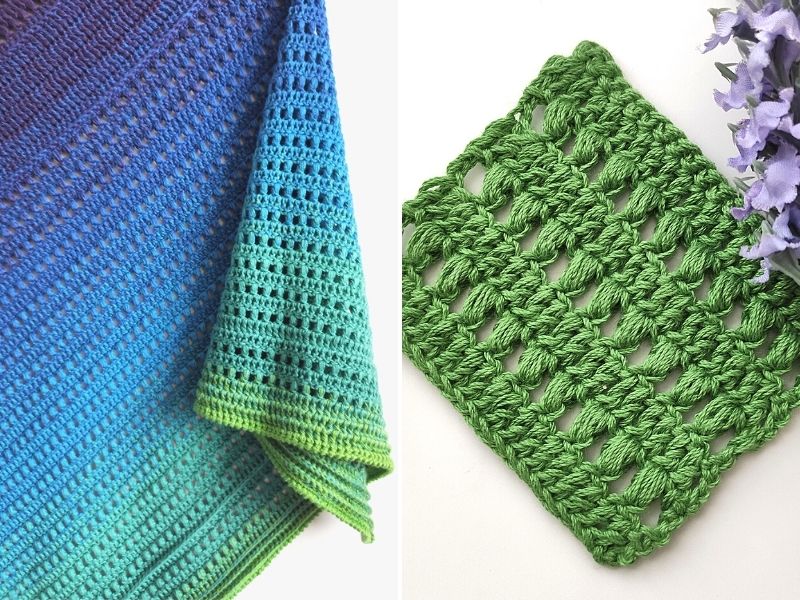 crochet roundup!
In this part I would like to explain different approaches to gingham crochet and show them on fantastic examples. Crocheters all around the world love this classic pattern and come up with new ideas and color schemes every day, so be sure to check out their Instagram pages and blogs.
Read carefully for free crochet patterns and tutorials.
◉
Classic Crochet Gingham Blankets
Crochet Herringbone Half Gingham Blanket by Daisy Farm Crafts
This basic gingham pattern is a perfect example of a beautiful use of colors. Two shades of violet work perfectly with white, creating feminine, but not overly girly palette. Daisy Farm Crafts is known for their fantastic use of simple stitches, and this project is no exception – it uses variation of half double crochet – easy, but powerful.

You can find this free crochet pattern here.
◉
Gingham Blanket by Bilkis Kashem Begum
Red and white always go nice together, especially here, with light pink accompanying the two. This blanket is made with single crochet stitches, which makes it dense and even. Frivolous petal border adds fun to this design, so try this combination if you want to achieve similar look!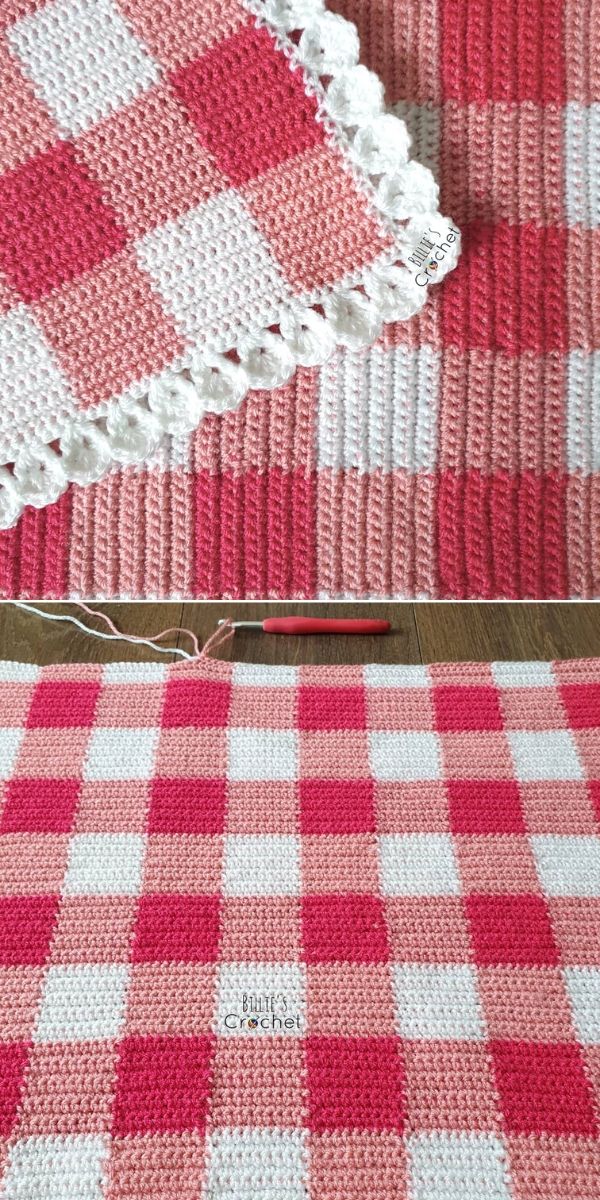 To make similar project, take a look at Gingham Baby Blanket by Shannon Holding, which is available as free pattern.
◉
Lacy Gingham Baby Blanket by Yarnaway
This red and blue version would be very basic, but the border elevates it to the next level! Crocheter behind Yarnaway decided to pair solid gingham with delicate, lacy border, and it looks really cool. Just take a look at the pictures and see for yourself – it's a fantastic idea to make simple projects stand out.
This blanket was based on free pattern for Crochet Pink Gingham Blanket by Daisy Farm Crafts, and the border is modified version of SharonBlignaut's Bohemian Blanket. You can read more about Yarnaway's version on projects' Ravelry page, or the blog post linked above.
◉
Gingham Baby Blankets by CleverCrochetsbyMJ
I often get inspired by nature, especially when it comes to color combinations! You can say that these two projects by MJ were inspired by flora – top one takes its green hues from spring grass, and bottom one pays homage to fragrant lilacs.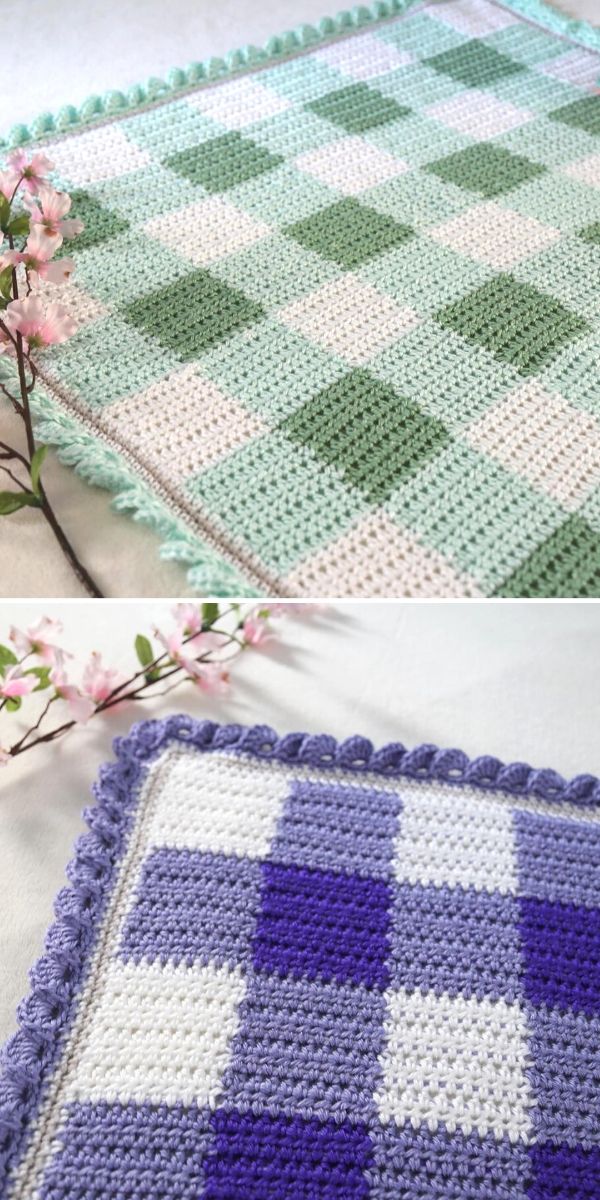 Baby blanket in the photo below is a very interesting example of what happens when you don't follow the rules 😉
In this project MJ chose three very different colors (including one multicolored yarn) and mixed their places – the lightest color is where the medium one should be. This version does follow the gingham pattern, but it's just not visible!
◉
Granny Square Gingham Blankets
Duck Egg Gingham Blanket by The Patchwork Heart
Do you want to stay in your comfort zone? No problem. Gingham pattern likes any kind of squares, so grannies are on the list as well. Plan ahead and count how many of each color you need, then join them to make a lovely blanket! Or do as Heather did, and join as you go to save time! Take a look below and see if you like the palette she chose.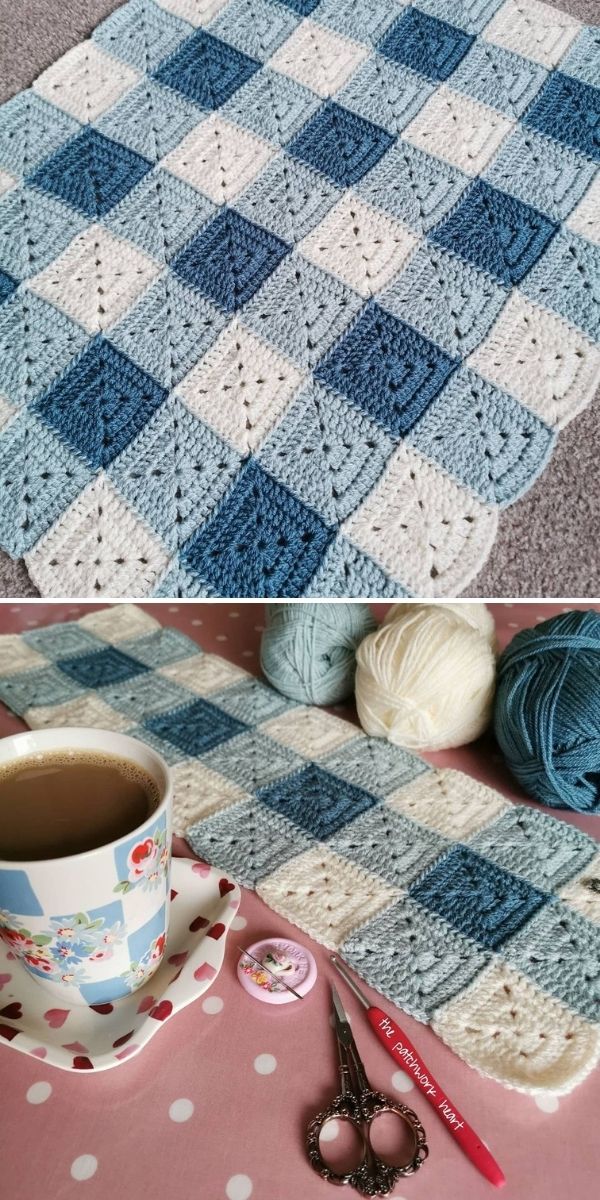 ◉
Powder Pink Gingham Blanket by The Patchwork Heart
Another lovely version of gingham and grannies features two shades of dusty pink and delicate cream color. Heather decided to go for a girly palette, and you should keep in mind, that this color combination will suit many gift receivers! Whether you are making a baby blanket, or a bedspread for your mamma, this pattern will be great.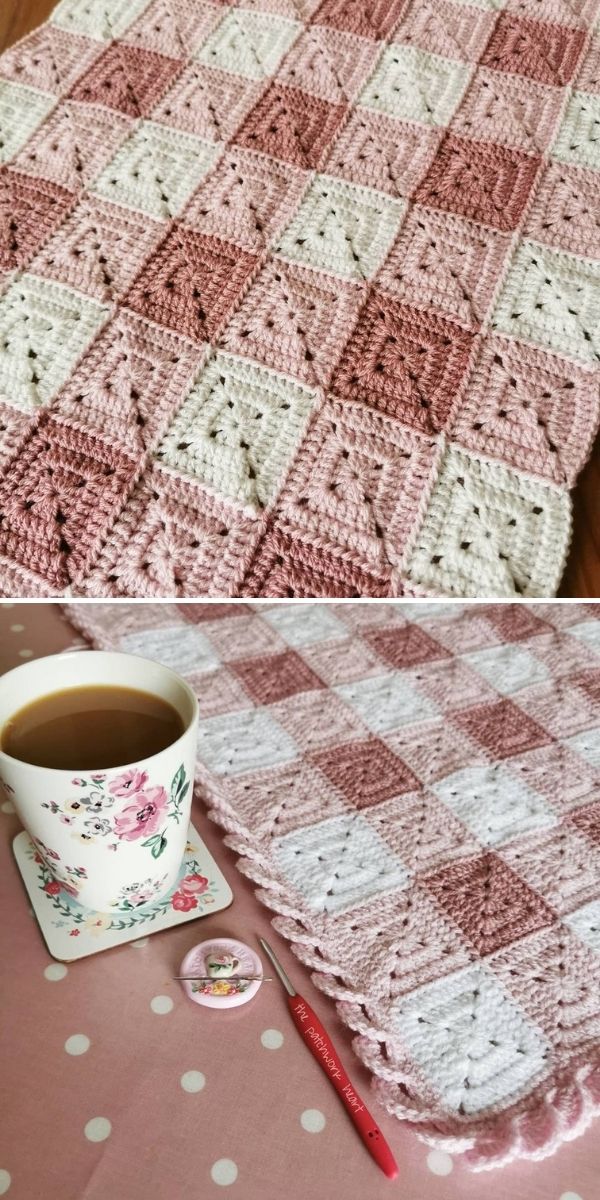 To make similar project, you can use any solid granny square pattern you find. To learn how to crochet this border, take a look at Bella Coco's tutorial for Wave Border on YouTube.
◉
Gingham Daisy Baby Afghan by the Jewell's Handmades
Gingham doesn't have to be boring! Introducing applique or floral squares is a great way to add some pizzazz to this classic project. As you can see in the photos, pinks and whites look great with speckles of yellow, but I am sure that you can make it in many different color combinations.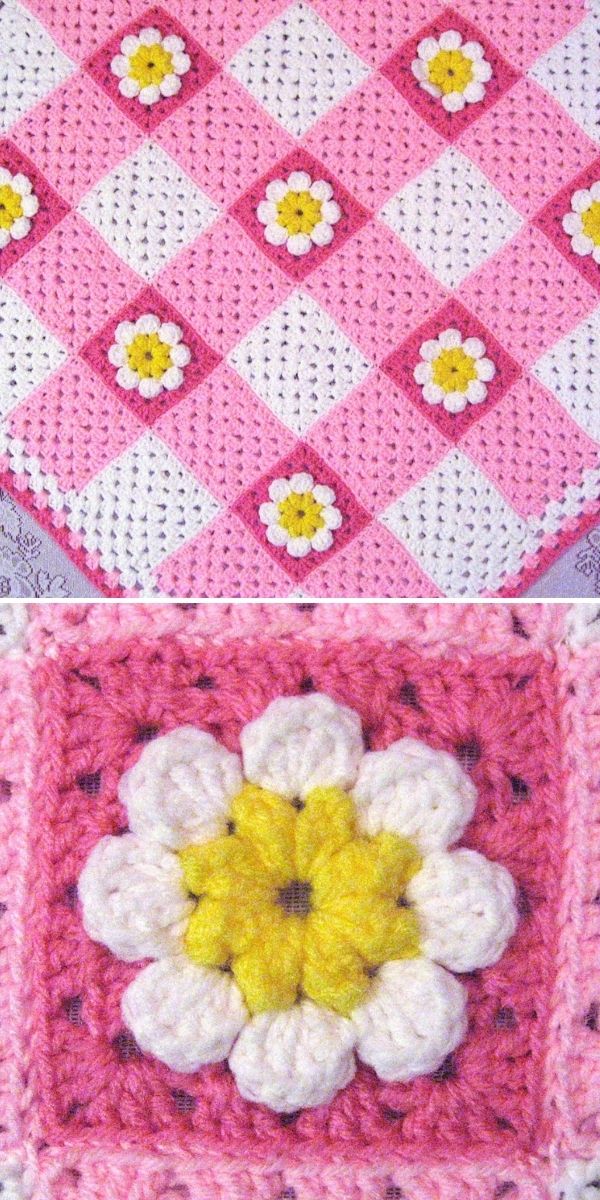 You can purchase pattern for this blanket directly from Ravelry, or use any free pattern for floral square and incorporate it in your project.
◉
Original Stitches in Gingham Crochet Blankets
Crochet Teal Gingham Blanket by Daisy Farm Crafts
You don't have to use basic crochet stitches to create gingham pattern, so don't worry if you want to be more playful! In fact, using structural stitches can be a great idea for baby blankets and winter accessories. This beautiful teal gingham blanket by Daisy Farm Crafts uses single crochet and double crochet that are stacked on top of each other, therefore creating unusual pattern.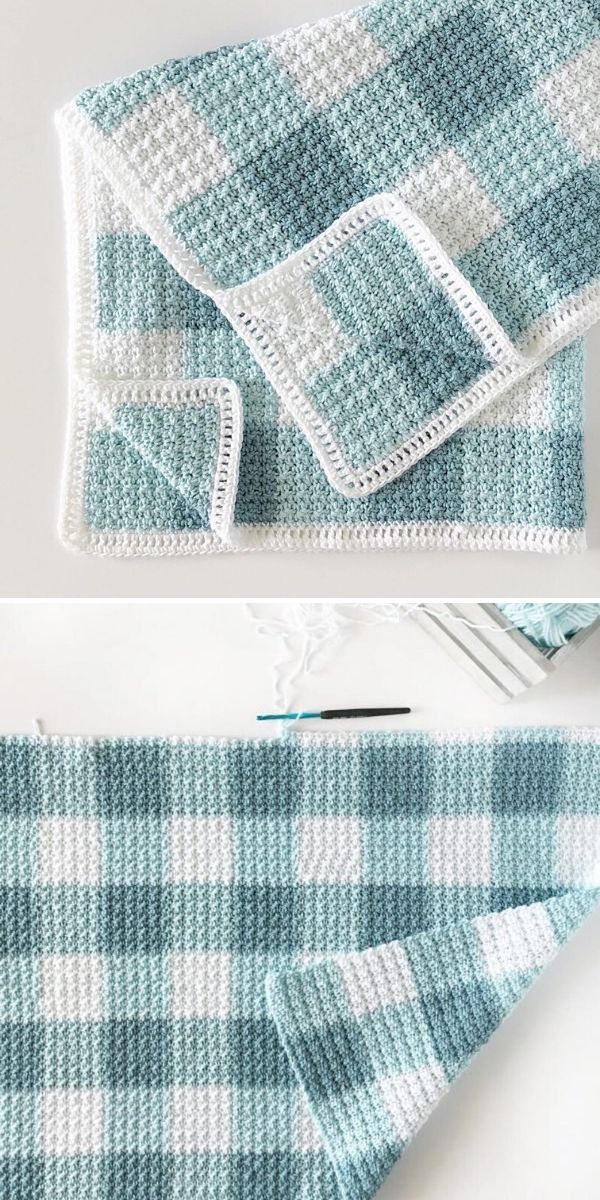 You can find this free crochet pattern here.
◉
Gingham Blankets by Made By Madeline
Madeline used a free pattern for Crochet Teal Gingham Blanket to create her own vibrant blue version of this design. The stitches are nice and even, so this structural piece doesn't even need a border!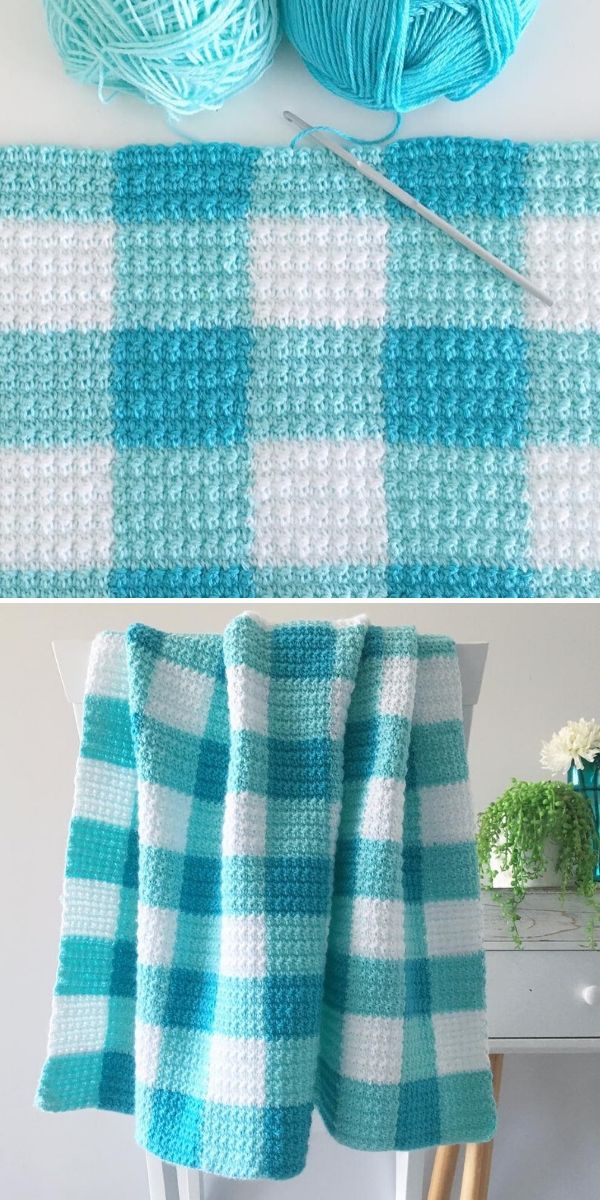 Colors you choose for the gingham pattern are crucial for the final effect! If you are wondering how could it look like in very delicate hues, take a look at this beauty made by Madeline. Soft peachy colors and white create a combination so soft, that it's just perfect for a baby girl. Crab stitch on the edges is a beautiful and simple finishing touch!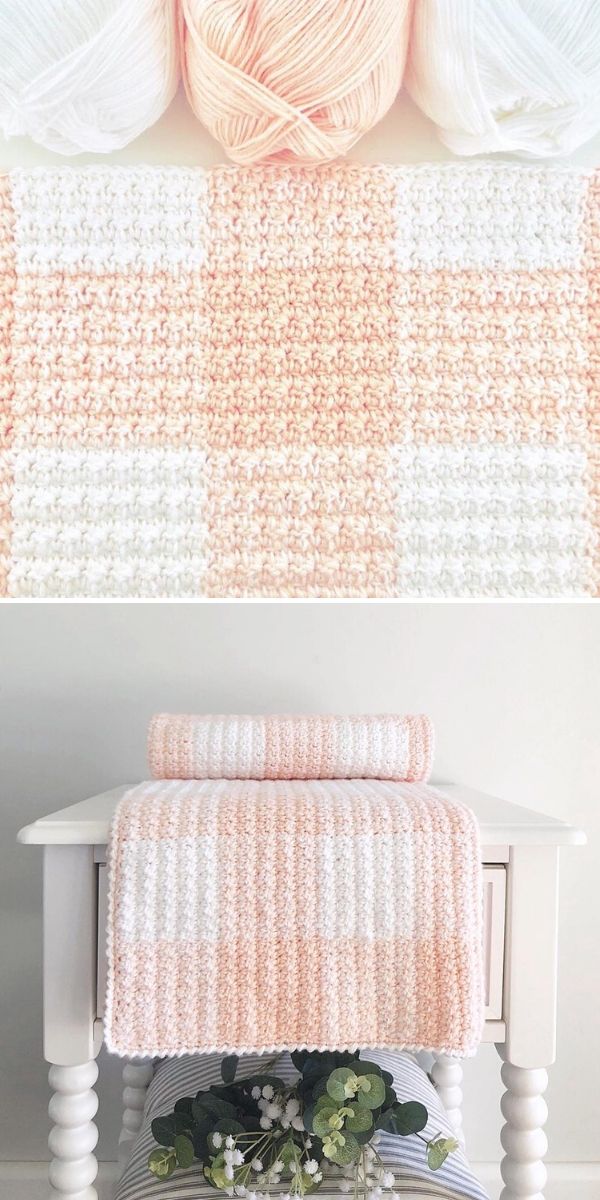 ◉
C2C Crochet Gingham Blankets
C2C Blue Gingham Baby Blanket For Teddy by Maryfairy
This adorable blanket could not be cuter, because it has not only a lovely palette of colors, but also little bear appliques. Maryfairy made this blanket as a gift, and you can tell that it's made with love. Take a peek below and see how nice the border is, too!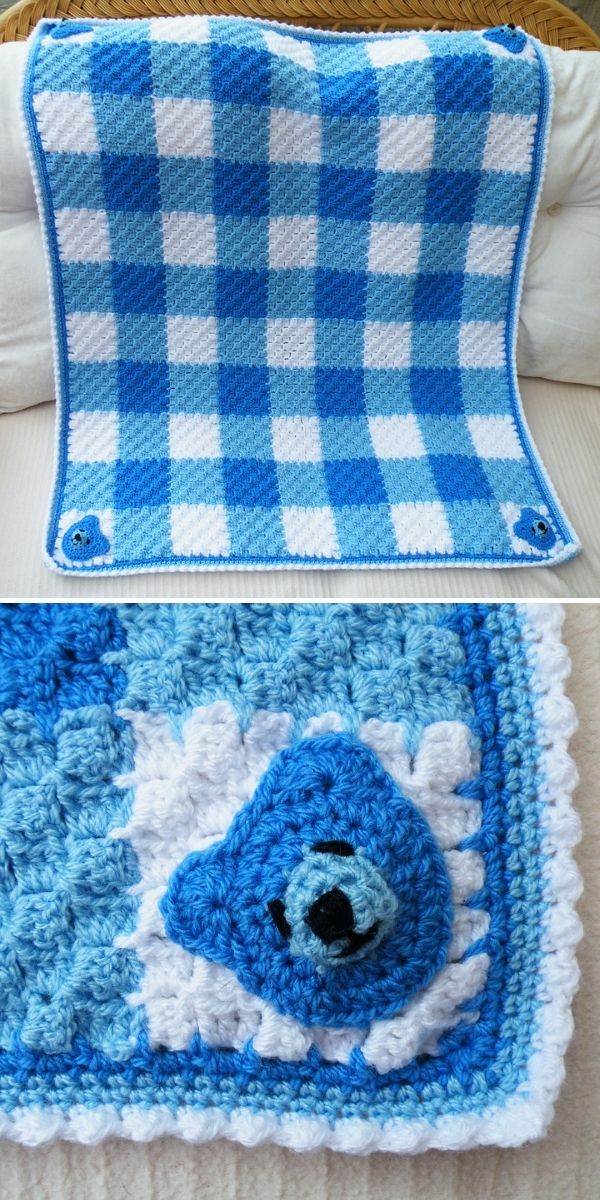 You can use any pattern for C2C gingham to make similar project, but if you are interested in the border the author used here, check out her instructions for it on projects' Ravelry page.
◉
C2C Gingham Blanket by Hanan Hannaway
As I've mentioned before, you can create gingham pattern without the use of tapestry crochet, but simply by joining squares in different colors! This lovely pattern uses C2C technique, which can be tricky, but is definitely worth the try. Hanan chose denim, blue and white to make her version of gingham blanket.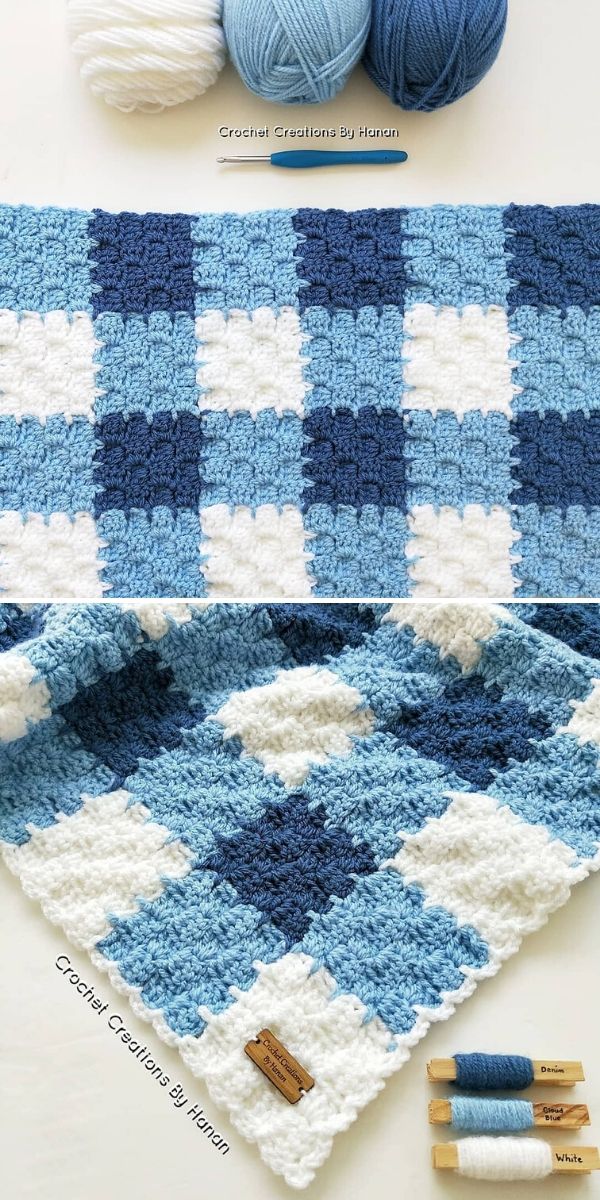 Use this fantastic and free Gingham Blanket C2C Join As You Go Tutorial to make similar blanket by yourself!
◉
C2C Gingham Blanket by The Wiggly Stick
Shades of blue are definitely one of the beloved colors for gingham patterns, and this fantastic version by The Wiggly Stick is a great example of that. This project showcases what's best in both of these techniques, because you can see endless possibilities of both C2C and gingham pattern.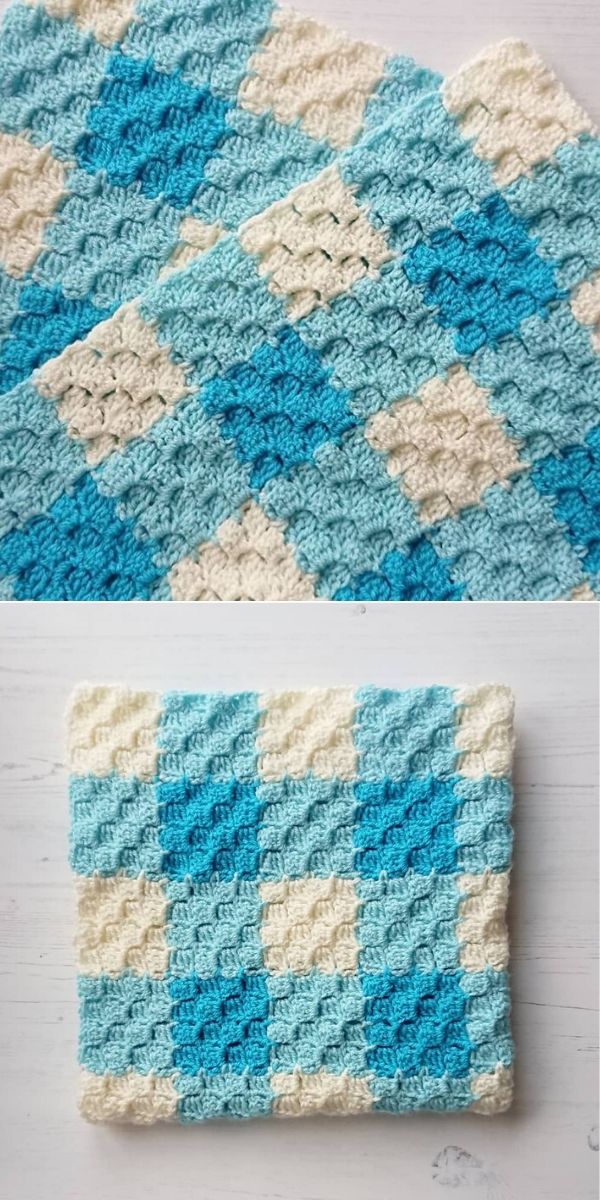 Free Gingham Blanket C2C Join As You Go Tutorial will help you make your own blanket!
◉
Using Two Yarns to Create Medium Color
Navy Gingham Crochet Blanket by Daisy Farm Crafts
In original gingham, which is a woven fabric, medium color appears, because light and dark colors intersect each other. Did you know that you can use the same principle in crochet? Instead of choosing third color, just use two strands of yarn together!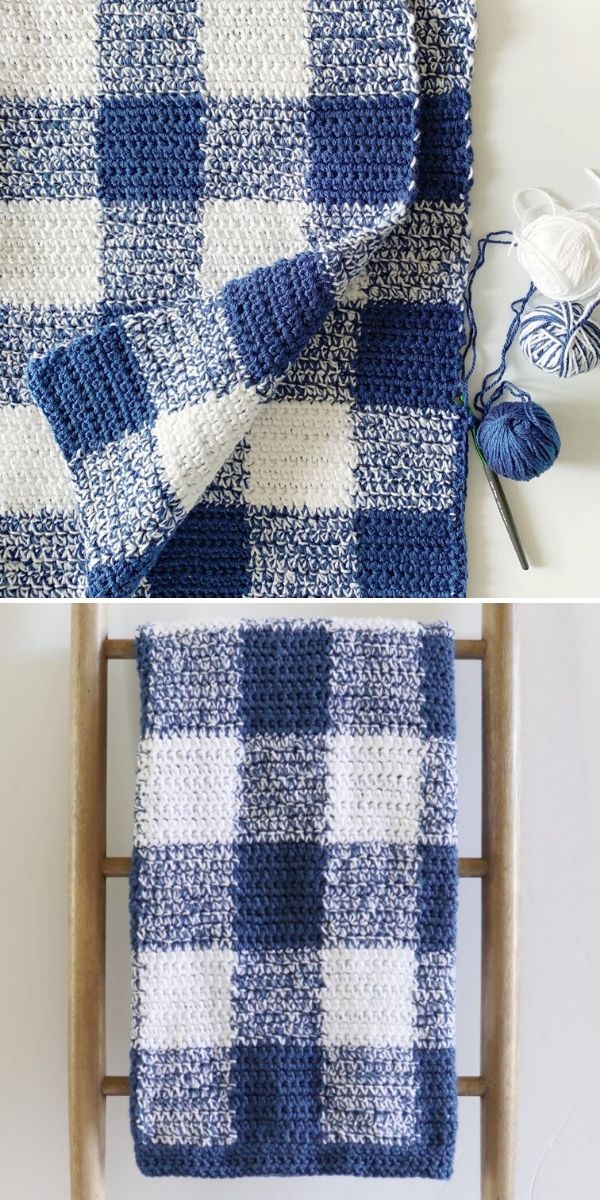 You can find this free crochet pattern here.
◉
Grey Gingham Blanket by Made By Madeline
To achieve the effect of medium color, you can mix your lightest and darkest yarn together! Just unwind a little bit from both skeins, and work with two yarns at once, just like Madeline did. If you find it much heavier than other two, you can divide yarns into individual strands and cut its amount in half.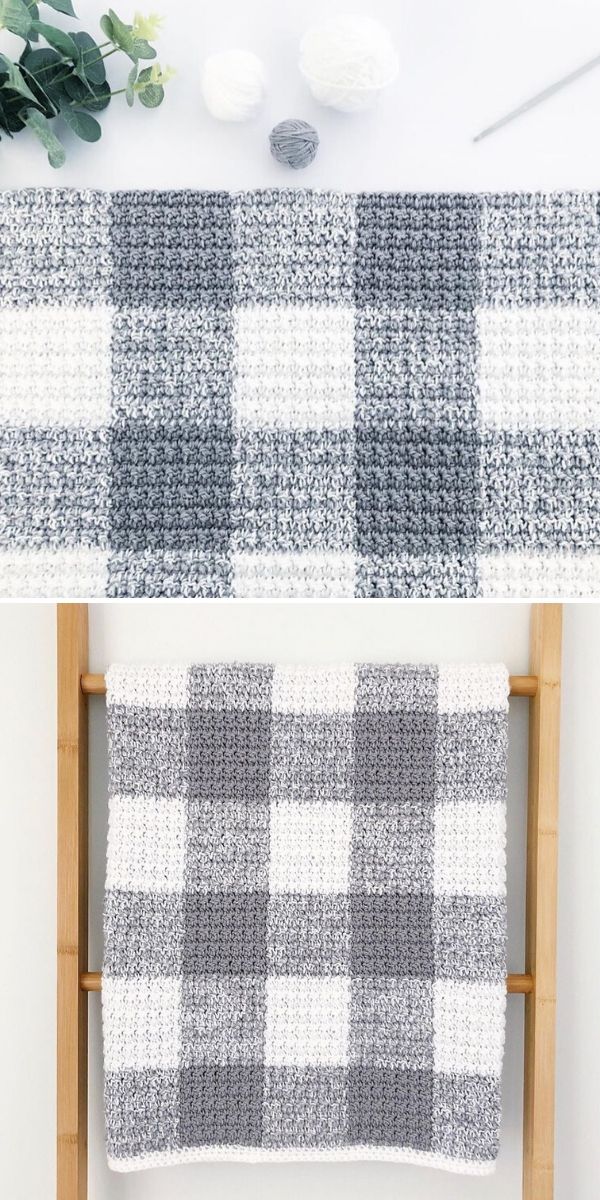 Check out free pattern for Red Gingham Blanket by Daisy Farm Crafts, because it uses the same technique of mixing colors.
◉
Small Squares in Gingham Pattern
Rainbow Gingham Baby Blanket by Valarie Szura
Who said that gingham squares should be big? Nobody! That's why you should be afraid to try it in smaller scale, too. This fantastic design by Valarie not only features small gingham pattern, but also introduces rainbow colors for different parts of the pattern. Just see for yourself and get inspired!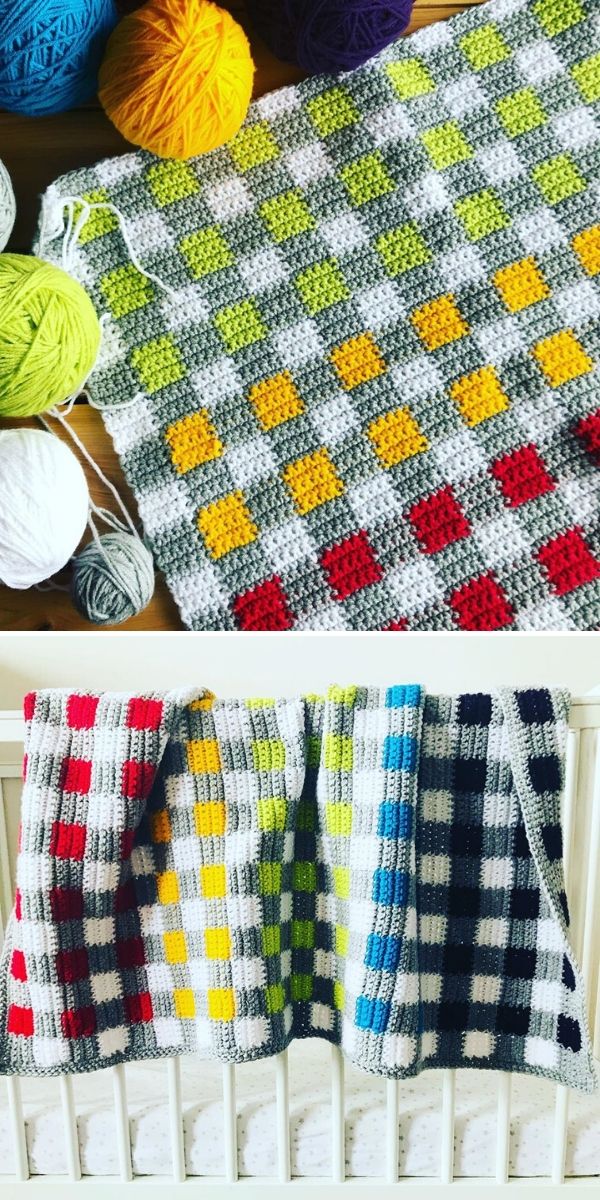 This is a paid pattern available for purchase here. If you would like to try free pattern that uses small gingham squares, take a look at Spring Gingham Dishcloth by Megan Meyer, because you can use it to make a blanket, too!
◉
Half Double Crochet Gingham Blanket Pattern by Daisy Farm Crafts
If you are a fan of classics, or you are looking for a masculine design, this one may be interesting for you. Black, grey and white is the most basic color combo you can imagine, but guess what? It works great! Don't reinvent the wheel when you are not inspired, and go for the most beautiful classics.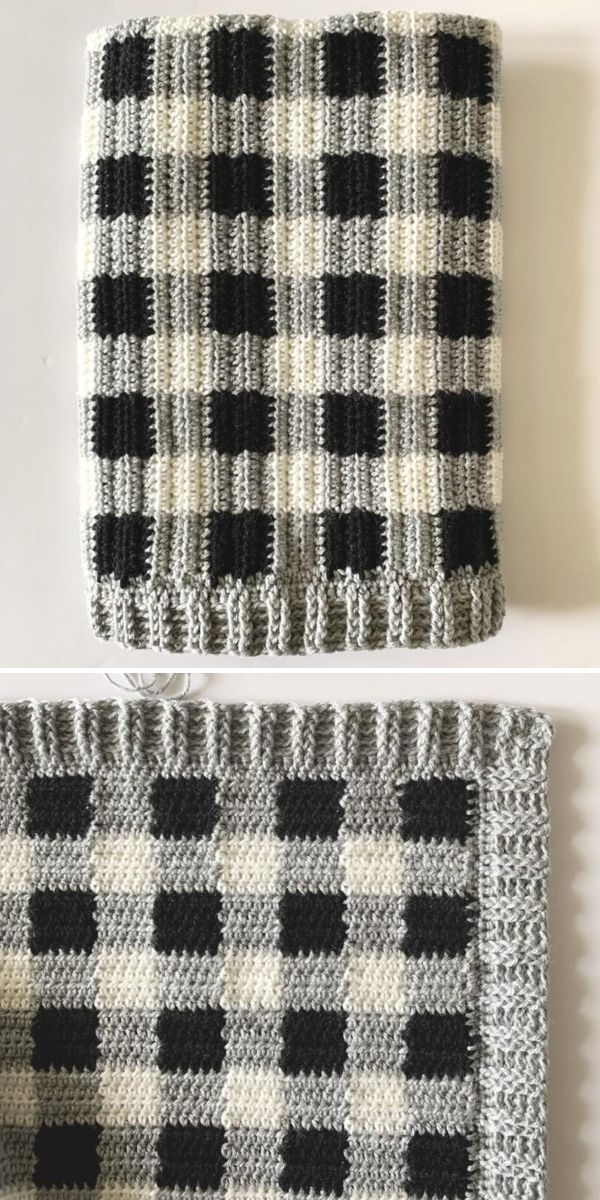 You can find this free crochet pattern here.
◉
Herringbone DC Gingham Baby Blanket by Daisy Farm Crafts
Feeling a little jiggly today? Herringbone stitch creates little zig-zags that will make your plain gingham pattern surprisingly fun. This example is a proof that you can try lots of different crochet stitches in gingham colors – just remember how the colors flow!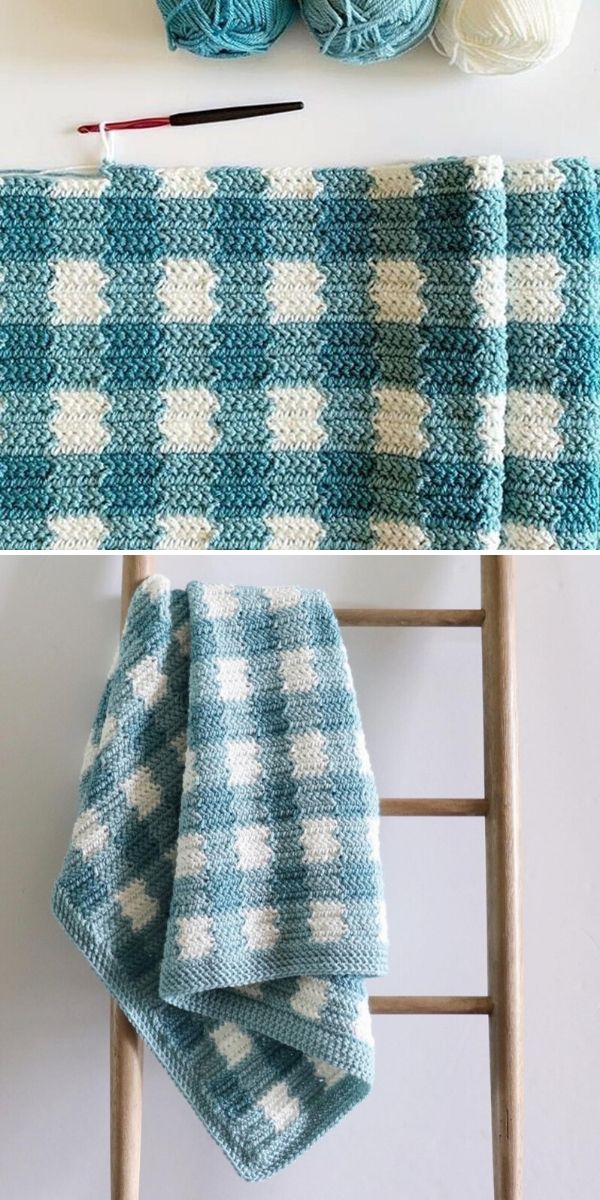 You can find this free crochet pattern here.
◉
That's all for today, but I'll be back with much more inspiring projects and free patterns. Like, share and subscribe if you like what you see. Stay tuned!
↔
You may also like: Enchanting Dragonfly Stitch Ideas