The summer is at its peak, and we all want to catch sunshine – that's what the holiday season is for! Let's enjoy it while it lasts. I'm back from a week-long vacation and I brought a little present for you – another free crochet pattern.
I try to always have something to crochet with at hand because it relaxes me like nothing else. So when our sailboat finally moored in the calm cove, I've come up with this simple square. It's available as a written pattern and a colorful diagram.
◉
SAVE IT IN FAVORITES ON RAVELRY
or follow me on PINTEREST and INSTAGRAM
◉
This square is fun to make and works up pretty fast. I wanted it to be easy enough for beginners, but with a twist, so I added puff stitch. It creates a structure in the middle so that the central part looks even more like a floating island.
Any color combinations are allowed here – in fact, I'm very curious to see what else can you come up with!
CHECK OUT OUR OTHER FREE PATTERNS: Puppy Baby Lovey and Lake Sunset Shawl
This square can be a nice coaster or one of the pieces to make a blanket with. The yarn I've used is quite soft, so some kind of blocking might be needed after finishing.
If I were to make a set of coasters out of them, I would use pure cotton or linen yarn, which holds much more shape than this cotton-acrylic blend. My choice of yarn is perfect for baby blankets, though, as well as other soft and squishy accessories.
The square is approximately 10 x 10 cm (3,85″ x 3,85″), but the final size depends greatly on the kind of yarn you use and your style of crocheting. The center of the square can be closed off completely or left with a small hole like mine. It all depends on your preferences, so if you like it completely closed, just leave the thread from the adjustable loop while crocheting the first few rows and pull it again.
I've decided to pull it once at the start and crochet the thread into the next rows, but this way it got a little bit looser and created this small hole. I personally like it this way, but don't be afraid to experiment!
PATTERN NOTES
LEVEL – upper beginner
TERMS – standard US
TECHNIQUES
MATERIALS AND TOOLS
yarn: YarnArt Jeans (

Sport: 55% Cotton, 45% Acrylic

) in 3 colors: light pink, light blue, and light green

crochet hook 3mm

scissors
before you start
3 chain stitches from the beginning of the round count as one double crochet.
They are included in the overall stitch count at the end of the round (x).
it's good to block the piece after making it, to give it an even shape.
Let's begin!
written pattern
In pink yarn:
START: magic loop
ROUND 1:
9 sc into the magic loop, close with a sl st (9) pull the loop to close.
ROUND 2:
3 ch, 1 dc in the same stitch, *2 dc in one st* continue until the end of the round (18)
ROUND 3:
3 ch, 1 dc in the same stitch, 1 puff, 1 ch, *2 dc in the same st, 1 puff, 1 ch* x8, close with a sl st (36) 
ROUND 4:
3 ch, skip one, 1 sc, *2 ch, skip one, 1 sc* x17, close with a sl st (54) 
In blue yarn:
ROUND 5:
3 ch, 2 dc into the closest chain space, *1 ch, 3 dc into chain space* x 17, close with a sl st (72) 
ROUND 6:
sc in each stitch, close with a sl st (72)
In green yarn:
ROUND 7:
1 ch, 2 sc, 2 hdc, 2 dc, 1 tr, 1 dtr, *1 ttr (corner),
1 dtr, 1 tr, 2 dc, 2 hdc, 5 sc, 2 hdc, 2 dc, 1 tr, 1 dtr* x3,
1 ttr (corner), 1 dtr, 1 tr, 2 dc, 2 hdc, 2 sc, close with a sl st (72)
diagram
The diagram is a visual representation of the pattern. I've used standard American symbols and colors to help you see which rounds were made in which color.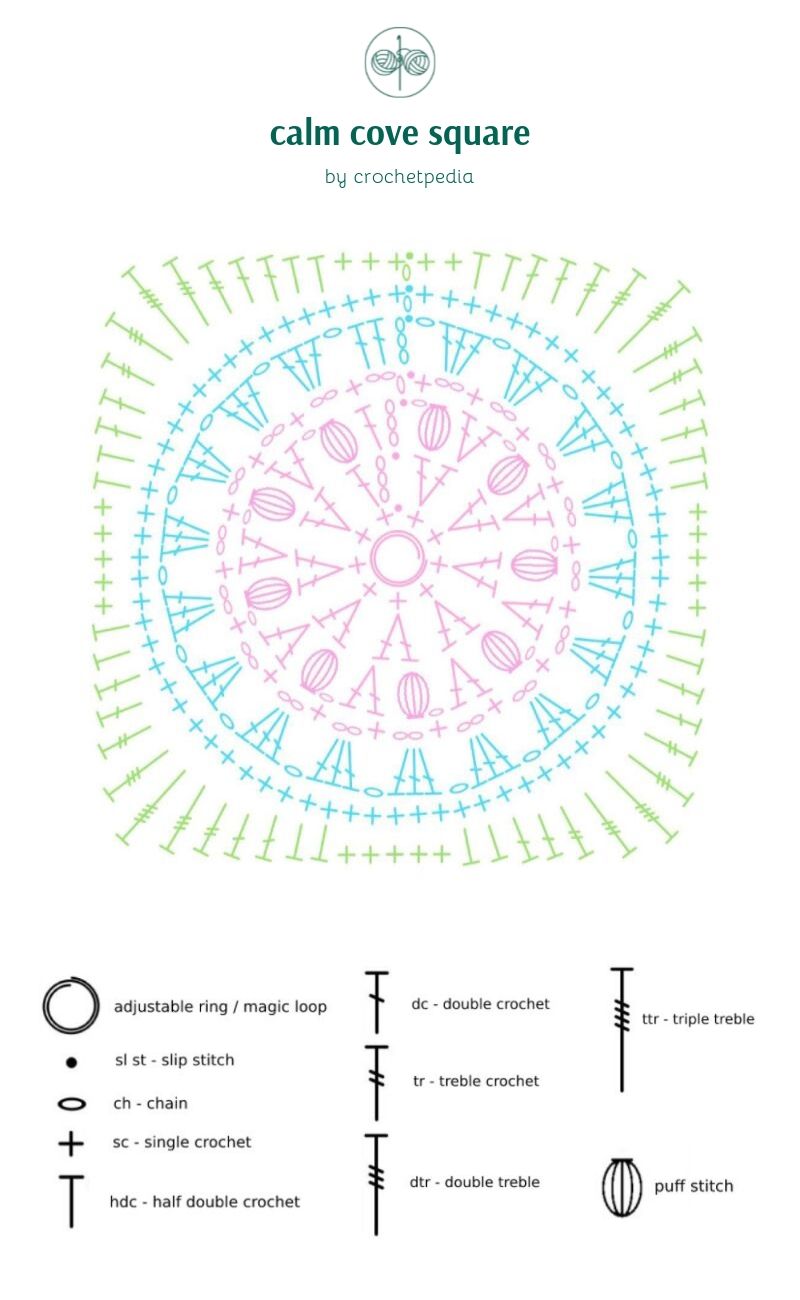 I like to take a look at the diagram, even when following a written pattern. I'm a visual person and it's much easier for me to grasp an idea when I see it presented in symbols. Let me know what you like more – diagrams or written patterns? I'm very interested in your opinion!
you are done!
Great work! I hope that both the written pattern and diagram helped you on the way and you have your square made. Now it's your decision what to do with it! The possibilities are endless! You can make a bunch of different color combinations and join them into a lovely baby blanket, or create a set of beautiful coasters to give as a gift.
While I work hard to make sure the projects I publish are of the highest quality, this pattern is untested and may contain errors. If you notice one, please let me know – I'm going to revise it and correct it as soon as possible.
share, like, subscribe!
If you happen to make this project, I would love to see it, so don't hesitate to contact me! Please feel free to share the results with us in the comments or on social media. Of course, if you find any mistakes in the pattern or find it hard to understand, please let me know, so I can learn and improve!
Sharing is caring, so if you liked this project, be sure to share it with your friends and spread the word, because I really appreciate it! For more free tutorials, patterns, and interesting articles – follow my social media pages and allow notifications to get a pop-up whenever a new post is published.
◉
FOLLOW ME ON PINTEREST AND INSTAGRAM