Today's theme is Block Stitch! I'm sure you've seen it before, but it's definitely not as popular as granny stitch. Similarity between the two is unmistakable, because both techniques use triads of double crochet. Block stitch has a lot to offer, though!
Find more inspiration in my Recommendation Series, because I've analyzed lots of cool crochet stitches and projects there. Learn more about Granny Square Crochet Ideas, Dune Blanket Ideas, or explore The Best Flowery Crochet Stitches.
cute alternative to granny
This stitch is in some ways very similar to granny stitch, but, of course, looks quite different. It's simple enough, though, that beginners should find it very fun and easy to use in their projects.
Materials
You can use any yarn and corresponding hook you want, but remember that yarn weight will highly impact the final effect. You can find these informations on the yarn label, so be sure that you know how to find them! To make sure the stitch looks exactly like you want it to, I recommend you making a crochet swatch first.
As you can see in the picture, this stitch looks best when made with two or more colors, because its beauty lies in the nicely stacked blocks and little "dots" that divide them. Olivia chose pink, mint and white for her swatch – what colors will you choose?
How to make Block Stitch?
This technique uses only basic stitches, such as chain stitch, single crochet and double crochet. That's all!
To learn how to make it, check out Hopeful Honey's free video tutorial on hopefulhoney.com, or check out Meladora's photo-tutorial and written pattern on her website meladorascreations.com.
On top of that, check out my Crochet Roundup section to find more patterns under the pictures! I'm always linking to free and paid resources you can use on your crochet journey.
talking about stitches…
Our growing website and library of free crochet patterns has some projects that might interest you, too. On top of that, my list of Stitch Tutorials is still growing! For example, check out my tutorial on How to Crochet V-Stitch Two Ways!
→ Yes! Take me to this tutorial! ←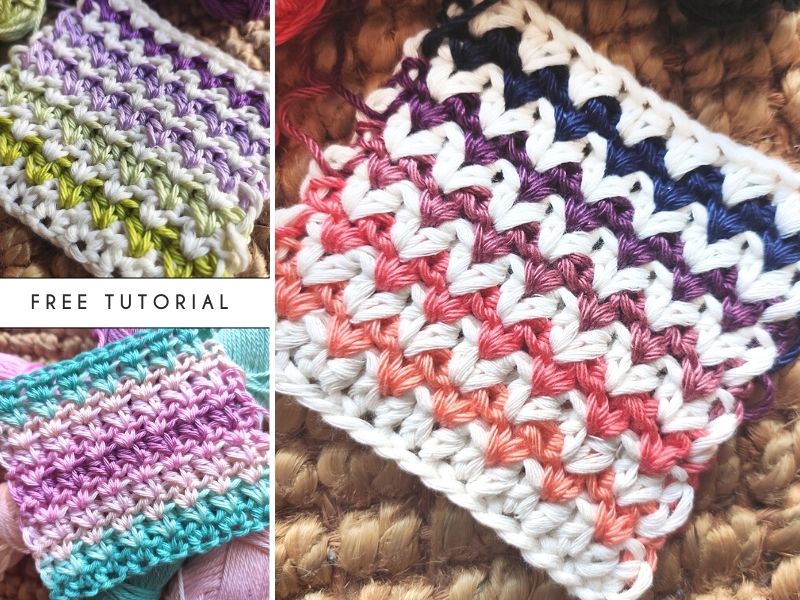 or…
Learn How to Crochet Granny Stripe Stitch with me!
→ Yes! Take me to this tutorial! ←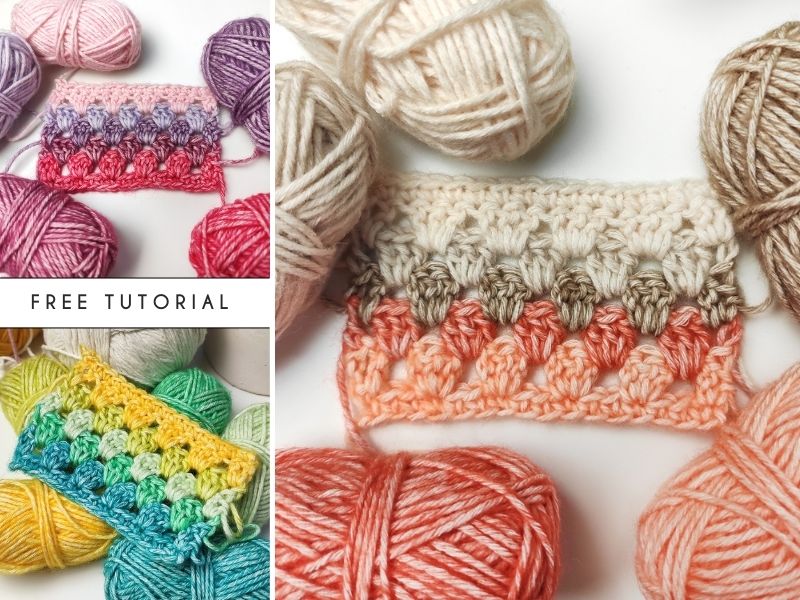 crochet roundup!
Whether it's just a small swatch, or big blanket, block stitch always catches my eye. Today's selection is full of inspiring color choices, so I hope that you will find something that sparks a light in you!
Read closely to find free crochet patterns and other useful resources, and don't forget to check out and follow talented crocheters I featured today.
◉
Graphic Experiments
Block Stitch Swatch by hook_and_chains
Creative endeavors of Laura led her to making this cute swatch, which is visible in the picture. Not only does she chose two beautiful tones of blue, but also added a pop of bright colors – yellow and pink. The "in-between" row of chains and single crochet is a great place to add contrasting yarn, because it results in this stunning dotted pattern.
You may also like this tutorial: How to Crochet Alpine Stitch
◉
Orange and Blue Block Stitch Blanket by Yay Retro
Sometimes simple designs in fact require a bit of planning – I don't know if that was the case with this blanket from Yay Retro, but it's a very interesting piece! Just take a closer look at the photos below and see for yourself – there are sections where orange is used in "dots", but after some rows it's used as "blocks", with blue dots between. Clever!
To make similar blanket, you can use free crochet pattern for Block Stitch Lap Blanket by See Love Share, available on seeloveshare.it.
◉
Delicate and Classic
Coffee and Cream Block Stitch Blanket by the_crofters
Delicate neutral colors are always a good idea, especially if you are not sure about your gift-receivers' preferences. Color palette that you can see in the picture below was carefully chosen by Hazel and works great as a gender-neutral baby blanket. It looks much more interesting than classic granny stripe, right?

You may also like to learn… How to Read Crochet Diagrams
◉
Vintage Rainbow Blanket by sj.crochet_
When I think about spring and summer, I gravitate towards colors of fresh flowers, such as pinks, yellows and bright greens. You can find all of these hues in Sajeda's work presented below – organized in a lovely striped pattern. She used grey for the 'dots', which makes them disappear, so it's a good idea if you don't want to showcase them too much.
This blanket is based on Vintage Rainbow Blanket by Blue Ammonite Designs, which you can purchase on ravelry.com.
◉
Rainbows!
Midnight Rainbow Block Stitch Blanket by David Abel
Now this is a true showstopper! Just take a look at this lovely rainbow blanket in the photos and try not to smile. David chose the richest color palette and turned it into fantastic blanket. What's more, black 'dots' highlight the stain-glass effect and make the 'blocks' look very prominent. To finish his project off, David chose moss stitch for a border – lovely!
You may also like this article: Hugs and Kisses Blanket – The Most Beautiful Versions and Colorways
◉
Rainbow Block Stitch Baby Blanket by i_totally_made_it_myself
I don't think I've ever seen pastel rainbow that didn't look good, so go for this color palette when in doubt. Crocheter behind I_totally_made_it_myself Instagram account has a lot of stunning pieces to show, but this one stole my heart! Juicy blocks are divided with white dots of single crochet stitches. Cute, but don't forget about blocking!
To make a similar project, you can use Strawberry Shortcake Blanket pattern by Shannon Holding, because it's available for free! You will find it on theloopholefox.com (with instructions on how to add beautiful crab stitch border!)
◉
Rainbow Block Stitch Blanket by made_by_gina
I've already told you that block stitch makes it pretty easy to experiment, but this piece is a great example of that. As you can see in the photos, Gina decided to go for white blocks and introduce rainbow colors in the in-between rows, so it resulted in an inverted effect. Little colorful dots look just lovely, and plain white will fit almost every interior.
This easy stitch looks great in blankets, so consider making Block Stitch Blanket by Jo Janes, which is available as free crochet pattern on deramores.com.
◉
Creative Variations on Block Stitch
Ripple Block Stitch by Sharon Murphy
We've got granny ripple stitch, so why not make a block stitch ripple? Sharon came up with a way to turn this clever technique into zig-zags, but that's not all. As you can see in the photos, this stitch changes depending on the color choices for each row, so it can be plain or dotted! Possibilities are endless, so have fun with it!
This pattern is available for free on ravelry.com.
You may also like to learn… How To Crochet Granny Stripe Stitch + Video!
◉
Doll Blanket in Block Stitch by Ally Joy
Many of us have dreamed of making colorful graphic designs that corner-to-corner (C2C) technique offers, but found it too hard to learn. Fret no more! This stunning doll blanket by Ally Joy proves that block stitch can easily replace C2C in the realm of graphgans. Who is all for it? I know I am!
↔
Lately I wrote about… Suzette Stitch Ideas – Resources, Colorways and Inspiration!