If you need ideas for blankets to make and sell, this article is for you! What you will find here?
the rules for using someone's crochet pattern.
a list of top crocheters who allow to sell what you make from their patterns.
the best ideas for blankets that everyone will love!
And that's because at some point each and every one of us is getting questions from friends and family…
Can I buy this? Do you sell this? Will you make one for me?
It doesn't matter if you haven't started selling your crochet products yet, or if you have an established stream of income from your hobby – this article is for you. Explore the bestselling patterns for blankets and surprise your customers or friends with new designs!
◉
The Rules
What if I don't come up with my own patterns, but instead I'd like to use free or paid ones found on the web?
When following someone else's pattern, you must check if the author allows selling the items made from it.
If the author doesn't allow to sell what you make, you must respect that, otherwise you do it

illegally

!
If the author does allow selling the items, you should link to their website and credit them as the designer.
You cannot find any info about the matter? Just drop the author an email and ask!
But what about basic stitches, such as granny, or linen? Do I have to credit someone, too?
Blankets which are made in their entirety with the basic stitch, can be sold by anyone. It's a technique that's available for everyone, so there can be no claims about original design.
However, if the pattern includes two or more stitches combined together, or an inventive border, this particular design can be called original. You get the idea – a good example would be Hugs and Kisses Blanket, which is very simple, but also very recognizable (I wrote about it more later in this post!)
◉
Easy and Cute
One of the best ways to start is to go for very simple patterns, and I repeat – very simple. Basic stitches, such as granny, moss, or ripple can make the most beautiful blankets.
Remember that it's all in the colors, so choosing the right palette will be the most important part. You can mix and match different stitches and edgings to come up with your own combinations, too!
1. Granny Stripe Blanket
Oh, the beloved granny stitch! You've probably already seen countless projects with this technique, but did you know what color choices are the best? It all depends on the project, that's obvious, so you need to make sure that your inspiration library is full and ready for you to use it anytime.
I created a video tutorial that will help you learn it – find it here: How To Crochet Granny Stripe Stitch + Video!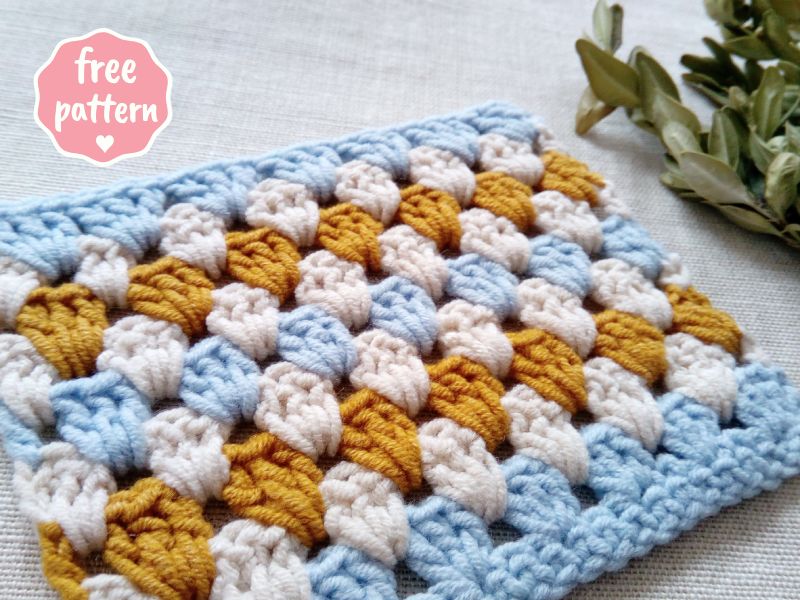 When you've got the basics, it's time to get inspired! I wrote an article about granny stripe stitch and featured the most beautiful blankets created by fabulous crocheters from all around the world. I'm sure you will find something that sparks the inspiration in you!
In this article you will find lots of resources and free patterns to get you started, but please keep in mind the rules I've listed at the beginning.
Check it out here: Granny Stripe Crochet Ideas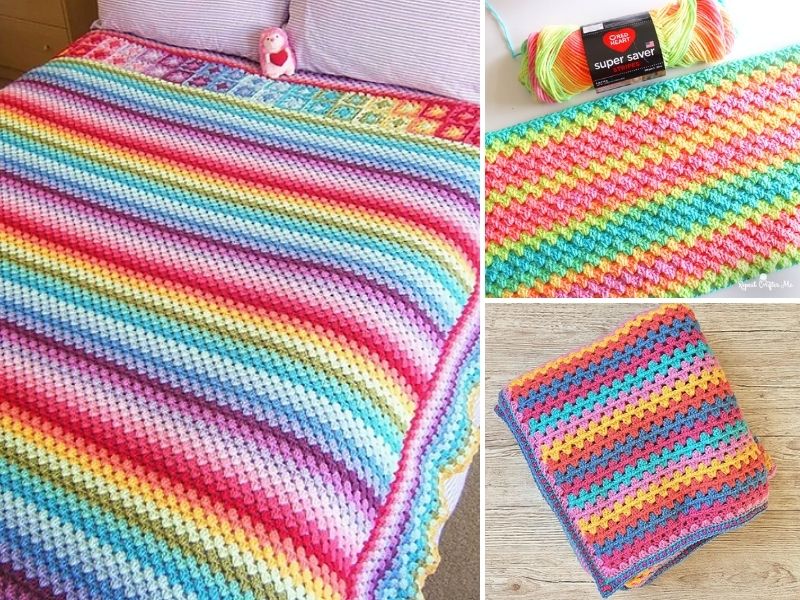 ◉
2. Moss Stitch Blanket
Moss or Linen stitch is great for blankets, because it creates dense grainy structure. You can use it to cleverly weave in colors and play with intricate dotted patterns it can create. It's a great way to start, because it's easy to learn and looks fantastic with many different borders and color combinations.
Read my article about it and explore beautiful creations from top crocheters: Moss Stitch / Linen Stitch Crochet Ideas.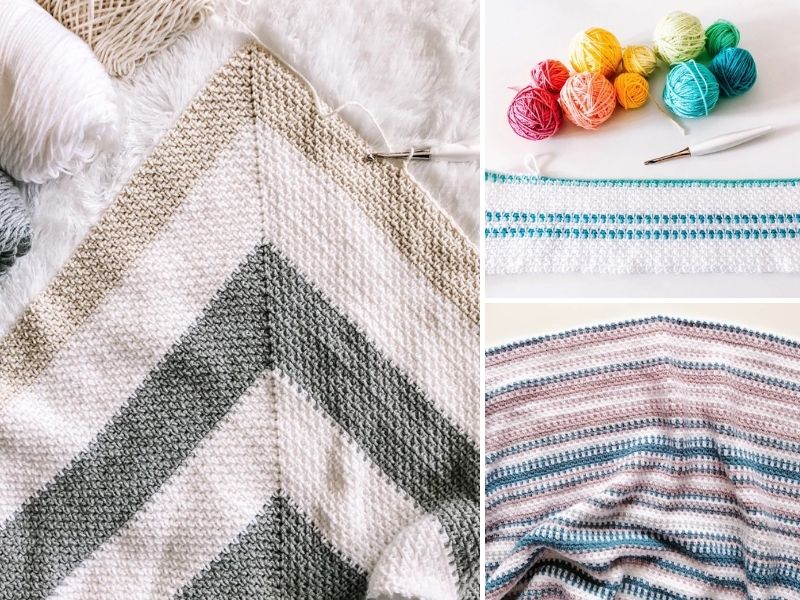 ◉
3. Ripple Stitch Blanket
Who could resist a gentle wavy pattern? It's so calming! The best thing about this stitch is its versatility, because it can become a cute baby blanket or a sophisticated king-size bedspread. It's all in the colors, as usual!
To make ripple stitch more interesting, try this:
Work the rows in the back loop only, because it will make the surface more structural!
Leave the edges wavy, because you do not have to even them up if you don't want to. Add border only to the right and left side, or don't add it at all.
Transform your wavy blanket into a seashore – choose shades of blue, white and sandy beige; and don't forget about adding little applique, such as sea turtles!
Explore more ideas in the post called Ripple Stitch Crochet Ideas.
◉
4. Bobble Stitch Blanket
Take some time to learn and understand how to crochet Bobble Stitch, because it may come in handy! Once you know how it works, you can play with it by yourself. Simple, repetitive patterns, such as classic Blackberry Salad Blanket (featured in the post linked below and available to sell what you make!) will be a great start, but as you progress, you can design your own unique blankets.
Why bobbles? Well, you can "draw" shapes and letters with them, or add a pop of color to basic white background. Not to mention this fact – babies love tactile structures!
Check out more ideas in my post about Fun Bobble Stitch Ideas.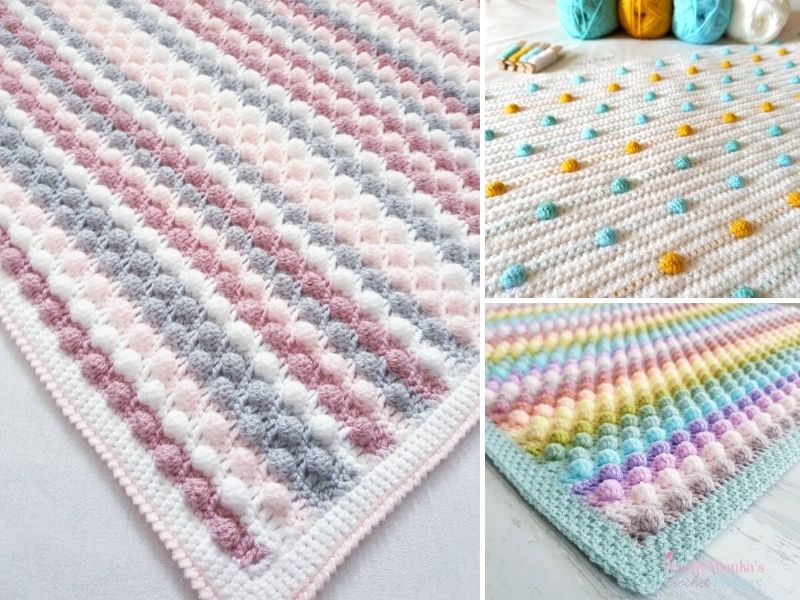 ◉
Crochet Designers who Allow Selling What You Make
◉
A Little Bit Extra
If you want to make something special, you can try out one of these patterns.
5. Hugs and Kisses Blanket
This classic pattern is everywhere, because crocheters know how versatile and lovely it is! It combines what people like best: bobbles, zig-zags and stripes. It looks great in solid color, rainbow, ombre… you name it!
I couldn't find any information about selling what you make on The Crochet Crowd's website, but there are so many made-to-order versions available to buy, that I guess it's fine!
Read more about Michael Sellick's original design and explore fantastic versions in my post called Hugs and Kisses Blanket – The Most Beautiful Versions and Colorways.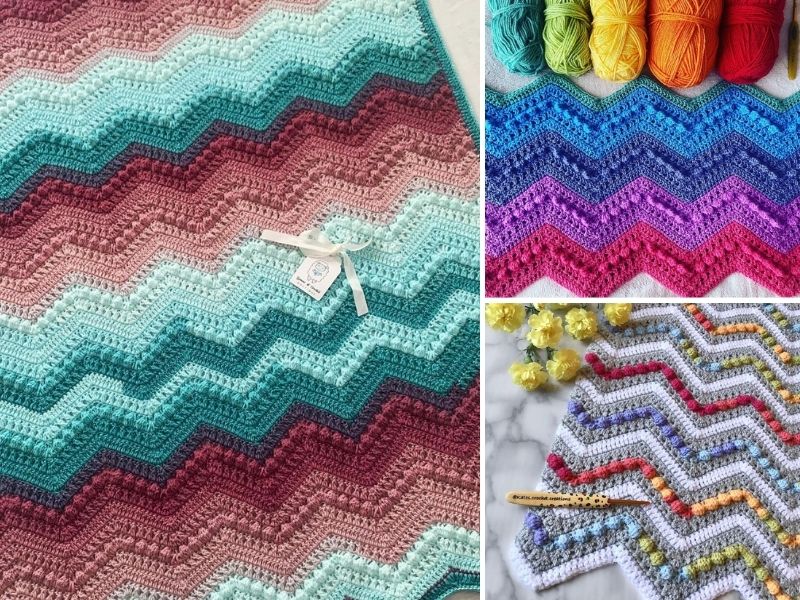 ◉
6. Millstone Stitch Blanket
This stitch is most known form Little Doolally's Bertie Blanket (more info about it is in the post linked below!), but the stitch itself is a basic one. This is a great choice for all of you who like to crochet with many colors, because little 'bricks' look best when each row features a different hue.
Learn more about this technique in my article about Millstone Stitch Ideas.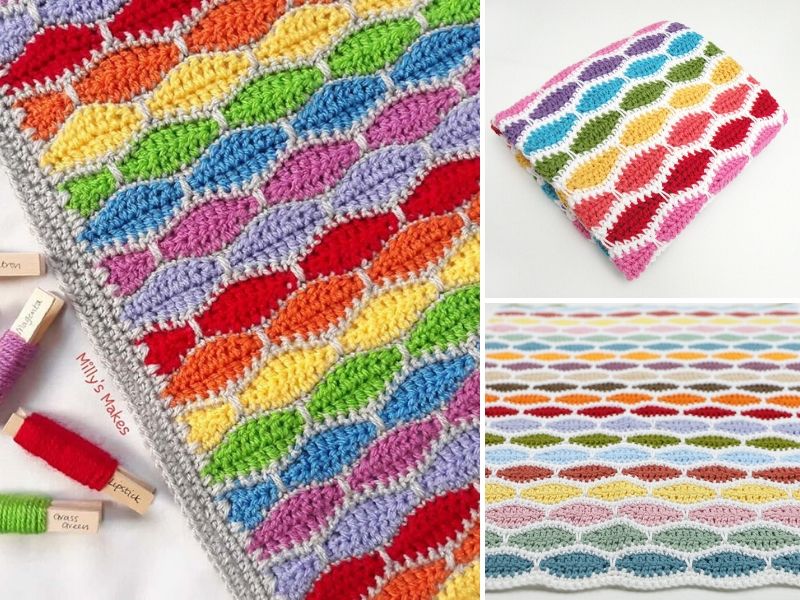 ◉
7. Puff Flower Blanket
Now this is something extra, right? Joining these cute little flowers into a blanket isn't the quickest thing ever, but you must admit that the final effect is stunning! If you have the patience, you should definitely try it. It works perfectly for hot pads, placemats and rugs, too, so check it out!
I wrote about this fabulous idea and what to make with it in my post called Puff Flower Crochet Ideas.
◉
SHARE, LIKE, SUBSCRIBE!
Sharing is caring, so if you liked this article, be sure to share it with your friends and spread the word! Stay tuned for more free tutorials, patterns and interesting articles by following my social media pages (PINTEREST and INSTAGRAM), or allow notifications to get a pop-up whenever I publish something new.