How to Choose the Right Yarn for Your Crochet Project
If you want to learn how to choose the best yarn for crochet, make sure to read this article. You will learn what to look for when you can't get the recommended yarn for a pattern, or how to find good substitutes online. I'll walk you through the reversed process as well – how to decide what to make with the materials you already have.
Sounds interesting? Let's go!
◉
This article is a follow-up to the post called How to Choose the Right Crochet Project.
When in doubt, check out my Knowledge Base for Beginners to find the articles you need.
◉
Know Your Yarn
First things first: before going on a yarn hunt for your new project, please make sure you are familiar with the basics. What do I mean by that? Well…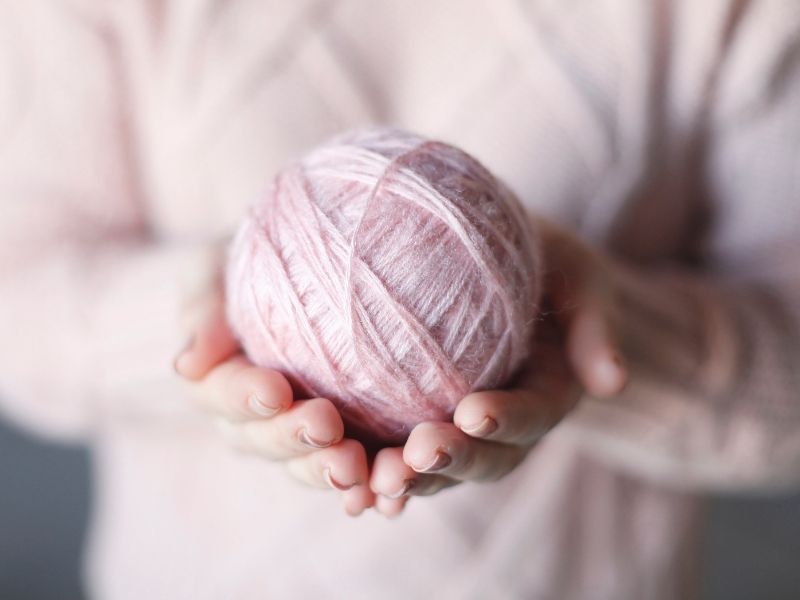 Questions to ask when choosing the yarn for a project
What type of fiber am I looking for?
If you are familiar with yarn types, you know that they have different qualities, and therefore will or will not be suitable for your project. Most patterns specify what kind of yarn you need (in terms of fiber type), so take it from there.
Sometimes it's obvious – you wouldn't choose bulky woolen yarn for a summer top, right? But other times it's much harder to decide. Yarns differ in terms of stretchiness, feel and look, so it's important to choose the right one.
What season am I crocheting for?
This question is most relevant to crochet garments, of course, although some accessories may be included here as well.
If you are making spring-summer season clothing or lightweight accessories, choose natural yarns, such as cotton, linen, bamboo, silk, or lightweight wool. Don't assume that woolen yarns are reserved for winter – this natural fiber is amazing for temperature regulation. What's more important here is the yarn weight, because that's what makes your garments thick and bulky or light and drapey.
What is the purpose of this crochet piece?
Will it be heavily worn, and therefore will require regular washing?
Or is it a decor that will sit on the shelf?
Is it a luxury item that I plan on wearing two times a year and actually take time to properly care for it?
Will I use it in a specific way, which requires specific qualities?
Here are some examples: if you want to make a dishcloth, the yarn you choose must be water-absorbent and easy to wash, therefore the best choice will be cotton or linen. Or, if you want to make a hot pad, you need to choose the yarn that won't melt in contact with hot items, so acrylic yarn is out of the question!
Items for kids and babies require even more attention because the yarns you choose for such projects should have special certificates.
How do I want it to look?
You can't use soft and drapey yarn for something that needs to keep the shape and be sturdy, and vice versa: a delicate shawl will look horrible when made with thick and scratchy yarn.
The pattern I like calls for a specific yarn, but it's unavailable here. What can I do?
Short answer: you need to find a substitute!
Easier said than done, right? Well, here's what I would do:
Use yarnsub.com to find the closest match with similar fiber content and qualities.
Find your pattern's Ravelry page and go to the "yarn ideas" tab to see what other crocheters used for this project (you can also look for project hashtags on Instagram or ask in a Facebook group).
Check the specifics of the recommended yarn, such as fiber content, yarn weight, as well as yardage per skein (and skein's weight). Then, look for a substitute online by comparing the data. Again, you can use Ravelry's yarn catalog to narrow down the search and choose the closest match.
If you are shopping locally, you can always ask for help in the store, but even then I recommend buying one skein of each potential substitute and making a gauge swatch to see which one will be the best.
Write everything down – every project you finish and every yarn you use, because this way you'll build your own library. It will be beyond helpful when choosing the yarn for a new project! Always save a little bit of yarn for future reference, or – better – make a catalog of yarn swatches!
I've got some yarn and I want to make something with it. What should I do?
Sometimes the process needs to be reversed – that's common! Let's see how to find the right pattern for the yarn you already have:
Find the yarn's page on Ravelry and go to the "projects" or "patterns" tab to see what crocheters made with it!
Check the specifics of your yarn and filter your Ravelry pattern search by yarn weight or yardage.
Check yarn manufacturer's websites for free patterns, because many of them have big libraries that use their own yarns.
Make a yarn swatch and look for patterns that have similar gauges, or play with it if you are feeling adventurous! All you need is to keep in mind the qualities of your material and how it will correspond with your design of choice.
That's all! I hope this article was helpful and that choosing the right yarn for a project won't be a problem for you anymore. Remember that it takes time and experience to feel really confident in this matter, so be prepared for hiccups and just keep crocheting!
◉
SHARE, LIKE, SUBSCRIBE!
Sharing is caring, so if you liked this, be sure to share it with your friends and spread the word, because I really appreciate it! For more stitch tutorials, free patterns, and recommendations – follow my social media pages and allow notifications to get a pop-up whenever a new post is published.
◉
FOLLOW ME ON PINTEREST AND INSTAGRAM
◉
You may also like: How To Crochet Granny Stripe Stitch