How to Crochet The Arch Stitch | Free Pattern + Chart
Hi there! I'm here to show you how to crochet arch stitch because it's one of the most interesting stitches. It's easy enough for beginners, so grab your hook and let's make it together!
◉
LIKE IT ON RAVELRY
or follow me on PINTEREST and INSTAGRAM
◉
Crochet arch stitch can be very versatile because you can make it with many different yarns and achieve different results. 
When made with light yarns, it will be perfect for summer accessories or home decor. If you decide to use thick yarn, however, it will most likely become your new favorite for winter shawls and blankets.
It's coming soon! Meanwhile, check out my Youtube Channel
If you like it, please give me thumbs up and subscribe to my channel, so that more people can learn from it. Remember to click the bell button if you don't want to miss any of my tutorials!
◉
You may also like…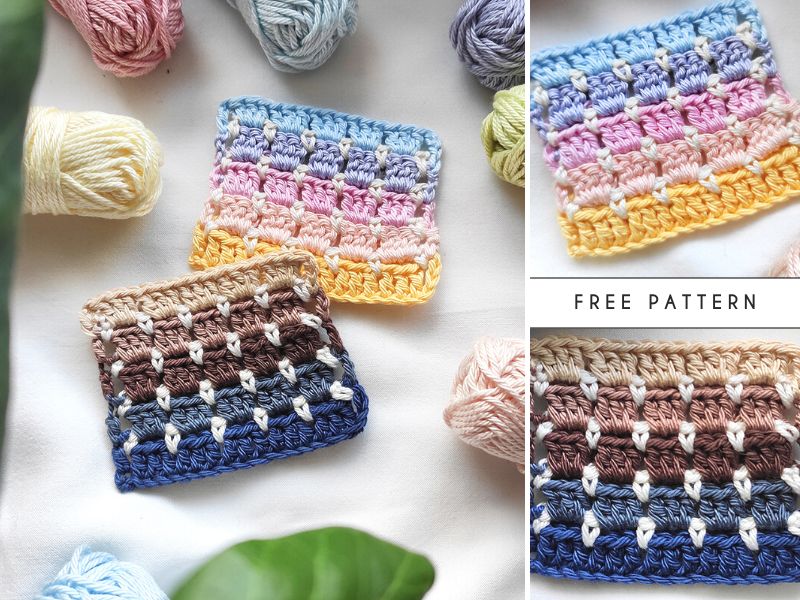 ◉
MY SWATCH
I used thick cotton for my swatch and a 2,5 mm crochet hook.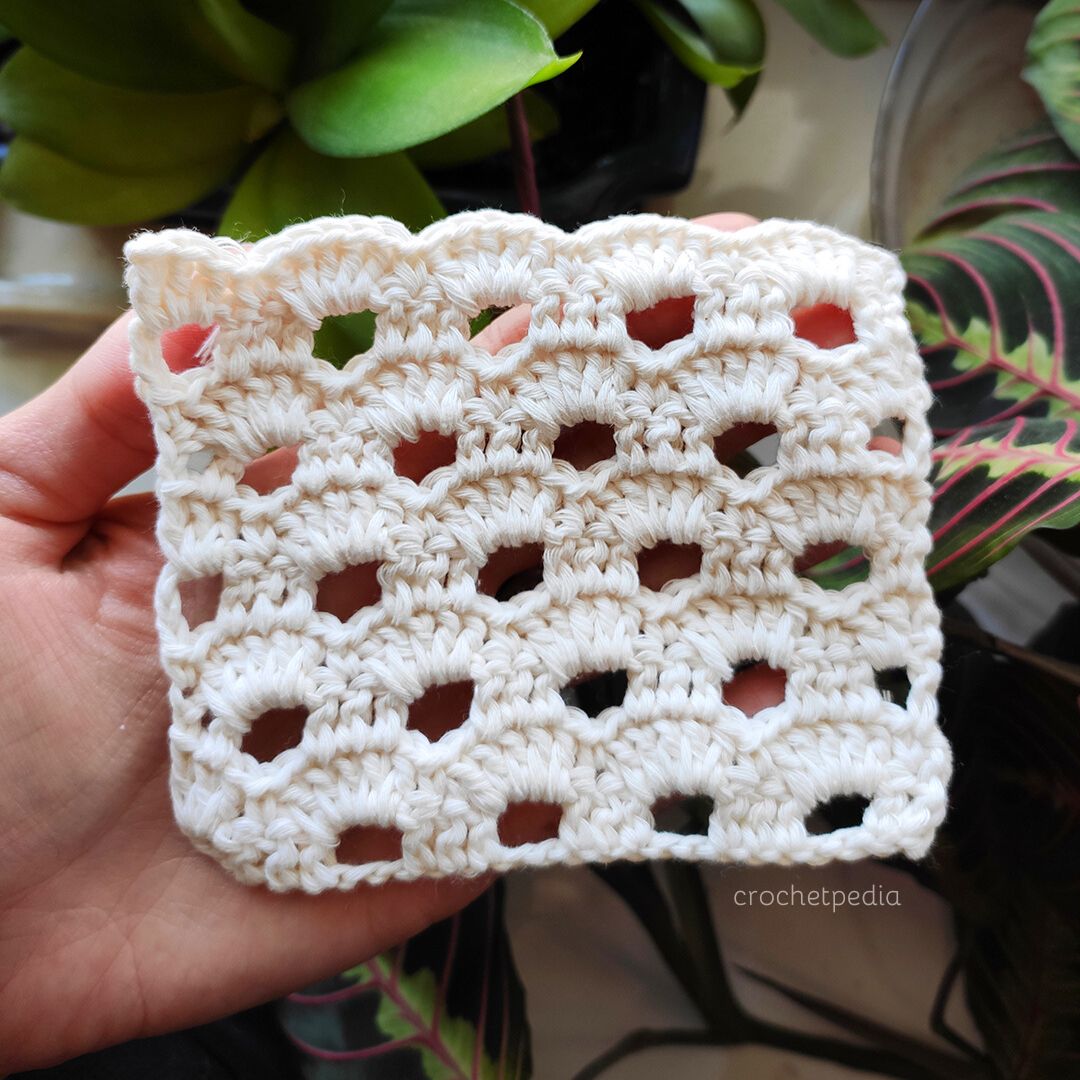 ◉
PATTERN NOTES
LEVEL – beginner
TERMS – standard US
TECHNIQUES
MATERIALS AND TOOLS
you can use any yarn and recommended hook size.

to see the potential of this stitch, please use at least two (preferably contrasting) colors.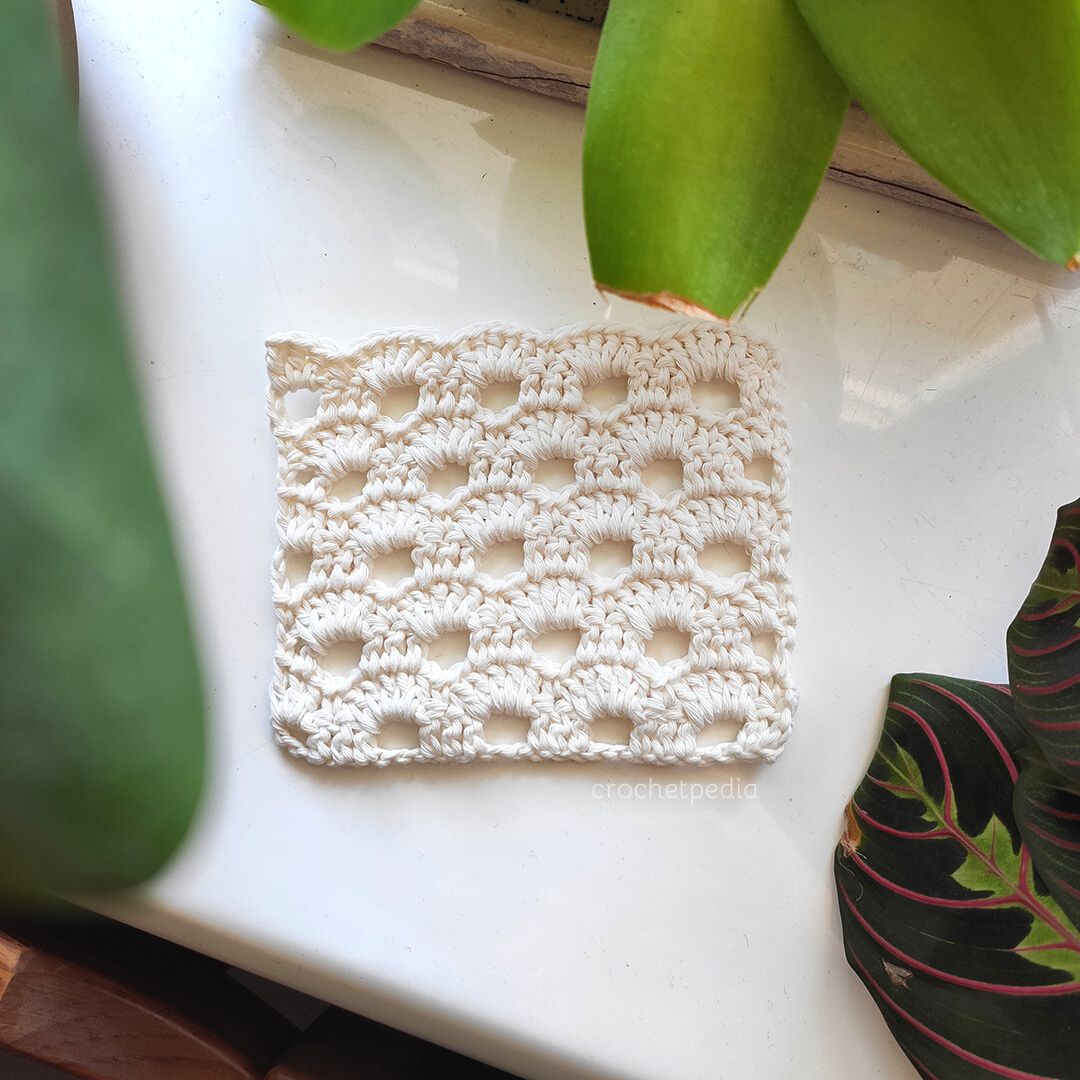 diagram
Arrow indicates where the row starts.
Colors indicate different rows.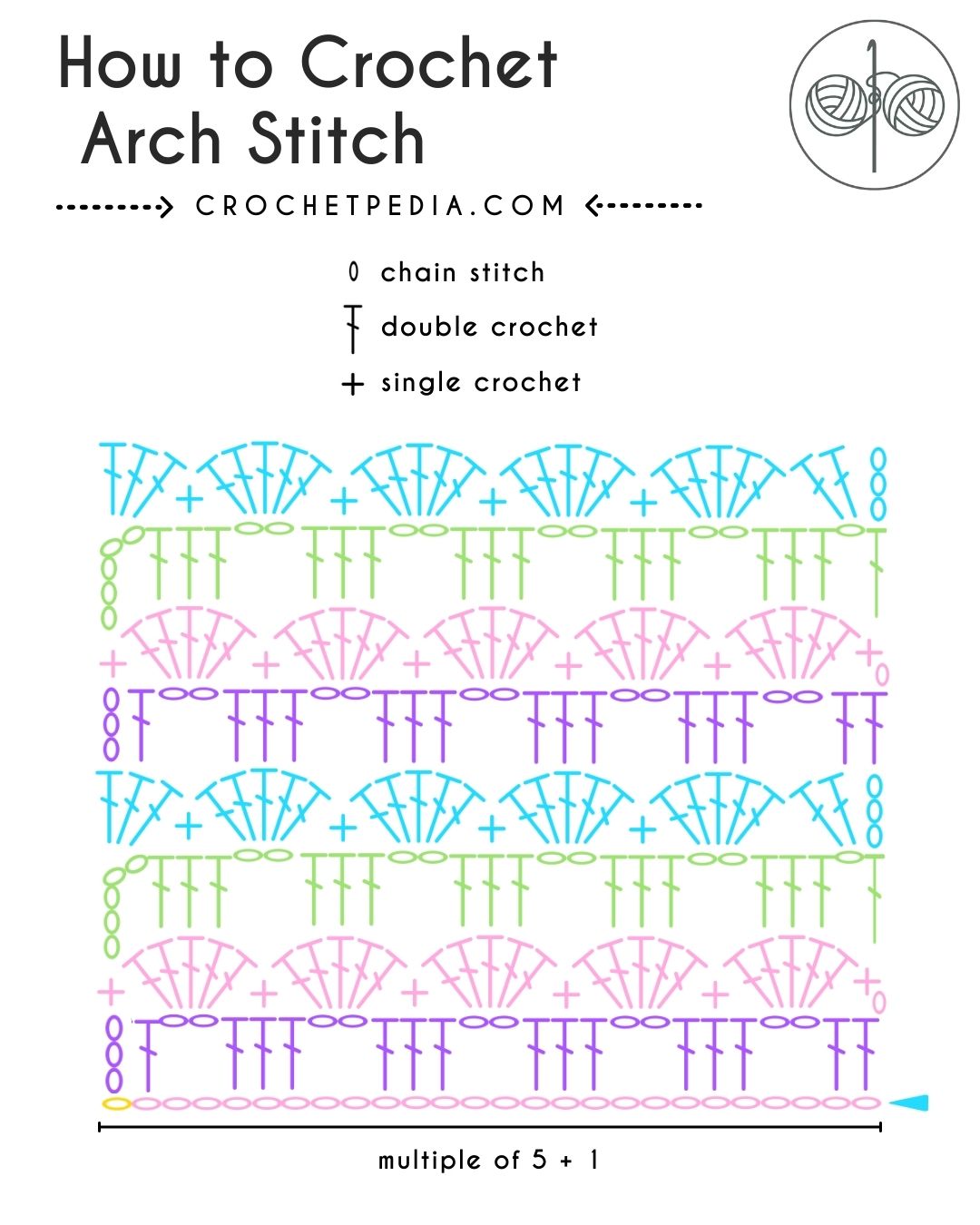 Written Pattern
NOTES on how to crochet arch stitch:
Instructions in *asterisks* should be repeated as many times as indicated right after.
Turn the work over after each row.
3 dc at the beginning of rows 3 and 4 are the turning chains.
I highly recommend blocking the piece after finishing it.
START:
chain multiple of 5 + 1.
ROW 1
Ch 3, 1 dc in the 5th chain counting from the hook, 1 dc, 2 ch, skip 2, *3 dc, 2 ch, skip 2* repeat until you reach the last two stitches and work 2 dc.
ROW 2
NOTE: The space between the triads of double crochets will be referred to as "chain space" or

"ch-sp"

.
Ch 1, 1 sc in the first dc, *5 dc in chain space, 1 sc in the middle dc* repeat until you reach the last chain space. Work 5 dc there and 1 sc in the top of the turning chain.
ROW 3
NOTE: The five double crochets will be referred to as "dc shell".
Ch 5, *3 dc in the middle part of the dc shell, 2 ch* repeat until you reach the last dc shell, work 3 dc in the middle part, 1 ch, 1 dc in the sc of the previous row.
ROW 4
Ch 3, 2 dc in the nearest chain space, *5 dc in the ch-sp, 1 sc in the middle dc* repeat until you reach the last ch-sp (at the edge of the row). Work 3 dc there.
NOTE: The beginning and the end of row 4 are later called dc half-shell.
ROW 5
Ch 3, 1 dc in the 2nd dc, 2 ch, *3 dc in the middle part of the dc shell, 2 ch* repeat until you reach the dc half-shell, work 1 dc in the last dc and 1 dc the turning chain.
Repeat rows 2 to 5.
◉

Choosing colors
The swatch for the crochet arch stitch I made uses only one color, and a neutral one, but it doesn't have to be the case! Big arches will look great when you decide to use multiple colors.
You've got two options:
Make every row a different color – this way the arches will have colorful "legs", as the odd rows divide the dc shells.
Go two-by-two: rows 1 and 2 will create a big arch, as will 3 with 4, 5 with 6, and so on.
Learn more about How to Choose The Best Colors for Your Crochet Project in my article.
PRO TIPS! 
If you are left with lots of yarn ends to weave in, I recommend adding a border and hiding them there!
Always make sure that you choose the right type of yarn for your project to achieve the effect you want.
Hey, it wasn't hard, right? Now you know how to crochet arch stitch and can use it in whatever project you want.
◉
If you want to learn more, check this out!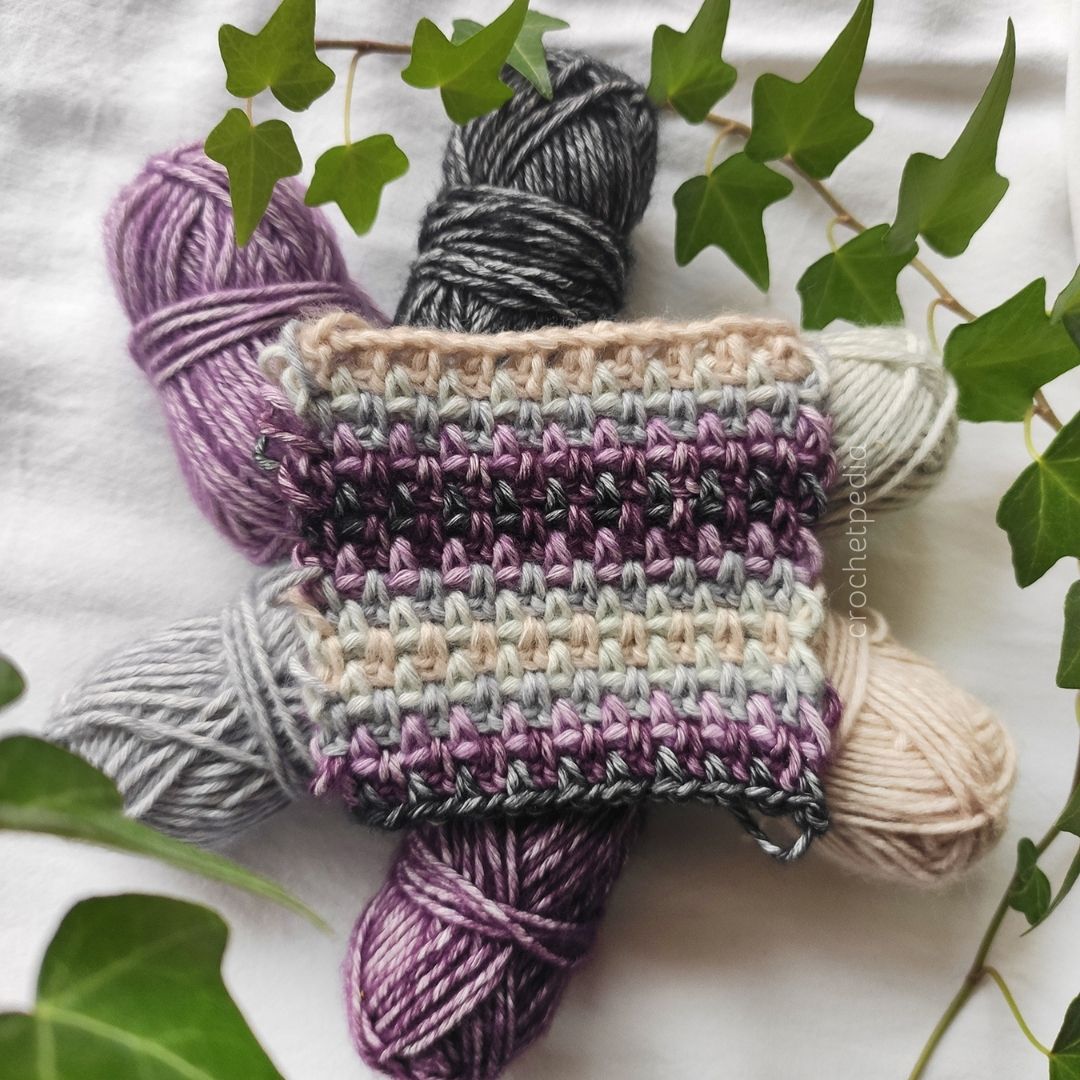 ◉
share, like, subscribe!
If you happen to make this project, I would love to see it, so don't hesitate to contact me! Please feel free to share the results with us in the comments or on social media. Of course, if you find any mistakes in the pattern or find it hard to understand, please let me know, so I can learn and improve!
Sharing is caring, so if you liked this project, be sure to share it with your friends and spread the word, because I really appreciate it! For more free tutorials, patterns, and interesting articles – follow my social media pages and allow notifications to get a pop-up whenever a new post is published.
◉
FOLLOW ME ON PINTEREST AND INSTAGRAM