15 Minute Heart Free Crochet Pattern + Video
Today I will show you how to make this easy little crochet heart. It works up really fast once you get a hang of it, so don't wait and try it today. My best is 11 minutes, but I'm sure you can beat me! You can use it as an applique, decoration, or as a cute addition to a valentine's day gift. 
Below you will find a video tutorial, a written pattern for this project and a diagram. Let's get to it!
◉
SAVE IT IN FAVORITES ON RAVELRY
or follow me on PINTEREST and INSTAGRAM
◉
If you are a visual learner, see my video tutorial here:
And when you're done…
…be sure to see my video about how I block and stiffen flat crochet pieces:
Few words on the project
This pattern is easy enough for beginners to follow, and it uses various basic stitches, so it's a great way to practice them. It includes picots, too, so it's a good way to learn it. I explain how to make it in my video, so head there if you need!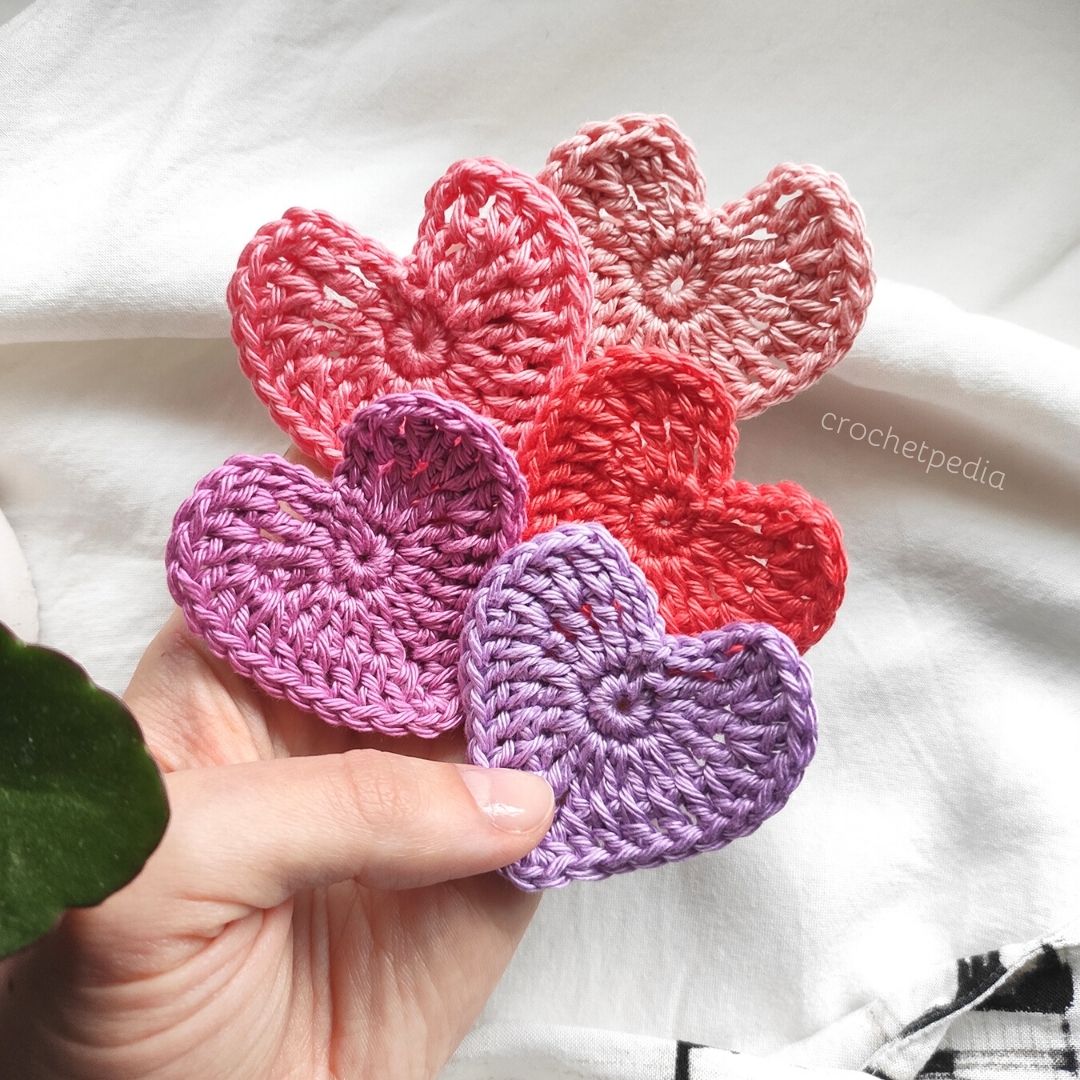 In the video tutorial I used Gazzal Giza yarn, which is 100% mercerized cotton, but you can use any yarn you want, and for the photos I used Scheepjes Catona cotton yarn in five colors:
252 – Watermelon
398 – Colonial Rose
409 – Soft Rose
523 – Peach
520 – Lavender
Learn more about yarn types in my Yarn 101 Series of articles, or check out cool projects in my article about Heart Stitch Ideas.
◉
You can join these hearts with a string and make a garland, or add them to Valentine's Day gifts.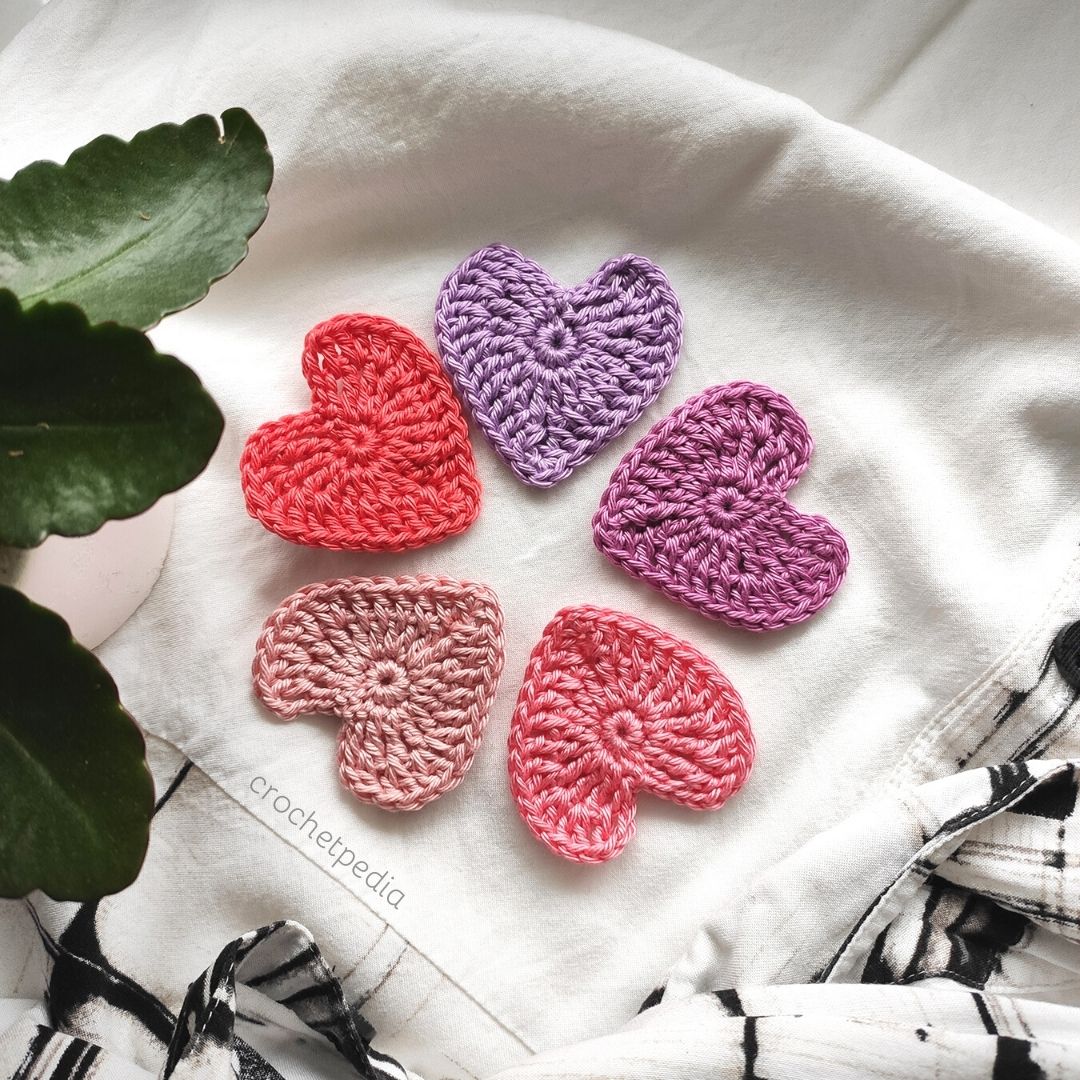 ◉
Let's start!
diagram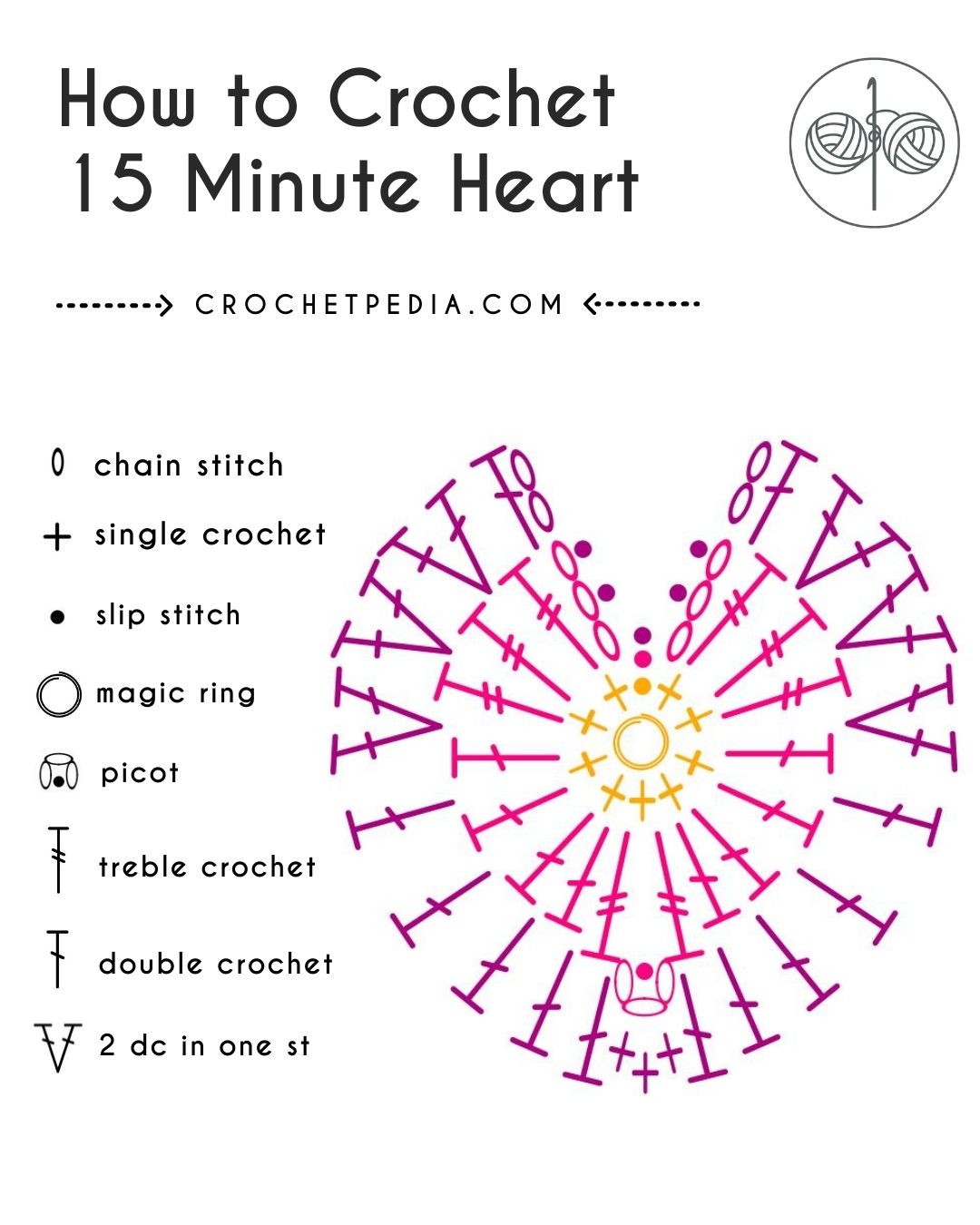 PATTERN NOTES
LEVEL – beginner
TERMS – standard US
TECHNIQUES
MATERIALS AND TOOLS
yarn: any yarn with a corresponding hook will be good! I used Scheepjes Catona
crochet hook: size of the hook should be adjusted to the yarn you use! I used 3 mm.
MEASUREMENTS
crochet heart height: 5 cm (~2″) with Scheepjes Catona yarn + 3 mm crochet hook
remember that your yarn weight of choice, hook size and crocheting style can affect the final size of the ornament, as well as blocking and stiffening.
◉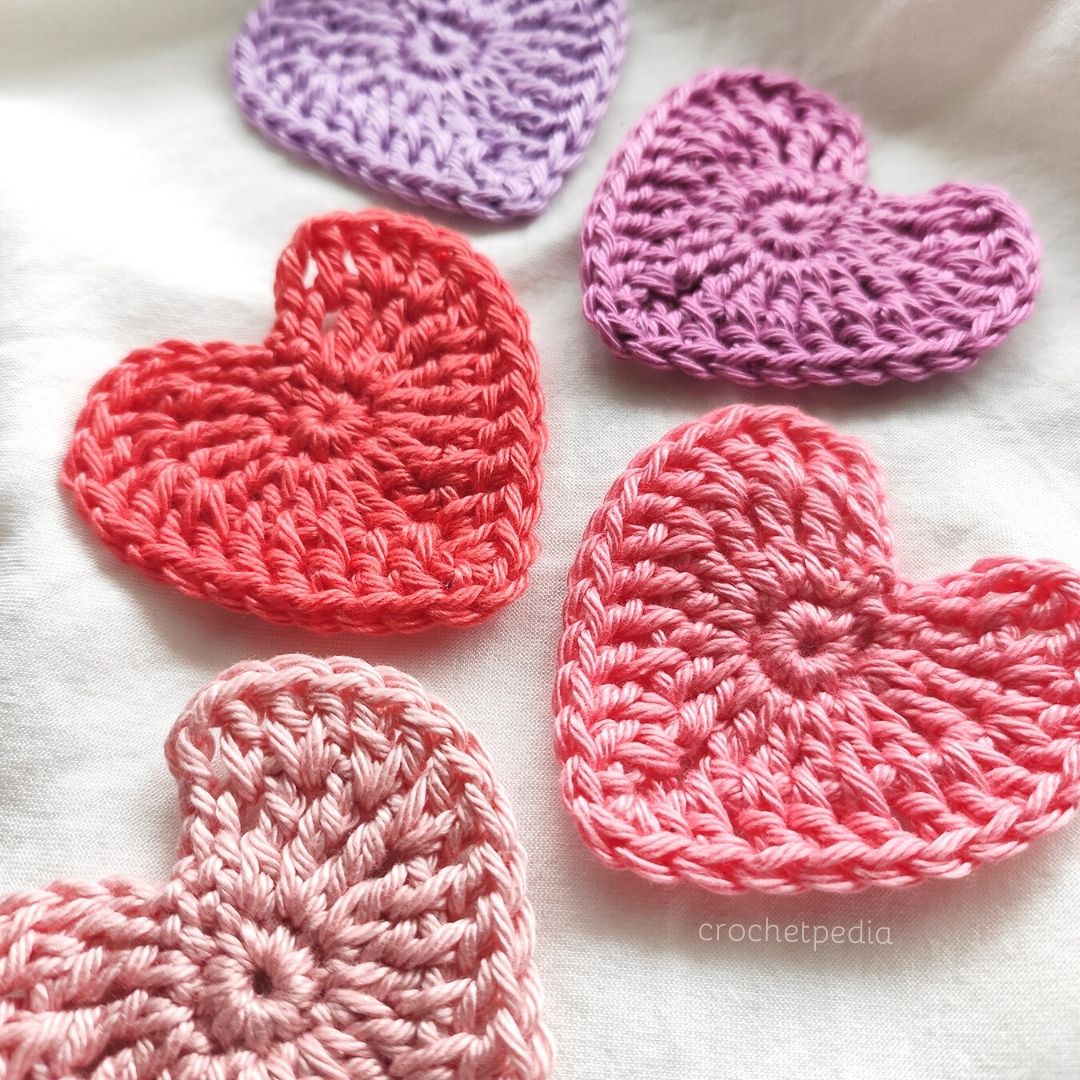 START:
ROUND 1:
9 sc into the ring, close with a slip stitch and tighten the ring. 
The place of the slip stitch will be referred to as "the middle".
ROUND 2:
chain 3, 1 tr into the same stitch, 2 tr in one st, *2 dc in one st* x2, *1 tr, picot, 1 tr* all in one st, *2 dc in one st* x2, 2 tr in one st, 1 tr, 3 ch, 1 sl st in the middle.
ROUND 3:
1 sl st in each chain of the turning chain in the previous round, 2 ch. 
Now work between the stitches:
1 dc, *2 dc in one st* x 3, 4 dc, 1 dc in the space between the trebles, 3 sc into the picot loop, 1 dc in the space between the trebles, 4 dc, *2 dc in one st* x 3, 1 dc, 2 ch, 2 sl st in chain stitches (the last chain-3 of round 2), 1 sl st in the middle.
Fasten off, secure the yarn, and block or stiffen your crochet heart if you like! I like to tie the ends of the yarns in the back, but you can weave in the ends using any method you like.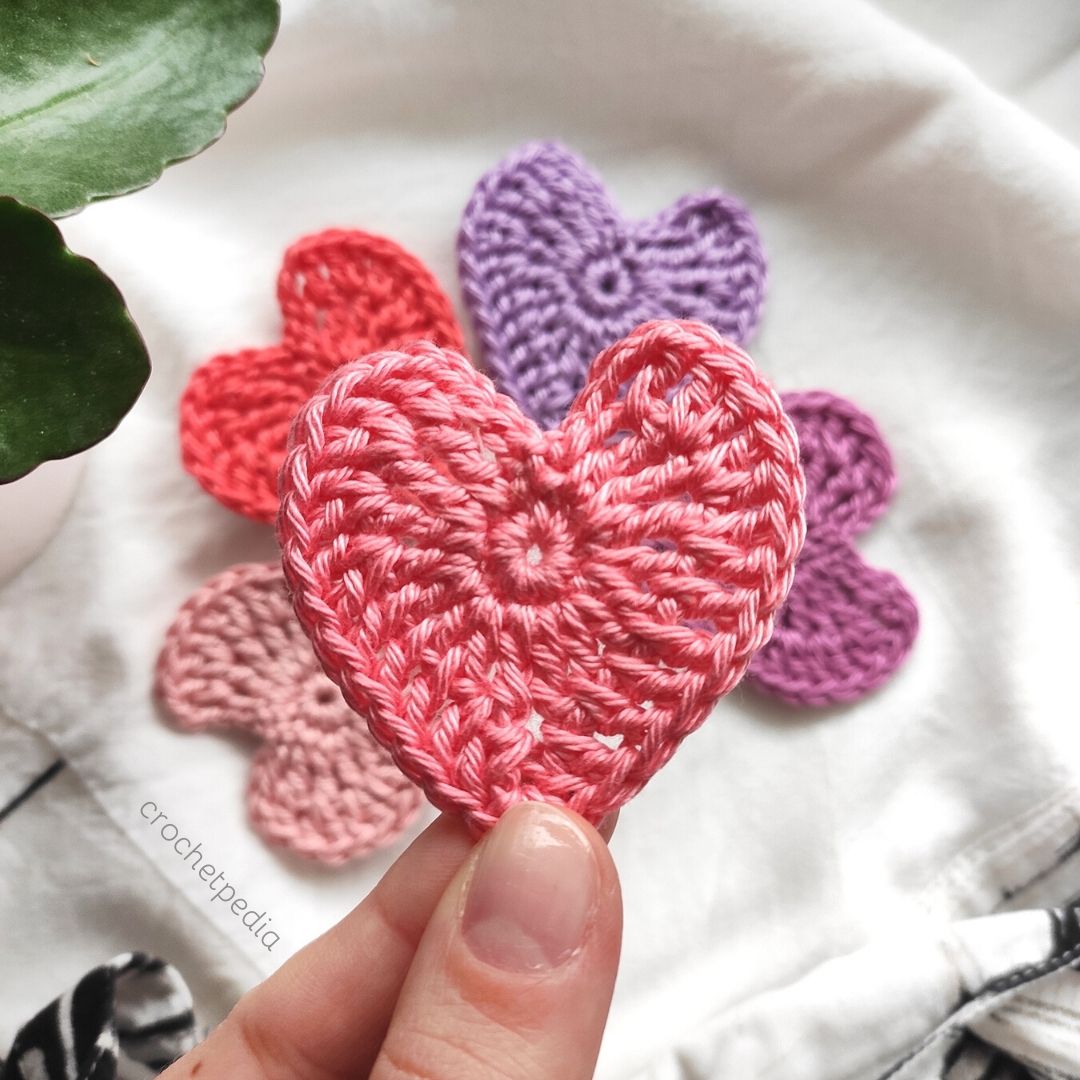 ◉
you are done!
And that's all – your little crochet heart is ready, so enjoy it! You can use it as an applique, or join a bunch of them together with a piece of string to make a garland. Such decor will be great not only for Valentines' day, but also for birthday celebrations or baby showers.
◉
You may also like these free patterns!
share, like, subscribe!
If you happen to make this project, I would love to see it, so don't hesitate to contact me! Please feel free to share the results with us in the comments or on social media. Of course, if you find any mistakes in the pattern or find it hard to understand, please let me know, so I can learn and improve!
Sharing is caring, so if you liked this project, be sure to share it with your friends and spread the word, because I really appreciate it! For more free tutorials, patterns and interesting articles – follow my social media pages and allow notifications to get a pop-up whenever new post is published.
◉
FOLLOW ME ON PINTEREST AND INSTAGRAM